Generally - see the work being done on the Egyptian Expeditionary Force by Stuart Hadaway
He has a book out "From Gaza to Jerusalem: the campaigns for Southern Palestine 1917", obviously on the subject of the Palestine campaigns. It deals with the 53rd Divn and the RWF. The following account is from Stuart. His nan was from Angelsey!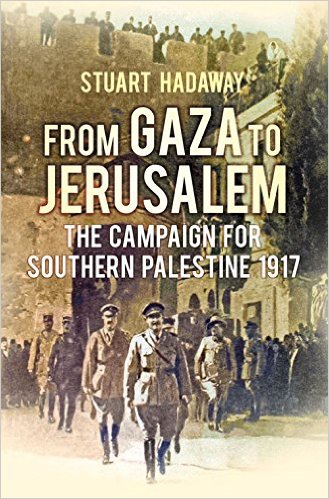 Captain Robert Newton Thomas and 2nd Lieutenant John Wesley Howells of No. 14 Squadron were killed on 23 July 1917, when their BE2e (A1803) was hit by anti-aircraft fire over the south-west corner of Gaza, and crashed into the sea. Their bodies were never recovered, and they are commemorated on the Jerusalem War Memorial, as well as a smaller memorial (now in Beersheba War Cemetery) that was put up by members of No. 1 Squadron AFC and No. 14 Squadron RFC in 1918.

Thomas came from the landed gentry in North Wales. His father, Owen Thomas, was a farmer, councillor, alderman, businessman and (later) MP on the island of Anglesey, and had been heavily involved in the Militia and Volunteer movement in the 1880s and 1890s. He had been commissioned into the Essex Regiment on the outbreak of the Boer War and served in South Africa from 1899 to late 1900, when he returned to Wales to raise and lead the Prince of Wale's Light Horse in service with the Imperial Yeomanry. When he returned to South Africa, he took his sons with him, and so Robert Thomas first saw action as a bugler, at the age of 12. His youngest brother, who also later joined the RFC, was with him but aged just 8 years old. On the outbreak of the First World War, Owen Thomas again volunteered to help, and this time became a Brigadier General in charge of recruiting and training the Welsh Army Corps, which was later renamed 43rd (Welsh) Division, a position he held throughout the war and for which he was knighted in 1917. Again, he literally enlisted the help of his sons. One of his sons had died aged 16, but the three surviving ones all joined their father, and all three were commissioned into the Royal Welsh Fusiliers (RWF).

Robert Thomas served in France as a Captain in the 15th RWF for eleven months, receiving the Croix de Guerre. He transferred to the RFC in 1915, and learned to fly at the Military School, Birmingham, where he passed his RAeC test on a Maurice Farman on 11 May 1916. He later served with Nos. 34 and 12 Squadrons, but returned to the UK by the summer of 1917, as his obituary in Flight magazine on 2 August 1917 records that "he left England only a few weeks ago". In Egypt, he joined No. 14 Squadron at Deir el Belah, near Khan Yunis on the border with Palestine just south of Gaza. He was flying an artillery spotting sortie from there when he was shot down.

The youngest of the three Thomas brothers, Trevor, had been killed in France in January 1916, but the middle brother had also joined the RFC. Lieutenant Owen Vincent Thomas had trained at the Military School at Farnborough and had received his license on 30 January 1916. He had served in France with No. 32 Squadron and possibly No. 41 Squadron before returning to the UK in June 1917. On 7 August 1917, following the arrival of the news of his brother's death, a note was appended to his official record stating that he was 'not to be sent overseas in any circumstances'. Instead, he remained in the UK with No. 39 (Home Defence) Squadron, reaching the rank of Captain and Flight Commander.

On 29 July 1918, Owen Thomas was piloting Bristol F2B B1331 on a night flight near Epping when a parachute flare became stuck in the drop tube and ignited the fuselage. The aircraft dived rapidly towards the ground, hit a hedge and crashed in flames. Both the pilot and his observer, 2nd Lieutenant A. F. Cairns were killed, and Thomas is now buried in St Alban Churchyard, Coopersale, Essex.

All three Thomas brothers are commemorated on a special plaque on Llanfechell War Memorial, outside St Mechell's Church, near Cemaes on Anglesey. Their father went on to serve in Parliament and be a part of Lord Milner's Mission to Egypt in 1919-20 to report on conditions there. He died in 1923, and was survived by his widow and a daughter.

Robert Thomas' observer also had an unusual background. 2nd Lieutenant John Wesley Howells had been born in Tenby in 1887, and had been brought up as a Methodist and trained as a teacher. He became a teacher at a Wesleyan School in Seacombe, and had become a Minister at the Wesleyan Manchester Mission. In May 1915 he had given up his good work and joined the army, being commissioned into the 7th Lancashire Fusiliers in August. He served with them at Gallipoli, and been withdrawn to Egypt afterwards. According to de Ruvigny's Roll of Honour, he then served in Mesopotamia as well, although no unit is recorded. He then volunteered for the RFC and trained in Egypt, before joining No. 14 Squadron, where he was known as 'the reverend'.

de Ruvigny's Roll of Honour quotes a letter written by a 'brother officer':

It struck us as strange that a clergyman should be in a fighting unit, particularly one of such scholarly attainments. But the fact that he had chosen and taken the path of exceeding danger increased our respect tremendously, and made us realize how burning the conviction was that made him lay aside the duties of his office for the rough work of the field. He met his death, as he would have wished had he known—doing what he counted the prime duty of British manhood to-day, and in a country which, from his previous knowledge of it and its association with his faith, meant more to him than to most. We grieve at the loss of a good comrade and a plucky soldier.
Photos - from the top, Owen Thomas grave at Coopersale, the Thomas house and plaque near Cemaes, and the memorial to Robert Thomas at Beersheeba CWGC cemetery, Jerusalem. Photos by Stuart Haddaway and Leslie Lord.