The Dragon's Voice
Hello. In this edition, we have an update from Steve and Nancy on their trip this summer as part of their "Some Kind Hand" pilgrimage, and the first part of an article from Keith on Etaples cemetery and those resting there. The second part will appear in the next newsletter. There are two notices from Mark at the end of this newsletter. As ever, many thanks to Jim Morris for allowing us to use his WWI day by day material on the Facebook page.
Trevor
The Programme for 2016
September 3rd - Profiles of the Great War, Silhouettes of Captain Oakley - Jerry Rendell

October 1st - Lord Ninian, 6th Welch and the Battle of Loos (Two weeks in the life of a Welsh Battalion on the Western Front) - Marietta Crichton-Stuart

November 5th - Mountaineers in the Great War - Anne Pedley

December 3rd - Branch Social
Last month's speaker
Andy Johnson came up from Wolverhampton WFA with two colleagues to talk to us about three lesser known heroes of WWI, who are all from his local area of Bilston.
Sir John Norton-Griffiths KCB, DSO, aka "Hellfire Jack", rose from being a trooper engaged in colonial wars, to being elected an MP before WWI, to raising a cavalry battalion in 1914 at his own expense and being commissioned as a major. He was involved in various engineering activities in WWI including single-handedly sabotaging Romanian oilfields. He survived the war and died in mysterious circumstances in 1930.
Lt Col William Henry Carter DSO and bar, MC and bar was from a working class background and again defies the stereotype of public school WWI officers. He joined the army as a private in 1899. He started WWI as the battalion signals sergeant and was promoted to 2nd Lt. in 1915. He did various infantry jobs including as a temporary Brigadier General but all with the substantive rank of captain! After WWI, he left the army, had some unsuccessful business ventures, and ended up in fairly mundane jobs (including working at AJS motorcycles).
Tilly Tate was a nurse in the QAIMNS reserve (and almost all the wartime nurses were "reserve"). She was 43 when she joined up in 1914. She served in Salonika at the time of the battle of Kosturino, and afterwards, dealing with not only battle casualties but the many casualties from disease, notably malaria. She also served in Egypt and Italy, and with the 30th Ambulance Train in France. She had two mentioned in dispatches and the Royal Red Cross medal. She went back to nursing after WWI in the USA and UK. She died in 1946.
SomeKindHand: August 2016 Update
Steve and Nancy Binks
After our "mop-up" of March/April and later tour commitments we returned to France in late June to begin in earnest our 1917 Pilgrimage. (We did include some 1917 burial grounds in our mop-up, to save mileage; mostly the burial grounds of troopship "Transylvania". We also covered those 1917 burial grounds in Commines Warneton during early June whilst on "recce" work).
We decided to start on the 170 burial grounds (and three memorials) of Pas de Calais first, being the most numerous. They also cover the Arras battlefields and those associated with the follow up of the Germans to the Hindenburg Line. It's always a fine balance between too much travel on one hand and too many campsites on the other. The decision was made after we had secured a good deal to stay for three months at the campsite in Boiry Notre-Dame, not far from Monchy le Preux.
As usual we marked each visit site on a Michelin road atlas with the intention of working outwards from Arras, trying as near as possible to visit those sites closely associated with the 9th April (first day of the Battle of Arras) first. Inevitably this brought us to the Canadian burial grounds along and east of the Vimy Ridge, for example: Zivy Crater (53), Litchfield Crater (57), Nine Elms (584), and Thelus Military (295). I'm looking forward to further researching these burial grounds based on the work of Canadian burial officers clearing the battlefields of the dead in the immediate aftermath of battle. As we moved clockwise around the Arras Salient we read similar stories in the register histories: Hervin Farm (51), Bunyan's (54), and Gourock Trench (44) are good examples of battlefield cemeteries. Many had similar beginnings as post Battle of Arras burial grounds, but post-armistice concentration has distorted them: Canadian cemetery Number 2 (2965), Tilloy British (1642) and London Cemetery (747) are examples.
As one moves further afield the Arras burial grounds take on an almost rhythmic similarity: Arras dead (April – May 1917), then fighting unit burials (June 1917 – March 1918)*, German burials from their Spring Offensive, British/Canadian dead (August/October 1918) and finally post war concentration. Examples include: Feuchy Chapel (1103), Level Crossing cemetery (405) and Windmill British (436).
Still in Pas de Calais but away from Arras, one encounters the burial grounds associated with the Third, Fourth and Fifth Armies operations following up the German retreat to the Hindenburg Line. Much of this ground changed hands on two further occasions, and therefore the burial grounds again reflect these changes and again show great similarity: Croisilles British (1818), Ervillers Military (67) and Favreuil British (396) are good examples; many like Mory Abbey (619), Achiet Le Grand (1424), retain sizable German plots. Several examples exist of a greater number of German burials in British cemeteries in Pas de Calais: Vaulx Australian Field Ambulance with 52 British (inc. 32 Australian) and 61 German.
* Those casualties that bear the dates late June 1917 – February 1918 from around the burial grounds of Gavrelle to just north of the Cambrai sector at Moeuvres remain a mystery; until a concerted period of map study I would have struggled to draw where the front line was! Most burial grounds that we have visited in this particular period hold these casualties – known as "fighting units" - I would love to hear from anybody who has studied this period and some of these actions.
As with almost all our visits, serious research cannot begin until we "stand down"; Wi-Fi at the site isn't great and besides we don't have much time whilst on our Pilgrimage. This is particularly so with soldiers' stories that we are amassing at an alarming rate.
There is one observation worth mentioning between those burial grounds established in 1917 (so far visited) compared with earlier burial grounds visited: few communal cemetery burial grounds were given in perpetuity. From the 110 burial grounds visited since 18th June, only 6 are communal, with no church yards: Aix-Noulette (5), Athies (1), Hallicourt (1) Gouy-Servins (2), Vimy (35) and Beugnatre (10). In terms of stress levels in relation to communal cemetery visits, (read previous posts) this reduction has been very welcome, but we have got some communal visits on the horizon when we tour the far corners of Pas de Calais and other French Departments later in the year!
We identified 170 Pas de Calais burial grounds begun in 1917 with many bordering other battlefields, which we prefer to treat as separate pilgrimages: Cambrai and the Somme V corps burial grounds (of March 1917) spring to mind. These will necessarily be deferred, leaving just a handful to complete, including the distant and the memorials. The Arras Memorial has loomed large in our mind since coming to Boiry and last week we made our start. The CWGC have done a lot of work on the panels, but those above mid height in Bay's 4 and 5 are very poor. We made several visits to check the position of the sun at various times of the day and decided not to await the Commissions work on these later Bays and relied on the current fine weather in Arras and a steady hand with the trusty binoculars; impossible under any light conditions without them. By god was I glad of the experience of Thiepval! I'm fairly sure that I was reading names that have remained in full view but hidden from the naked eye for some time; in particular privates of the Lancashire Fusiliers and the officers and other ranks of the Royal Scots Fusiliers – "Thank You". As I write, we have completed five of the ten bays, but bays 6 and 7 are double sized.
We have become reliant on the work of the CWGC over the years, either with the staff who work on the enquiries and archives at Maidenhead or those on enquires at Beaurains, in particular, Muriel Flippe. I'm sure when she presses the buzzer on that door and hey presto, "it's us again", she must want to run and hide! Muriel has helped us navigate around some of the most isolated communal cemeteries in the past – long distance –by telephone. Whilst in Arras, Muriel has provided several cemetery registers that haven't been available (for one reason or another). You can imagine her face when we asked for a set of registers for the Vimy Memorial!
In preparation for reading the Vimy memorial names, we went to the Vimy visitors centre to enquire about the availably of registers. In all my years of visiting Vimy, I could never recall seeing a register(s). Not surprisingly, the Canadian steward knew nothing of such registers, but was happy to look-up a casualty for us. My explanation about what we were planning to attempt (and Nancy reading the registers in situ) was quite lost on them. So, it was this conversation that brought us once more to the CWGC in Beaurains. I'm pleased to report that through the endeavours of the CWGC, there is now a set of registers at the Canadian visitors centre – whether they want them or not! We await to see if they are offered to us when we visit in the next few weeks. Unlike the bright sun required at the Arras Memorial, we would prefer dull conditions to nullify the brilliant white Seget stone of Vimy.
Our site in Boiry has suited us well. It's a typical French site with over half the allocated space given to (six month) residents in statics and a few rental statics. The tourers are almost 90% Dutch with up to sixty units arriving daily, only to leave the following day. Patricia, the owner says that it remains like this from end of June to the end of August. Last week, our site was as busy as a Butlin's camp; this week, apart from some residents and the few Dutch returning from south west France, it is very quiet. We leave next week for a few days at home before returning on the 18th September. We take up residence in Morval again for our winter hibernation at the beginning of November and with Cambrai burial grounds of Nord, Aisne and Pas de Calais within reach, will likely stay here in Boiry through October.
For those who know us personally and those who have got used to our "blogs", I can't leave out a few words about Nancy's MS. Her walking has deteriorated greatly and her back strain from her fall at Christmas was re-diagnosed as two cracked vertebrate; thanks doctor! She soldiers on and it goes without saying, without Nancy, this Pilgrimage just would not have happened.
(I realised to some people we may have begun to sound like a couple of train spotters, racking up cemeteries and casualty numbers, so unless asked we don't tell anymore. But by god will you know when we finish!)
My thanks to my friends from BC whose generosity enabled the purchase of a new camera and to our friends who continue to support our endeavours, thank you.
So many photographs to choose from: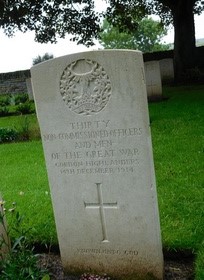 These men of the 1/Gordon Highlanders were brought in to what became Irish House cemetery in June 1917 by the 11/Royal Irish Rifles. Their bodies had lain out in No Man's land since a fruitless attack by the 3rd Division against Wytschaete on 14th December 1914. Partial unknown headstones remain a great interest; not particularly the identity of the soldier(s), but their unit and the date of action where they fell. The CWGC burial records have been a great help in this respect.
"With my pals forever" What makes this inscription so moving is that is engraved on the headstone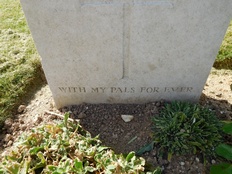 of an officer!
I am fairly sure when the parents of Guardsman B.E.F.Newham christened their son they had no inkling about the meaning of "B.E.F", but fully understood its interpretation when offered the opportunity of a headstone.
Two of my favourite cemeteries have a similar background; battlefield cemeteries where the burials have been carefully laid out to reflect the actions.Opposite right is one of the four rows of officers and men from the 51st (Highland) Division from the 9th April 1917. Two complete rows are Seaforth men, one is Gordon Highlander and the other is predominantly Argyle's. Although the cemetery has been concentrated into, the original burial rows have been mostly maintained.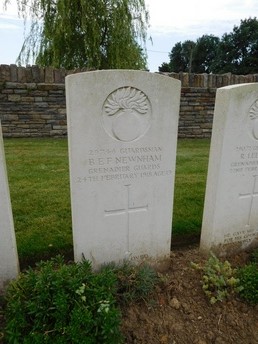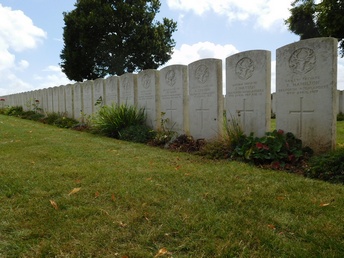 The other image (opposite) is from Bootham cemetery and features just two battalions: Queen's Westminsters (11th – 14th April 1917) and 2/Royal Scots Fusiliers (23rd April 1917). None of the 71 unknown has any partial information and because of the burial pattern suggests they belong to one of the two battalions
At the bottom is a photo of Rookery British Cemetery. Can anybody spot what is missing? I am fairly sure with the exception of a shared Great Cross and Great Stone (Sailly for example), I haven't come across any other CWGC cemeteries without a cross. (I know Munsters' cemetery is a Celtic cross)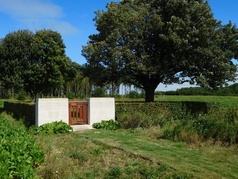 A Walk Around Etaples
and
Etaples Military Cemetery
Keith Walker
Part 1 – nurses and vicars
Sometime ago I was asked why I visit the battlefields. My colleague said the history books have been written, films made and you can watch any amount of documentaries on the television or buy the DVDs. And when you go are your trips are known as ABC tours - "Another bloody cemetery"?
It was a good question. Why do we visit the battlefields? Then I remembered one of the battlefield guides saying at one of the cemeteries "every headstone tells us a story even the ones Known unto God. Even these headstones tell us roughly that he was a soldier, he died on or near this battlefield and around about what date". On my first visit to Tyne Cot, I was overwhelmed by its size, but then I thought "what a lot of stories".
That is why I visit the battlefields, to find the stories of the soldiers and the support they got. That is something you will not find in the official history books. Also, I want to reflect and pay my respects to these brave men and women.
On my last trip to the battlefields, I visited Etaples in France. Etaples is a lovely little town situated on the River Canche. Wilfred Owen did not think much about this place. He wrote "A vast, dreadful encampment, it seemed neither France nor England, but a kind of paddock where the beasts are kept for a few days before the shambles" (Collected Letters, Oxford University Press). The river front is now a marina, but it does not take much imagination to see the boats coming from England full of troops in World War One. The area around the river front has a number of cafes and bars - it even has a Welsh fish and chips shop. In WWI, this area in and around Etaples was one of the largest training camps in France. In 1917, there were 100,000 troops camped here. It was here where the notorious "Bullring" was situated and where the mutiny in September 1917 took place. The infamous bridge is still there.
Around Etaples there were 11 general, 1 stationary and 4 Red Cross hospitals dealing with 22,000 wounded or sickness casualties. Etaples is the largest CWGC cemetery in France: 10,773 WWI graves and 119 WWII graves. It was in this cemetery that I found quite a few stories, from a Brigadier General to a Victoria Cross winner, from nurses to civilians.
One of the first civilians I came across was Florence V Grover. Her date of death was 26th November 1918 and she died from illness. Florence was the newly married wife of Private Albert Grover s/n 69673 who served with The Queens. Albert was badly wounded and was transferred to a hospital in Etaples. Florence was allowed to visit him. Unfortunately Florence had caught an infection before she left England and not long after she arrived in the hospital she collapsed and was taken to the sick sister quarters with influenza. She died a day or two later. It must have been a shock for her husband for a few days later he caught influenza and died on the 7th December 1918.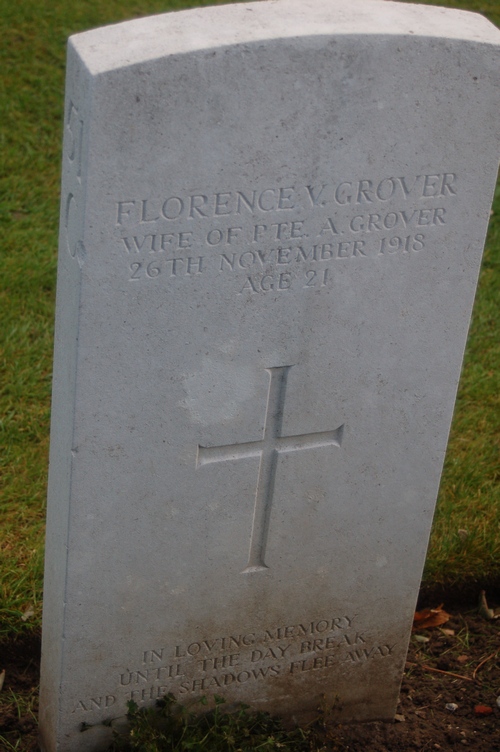 Left: Florence's Headstone
Right: Albert's Headstone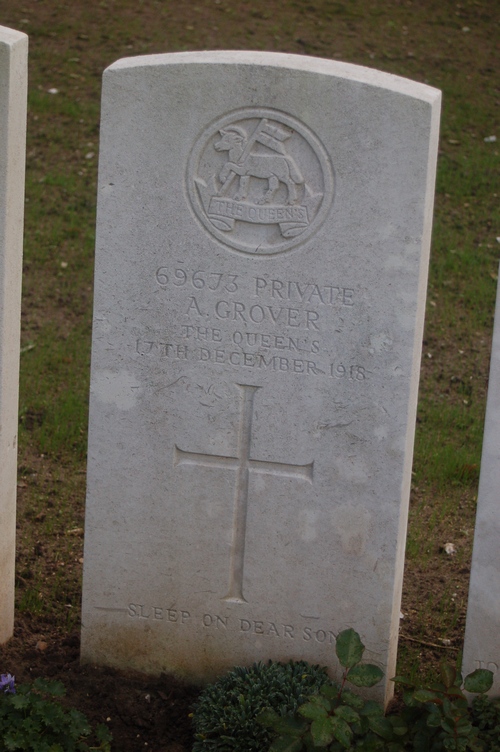 It is not very often you see a headstone that tells you the story without any research. The headstone of the Rev W.H Spinks reads;-
Rev W.H Spinks
YMCA
29th May 1918
His epitaph reads:
Died from injuries received
Whilst rescuing a Chinaman
During an air raid
Greater love hath no man
The story is told in three lines. The Rev William Henry Spinks was 45 years old and was the husband of Ada Spinks of 49 Leys Avenue Letchworth Herts. The Rev Spinks was a Baptist minister.
On the Loughborough Roll of Honour is the following account.
"The Rev W.H. Spinks was severely wounded on Sunday May 19th when a hospital in France in which he was engaged in ministerial duties was bombed. There was received the news during the weekend that the Rev gentleman had succumbed to his injuries on May 29th. His wife who had reached Folkstone on her way to visit him in France received the news. The Rev W.H. Spinks was a student pastor at Coventry at the beginning of his ministerial career, and after being at Kirkcaldy for five and a half years, he came to Loughborough in October 1905.
Here he held the pastorate of Woodgate Baptist Church for 11 years till July 1916 when he obtained three months leave of absence from the church to go in for YMCA work but before that time expired he sent in his resignation of the pastorate in order that he might devote himself entirely to the work.
Afterwards his health broke down and he returned from France, and after recovering he went into business occupation in Leicester for a time, until he was again accepted for YMCA work. He had only been in France a few days when he received the severe wounds which caused his death."
In November 1914, the YMCA went to France and set up a recreation centre in Le Havre. Later, they set up in Rouen, Boulogne, Dieppe, Etaples and Calais, which were the main Army Bases. They also set up in the railway junctions at Abbeville, Dunkirk, Abancourt, Paris and Marseilles. They served up refreshments for the troops and provided writing and reading material which was of enormous value to the soldiers. Some of the staff of the YMCA, totalling over 1,500 in France and Flanders alone, worked in the hospital giving pastoral care and nursing support. One of these workers was Miss Bertha Gavin (Betty) Stevenson whose grave is next to the Rev WH Spinks. Betty Stevenson was a volunteer YMCA worker who was killed in action on the 30th May 1918 during an air raid. She was just 21 years old.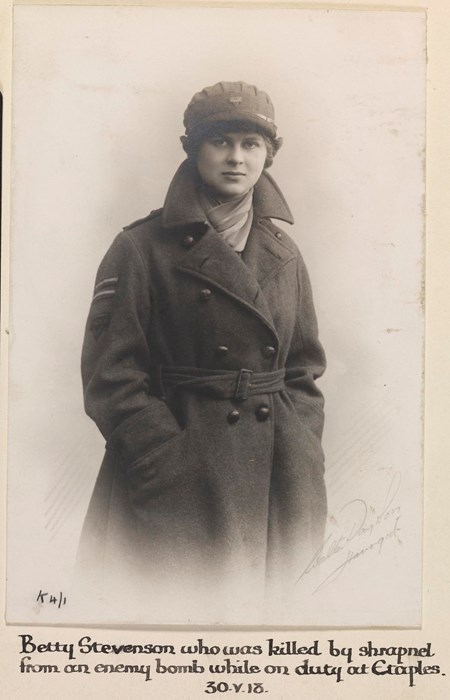 Betty first went to France in February 1916 aged 19 to work as a canteen worker in one of the YMCA canteens which was managed by her aunt. The St Denis Hut was located on the outskirts of Paris. After spending some time in France, she returned home on leave. It was when she was on leave that she decided to become a driver. Betty was exceptionally young to be a driver but she seems to have persuaded the authorities otherwise. So, in April 1917 Betty returned to France as a driver, and she was posted to Etaples. The YMCA driver job was to transport lecturers and concert parties around the various huts. Their main job was especially to transport relatives of badly injured soldiers from the ports of France at Le Havre and Boulogne to the hospitals where the men lay. They would also take these relatives to the funerals of the soldiers if required. This must have been very distressing for someone as young as Betty. In 1918, the bombing raids at Etaples intensified and it was during one of these raids when Betty was killed. Betty and a group of fellow workers took shelter under the bank of the river when one of the planes dropped several bombs over open country. It was a splinter from one of these bombs that killed Betty instantaneously and wounded two other workers.
Betty's friends always knew her as a happy and smiling person. She was given a military funeral and posthumously awarded the Croix-de-Guerre avec Palme by General Petain.
Her headstone reads:-
Betty Stevenson
YMCA
30th May 1918
Her epitaph reads:-
Croix-de-Guerre avec Palme
The Happy Warrior
Etaples was bombed on a number of occasions and the raid on the night of the 19th/20th of May was one of the main reason for my visit. It was to look at the nurses who died at Etaples.
On that night, a bombing raid hit the 1st Canadian General Hospital killing 66 patients and staff. Of the staff, there were three nurses who died.
Nursing Sister Katherine Maude Mary MacDonald of the Canadian Army Nursing Service. Killed in action 19th May 1918 aged 31.
Sister Macdonald was born in Brantford, Ontario Canada on the 18th January 1893 to Mary Maud and Angus Macdonald. She enlisted on the 20th March 1917 in London Ontario Canada. She served in the 1st Canadian General Hospital.
Nursing Sister Gladys Maude Mary Wake of the Canadian Army Nursing Service. Died of severe burns sustained in the air raid. She died on the 21st May 1918 aged 34.
Sister Wake was born in Esquimaly, Victoria, British Columbia Canada on the 13th December 1883 to Amy Rosamond and Gervas Fountayne Wake. She enlisted on the 10th January 1916 in London England. She was 5ft 2ins tall and weighed 8 stone. She served in the U.K and Salonika before she transferred to France and the 1st Canadian Hospital at Etaples on the 12th May 1918. She was there only 9 days before she was killed.
Nursing Sister Margaret Lowe of the Canadian Army Nursing Service. She died of wounds sustained in the air raid. She died on the 28th May 1918 aged 32.
Sister Lowe was born in Morayshire Scotland on the 26th January 1886 to Christina and Thomas Lowe. (Her birth certificate states surname "Low". Her attestation paper is signed "Lowe ")
She enlisted on the 27th March 1917 in Winnipeg Canada. She was 5ft 6ins tall. She landed at Liverpool and served in the UK before being transferred to France on the 26th January 1918 to the 10th Canadian Stationary Hospital and then on the 8th March 1918 to the 1st Canadian General Hospital. Her Canadian records state "Died of gunshot wounds to the chest through German air raid at Etaples".
Sister Wake Sister Lowe Sister MacDonald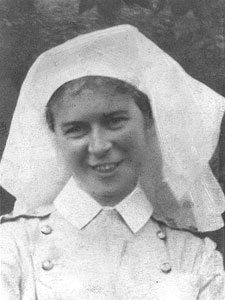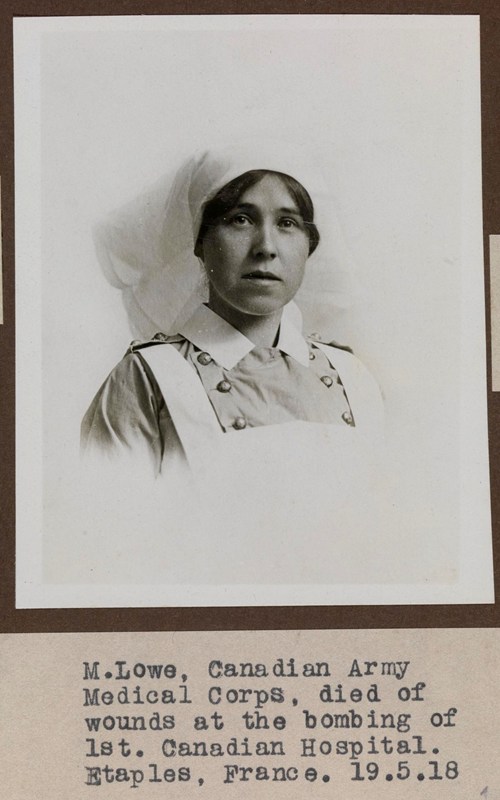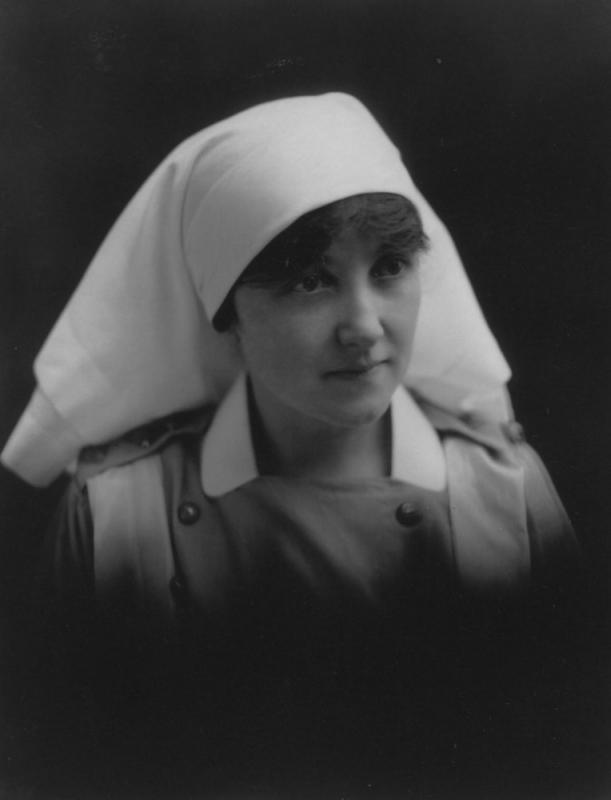 For the record, another Canadian nurse died at Etaples:
Nursing Sister Matilda Ethel Green of the Canadian Army Nursing Service. Died of illness on the 9th October 1918 aged 32. Sister Green was born in Virden, Manitoba Canada on the 14th August 1886 to Mr and Mrs James Green. She enlisted on the 3rd April 1917 in Calgary Alberta Canada. She served in the 7th Canadian General Hospital. She died of pneumonia.
The only other nurse killed in an air raid was:-
Annie Watson Bain. Decorations Order of St John, Mentioned in Despatches.
Sister Bain was a nurse with the St John's Ambulance Brigade Hospital Etaples who was killed in an air raid on the 1st June 1918 aged 30. She was the daughter of James and Helen Bain of Harrismith, Orange Free State, South Africa. The St John's AB Hospital at Etaples was next to the 1st Canadian General Hospital.
There are three QAIMNS nurses buried in Etaples:
Matron Eveline Maud Dawson. Died of illness on the 10th April 1917 aged 49
Her headstone reads:-
Matron
E.M. Dawson
Q.A.Imp.Mil.Nursing. Sce
10th April 1917
Her Epitaph reads:-
Daughter Of
Albert Dawson
Ballymena Ireland
Faithful Unto Death
Nursing Sister Jeanie Barclay Smith. Died of illness on the 28th April 1916 aged 42
Sister Barclay Smith was the daughter of John and Margaret Macpherson Smith of Aberlour Banffshire Scotland. Sister Smith was awarded the Royal Red Cross for devotion to duty.
Her Epitaph reads:-
Thy Will be Done
Nursing Sister Marjorie Croysdale. Died of illness on the 2nd March 1919 aged 26.
Sister Croysdale was the daughter of Thomas and Beatrice Croysdale of Sunbury on Thames England
There is one Territorial Force Nursing Service Nurse buried here.
Nursing Sister Jessie Emily Wakefield. Died of illness on the 7th February 1919 aged 39
Sister Wakefield was the daughter of Richard and Emily Wakefield of Maidstone, Kent: she was awarded the Associated Royal Red Cross for devotion to duty.
The locations of the above graves in Etaples:
F. Grover L1-C-1
A Grover XLV11-E-5
Rev WH Spinks XXV111-M-7
Betty Stevenson XXV111-M-6
KMM Macdonald XXV111-L-8
GMM Wake XXV111-L-5
M Lowe XXV111-M-9
M Green XLV111-A-10
AW Bain XXV111-M-3
EM Dawson XV11-D-24
JB Smith 1-B-27
M Croysdale XLV-C-10
D Reynolds 1-A-20
EW Cox XV111-O-4
F Evens LXX1-E-5
WB Wood XXV- P-7A
Funerals of Sister Wake (left) and Sister Lowe (right).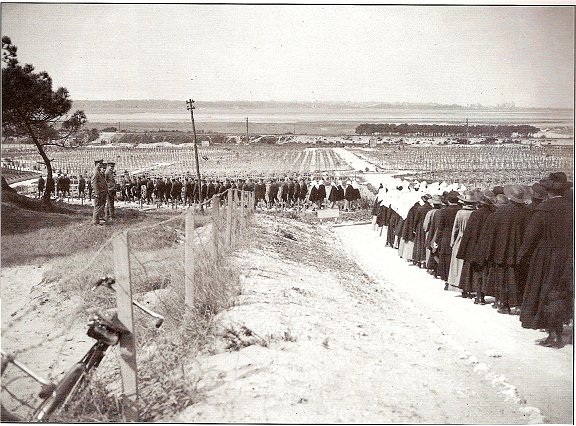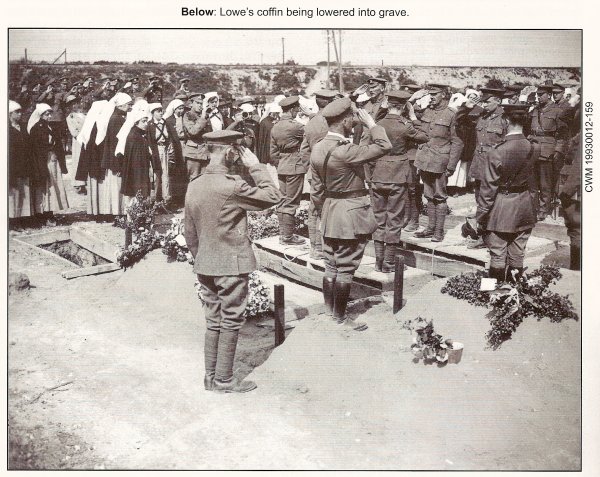 Part 2 of this article by Keith features some of the soldiers at Etaples and will appear in October's newsletter.
Reference and Acknowledgements
CWGC
Mr Peter Williams' Battlefield Guide
"The roses of No Man's Land" Lyn Macdonald. Published by Michael Joseph 1980
"Wilfred Owen Collected Letters" Oxford University Press.1967
www.canadiangreatwarproject.com
Two notices from Mark
Peter Hart talk in Wrexham
"Haig: Britain's Greatest Commander in Chief" to the Glyndwr University Historical 
Society on Thursday 6th October 
at 6pm in the Edward Llwyd Building by the library in
sunny Wrexham. The talk will last about an hour with time for questions 
afterwards.
If you would like to attend - 
please let Simon Birch know by dropping him an e-mail
 to This email address is being protected from spambots. You need JavaScript enabled to view it. - so they can judge numbers. 
Roadshow at the RWF museum in Caernarfon – email from Cardiff University
"The Views of an Antique Land: Imaging Egypt and Palestine in the First World War"
project is holding a roadshow in the Royal Welch Fusiliers Regimental Museum, 
Caernarfon Castle over the weekend of 22nd & 23rd October 2016.   
Our project (which is funded by the Heritage Lottery) is asking the public to share their images of Egypt and Palestine from 1914 – 1918 for a new online resource/archive.
Members of the public are being asked to bring along  any photos, postcards, stereo-views etc. showing Egypt or Palestine during the First World War period so that we can
scan and/or photograph them to add to our archive - we do not keep original artefacts.  We thought that some of your members may be interested in visiting us in 
Caernarfon Castle if they have photos and/or stories to share about their ancestors who served with the Royal Welch or other regiments in Egypt and Palestine? 
The roadshow which is being held at the Royal Welch Fusiliers Regimental Museum in Caernarfon Castle, will run on Saturday 22nd October and Sunday 23rd October
from 10am to 4pm on both days.   Entry to the roadshow is free although standard admission applies to the museum so visitors should state that they are visiting the 
roadshow.  Please be aware that this is a roadshow (we will be available to talk to members of the public about the project as well as scanning and/or re-photographing 
any photos, postcards etc. that they may bring along) this is not an exhibition. 
 Please take a look at our website http://sites.cardiff.ac.uk/ww1imagesegypt/ or our Facebook page:  www.facebook.com/ww1imagesegypt  
 We are also on Twitter @ww1imagesegypt /  www.twitter.com/ww1imagesegypt 
 If you and/or your members are interested in our project, but cannot get to the roadshow – please contact us by email.     
 

With kind regards      
Hilary Rees  
Project Officer - Imaging Egypt & Palestine in the First World War  http://sites.cardiff.ac.uk/ww1imagesegypt/
Editor's footnote: Stuart Hadaway will be talking to the branch in Llandudno in June 2017 on the RWF in the 1917 Gaza campaign. Stuart has written a book on the 1917 Gaza campaign and has been there to research the book. Details of the book are on our website – www.nwwfa.org.uk