Last month's meeting
There was no formal meeting. Instead, we had a "beer and blather" meeting in the Albion pub inside the city walls of Chester.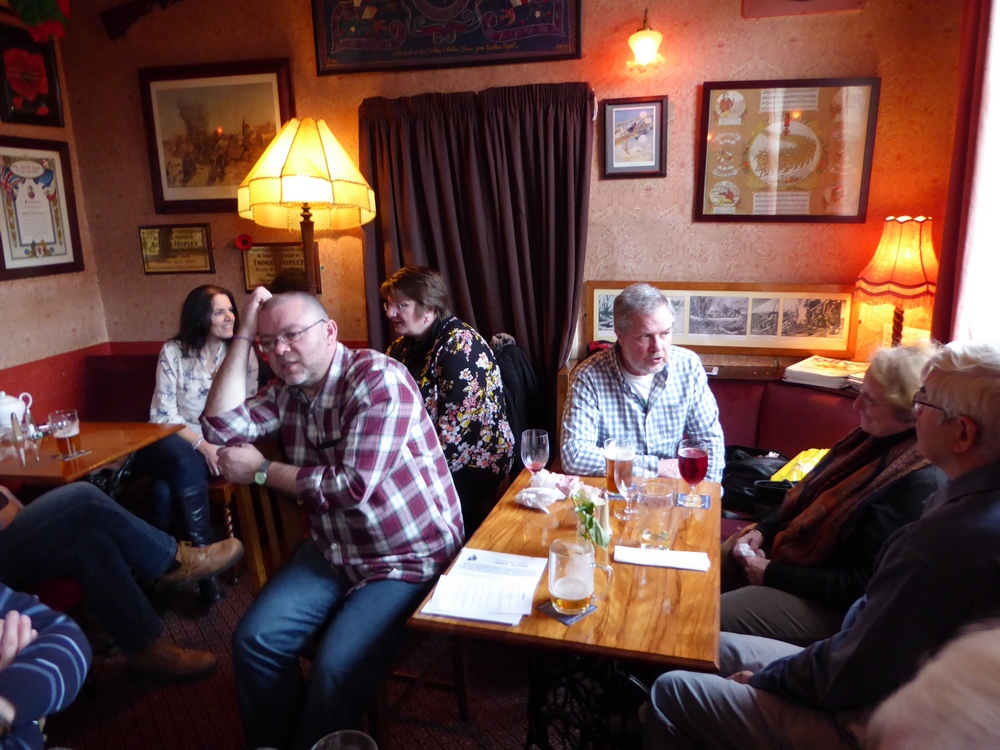 North Wales Meander, Part Two
Keith Walker
I have not come across many stories that link politicians with the soldiers they send to war. This is one and it affected both parties.
After overnighting in Criccieth, we set of to look at a number of the houses of David Lloyd George's situated in and around Criccieth. David Lloyd George (17th January 1863 to 26th March 1945) served as Prime Minister from 1916 to1922. He had two sons who served in WW1. Richard Lloyd George (b 15th February 1889, d 1st May 1968) was a Major in the Royal Engineers and Gwilym Lloyd George (b 4th December 1894, d 14th February 1967) who was a Major in the Royal Artillery. Also, his son-in-law Dr Thomas John Carey Evans MC, RAMC (b1884 d1947) served. (Caroline wrote about him in our October newsletter.) All three survived the war.
The story I had come to look at involved two other brothers, who the Lloyd George family knew very well - Captain Hugh Powell Williams (b1883 d1916) and Captain Hywel Williams (b1894 d1916). Both served with The Royal Welsh Fusiliers; Hugh with the 14th Bn and Hywel with the 17th Bn.
They were the sons of Griffith Powell Williams (b1845) and his wife Elizabeth E Williams (b1854). They lived at "Eifion" in Criccieth. Mr Griffiths Powell William was an ironmonger and had a shop at 51-53 High St, Criccieth. He was an elder of the Berea Chapel in Criccieth and also a leading Liberal in North West Wales. It was he who was largely responsible in getting David Lloyd George adopted as a Liberal candidate for Caernarfon Boroughs in 1889.
The families of the Georges and Williams were close both religiously and politically. The families would have met socially at the chapel and at the Liberal Party Headquarters in Caernarfon.
Captain Hugh Powell Williams was killed on the 5th June 1916. One report reads:
On the 4th of June 1916 the 14thBn RWF sent a party of 60 men under Captain Williams to raid Moated Grange. After the artillery bombardment the party penetrated the barbed wire and entered the trench, only to find the enemy had retreated to the support line, with only 10 minutes to inflict such damage as they could, they bombed some dugouts and engaged the support trench. The return journey was not so easy and Captain Williams and two other ranks were killed.
He is buried at Wicres Churchyard. Wicres is a small village some 8 kilometres north-north east of La-Bassee on the Bethune to Lille road. The churchyard has six identified casualties and two Known unto God. There are two other soldiers from the Royal Welsh Fusiliers - Pte J Cottrell s/n 21256 and Pte A Hayward s/n 20783 both killed on the 5th June 1916. I can only guess that these are the two men killed with Captain H P Williams.
Captain Hywel Williams was killed sometime between 10th July and the 12th July. He was on the attack on Memetz Wood. One report states:
The attack on Memetz Wood was on the 10th July 1916. It was lead by Lieutenant Colonel R.J.W Carden (b1876 d 1916) one of the first to fall at the edge of Memetz Wood. He is buried at Carnoy Military Cemetery. Before the attack he told his men "Make your peace with God, you are going to take that position. Some of you will not come back, but we are going to take it". Tying a coloured handkerchief to his walking stick, he said "This will show where I am".
Captain Hywel Williams never came back. His body was never found. He is commemorated on the Thiepval Memorial (pier and face 4C)
While we were at Criccieth we looked at the Memorial Hall. The cost of the hall was raised by public subscription, donations and fund raising. The foundation stone for this building was laid by David Lloyd George. On the 3rd June 1922, the building was completed and opened to the public in 1925. Inside the building is the Criccieth War Memorial which is in the form of two plaques. On these plaques are the names of the two brothers as well as 34 other WW1 names and 22 names from WWII. Unfortunately for me, the caretaker (key holder) was on holiday, so I could not get any close-up photographs of the war memorial.
What is really interesting is that David Lloyd George's younger brother William (b1865 d1967) asked David Lloyd George to unveil the War Memorial Plaque's. He refused saying he had a heavy cold. But the real reason that he refused was that he could not do it as he told his brother:
"I had to decline the invitation. I knew I would have broken down in the ceremony. They were handsome, tall and fair headed, as fine and upstanding as any young men you could meet".
When I read the story, it reminded me of the first time I read David Lloyd George's War Memories. In them he is highly critical of some of the politicians around him and some of the generals. But to me the whole book is the longest apology I have ever read. During his life David Lloyd George was a political giant, but in his personal life he was at times a physical coward. At the start of the WWII, he had a bunker built under his house in Churt in Surrey. He was afraid of the bombing in London. The plaques were unveiled on the 20th July 1924 by Margaret Lloyd George (b1866 d 1941), the wife of David Lloyd George.
After another enjoyable night in Criccieth, we made our way up to Conway to look if we could see any remains of the army camp and rifle range in and around the golf course. It took a lot of imagination to look at this site.
Thanks to Caroline for finding www.heneb.co.uk/ww1/reports/militarylandscapes. It is a wonderful document full of the WWI sites in Gwynedd. It is well worth a look.
I spent the rest of the day at the RSPB site at Conway where my wife enjoyed a pleasant afternoon in the cafe. But I am afraid the bearded tits evaded me yet again: one day, one day I will see them!
Reference and acknowledgements:
"88 NOT OUT" W.R.P. George , Gwasg Dwyfor 2001
Regimental records of the RWF Major Dudley Ward, Foster&Groom 1929
www.heneb.co.uk/ww1/reports/militarylandscapes.
Top - aerial view of Conwy Morfa (marsh) Below - map of the same area with the WWI camp & range outlined in red