The Dragon's Voice
In this edition, we have an article which will be published in the Irish WFA journal "Distant Thunder". As you will see from the introduction, this article was a gentle response to one from Brendan O'Shea on the topic of Willie Redmond's grave which lies outside the CGWC cemetery of Locre Hospice, and which today is maintained by the CWGC. The Redmond brothers are important figures in British-Irish history, as moderate Catholic Home Rulers with a considerable following. Their importance has re-emerged with the centenary of WWI, and of the struggle for Irish independence.

Willie Redmond's grave is outside the cemetery because the family have declined to let it be moved over the years. This was a source of confusion for me, as the WWI photos show it in the garden of the convent (ie the hospice). In fact, the grave has not moved but the convent has! The original convent was destroyed in the later stages of WWI, and the new one was built across the road where it still stands today.
Brendan is a retired colonel in the Irish army with a long history of UN deployments all over the world, and is the WFA representative for education in Ireland. He strives to have Ireland's role in WWI better recognised in Ireland itself. I am grateful to Steve Binks for his help with all of this.
Trevor
Willie Redmond – the Only Isolated Grave?
Trevor Adams
In Issue 1 of Distant Thunder, Brendan O'Shea wrote an excellent piece on Willie Redmond. Major Redmond lies in a single grave outside the CWGC cemetery at Loker in Belgium. Since that issue, Brendan and I have shared good-natured correspondence about whether Willie Redmond's grave is (a) the only isolated grave on the Western Front, (b) the only Irish isolated grave on the Western Front or (c) the only isolated grave in Flanders*. I should add at this point that the well-known journalist Ronan McGreevy has written about Willie Redmond as well, and has made similar assertions.
Well, I enlisted the help of my friends Steve and Nancy Binks who this year will finish visiting every British and Irish and Commonwealth grave and memorial in France and Belgium after eight years. In anyone knows the answer, they would.
So, to take this in order, let us start with the concept of an "isolated grave". Well, according to CWGC Willie Redmond's grave is not "isolated", as it is a few metres outside the Locre Hospice CWGC cemetery. However, let us not get too hung up on that.
Steve Binks told me that there is an isolated grave on the Marne with possible Irish connections, and sent me some photos of it – La Haute Maison. It transpired that it does indeed have Irish connections, and we will look at them below.
The grave at La Haute Maison is that of two soldiers – Second Lt Harold Alexander Boyd (photo left) and Rifleman James Cousins, both 2nd btn Royal Inniskilling Fusiliers, and both killed on the 7 September 1914. The location is between Meaux and Sancy on the Marne. For an isolated grave to have survived the process of "concentration" after the war, the land would have to have been bought by the family, so usually they are officer's graves. We know the story behind this incident as the battalion war diary survives, as does a Corporal WL Poots' account of the action. The battalion went to France on 23 August and detrained at Bertry in the Pas de Calais, in the early hours of 25 August. The battalion war diary states "27 August 1914, battalion complete. Still in retreat."
By the 7 September, they were down on the Marne. The diary for that day starts "Villiers. Stood to at 3.30am. Marched off at 12 noon to Ferm petit loge [sic] beyond Maisoncelles."
That evening, while moving out to take up outpost positions, they encountered a small party of Uhlans (German cavalry), which they drove off and closed up ranks again. The battalion was then fired upon, from woodland, by rifle fire and two enemy batteries at a range of 1,000 to 1,200 yards. The Inniskillings had no artillery but were trying to find the range of the enemy artillery, and in doing so the officers were exposed to enemy fire. Lt Boyd was standing beside an apple tree, was hit by shrapnel and died instantly. Pte Cousins was also killed. Another officer was wounded, as were a further 19 men, and 6 were missing. The battalion continued all night in that position and by morning the enemy had retired. Lt Boyd and Pte Cousins were buried in the corner of a field near the farmhouse of La Ferme des Arcieres. The battalion moved out the following morning to the village of Courcelles near La Ferté, which is an important crossing point over the River Marne. All of this was part of the battle of the Marne which stopped the German advance toward Paris.


What do we know about Lt Boyd and Pte Cousins? Well, there is actually quite a lot known about them. Lt Boyd was born on the 19 January 1895 in Ware, Hertfordshire. His father, Alexander James Boyd, was a doctor who had served in the army reserve. His mother was Constance Berkley. His grandfather was Samuel Boyd of Illerton, Killiney, County Dublin, a house which still exists today. Young Harold Boyd had attended the nearby preparatory school at Castle Park, Dalkey. He was then a student at Rugby public school and Trinity College Cambridge where he was reading medicine. He joined the Inniskillings in April 1913 as a special reserve officer. He was subsequently called up and stationed on coastal protection at Lough Swilly, County Donegal. His battalion seems to have gone to France on the 23 August 1914, the date given on Pte Cousins' medal record for his disembarkation. One oddity of Lt Boyd's records is that his father was claiming after the war for the 1914 Star which had not been awarded to his son. As Pte Cousins did have the 1914 Star, this seems to have been a bureaucratic oversight, as Lt Boyd is of course recorded as not only being in France in 1914 but being killed there in 1914!
Lt Boyd is described in the following terms: "he was a fine athlete, gaining colours in football, swimming, shooting and cross-country running; and he also won the Royal Humane Society's medal and Dr Duke's cup for lifesaving competition."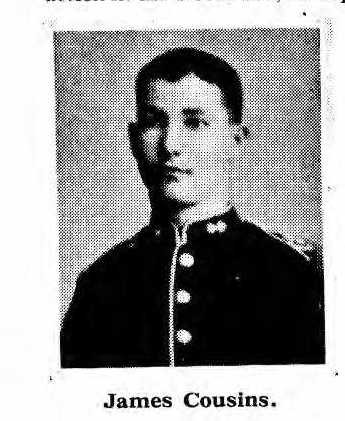 What do we know of Pte James Cousins? He born in March 1889 in Magheralin, Lurgan, to William and Mary Cousins, nee Guiney, and was educated at the National School there. His family are described as damask weavers. He enlisted in the army in July 1905. At some stage, he served two years in China. He had a brother, John, who is listed as being in the RIR at the time of James's death. There is a John Cousins RIR from Lurgan who is listed as being killed on 2 April 1918 and who is buried at Rouen. However, the family information gives the "wrong" parents, so it is not the brother after all, but may be a cousin. The brother did in fact survive the war and is recorded as being transferred to the army reserve in 1919, so hopefully was reasonably fit at that stage.
So, Willie Redmond's grave is not the only isolated grave on the Western Front and, as we now know thanks to Steve Binks, not the only Irish isolated grave, and indeed as regards graves in Flanders there is even another (English) isolated grave*. None of this takes anything away from the importance of Willie Redmond in Irish history, or the poignancy of his demise and of his grave. At least he is not alone, even if his grave is, or is not, "isolated"! I can empathise with the situation only too well as my own grandfather is in a CWGC cemetery, on the Somme, a long way from home.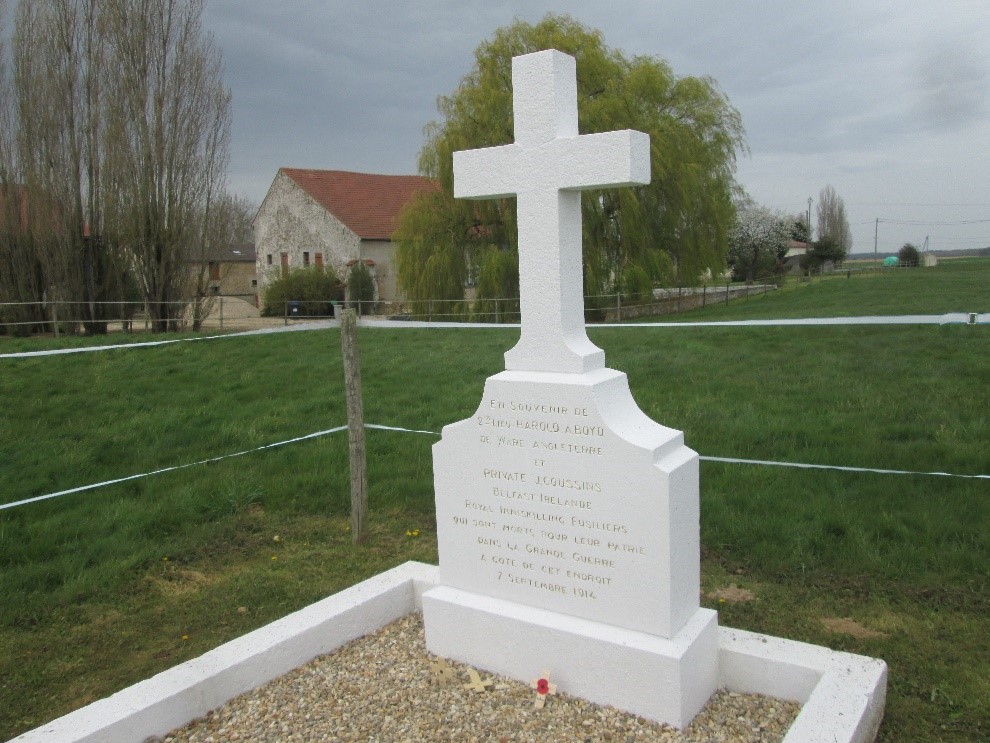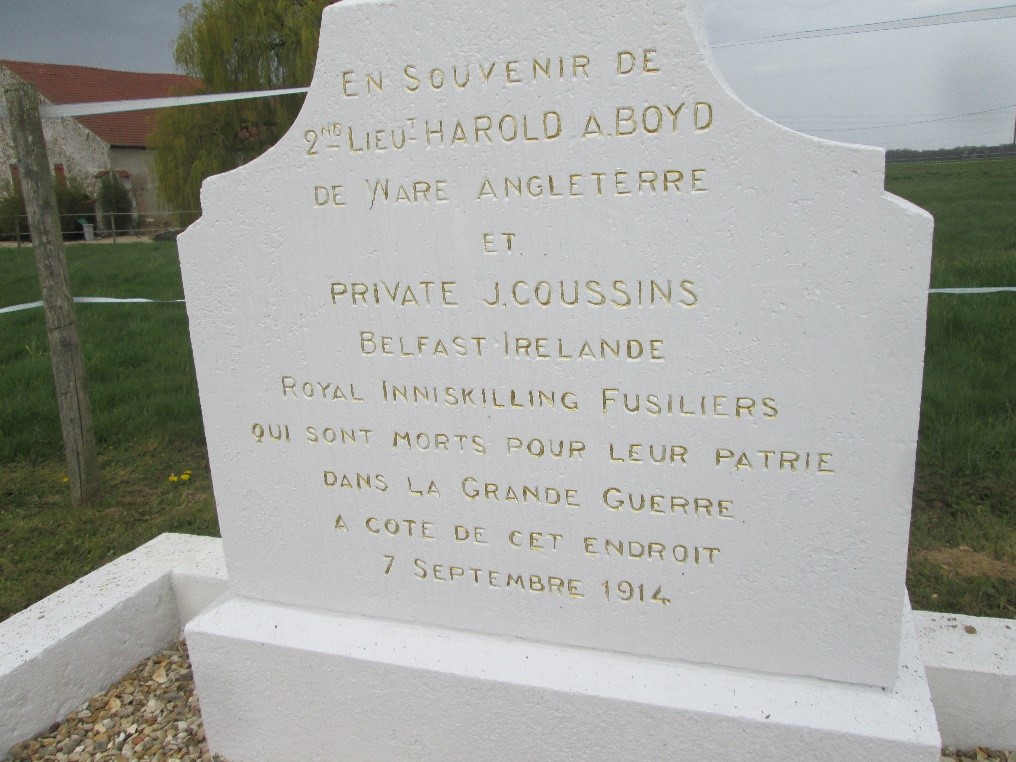 Photos of the grave at La Haute Maison, by courtesy of Steve Binks
The inscription reads (in French) "In memory of Lt Harold A Boyd of Ware, England and Pte J. Cousins, Belfast Ireland, Royal Inniskilling Fusiliers, who died for their country in the Great War near this location, 7th September 1914".
*Footnote
From the CWGC database, there are other isolated graves on the Western Front at Faffemont between Albert and Bapaume – 3 soldiers of the Royal Fusiliers; at Etricourt in the Pas de Calais – Capt CR Tidswell RFC; and at Meteren in Flanders but on the French side of the border – Lt AGA Morris, Kings Own Royal Lancs. There are others in far flung parts of the world - Capt FC Selous, Royal Fusiliers in Tanzania; and perhaps the most famous at Skyros in the Aegean – Sub Lt Rupert Brooke RNVR.
References
Steve Binks, personal communication
CWGC database
de Ruvigny Roll of Honour 1914-1919
British Army WWI Medal Rolls Index Cards
IWM database "Lives of the First World War"