SomeKindHand: Winter 2017
The cold weather blighted any early return to our cemetery Pilgrimage in January; chill wind and freezing fog were the main culprits. After two attempts to get started we decided that the roads were just not safe enough; witnessed by the unusual site of French drivers acting responsibly. You know it's time to abort! However it didn't prevent one idiot running us off the road later the following month.
The hard winter lasted seven weeks and we were thankful that Bob had spent time, effort and money to improve the insulation of the house which we appreciated so much whilst spending our days preparing and mapping our 1918 burial grounds. We also managed (through a VPN) to watch the BBC Iplayer and the ITV hub. French tv is mind numbingly awful and hasn't improved in the last twenty years. I am fairly sure I would have the same opinion even if I could understand what was going on. I'm not bad at saying what I want or reading French, but really struggle to understand it.
By mid-February Nancy and I were becoming quite guilty as the weeks passed by with no cemetery visits. We had tasked ourselves with a hundred visits and had done less than half with less than six weeks remaining in Morval. Finally, on the 9th March with the weather showing signs of improvement we started out again. On that particular day we drove to the department of the Aisne to complete eight communal cemetery visits mostly men who had fell during the early days of the Fourth Armies advance to the Hindenburg Line and had been buried by their comrades. The following day, in glorious sun we visited Vadencourt British Cemetery (760), started by fighting units in August 1917. The cemetery was used until (the village of) Maissemy was overrun during the German Spring Offensive, and then again by medical units towards the end of the war. After that it was greatly increased by concentration; mostly small battlefield sites.
On Saturday 11th March we embarked on a two-day 350mile round trip to visit around twenty three burial grounds, spread across Pas de Calais and the western edges of the Somme. It was a beautiful weekend as we started around the old coal mining hamlets – now suburbs – around Bethune. Not the easiest place to navigate round, even though I had to bring my Garmin out of retirement, thanks to Three Mobile informing us that we had used up our "all inclusive" overseas data. Hats off to those guys that wrote the original Battlefield Ground series of books! How the hell did they find these places?
If there is a short cut, my Garmin will aim for it. Precisely why I retired it last year. But gradually I forgot the golden rule, "If there is no signpost, don't follow the sat-nav route". We must have travelled at least 20 minutes without seeing another vehicle; it was just perfect. Nancy also got to do some walking, (with her walker) rather than her wheelchair. Even though it nearly kills her, we both agree that it's good for mind and body. She is embarrassed that I take short recordings of her attempts to walk, but these now stretch back to 2012 and provide a better picture than memory alone of how things have deteriorated.
In to the afternoon we visited six consecutive single burials within churchyards; something of a record for us. It would have been eight except for three RAMC soldiers buried in the lovely surroundings of Lacres churchyard. Invariably, there is some unfortunate story that surrounds these isolated graves, so far from the front. All three soldiers died on the 1st January 1917 and later research had shown that they had died of carbon monoxide poisoning - using a brazier in an enclosed space – not the first case we have researched. The same fate befell Sergeant George Sayers and Private Thomas Smith (both 12th Field Ambulance) who were found in the Quartermaster's stores whilst billeted in Outrebois. (One of several visits undertaken one bored Sunday in February).
I was struck by the location of Lacre; so peaceful in the dimming afternoon sun. The war memorial listed thirteen soldiers (possibly including three sets of brothers) who fell in the Great War. A rough count of the houses clustered around the church totalled less than this figure. The chaplain that carried out the funerals at Lacres and later wrote to the families suggests that the village has changed little from 1917:
"Dear Madam, I am writing to tell you more details of Pte A E Bridgens funeral, which I conducted this morning. It was a beautiful service. He lies in the corner of the cemetery of a little church upon the hill side in beautiful country. Many of the French people came to pay a last tribute to his memory and the Mayor of the village made an eloquent speech, a copy of which...."
We reached our overnight stop at the Premiere Classe in Boulogne; one of their hotels that time has forgot. We had booked a ground floor disabled access room and we were not surprised that the wheelchair could not pass between the bottom of the bed and the bathroom wall and of course the only grab rails were in the bathroom!!
The following day the weather was a little overcast (due to the sea mist) as we set off for St. Etienne au Mont communal cemetery. As previously mentioned we don't do much research before we set out and so I was a little surprised to discover that the vast majority of the burials at St. Etienne were Chinese Labour Corps (CLC). We have not included the Chinese as part of our Pilgrimage on the basis that they are not part of the Commonwealth. However, if there are Chinese graves within burial grounds that we are visiting, then we will take time to visit their graves; very much the same for Second World War servicemen's graves. We had a dilemma whether to visit the single burial of a Chinese labourer at Le Portel (Boulogne). We decided not to, on the basis that our Pilgrimage is not about visiting burial grounds, but visiting servicemen's graves and memorials.
After a further single burial at Nampont St. Firmin churchyard in Pas de Calais, we crossed in to the department of the Somme and once more our trusty Garmin took us off radar to the world for thirty minutes, eventually emerging at Le Boisle communal cemetery, close to McCudden's crash site.
We don't purposely mark our cemetery visits, other than the signing of the visitors' book. At single burial sites we sometimes place a flower (perhaps borrowed from an adjoining grave) on the grave. We are often cheered by the local community who tend the grave of a Commonwealth soldier, but all too often this is not the case, hence the flower. If I had the time I would write to the local Marie to let them know our thoughts; positive and negative. Any poorly maintained grave gets reported to CWGC at Beaurains, where our contact, Nelly, takes up the case with the local Marie. At the 12th Century church at Forest L'Abbaye, there was no such concern. The single grave of Private Ernest Shelly (8/East Surrey's, 5th January, 1917) was beautifully tended by the local community. Shame not all communities act the same.
By late afternoon on the Sunday tiredness had set in; not the greatest partnership for driving and so having struggled to find first the cemetery then the single grave of Private Joseph Land (KOYLI, 25th September, 1917) at Cayeaux sur Mer, we completed our weekend visits at Bourseville; still several visits short of our weekend target. However, we have some 1918 burial grounds to visit around Abbeville, so no problem picking these 1917 stragglers up, then.
After a rest day, we kept up the visits by completing Grandcourt Road (391), Ablainzville (1) and Bapaume Communal Cemetery (26) on the following Tuesday. I had delayed Grandcourt, knowing that the access would be impossible for Nancy and had intended to include it in a walk from Thiepval, but had run out of time. Instead we took advantage of the dry weather and parked by Stump Road where I left Nancy and continued on foot to the cemetery. Having almost completed the reading of the headstones, I was distracted by a vehicle that had parked up close by ours. We do take security and safety for granted when out and about around the isolated battlefields and cemeteries but I did try and contact Nancy as I could see she was engaged in communication and I couldn't make out if they were visitors or "locals". Anyhow "Three Mobile" again let us down, but my fears were allayed when I saw two figures making their way slowly across the ploughed fields towards me - fellow members of the WFA. They knew of our Pilgrimage from previous articles and I was quick to explain the fact that I was unable to get Nancy to the cemetery. They had a similar problem, having had to leave their father in the car. On my return to Nancy I saw the tissue; the tell-tale sign that she had relieved herself. She enquired who I was waving at. I told her that there was an old chap in the car, which unfortunately for Nancy had blacked out windows!
On the 16th March, we undertook our final multi visit day from Morval across the extremities of the Somme; a sector taken over from the French by Rawlinson's Fourth Army in February 1917, which became the extreme southern flank of the British Army. At several locations we were reminded of the early days of the war; groups of French military burials from September 1914.
At the very isolated Cayeux Military Cemetery (216) it was necessary to leave Nancy in the vehicle and continue on foot, up a track and then up around twenty steps. Because of the location (although it was started in 1917, hence the visit) I expected to see mostly Canadian burials from August 1918. However, the earliest burials were from the 32nd Division (French and German graves having been removed). The burials of officers and men from this division were to be our constant companions during the day.
Cayeux was extended after the Armistice but I was surprised to see what appeared to be "Somme Battlefield" burials made so far from where these men fell! Brief research of the exhumation records for several men indicated that they were indeed "Somme Men", including 34th Division from La Boiselle and 29th Division from Beaumont Hamel. At Nesle Communal Cemetery (135), the visitors' book had just two signatures for all of 2016, indicating the isolated nature of these burial grounds.
Our last visit of the day brought us to Foreste Communal Cemetery (117), which is just over the border, in the department of the Aisne. Its eccentric layout of both commemorative headstones and actual graves has been the cause of debate since we started our Pilgrimage in 2012. It is a most unusual burial ground with what looks to be a formal row of graves either side of the main path and then groups of scattered graves intermingled with civilian burials. By the Cross of Sacrifice there is a Duhallow Stone together with twenty three commemorative headstones; British POW casualties, whose graves are now lost within the cemetery. There are twenty two unknown burials, marked by several headstones; Rifle Brigade and King's Royal Rifle Corps appear on both the partial unknown and on the commemorative stones, indicating that we have said "Thank – you" to 117 men commemorated here – 95 known and 22 unknown – rather than 117 men buried here.
The Thursday of the above visits was concluded in short sleeves. On the Friday we started our last visit from Morval; Serre Road Cemetery No. 2 (7135). Bobble hat, gloves and wet weather gear was needed for our three days at Serre! It was the largest concentration of unknown (4,944) headstones we have yet undertaken. But what is unique about Serre No.2 is that not one single grave was lost on concentration; there are no "Special Memorials" or "Known to be Buried". In addition, perhaps 60 – 65% of the unknown burials have some form of partial identification. The cemetery was not completed until 1934 and to me the above indicates the true reverence under which the burials were carried out.
We managed to complete eighty four burial grounds from our target of one hundred, which considering the seven week break was a fine effort. We are now back in North Wales until Saturday 1st April when we depart once again. We collect the caravan from Boiry, close to Arras and then take up a plot at "Camping Ypra", at Kemmel for three months. We have around seventy four burial grounds to visit, plus a small number in the Nord department, remaining from the one hundred. Then we turn our attention to 1918. Maybe another three years' work; Work! Shear enjoyment.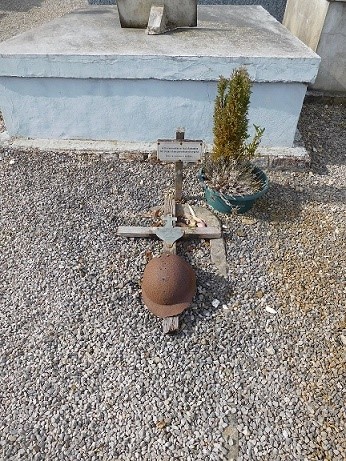 A French soldier's Adrian helmet attached to a wooden cross with a heart shaped metal plate inscribed 1917 and the soldiers name, which is difficult to read . I'm not sure if it belongs to the grave where it lay, which is to be repossessed, according to the notice erected by the local Marie. We will most likely contact the Marie for further details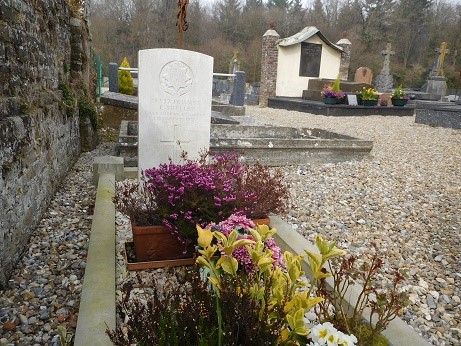 The grave of private Ernest Shelly, 8/East Surrey's, 5th January 1917 in the churchyard of Forest L'Abbaye, Somme. His grave has been well tended by the local community, a far cry from many we witness. Private Shelly of A coy was mortally wounded whilst the battalion carried out training with live grenades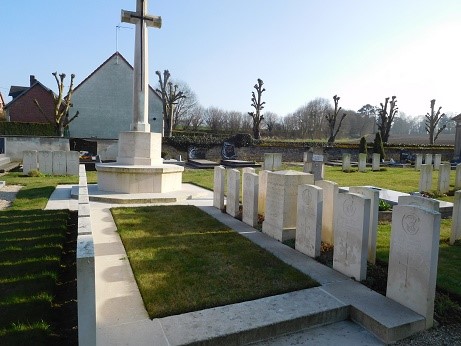 The Duhallow Stone in Foreste Communal cemetery, Aisne. The scattered groups of headstones are the unknown and partial unknown and likely to contain the remains of servicemen commemorated by the headstones in the foreground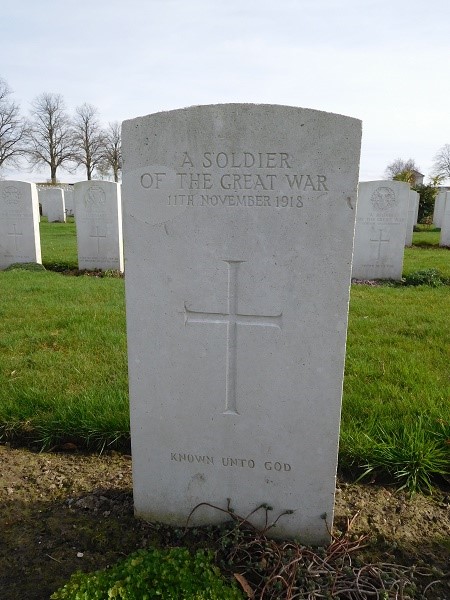 Is this the grave of Private Richard Williams, 51st Battalion, AIF? He is the only serviceman who died on the 11th November 1918 who is commemorated on a memorial to the missing in France. His name is on the Villers Bretonneux Memorial. The headstone is in Serre Road Cemetery No.2 and contains a very high percentage of partially identified "Unknown"