The Gardener's Son
The Gardener was George Haley. He was born in 1863, after the death of his father. His mother was unable to support two small children on her own, so George was brought up by an uncle living in Gresford. With his uncle and aunt, George had had a good start in life – he stayed at school until he was 14 then started work as an apprentice gardener. At the age of 21 he moved to Anglesey to be one of the gardeners at Plas Gwyn in Pentraeth owned by the Vivian family. Some years later, George was appointed Head Gardner to Miss Ellen Pritchard of Bryn Hyfryd in Llanfaes.
His wife was Margaret Bentley Johnson who had been brought up in Liverpool; she trained as a nanny and came to work at Baron Hill in Beaumaris, owned by the Bulkeley Williams family.
George and Margaret met at a ball for the servants of the local gentry. We can imagine that they had noticed each other around Beaumaris before this ball. They married in December 1891. The family lived at several different addresses in the area over the years, but by the time we are talking about, they lived in Ty Tawel, Llanfaes (now Argoed) on the Beaumaris – Llangoed road.
Miss Pritchard, the owner of Bryn Hyfryd was a great horsewoman and sister to Mrs Lettice Hampton at nearby Henllys. Their eldest brother, George Pritchard Rayner, lived in the family house at Trescawen near Llangefni. Several members of the family had served in the Militia and George had served in the 5th Dragoon Guards. Thomas Hampton husband of Lettice, had also served with the 5th Dragoon Guards – he survived the Charge of the Heavy Brigade. In Miss Pritchard's world Army Officers were gentlemen, appointed by birth not ability.
The gardener's eldest son was Tillis (George Tilston Haley), born in 1894. He was the second of eight children born to George and his wife. The eldest boy died shortly after birth and one girl died at 8 weeks, after a botched smallpox inoculation. All the others reached adulthood.
Tillis was successful at school; he progressed from Penmon School to Beaumaris Grammar School. The Vicar had to persuade his parents to pay for Tillis to attend the Grammar School, but after the first year he won a scholarship and then his education was secure. It must have been a real sacrifice for this family to pay for this boy's education.
From Beaumaris, Tillis progressed to Bangor University where he was reading for a science degree. In 1915 his education was interrupted because he volunteered for the Army. He was accepted by the Royal Welsh Fusiliers with whom he started training. Without even completing his training with the RWF we know that he volunteered (or was headhunted by) the Royal Engineers and was posted to the 'Chemists Section'. He was involved with the first British gas attack on the Germans, at the Battle of Loos in September – October 1915.
On 30th September 1915, Tillis wrote this letter to the wife of a fellow Sapper (Royal Engineer):-
"Ty Tawel, Llanfaes, Beaumaris, Anglesey, Sept, 30th. Dear Mrs Cousins, - As I have just arrived from France, Corporal Cousins has asked me to send the enclosed souvenir (German Bavarian helmet). I was in the same section as your husband, so naturally got to know him pretty intimately. He was quite safe and well when I left on Monday. You will be pleased and proud to know that the Section Officer intends recommending him for the Distinguished Service Medal for having captured seven German prisoners, who were in a dugout. I may say that the rest of the section are very proud of him, and this, together with the fact that they did work amongst the wounded, makes the section second to none in the Company."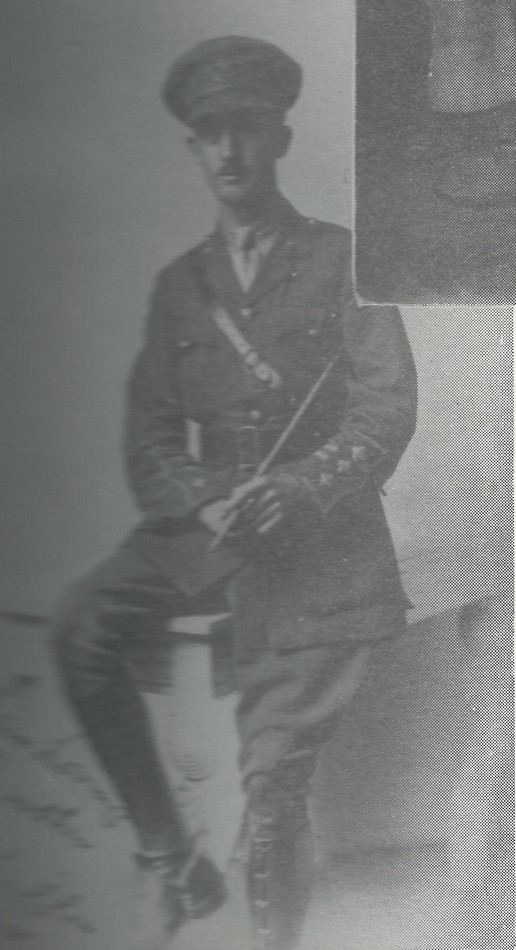 At this time he was back home before joining an Officer's Training Course, after which he joined the Welsh Regiment as a 2nd Lieutenant and served on the Somme for all of 1916. By the end of that year he was ill with trench fever, invalided home and finally declared unfit for active service. Tillis was then posted to Training Camps, first Yarmouth and then Kinmel Park (near Bodelwyddan) where he helped to train the recruits. He was demobbed on Christmas day 1918, as a Captain.
George Haley's employer, Miss Ellen Pritchard was shocked that her gardener's son should become an Officer in the Army. And she said so. She consoled herself with the thought that this was different; there was a war on after all. . . However, her sharp words were long remembered by Mrs Haley.
After the war, Tillis returned to complete his degree at Bangor – he graduated with a Science degree in 1920 and went to work as Science Master at Sir Hugh Owen School in Caernarfon. At Easter 1921 he had to give up work and was admitted to a TB Sanatorium in Caernarfon. By August 1921 it became obvious that he was not going to get better, so arrangements were made for him to come home to Llanfaes. A wooden chalet was put up for him in the garden to prevent the infection from spreading to others in the house. Miss Pritchard offered help towards the cost of the chalet; it was refused by Mrs Haley. On November 21st 1921, Tillis died at home.
Tillis is commemorated on the fine wooden memorial in the David Hughes Centre, Beaumaris as 'G. Tilston Haley'. This building was previously the Beaumaris Grammar School. In Top College, Bangor University he is listed among 'Members of this College who fell in the Great War 1914 – 1918' as 'Haley. G. T. Maj. Welch Regt'.
Tillis has a grave in Llanfaes Churchyard, recently cleaned, which reads: 'In Loving Memory of George Tilston Haley, Captain 21st Welch Reg, eldest son of G & M Haley, Ty Tawel, Llanfaes. Died Nov 14 1921, aged 27 years. He died after a long illness contracted in the Great War 1914 – 1918.'
This account of Tillis Haley's life is largely based on 'Pulling Myself Together' (published 1986) by Arthur Haley, his youngest brother. My thanks also to Peter Greenhill and Enid Walters who have helped me with this research, and to Clive Hughes whose excellent research on WW1 men of Anglesey is on the internet.
Llanfaes Church is at LL58 8LP, to find this grave go through the gate and follow the path, pass the church porch. Roughly half way between the porch and the unlovely mausoleum to the Hamptons of Henllys, look to your left and you will see a white granite curb grave with a large cross lying in place,that is the grave. The church is open daily in daylight hours.
Bridget Geoghegan 2016