Private John Henry Parry 15300
Royal Welsh Fusiliers, 10th Battalion
3 Coedwig Terrace, Penmon
Evan Parry and Mary (Edwards) married in late 1893. Their first son, named John Henry was born a year later. In 1897 their daughter was born, she was named Mary Jane but was known as 'Molly'. In 1904 Hywel Glyn was born, and Gwynfryn in 1905. These two younger boys died as infants.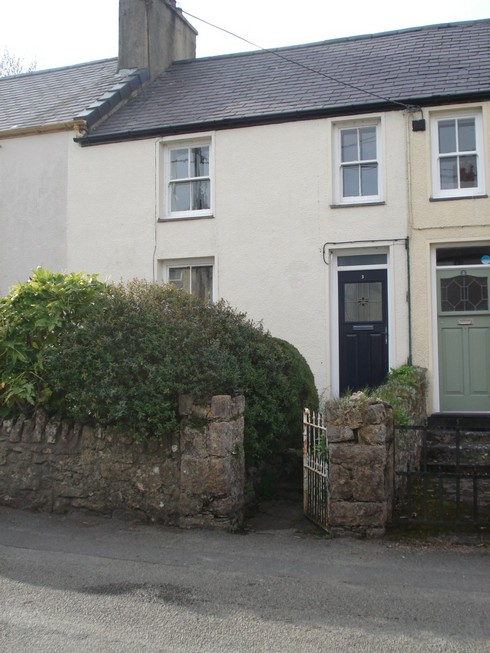 Evan was a quarryman in the Penmon Quarries which at that time was a busy place. The stone was of good quality and was prized for 'status' buildings such as the Liverpool Dock buildings and Birmingham Town Hall.
We know that Evan died in 1908 at the age of 38, possibly from TB. By that date, John Henry will have been working alongside his father in the quarries. TB (tuberculosis) was endemic at the time, and it was no respecter of status. The youngest son of the neighbouring landed gentry family, the Hamptons of Henllys (just outside Beaumaris), died of TB in 1910. It is likely that the dust from quarry work will have made an illness such as TB worse, also poor living conditions – many houses were damp and overcrowded.
The family lived at 3 Coedwig Terrace, Penmon (see photo above); houses built for the quarry workers. They attended Capel Ty Rhys in Llangoed, the Methodist Calvinistic Chapel and the children attended the Ysgol Sabothol (Sunday School) for their Welsh and scripture education. For their formal education, the children doubtless attended Penmon School.
In December 1914, 'Y Clorianydd', a Welsh newspaper, reported: Penmon - Prynhawn Sul cyflwynodd aelodau Ysgol Sabothol y M.C., perthynol i'r lle uchod, anrhegion o Feibiau darloniadol id dau fachgen ieuainc o'r ardal, sef Mr Henry Pritchard, Trwyn Du, a Mr John Henry Parry, Coedwig Terrace, ar eu hymrestriad ym Myddin Arglwydd Kitchener. Y mae Mr Henry Pritchard wedi gadael ei gwydd yngly a'r Trinity am ysbaid y rhyfel, i wasanaethau dros ei Frenin a'i wlad; felty hefyd Mr John Henry Parry, gadawodd yntau ei waith a'i cartref ym Mhemnon i'r un amcan, ac yr oedd y ddau adrag dros y Saboth. Cyflwynwyd y Beiblau iddynt, ar ran yr ysgol, gan cu hathraw, Mr John Roberts, Pwll Crwn, a whoed iddynt amrwy gynghorion buddiol i lynnau byd y gallont wrth y rhai hynny fyddent yn talu parch i grefydd Crist, gan eu barong Hefyd i wisgo holl arfogaeth Duw, fel y gallont sefyll yn erbyn cynwynion dinfol. Gyda golwg ar wu dyfodol, yr oedd pawb yn dymuno a goro iddynt ymhob ystr, ac yn bennaf am i Arglwydd y Lluoedd fod gyda hwy, a Duw Jacob yn amdiffynfa iddynt – Aelod.
'Two Penmon men: Henry Pritchard and John Henry Parry of Coedwig Terrace had volunteered to join 'Kitchener's Army'. Both were both members of Capel Tŷ Rhys, the local Methodist Calvinist Chapel and associated Sunday School. Members of the Chapel Sunday School gave them illustrated copies of the Bible.'
Young John Henry Parry had poor health for much of the war. It is thought that the route marches in training may have proved too much for his already delicate health, he returned home 'unfit for military service' in February 1917 and died in June 1918. He is buried in Penmon churchyard. Although his is a CWGC grave, the headstone was provided by the family and commemorates him and his sister, Molly.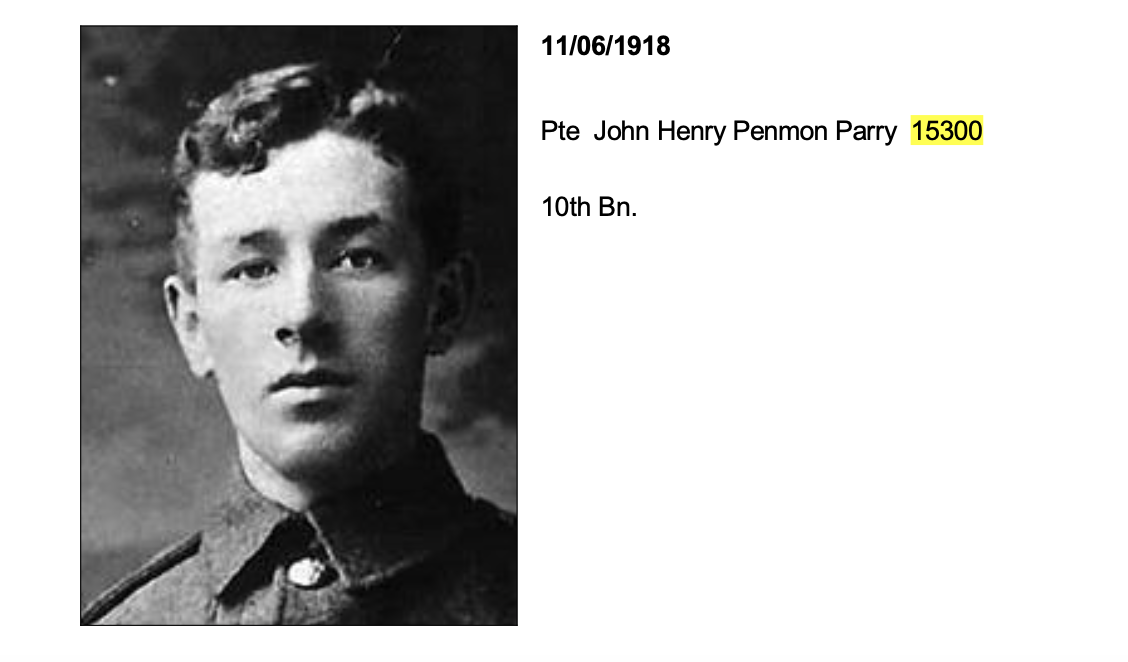 From the Royal Welch Fusiliers Museum: 'On the subject of Pte John Henry Parry - I suppose he won't be listed in the casualty lists because he was discharged from a home service battalion due to ill health. CWGC has his service number 15300, which looks likely for a recruit joining in Sept 1914. There should be an entry for John Henry Parry in the SWB (South Wales Borderers) list.'
There are villagers who still remember 'Auntie Molly' teaching them at Sunday School and her mother who was the cook for the quarrymen, in the barracks building to your left as you enter the gateway to the Penmon Monastery buildings.
Memorials to John Henry Parry
His grave is the only Commonwealth War Graves Commission memorial in Penmon Churchyard (see photo below). It is a fine, carved, slate headstone which
was placed by the family, so is not easily recognised. It is close to the grave commemorating his father, mother and the two babies. Both John Henry and his sister, Molly are commemorated on the stone: 'Er serchog goffadwriaeth am John Henry annwyl fab Evan a Mary Parry 3 Coedwig Terrace, Penmon a fu farw Mehefin 11eg 1918 yn 23 mlwydd oed. Un ddwyll fel ffrynd ydoedd A rhayn aur seion oedd. Hefyd eu chwaer Molly Parry 1897 – 1962 "Gwaith a gorffwys bellach wedi mynd yn un".'
'In everlasting memory of John Henry, dear son of Evan and Mary Parry 3 Coedwig Terrace, Penmon who died June 11th 1918 at 23 years old. . . . Also his sister Molly Parry 1987 – 1962 "Work and rest from now are one".'
On the CWGC website, his entry is: J h Parry / Rank: Private / Service No: 15300 / Date of Death: 11.06.1918 / Regiment: Royal Welsh Fusiliers 10th Bn. / Grave Ref: North of East end of church / Cemetery: Penmon (St. Seiriol) Churchyard
On the Llangoed Village Hall memorial plaque: This Tablet is set here by the Parishioners of Llangoed, Llaniestyn and Penmon to the memory of those who gave their lives for the cause of Liberty and Righteousness in the Great War 1914 – 18 a.d. "Bravely they fought, for us they died, for us they live" – Private J. H. Parry, Coedwig Terr., Died.
In the Bangor Memorial Arch (North Wales Heroes' Memorial Arch) opened in 1923, he is recorded under the Parish of Penmon as 'Parry, J. H.'
His grave is not yet recorded on The War Graves Photographic Project.
In spite of a thorough search, I failed to find him listed in the 'Regimental Records of the Royal Welch Fusiliers' by Major Dudley Ward.
Bridget Geoghegan 2016