The Dragon's Voice
In this issue, we have an article from Keith on some casualties at Toutencourt on the Somme, and an article on the Llandudno silhouette artist Lawrence Oakley. As ever, we owe many thanks to Jim Morris for allowing us to use his WWI day by day material on the Facebook page.
Trevor
The Programme for 2018
Mar 3 : Andy Lonergan - 21st Division 1914-1918
Apr 7 : Dr Simon House - A Lost Opportunity ,
The French Ardennes Offensive 22 Aug 1914
May 5 : Rob Thompson - Wombles of the Western Front: Salvage operations
Jun 2 : Greg Baughen - From Flying Dreadnoughts to Dogfighter,
The troubled birth of the British Fighter
July 7 : Steve Erskine - Prisoners of Conscience: Richmond Castle during the Great War
Sept 1 : TBC
Oct 6 : Jeremy Gordon-Smith - Photographing the Fallen, a War Graves Photographer on the Western Front 1915 - 1919
Nov 3 : Trevor Adams: What Happened Next? The Aftermath of WWI
Dec 1 : Christmas Meal
Last month's talk
Mark gave us a talk "in character" on his relation, William Henry McGrath, who worked locally in the soap factory at Port Sunlight on the Wirral, joined the Cheshire Regiment and died on 3rd July 1918. He is buried in Tannay CWGC cemetery, Thiennes, which is between St Omer and Bethune.
Lawrence Oakley
This is an article from "The Green Howard" of October 2017 about Lawrence Oakley, written by his great nephew, Jerry Rendell who came to talk to the NWWFA in 2016. The local connection is that, after WWI, Lawrence Oakley set up as a silhouette artist on the pier at Llandudno and was there almost until his death in 1960. Many of the older generation of locals remember him. He is buried in the church graveyard on the Great Orme, outside Llandudno.
The article is on the website under "Local History" and can be accessed through the link here.
Side-tracked: Toutencourt Communal Cemetery
Keith Walker
One of the dangers of doing research is that you can sometimes get side tracked. I was looking at the casualty clearing stations that were behind the lines at the Battle of the Somme, especially No 3 and No 44 which were stationed at Puchevillers until 19th March 1917. They then moved to Brandhoek on the 23rd March 1917, until 16th September 1917. Casualty Clearing Station No 44 was where Nellie Spindler was killed on the 21st August 1917. No 3 is where Captain Noel Chavasse RAMC was treated before he died on the 5th August 1917. Puchevillers has a CWGC cemetery "Puchevillers British Cemetery" with 1,763 graves. The CWGC register states:
"In June just before the opening of the Battle of the Somme the 3rd and 44th CCS came to Puchevillers Plot 1 to V and almost the whole of V1 were made by the hospital before the end of March 1917 . Plot V11 contains graves of the German advance of 1918".
[Editor's note: closer to home, my grandfather died in one of the CCSs at Puchevillers but we don't know if it was No 3 or No 44. He is one of the 1763 casualties buried in the cemetery at Puchevillers.]
Down the road about 3 miles is Toutencourt Communal Cemetery with 23 CWGC graves in it. The cemetery is not in the CWGC book but it is on their web site. This is where I got side-tracked.
Toutencourt village was the Headquarters of the 5th Army from 2nd July 1916 until 28th March 1917 which was in reserve before the Battle of the Somme. I wondered why there are so few graves in this cemetery. The dates of the burials are one in 1915, one in 1916, one in 1917, and 20 in 1918. There is one Australian and twenty two British, of whom four were officers and nineteen other ranks. This cemetery had a "shot at dawn", a Vicar KIA, an accidental shooting and an accidental explosion. So a number of graves caught my attention.
Plot 11-A-9 is the Grave of Sapper Robert Bell
s/n 62536 Royal Engineers
D.O.D. 22nd May 1918 aged 29
Sapper Robert Bell was a native of Durham. He was a miner by trade. In the 1911 census he is working with his father at Aberaman Colliery in the Rhondda Valley. He enlisted in the Royal Engineers on the 9th January1915 and was posted to the 123rd Field Company. His service records have not survived but we know that this company served at the Battle of the Somme and at the Battle of Passchendaele.
It seems that Sapper Robert Bell was a good soldier but on the 17th April 1917 Sapper Bell shot Second Lieutenant Wynell Hasting Lloyd (b1895 d 1918 age 23).
On the morning of the 17th April 1917, Sapper Bell's section number four were told they would have a kit inspection at 4pm. At midday Sapper Bell went hunting for game. The countryside around Senlis where they were encamped had hares, partridge etc. Sometime in the afternoon Sapper Bell returned from his hunting trip. At 4pm, he assembled with his section drawn up in two ranks on the parade area.
The inspecting officer, Second Lieutenant Wynell Hasting Lloyd, noticed Bell was improperly dressed, in that he was not wearing the regulation puttees. Sapper Bell was ordered off the parade and told to go and put on his puttees. He went to a nearby dugout and for almost ten minutes 2nd Lt Lloyd continued to direct the inspection. Then a shot rang out - 2nd Lt Lloyd was hit in the head killing him instantly. The men on parade scattered. The NCOs who had been carrying out the inspection ran to the dugout and found Sapper Bell and a recently fired rifle. He did not offer any resistance and was escorted away.
At his Field General Court Martial ("FGCM"), Sapper R Bell was charged with murder. He was supported at the FGCM by a soldier's friend. This was Lieutenant Claude Meeson of the Machine Gun Corps, who in civilian life was a solicitor. In his defence, Sapper R Bell said that the rifle went off by accident as he was getting out of the dugout. But he seems to condemn himself when two witnesses heard him say after the shot was fired and he was held by the NCOs "You know me Sergeant Major - when I set out to accomplish a thing I do it, so there it is." Also, CSM Ferris heard him say: "I have done the section a good turn. You'll think of Bob Bell in years to come".
In his summing up, Lieutenant Meeson tried to persuade the court to return a verdict of manslaughter, as no one saw the shot fired. There was no animosity between Sapper Bell and Second Lieutenant Lloyd, so no motive. It must have been an accident. Sapper Bell was found guilty.
Field Marshal Haig confirmed the sentence on the 16th May 1918. Sapper Bell was executed near Harissent at 4 12 am on the 22nd May 1918 by a firing squad under the command of Captain Claude Tully, Assistant Provost Marshal 38th Division.
Note: A full transcript of the court martial can be found at www.blindfoldandalone.com
Note: Second Lieutenant Wynell Hasting Lloyd was 23 years old and was the son of Mr EWM and Eleanor E Lloyd of Hartley Wintney, Hants. He is buried at Warloy-Baillon Communal Cemetery Extension Plot 11-F-4
Plot 11-A-13 is the grave of Lieutenant Reginald Wallis Palmer.
5th Australian Pioneer Battalion
D.O.D. 2nd April 1918 aged 24
This is another soldier killed by a fellow soldier.
Lieutenant Reginald Wallis Palmer was born in 1894 in Victoria Australia. He was a joiner by trade. He enlisted on the 12th June 1915 when he was 21 years old. He was 5ft 4ins tall and 9 stone 6 pounds in weight. The 5th Pioneer Battalion was formed in Egypt on the 3rd March 1916. It was then transferred to the Western Front. The battalion saw action in most of the Australian engagements. In January 1917, RW Palmer was commissioned. In October 1917, he was "Mentioned in Corps Routine Orders" for his work at the Battle of Menin Road.
In April 1918, the 5th Australian Pioneer Battalion were encamped at Arqueves, a village 18 kms North West of Albert. On the 2nd April at noon, Lt RW Palmer was having a shave in "A" company's officers mess when three shots were fired, Palmer was hit in the head. He was mortally wounded. What is sad about this story is that Lt RW Palmer was killed by a fellow officer, Lt Arnold Warren Frazer from Brookvale, Sydney, Australia.
Prior to Palmer's death, Lt AW Frazer was inspecting a Lewis gun that was situated on a table in the Officers Mess. A battalion Court of Inquiry was held in the field at 2pm that day. The court found that the death of Lt Palmer was purely accidental and that the Lewis gun was fired due to Lt Frazer not having sufficient knowledge of the mechanism and his keenness in trying to master same made him overlook the danger to which he was exposing his comrades by placing a full magazine on the post of the Lewis gun. Lt AW Frazer was heavily censured in relation to the death of Lt R.W. Palmer. One can only imagine the remorse he must have felt.
Note: Lt RW Palmer's brother, Charles Francis Palmer, was severely wounded at Gallipoli on the 25th April 1915. He suffered a severe wound to his left arm and lost the sight in both eyes. After treatment in England, he was returned home to be looked after by his parents.
Plot 1-B-6 is the grave of Private Howard Benjamin Best
s/n 379343 and TR/10365995 Labour Corps
D.O.D. 4th December 1917 aged 26
This is the story of another accidental death. Private Howard Benjamin Best was born in Camden Town, London on the 29th December1891. He was the son of Benjamin and Emily Tabitha Best (nee Johns). By 1901, Emily had moved back to her native Tenby Wales with her young son residing at 4 Belmont Parade, Tenby. Howard married Nellie Bushell at Pembroke on the 27th September 1915. His trade was that of a hairdresser. He enlisted at Carmarthen on the 25th June 1917 into the Royal Fusiliers. Initially served in their training battalion in Edinburgh before being posted to France on the 29th September 1917. He was transferred to the Labour Corps serving with the 260th area employment company.
Howard was on the rifle range at Toutencourt on the 4th December 1917 when an unexploded trench mortar round blew up killing him and wounding several other men. A Court of Inquiry was held which discovered that an unexploded round had been hidden under duck boards on the range by an unknown person and that the explosion was accidental. Howard was 26 years old.
Plot 1-B-5 is the grave of Lieutenant Frederick Crathorne
Attd 252nd Tunnelling Company Royal Engineers
D.O.D. 14th January 1916 aged 38
The 252nd Tunnelling Company was formed on the 21st October 1915 and sent to the Somme area. In January 1916, the company was working on the Redan Ridge. At 2pm on the 14th of January 1916, the Germans in response to a British bombardment retaliated with one of their own. One of the German trench mortar shells exploded in the British trench killing Lt F Crathorne. Lieutenant Frederick Crathorne was born on the 31st August 1878 in Pietermartzburg, Natal, South Africa, the son of John and Sarah Crathorne. He was one of five children. He had served with the Natal Carbineers in the Boer War in South Africa and had been awarded Queens South Africa Medal with three clasps, Kings South Africa Medal with two clasps. After this conflict, he sailed for England and enrolled in the Camborne School of Mines in Penryn, Cornwall to study mining techniques. After three years he qualified and returned to South Africa. He worked all over South Africa as a mining engineer. He returned to England in 1915 and was commissioned on the 21 May 1915 into the 11th Battalion South Lancashire Regiment. On November 4th 1915, he was attached to the 252nd Tunnelling Company Royal Engineers because of his mining experience.
Note
The 252nd Tunnelling Company were responsible for the Hawthorne Ridge mine which blew on the 1st July 1916 giving us that iconic picture, taken from Malin's film.
Plot 11-A-1 is the grave of the Reverend Alfred Heath
Chaplain 4th Class Army Chaplains Department
D.O.D. 30th June 1918 aged 39
The Reverend Alfred Heath was born in Edmonton, Middlesex, England. He was the son of Daniel (b 1835 d 1908) and Agnes Amelia (b 1840 d 1921) Heath and was the fourth of five children. The 1911 census has him living as a boarder at 89 High Street, Ponders End, Middlesex. He is single and his occupation is "clergyman (established church)".
The CWGC register states that he was attached the 9th Battalion Duke of Wellington's Regiment and was killed in action on the 30th June 1918. The service record has not survived but his medal card has him entering France on the 4th January 1918. He was in France for only six months. He was awarded the British War Medal and Victory Medal. His sister Edith, who was a spinster, applied for his medals on the 14th February 1921. In the register of probate, she was left his effects amounting to £1,369 19s 5p. At that time she was living at 10 Mount Pleasant, Turners Hill, Cheshunt, Hertfordshire. It was from this address that his mother Mrs AA Heath sent the forms for his epitaph which reads: "Except a corn of wheat fall into the ground and die, it abideth alone. John 12: 24". The 63 letters cost his mother 18s 4p.
"Served as"
There are twenty four names in the CWGC register but only twenty-three graves. In plot 2-A-10, is the grave of Private Arthur Hison, who was really Private Arthur James Davis s/n 20233 1st Battalion Sherwood Foresters, transferred to 371858 Labour Corps. He was 41 years old and the son of Jane Davis of Leicester.
Why was he serving under the name Hison? Was he hiding something? I think I am being side-tracked again.
[Editor's note: I was always fascinated by the CWGC register that my grandmother had for Puchevillers which had a number of "served as" entries. Steve Binks tells me that the usual reason was that the soldier's father had died or deserted the family when he was a boy, and that the soldier could be known by his father's or his stepfather's surname, so CWGC record both. An exception is an RDF sergeant at Puchvillers who served as Coleman but whose real name was Crapp – yes, really!]
References and Acknowledgements
CWGC
Tailpiece – can you believe these ladies?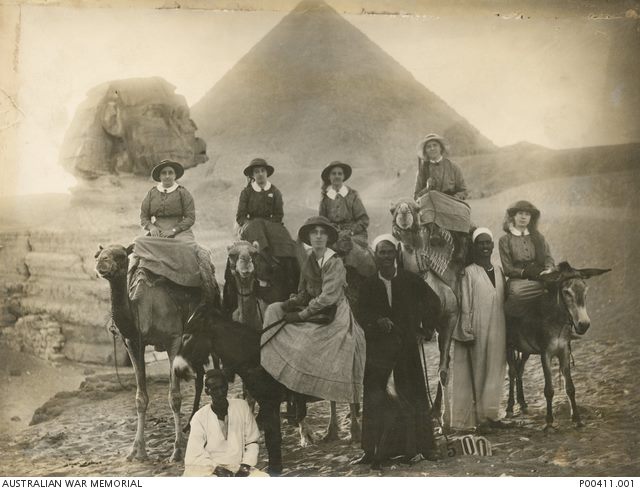 Members of the Australian Army Nursing Service, pictured on camels in front of the Sphinx and pyramids. Sister Isabelle Bowman is believed to be one of the nurses.
Egypt - Circa 1915