The Dragon's Voice
In this edition, we have newspaper cuttings from Pam, a soldier's story from Steve, and an article from Keith on the soldiers behind the names on the war memorial in a local village near Wrexham.
Trevor
The Programme for 2019
March 2nd: Andy Lonergan - 21st Division
May 4th: Vern Littley - Le Cateau
Newspaper cuttings from 1918
Pam Hall
I found the following two small snippets of news in a 'scrap' of paper cut from an edition of the Daily News in 1918. I believe that it was given to my and Fiona's father, together with a large collection of original photographs. It is safe in my collection of First World War items of interest.
Regarding the "Lonely Serbs", I shall be researching the Dobrudja, as I'm afraid that I don't have a clue about it. The little story about the soldiers really struck a chord with me and I want to find out what happened to them. When and if I do, I shall let you all know! [Editor's note: the Dobrudja is an area of NE Bulgaria on the Black Sea that was transferred to Romania by the Treaty of Neuilly. Like Pam, I have not the faintest idea why there were Serb soldiers there!]
The miniature elephants… I'm going to find out whether the total amount of money required was reached!
On the same piece of paper there are three further brief but very interesting reports, reproduced below.
Pam
LONELY SERBS
Men who fought in the Dobrudja in a London hospital
In the No. 1 General Hospital, Florence-street, Camberwell, there is a group of 20 soldiers who are probably more remote from their kith and kin than any other group of soldiers in London. They are Serbs from Austrian territory who fought in the Jugo-Slav army on the side of the Allies in the Dobrudja.
The Hon. Evelina Haverfield, head of the Comforts Fund for Serbian soldiers and prisoners, told a "Daily News" representative that this little group is probably the loneliest band of exiles in London and if a few kind-hearted folk would take or send to them some cigarettes or flowers it would cheer them and brighten them up immensely.
The men are now invalids, largely as a result of their sufferings. They found their way to England after a long tramp from south-west Russia to north Russia and they were in a shocking state when they reached this country.
MINIATURE ELEPHANTS
To be sold on India Day, but live ones not allowed in the streets
India Day tomorrow will certainly and deservedly appeal to the public. At least 50,000 pounds sterling is required to provide recreation huts and clubs for Indian soldiers and labour battalions on all fronts. The honourable secretary is Princess Sophia Duleep Singh.
The sellers of emblems, which will include miniature elephants and Indian kukri brooches, will be dressed in native costumes and will be posted at all large hotels and theatres. Miss Isabel Marshal is going to the Café Royal in a rickshaw. Elephants were to have assisted in the collection, but those at the zoo are not used to traffic and it was feared that they would be a danger to the public.
******************************************************************************************
HINDENBURG LINE AGAIN ATTACKED
Outer Defences Captured Well beyond the Front of Last March
6,000 PRISONERS
Australians Advance Three Miles on to the St. Quentin Canal
BRITISH NIGHT REPORT
At 5.20 this morning troops of the 3rd and 4th British Armies attacked with complete success on a front of about 16 miles from Holnon to the neighbourhood of Gouzeaucourt.
On the whole of this front our troops, advancing in heavy storms of rain, carried the enemy's positions by assault.
Sweeping over the old British trench system of March 1918, they reached and captured the outer defences of the Hindenburg line on wide sectors.
On our right, divisions composed of English and Scottish troops captured Fresnoy-le-Petit, Berthau and Pontru, meeting with and overcoming strong hostile resistance, particularly on the extreme right of our attack.
AUSTRALIAN DASH
In the right centre, two Australian divisions captured the villages of Le Verguier, Villeret and Hargicourt.
Pushing forward with great determination they established themselves in the old German advanced positions west and south-west of Bellicourt, having penetrated the enemy's defences to a depth of three miles.
In the left centre the 74th Yeomanry Division and other divisions composed of East County and London troops, captured Templeux-le-Guerard, Ronssoy, Epehy and Peizieres, also penetrating to a great depth.
North of Peizieres the 21st Division attacked over the northern portion of the sector defended by it with so much gallantry on the 21st and 22nd March.
COMPLETE BATTERY TAKEN
Having captured its old front trenches, together with the strong point known as Vaucellette Farm and beaten off a hostile counter-attack, it pushed forward more than a mile beyond this line, capturing several hundred prisoners and a German battery complete with teams, in the course of its advance.
On the left of our attack other English and Welsh troops carried the remainder of the high ground south of Gouzeaucourt, reaching the outskirts of Villers-Guislain and capturing Gauche Wood.
Over 6,000 prisoners and a number of guns have been captured by our troops in the course of these successful operations.
******************************************************************************************
Corporal Albert Kenneth Bassford, 9th Battery, 41st Brigade, Royal Field Artillery
Steve Binks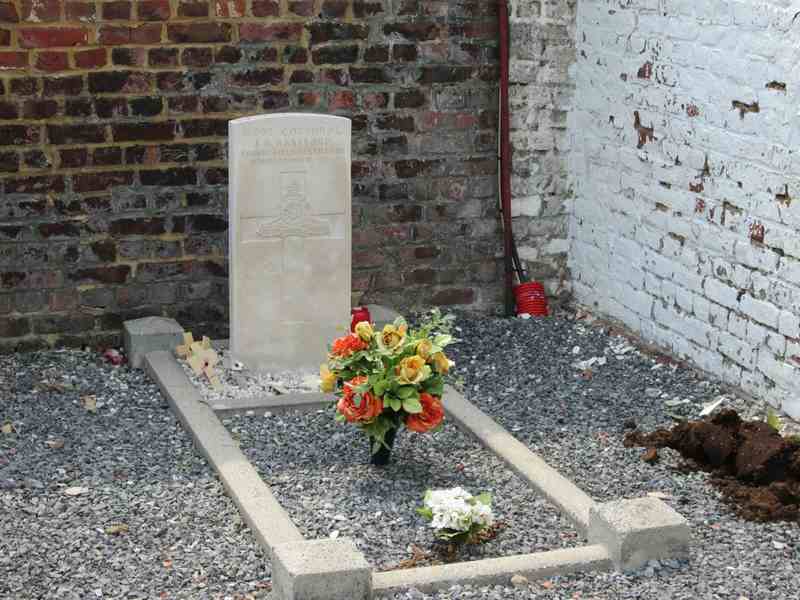 One of our earliest ideas for publication was the story of our Pilgrimage set against the background of researching those servicemen buried in isolated graves in French and Belgian communal cemeteries and churchyards. As a consequence, whilst we continued our Pilgrimage, (wi-fi dependent) Nancy and I carried out the most rudimentary research in to the servicemen who occupied these isolated burial plots.
On Thursday 24th May, 2012, whilst based in Mons, we visited the communal cemetery at Estinnes au Mont (see photo above), to say "Thank-you" to Corporal A. K. Bassford, Royal Field Artillery, whose date of death is recorded as 23rd August, 1914, the opening day of the Battle of Mons. The following article examines the stages taken into the research of this serviceman and the difficulties encountered.
Our early notes, scribbled all over a cemetery visit sheet, indicate that we searched Soldiers Died in the Great War (SDITGW) and the Commonwealth War Grave Commission (CWGC) website to establish Bassford's full name, his unit and family. (I have a real issue with any research carried out where a serviceman's Christian name(s) is not used!). Although I have no dates against this most basic research, we must have had access to our Ancestry.com account, as we found various census records and also found his Medal Index Card (MIC) which indicated his date of entry in to the war as the 16th August 1914. I also made some notes about other possible casualties from the same battery, and service of at least one brother.
I am a prolific note taker. Unfortunately, they are only understood by me! Unless I am copying and pasting large detailed accounts, I prefer to write my research in long-hand and not on the computer. So, in early 2014 when I once again visited my notes on Albert Bassford, I needed to start all over again. This "second" piece of research included further research in to the census records, his military service and circumstances surrounding his death. I also had a chance conversation with a chap from the local village where Albert is buried, but more about this later.

Family Background
Albert Kenneth Bassford was born at Lucknow, India, 15th February, 1887, to parents William and Emma. I suspected that his father was ex-military. This was confirmed when I noticed that his father's occupation on the 1891 census is listed as "Corps Commissionaire". A Google search informed me that it was formed in 1859 by Captain Sir Edward Walter (1823–1904), former officer of the 8/Hussars. It gave gainful employment to ex-servicemen returning from the Crimean War. To this day, the Corps of Commissionaire's is the oldest security firm in the world. (I also took the opportunity of contacting their archive department about the service of William Bassford. Getting sidetracked is a real issue!)
By the time of the 1901 census and now aged fourteen, Albert was employed as a telegraph messenger, with the family living at Ilford, Essex. His older brothers, William (19) and Arthur (16), were both telegraphic clerks. Also living at home were two younger brothers and three sisters.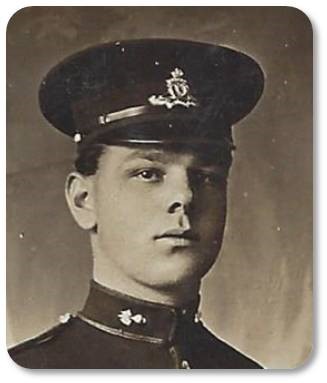 Military Service
According to the Army Register of Soldiers' Effects, Albert enlisted (at Stratford, Essex) on the 2nd August 1901, at the tender age of 14. Under military law he would not have been allowed to serve overseas until he was 19. At the age of 22 in 1909, he married Sarah Elizabeth Howard in Leeds. Two years later, the 1911 census shows Albert at Fulwood Barracks, Preston, with the rank of bombardier, in the Royal Field Artillery. His wife, is shown as living with her father and son, Kenneth, in Leeds.
On the outbreak of war Albert was mobilised and went overseas with his unit, 9th Battery, 41st Brigade, RFA on the 16th August 1914. His war would last just eight days!
Casualty Details
The village of Estinnes is a few miles to the south east of Mons and my knowledge told me that it was amongst the few burial grounds that contain casualties of General Douglas Haig's 1 Corps, whose units escaped the main German advance against Mons on the 23rd August. A little more digging established that the 41st Brigade Royal Field Artillery (RFA) was part of Munro's Second Division. The war diary states that on the morning of Sunday, 23rd August, the 9th Battery came under the command of the 6th Infantry Brigade (2nd Division). Three of its infantry battalions occupied a series of roughly struck trenches south of the railway. From left to right: 2/South Staffordshire, 1/Berkshire and 1/King's Royal Rifle Corps. The 1/King's Liverpool remained in reserve at Givry. The batteries of four 18pdr guns occupied a reverse slope position, perhaps 1,000 yards behind the infantry. Two other batteries were also in support of the infantry.
"At 5.00pm the enemy opened fire from concealed position to the NW. Fire very heavy and battery had heavy casualties, losing 2 officers and 12 other ranks killed and wounded. Enemy position not discovered. Fired at enemy's cavalry north of the Mons-Binche road. Our fire apparently effective."
9th Battery War Diary
Once again at some unknown date, I again picked up Bassford's story. Once I have exhausted military records on Ancestry, just entering a name, rank and number in to Google can occasionally throw-up some useful additional information….
Google research included an account from Corporal Bernard John Denore (1/Berkshire), which appeared in the publication, "Everyman at War", (written by Charles Purden, the founder of the first Garden Cities of Letchworth and Welwyn).
"….The artillery fire from the Germans was very heavy, but was dropping behind us on a British battery. The company officer, who had stayed in the open all the time, had taken a couple of men to help get the wounded away from the battery behind us. He returned about 6.30 p.m., when the firing had died down a bit, and told us the battery had been blown to bits. I was then sent with four men on outpost to a signal box at a level crossing, and found it was being used as a clearing station for wounded. After dark more wounded were brought in from the 9th Battery RFA (the battery that was cut up)."
One man was in a very bad way, and kept shrieking out for somebody to bring a razor and cut his throat, and two others died almost immediately. I was going to move a bundle of hay when someone called out, "Look out, chum. There's a bloke in there." I saw a leg completely severed from its body, and suddenly felt very sick and tired."
[The 70th Battery, from the same RFA brigade, which was close by, was also hit by enemy shelling and had several casualties. It's likely that the impromptu aid post also included their casualties and probably infantry from the 6th Infantry Brigade]
"The German rifle-fire started again and an artillery-man to whom I was talking was shot dead. I was sick then. Nothing much happened during the night, except that one man spent the time kissing a string of rosary beads, and another swore practically the whole night."
Corporal Bernard Denore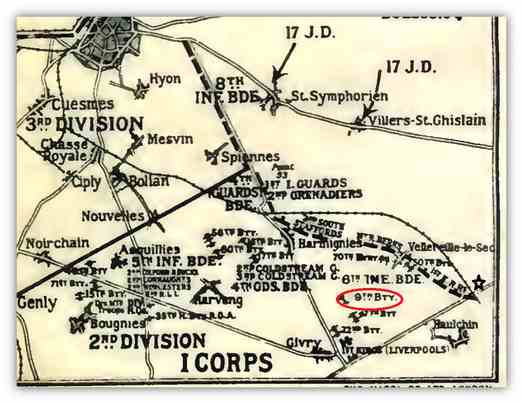 Official History map showing dispositions of 6th Infantry Brigade and artillery support, north east of Givry. Corporal Bassford's battery circled in red. Estinnes au Mont is identified by the black star
CWGC database confirms three men of the 9th Battery fell during these actions. Corporal Albert Bassford, Gunner George Morris (La Ferte sous-Jouarre Memorial) and Gunner William Harman, who died of wounds on the 25th August. He is buried amongst the French graves at Maubeuge Centre Cemetery. The war diary confirms that the battery retreated through Maubeuge on the 24th August, probably leaving Gunner Harman in the care of French civilians.
Further Details
A further Google search unearthed a photograph of Bassford's original grave. (His CWGC burial report states that he was exhumed from map reference: sheet 45 X 11 c 95. 75). The photograph was taken by Lieutenant Colonel Malcolm Graham of the 1/Royal Berkshire Regiment, a collection of which are in the regimental archives. (See photo right).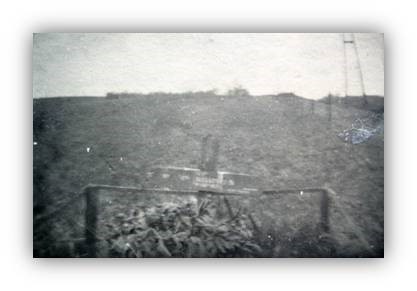 I mentioned a chance email conversation with a chap from Estinnes, who was interested to meet up and show me the research he had collected on Corporal Bassford. Well, I did a final Google search for this article and his details popped up - estinnes.org - complete with Bassford's full story, much of it researched "on the ground". Have a look, there is some very good information, especially from the Bassford family themselves.
Having seen the level of detail that Olivier had included, it became clear that the idea of featuring the stories of single burials was going to involve too much research and include many revisits to the battlefields. And so, there goes another idea. We came to say "Thank-you" to Corporal Bassford and now feel as though we know HIS story, but just not possible to do this for all. Rest in Peace "Bert".
References
CWGC
Ancestry.com
Olivier Mabille of Estinnes
Southsea War Memorial
Keith Walker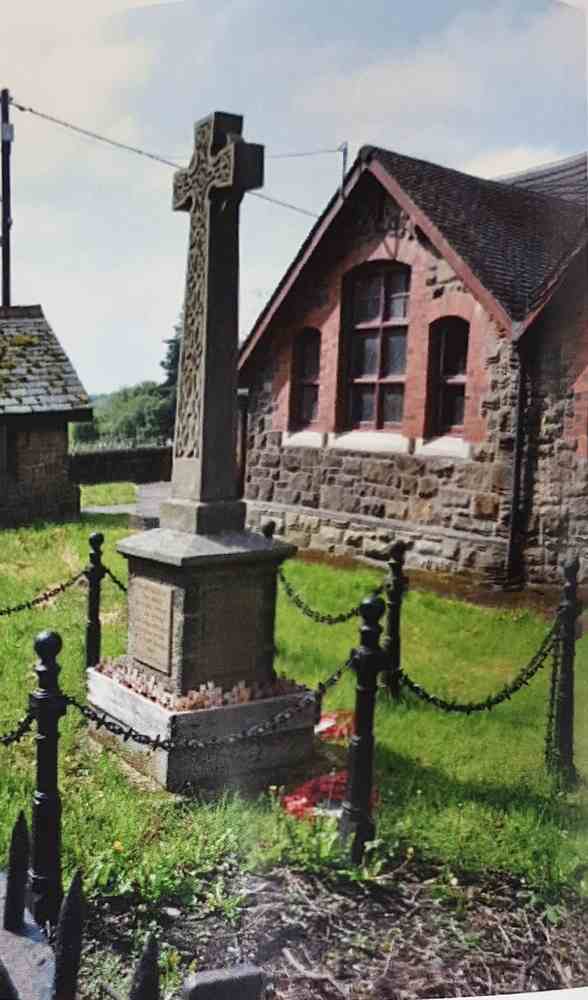 Southsea is a small village on the outskirts of Wrexham. On its memorial I found some interesting sad stories of a suicide, a mother who loses two sons and a soldier who dies of Spanish Flu.
The war memorial at Southsea is situated outside All Saints Church. It is a standing sandstone Celtic cross, mounted on a plinth with four plaques. The first plaque has a dedication:
To the Glory of God and in grateful memory
of the men of Southsea & Gwenfro
who fell in the Great War 1914 – 1919
this memorial is erected
The three other plaques have the names of nineteen soldiers on them.
1915
The first soldier on the memorial who was killed in action on the 11th March 1915 at the Battle of Neuve Chapelle was Lance Corporal Thomas Jones s/n 6893 of the 4th Btn Royal Welsh Fusiliers. He is buried at Browns Road Military Cemetery, Festubert, France. His family lived at 15, Bank St, Southsea. (Photo right Lance Corporal Thomas Jones).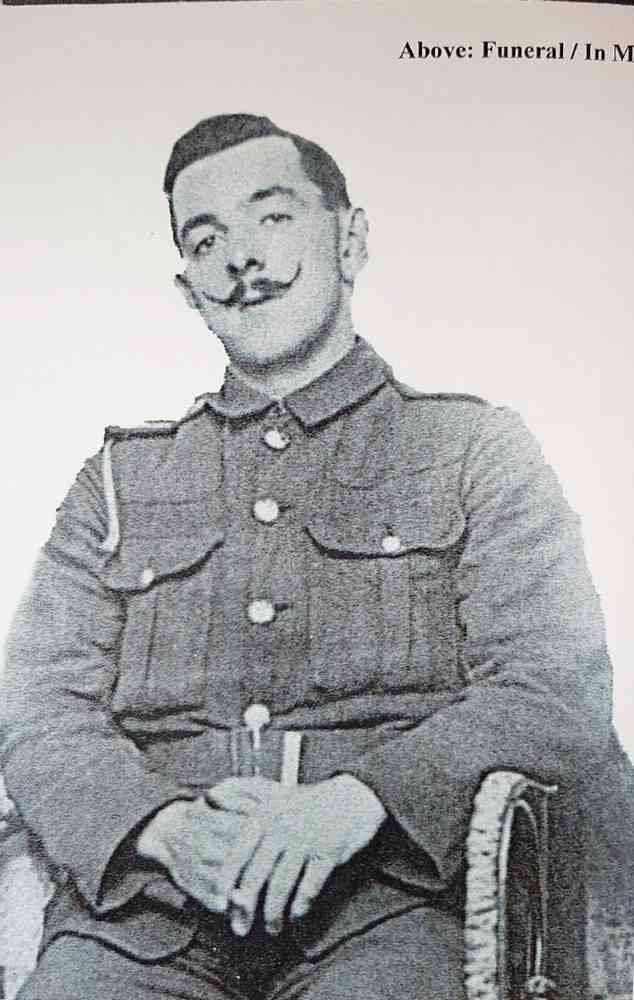 Other deaths in 1915
Private William Morris s/n 1079 1st Btn Australian Infantry who was killed in action on the 1st May 1915 at Gallipoli and is buried at Lone Pine Cemetery Gallipoli. At some point William had emigrated to Australia. His Welsh family lived at 6, Coronation Cottages, New Road, Southsea.
Lance/ Corporal Robert Jeffreys s/n 6794 4th Btn Royal Welsh Fusiliers who was killed in action on the 28th May 1915. He is buried at Cambrin Military Cemetery, France. Family lived at Plas Buckley Cottage, Bersham.
Private John Owen s/n T4/122758 Army Service Corps. A sad story of a man who enlisted at the age of 45 years old who it seems could not cope with the rigours and pressure of army life. He committed suicide on the 19th September 1915 at a training camp at Blackheath.
A non-posted letter to his wife was found in his pocket it reads:
Dearest wife,
I have been at this place called Blackheath for nearly a week and I do not care about it as I have left the fellows I knew. I felt my head going wrong thinking so much about the children. Also my eyesight is going bad, the same as it used to.
Hannah, I feel my age as too old for soldiering. I cannot keep up with the young fellows, and I have to do the same training as they, which I feel incapable of.
Hannah I have to tell you I have no crime against me in the army. Only my head is going wrong. I cannot (help it). I have fought bravely against it, but all (together). I have lived better life since I have been in the army than I have done for a long time.
I was working for an officer and a gentleman this morning. If everyone was like him we would soon conquer the Germans. Everyman loves him. I will gladly lay down my life for him.
At the inquest held in Lewisham London. The verdict was "Suicide during temporary insanity". He is buried at Greenwich Cemetery London. His family lived at 5 Nelson Terrace, New Road, Southsea. He left a wife Hannah and 7 children.
1916
Private Joseph Evans s/n 4406 8th Btn Sherwood Foresters who was killed in action on the 20th March 1916 and is buried at Ecoivres Military Cemetery, France
Stocker First Class Sidney Evans s/n K/24690 Royal Navy. He was killed in action while serving on HMS Black Prince, a 12,590 ton cruiser, on the 31st May 1916 at the Battle of Jutland. All 857 members of the crew lost. He is commemorated on the Portsmouth Naval Memorial. (His brother James Evans was KIA 1917.) Their family lived at Norwood Cottages, Highfield, Stansty. His mother Elizabeth was a widow. She had 5 children. Sidney was the youngest and James was the eldest.
Private Walter Wright Nicholson s/n D/9219 4th Royal Irish Dragoon Guards who was killed in action on the 7th August 1916 during the Battle of the Somme. He is buried at Peronne Road Cemetery, France. The family lived at 17 High St, Southsea.
1917
Lance Corporal Edwin Powell s/n 7476 4th Btn Royal Welsh Fusiliers who was killed in action on the 20th April 1917 and is buried at Dickebusch New Military Cemetery, Belgium. His family lived at 4 Station Road, Southsea.
Private James Evans s/n 55608 2nd Btn Royal Welsh Fusiliers, killed in action on the 23rd April 1917 at the Battle of the Scarpe, which was part of the Battle of Arras. He is buried at Wancourt British Cemetery, France. (He was the brother of Sidney Evans KIA 1916). Their family lived at Norwood Cottages, Highfield, Stansty.
Private John Richard Francis s/n 39093 16th Btn Royal Welsh Fusiliers. Died of his wounds sustained at the Battle of Paschendale on the 4th August 1917. He is buried at Dozingham Military Cemetery, Belgium. The family lived at 6, Bridge St, Southsea.
Private Hugh Williams s/n 16184 2nd Btn South Lancashire Regiment. Died of wounds on the 3rd October 1917 and is buried at Noeux-Les-Mines Communal Cemetery, France. His family lived at 10, Bank St, Southsea.
Private Robert Arthur Parry s/n 19884 19th Btn Royal Welsh Fusiliers, killed in action on the 23rd November 1917 at the 1st Battle of Cambrai. He is commemorated on the Cambrai Memorial Louveral, France. The family lived at 5, Bridge St, Southsea.
1918
Private George Matthews s/n 200496 4th Btn Royal Welsh Fusiliers. Died of wounds on the 24th March 1918 sustained during the German advance. He is buried at Dernancourt Communal Cemetery France. His family lived at 6, Bank St, Southsea.
Private Thomas Lloyd s/n 200495 4th Btn Royal Welsh Fusiliers. Died of wounds on the 13 April 1918 and is buried at St. Sever Cemetery Rouen France. Family lived 2, Smithy Road, Bersham.
Corporal George Findlay s/n 781578 Canadian Army Medical Corps. Died of wounds on the 14th October 1918. He is buried in Wrexham Cemetery.
Private Isaac Humphreys s/n 200247 4th Btn Royal Welsh Fusiliers. He enlisted on the 22nd of March 1912, and served throughout the war and had been wounded twice. He died of illness on the 26th October 1918. In the Wrexham Advertiser dated 2nd November 1918, there was an article:
Soldier's Sad Death
"It is pathetic incident that a soldier who survived a service of four years on the battlefield of France should come home and fall a victim of the scourge, which is prevalent in this country.
After spending a fortnight's leave with his family, Pte Isaac Humphreys of Old Forge Row was to have joined his regiment in France this week but was suddenly laid up with a severe attack of influenza which later developed into pneumonia. He was conveyed on Wednesday to the Military Hospital of the Wrexham Barracks where he died on Saturday at 1-30 a.m. He was 30 years of age and the only son of the bereaved parents"
He is buried in Southsea (All Saints) churchyard. His family lived 7, Forge Row, Southsea.
Corporal Robert Thomas Evans s/n T/4070022 Army Service Corps. Died of wounds on the 28th November 1918 at the Base Hospital, Dieppe. He is buried at Janval Cemetery, Dieppe, France. The family lived Bridge St, Southsea.
1920
Company Sergeant Major John Kendrick Jones s/n 345716 Royal Welsh Fusiliers. He was a time-served regular soldier. He died on the 24th June 1920 and is buried in Wrexham Cemetery. His family lived at 27 Ruabon Road, Wrexham.
1925
Private Oswell Williams s/n 7457 4th Btn Royal Welsh Fusiliers. Died in 1925 and was buried on the 4th July 1925 in Southsea (All Saints) churchyard. His name was added to the war memorial. His family lived at 4 Bank St, Southsea.
References
CWGC database
Broughton at War, published 2018