Lieutenant Bertram Lester Holme MA
Royal Welsh Fusiliers, 12th Battalion
Bryn Afon, Penmon
Bertram Holme is commemorated in Penmon Church by a brass plaque that reads: 'In Memory of Bertram Lester Holme M.A. Lieutenant Royal Welsh Fusiliers, served in Gallipoli took part in the evacuation of Suvla and Helles, died in Mesopotamia April 25th 1916. From wounds received as Sanna-Y-Yat April 9th aged 27 years.'
This young man was the son of Geoffrey Cosset Holme and Jessie Lester, both from Liverpool. They married in September 1887 at St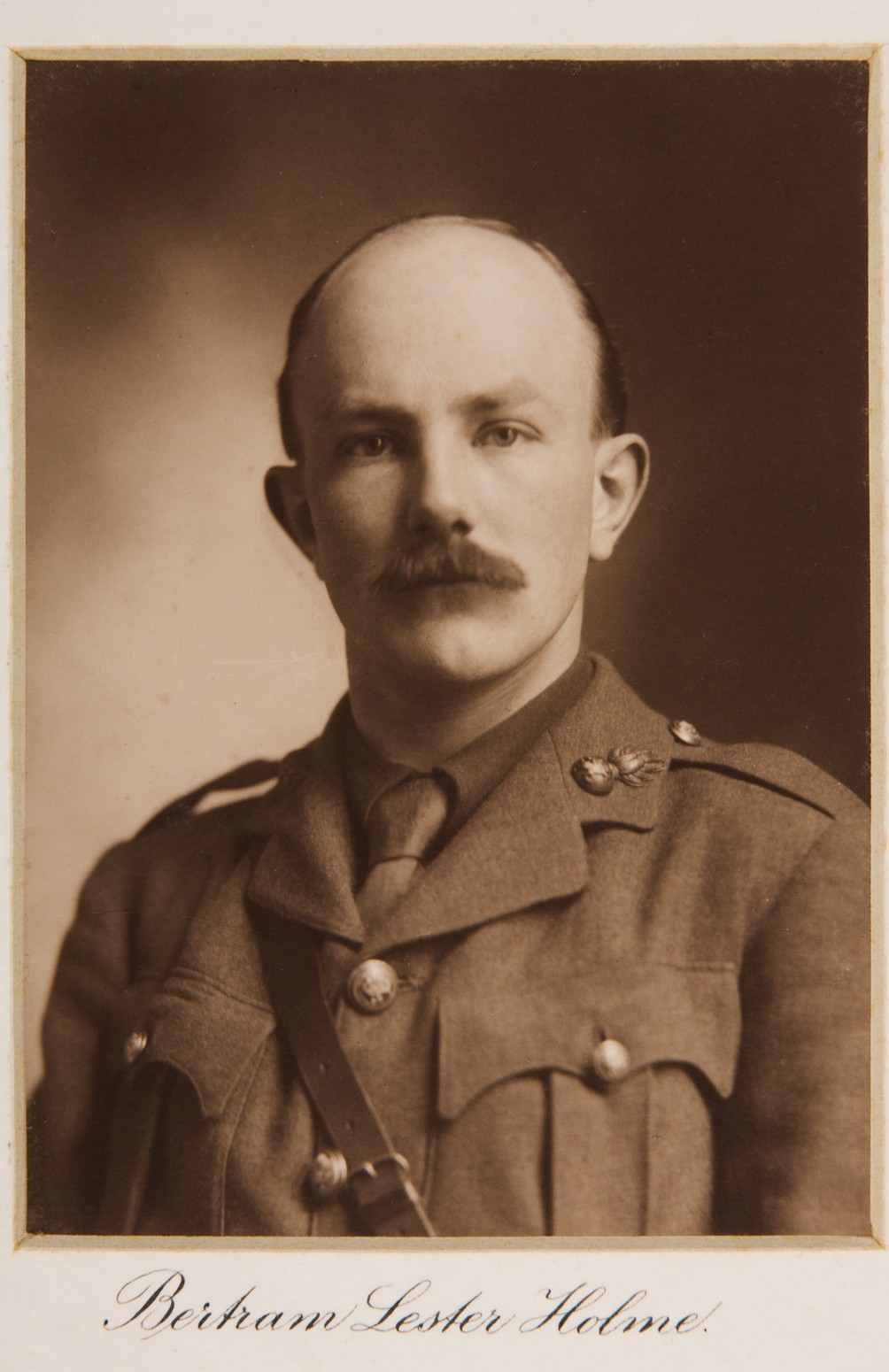 Mary's Church Kirkdale. The bride's father, Canon Thomas Major Lester officiated. In August 1888 Bertram was born at 'Heimath, Aughton near Ormskirk, Liverpool'. In 1891 the couple had a baby girl, Gladys Newberry Holme.
In August 1897 there is a newspaper report in the Cheshire Observer of the wedding of the Rev A H Grey-Edwards at which both children were present, Gladys as a bridesmaid and Bertram as a page.
We know that Bertram attended Marlborough College between 1902 and 1906, because he is on their Roll of Honour. It also tells us that after school he went to Queen's College Cambridge and took a degree in 1909. At University he was an all-round athlete and rowed in his college boat, winning his oar in the 1st Lent boat, 1909. 'He was afterwards an Assistant master at the Collegiate School, and at the outbreak of war held an appointment at Petrograd. On his return home he obtained a Commission in the 8th Royal Welsh Fusiliers, with whom he took part in the evacuation of Suvla and of Helles in Gallipoli. For a time he held a Staff appointment in Egypt but rejoined his Regiment for the relief Expedition of Kut. He led his Company into Action in the engagement of Sanna y Gat in April 1916, and was wounded while bringing in his wounded after the battle. Ten days later, on April 20th, he died of his wounds, near Basra'. This report is confirmed by a report in the North Wales Chronicle. From the Trustees of the Royal Welch Fusiliers Museum in Caernarfon, I also learnt that in Petrograd he was private tutor to the son of the Admiral of the Russian Fleet.
Another poignant report in the North Wales Chronicle of March 1918 records this Beaumaris news. 'Volunteers - The local platoon was inspected at Menai Bridge on Tuesday by Sir Henry Alderson, K.C.B., Private G. G. Holme (Bryn Afon, Penmon) probably the oldest (and the keenest) Volunteer in the battalion, was congratulated by the General for his patriotism'. Private G C Holme was Bertram's father.
In September 1919 there is a report in the North Wales Chronicle of the new East window in Llangoed Church. It was in Edward III style, and was unveiled by Major Massey. Mr Geoffrey Holme of Brynafon had advised on the design. The coloured glass had been executed by Messrs James Powell and Sons of London; the stonework by 'Mr Thos Roberts of Beaumaris . . . executed with his usual skill'.
Although brought up in Aughton, near Liverpool, Bertram's parents later lived at Bryn Afon –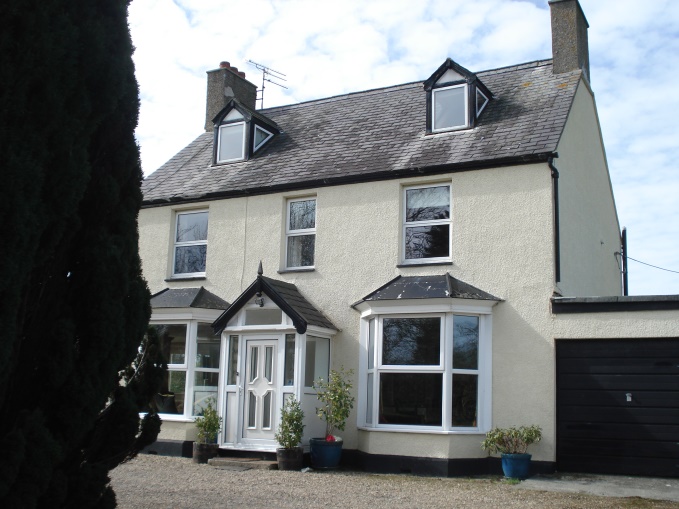 an attractive villa style house opposite the Penmon radio mast. His grandmother, Elisabeth Lester (née Maddock) who lived in Beaumaris, died in 1925 and his father died at Llwyn Celyn, Beaumaris in 1945; his mother died in Beaumaris in 1957.
It seems that his sister never married and she died in 1991 at Colchester, aged 99 years. Her death is registered with the same name she had at birth.
Memorials to Bertram Holme
Bertram is commemorated on a brass plaque inside Penmon Church.
He is remembered with an obituary and photographic portrait on the Roll of Honour for Marlborough College (online).
Bertram has a grave in the Amara War Cemetery, Basra in Iraq. Whilst there is unrest in Iraq, the Commonwealth War Graves Commission has compiled a Book of Remembrance which may be viewed at their headquarters in Maidenhead. The inscription is: Bertram Lester Holme / Rank: Lieutenant / Date of Death: 25.04.1916 / Age: 27 /Regiment/Service: Royal Welsh Fusiliers 12th Bn. / Grave Reference: XII. J. 11. / Cemetery: AMARA WAR CEMETERY / Additional Information: Son of Geoffrey Cosset Holme and Jessie Holme, of "Bryn Afon," Penmon, Beaumaris, Anglesey, formerly of Angerton, Ormskirk, Lancs.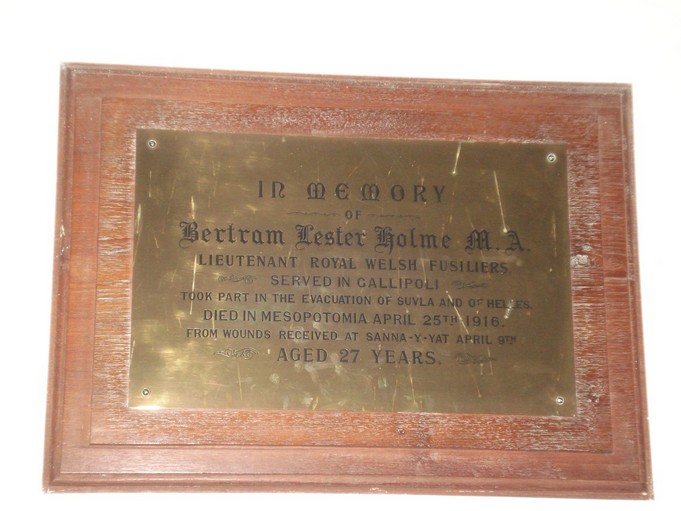 On the Llangoed Village Hall memorial plaque: This Tablet is set here by the Parishioners of Llangoed, Llaniestyn and Penmon to the memory of those who gave their lives for the cause of Liberty and Righteousness in the Great War 1914 – 18 a.d. "Bravely they fought, for us they died, for us they live" - Lieut. B. M. Holme, Bryn Afon, Killed.
In the Bangor Memorial Arch (North Wales Heroes' Memorial Arch) opened in 1923, he is recorded under the Parish of Penmon as 'Holme, B. L.'.
In the 'Regimental Records of the Royal Welch Fusiliers' by Major Dudley Ward he is listed under Officers RWF / Roll of Honour – Holme, Bertram Lester, Temporary Lieutenant, died of wounds, 24.04.16.
He is listed on Aughton Civic Memorial in Merseyside.
He is on the Masonic Roll of Honour.
Bridget Geoghegan March 2016