John Jones
Ordinary Signalman, D/JX 170295, Royal Navy
John Jones was a career Royal Navy Signalman, at the time of his death he was serving on HMS Prince of Wales. From naval-history.net: She was laid down on 1st January 1937 and launched on 3rd May 1939. Build was completed on 31st March 1941 and had been delayed by approximately three months due to bomb damage. . . . During a Luftwaffe raid on the night of 8-9/8/40 a 250kg bomb (130kg of explosive), fell between the side of the fitting out basin and the ships port side in the vicinity of the after group of 5.25in guns. The bomb exploded underwater below the bilge keel. Buckling of the shell plating was caused for a distance of about 25ft, rivets were sprung and extensive flooding took place in the port outer compartments. The flooding was severe, due to the fact that final compartment air tests had not yet been made and the ship did not have her pumping system in operation. The water was pumped out by the local fire Brigade and the shipyard. The Prince of Wales was returned to dry dock for repairs. This bomb damage and the problems in the deliveries of her main guns and turrets delayed her completion.
And from Wikipedia: In her brief but storied career, she was involved in several key actions of the Second World War, including the May 1941 Battle of the Denmark Strait where she scored three hits against the German battleship Bismarck, forcing Bismarck to abandon her raiding mission and head to port for repairs. Prince of Wales later escorted one of the Malta convoys in the Mediterranean, and then attempted to intercept Japanese troop convoys off the coast of Malaya as part of Force Z when she was sunk on 10 December 1941, two days after the attack on Pearl Harbor.
Memorials
Churchyard of St Pedr, Llanbedrgoch: Er serchog gof am Margaret annwyl briod Richard Jones Tyn Giat, Llanbedrgoch a fu farw Rhagfyr 12 1975 yn 76 mlwydd oed. Hefyd eu hannwyl briod Richard Jones a fu farw Rhagfyr 3 1982 yn 82 mlwydd oed. Hefyd eu mab Sig. John Jones a gollodd ei fywyd ar HMS 'Prince of Wales' Rhagfyr 10 1941 yn 18 mlwydd oed.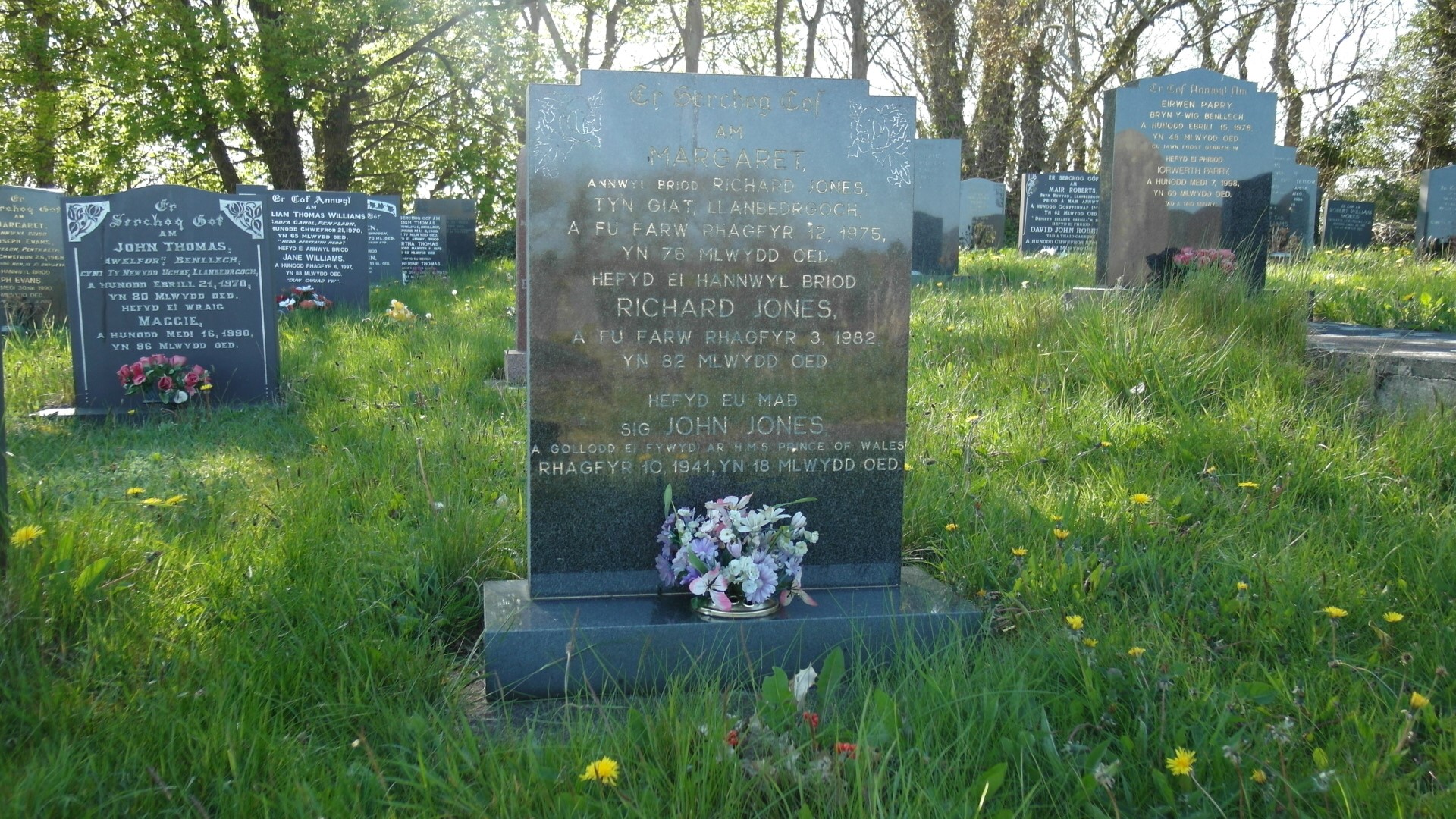 (Also their dear son, Sig. John Jones who lost his life on board HMS 'Prince of Wales, December 10 1941 at the age of 18.)
naval-history.net: JONES, John, Ordinary Signalman, D/JX 170295, Prince of Wales, 10 December 1941, ship loss, MPK (Missing, Presumed Killed)
Commonwealth War Graves Commission: Ordinary Signalman John Jones - Service No: D/JX 170295 - Died: Wednesday 10.12.1941 - Aged: 18 - H.M.S. Prince of Wales Royal Navy - Son of Richard and Margaret Jones, of Tynygongl, Anglesey - Commemorated Plymouth Naval Memorial
The family grave is not yet recorded on The War Graves Photographic Project
Photograph of family grave, courtesy B Geoghegan