Lieutenant Rice Edwin Rowlands
Royal Army Service Corps
Plas Newydd, Llangoed
Rice Edwin Rowlands was born in 1880; his birth was registered in Bangor. It would seem that most of his life was spent in the Holyhead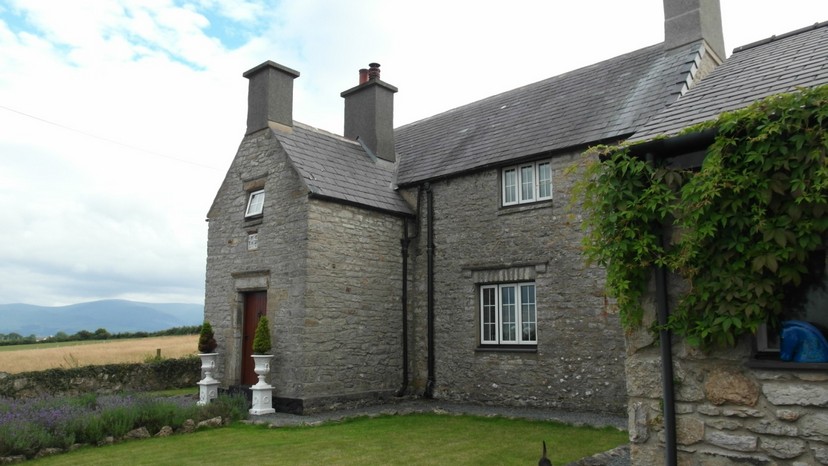 area; although his address on the headstone is given as 'Plas Newydd'. There is a fine old farmhouse in Llangoed called Plas Newydd (see photo left) and local people remember members of the Rowlands family; Willie, Edwin and Elin living there until about 1980.
Because of his unusual name, it has been possible to trace Rice Rowlands through the local papers. In May 1915 his is mentioned in 'Y Glorianydd' as being one of the members of the Bwrdd Undeb Caergybi, The Chapel Committee of Holyhead, to which he had contributed £11 14s in the past month.
In June 1916, in 'Seren Cymru' 'Llawenycha Bedyddwyr Mon yn nyrchafiad dau o'u gwyr amlwg i'r Fainc Ynadol, sef Mr. Rice Rowlands, Llanfachraeth, trysorydd y Gymanfa, a Mr. Hughes, Llanddeusant.' 'Môn Baptists rejoiced with the promotion of two of their prominent sons to the Magistrates' Bench, namely Mr Rice Rowlands Llanfachraeth, Treasurer of the Assembly and Mr Hughes, Llanddeusant.'
In October 1916 several newspapers report a fatal accident. The details vary, but here is one report: 'Valley – Dydd Iau, digwyddodd damwain i Mr Henry Roberts, Llanfachraeth, yr hwn oedd yng ngwasanaeth Mr Rice Rowlands, masnachydd blawd. Aeth Roberts o dan y "traction". Pan godwyd ef yr oedd yn ymwybodol, ond bu farw cay cael cymorth meddygol. Cludwyd ei weddillion i Llanfachraeth. Yr oed yn 45 mlwydd oed, a gedy wraig, dwy ferch, a mab mewn galar.'
'Valley – Thursday there was an accident involving Mr Henry Roberts of Llanfachraeth, who was in the service of Mr Rice Rowlands, flour merchant. Roberts was under the "traction". when he was lifted out he was conscious, but died before getting medical help. His body was carried to Llanfachraeth. He was 45 years old and left a wife, two daughters and a son to grieve.'
Another reports that: 'Ymddengys fod Roberts yn ceisio myned i wagen motor perthynol i Mr Rice Rowlands, masnachwr blawd, yr hon oedd yn bacio'n ol i'r ystorfa ar ffordd Caergybi, pryd y torrodd y step ol.'
'It appears that Roberts was trying to go to a motor belonging to Mr Rice Rowlands, flour merchant, who was backing up to the store in Holyhead Road, when the back step broke.'
Memorials to Rice Rowlands
Rice is buried with a grand marble headstone in Penmon churchyard, in the same grave as his brother, Dr John Rowlands of Bodorgan. He was living at Plas Newydd, an old house built by the Bulkeley family on the Penmon side of Llangoed. This house is remembered by local people as being owned by the Church. It is now a private house.
His grave inscription says 'In loving memory of Dr. John W. Rowlands of Bodorgan who died August 26th 1892 aged 78 years. Also Rice E. Rowlands of Plas Newydd, brother of the above, who died on the 7th Sep, 1924 as a result of service as an officer in H. M. Army from 1915 to 1919 ged 44 years.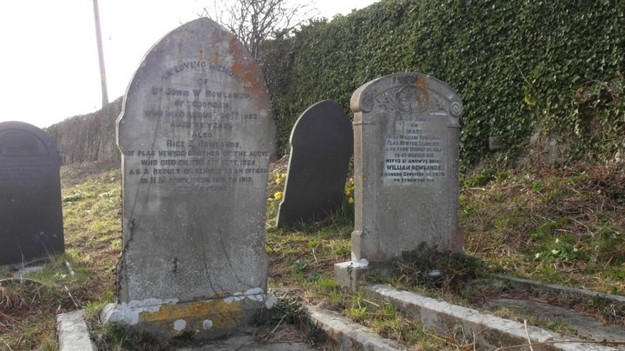 Because his death is some years after the war (1924), he is not commemorated on any War Memorial, nor is he listed as a war casualty by Commonwealth War Graves Commission.
From the Royal Welch Fusiliers Museum in Caernarfon: 'He served with the Royal Army Service Corps (later popularised as 'Dad's Army'). He had the rank of Lieutenant in 1918. Unfortunately another man whose death through service goes unrecognised by CWGC because he died after the 1921 cut off.'
By a great irony, in August 1917, he contributed £25.00 to the fund for the North Wales Heroes' Memorial – Bangor Memorial Arch. But he is not listed there as it was built and opened in 1923, before his death. His address is given as 'Machraeth View, Llanfachraeth'. To donate such a sum would indicate a man who was financially comfortable.
It has been difficult to find out about this man, but I do wonder if the death of an employee as well as his Army service took its toll on a man who was a prominent member of the community.
(Editor's note: the name "Rice" is often an anglicisation of "Rhys").
Bridget Geoghegan 2016