The Hidden Stories of St Seiriol churchyard, Penmon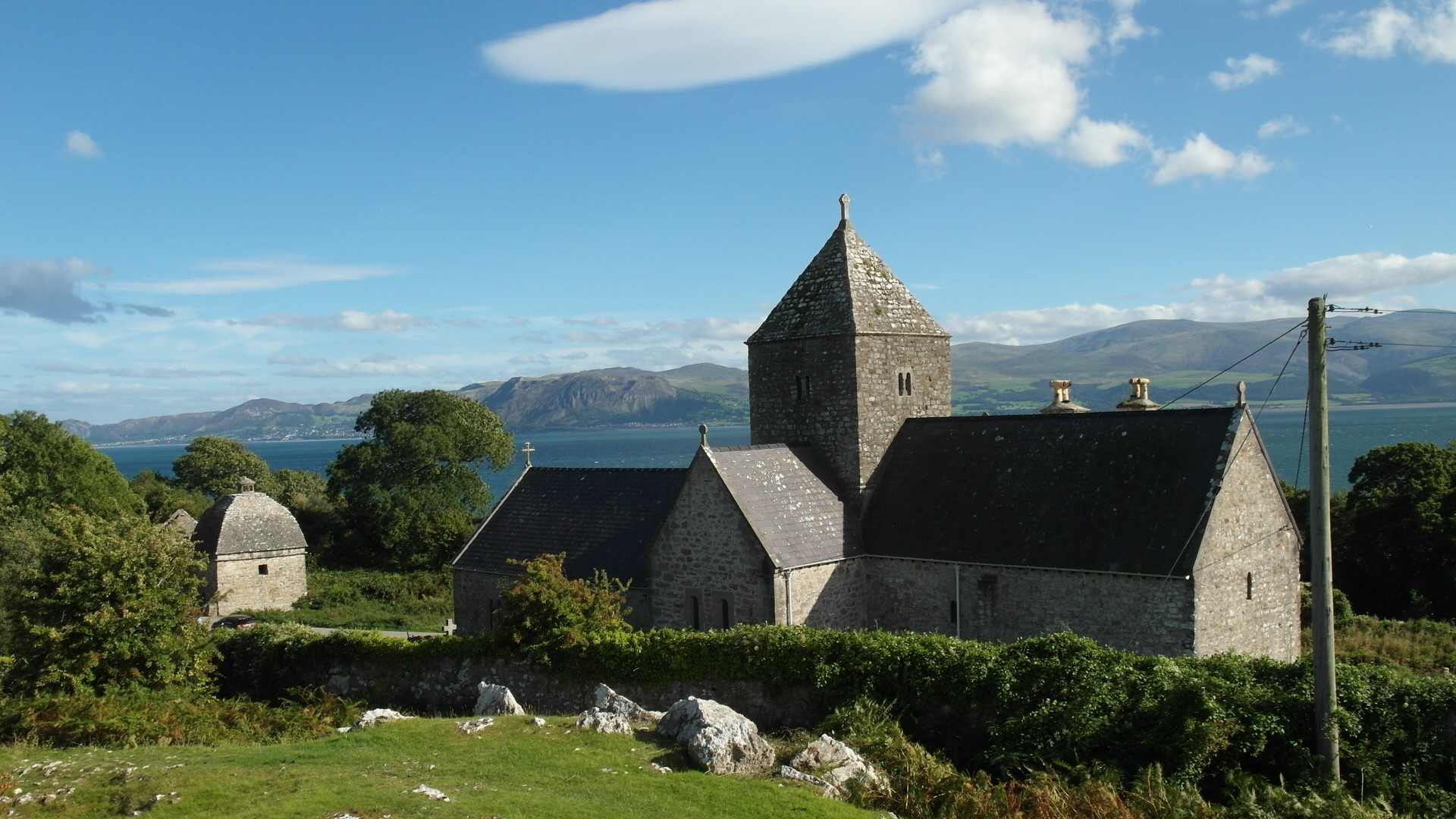 Postcode LL58 8RW. By bus: bus stop and shelter at the bottom of the hill to Penmon Village; about 1 mile walk by road to the church (not up hill), keeping the sea on your right,.
By car: there is space to park close to the churchyard; this is privately owned land; no charge for parking to visit the church or churchyard, but there is a charge for parking here to walk elsewhere, or to continue driving down to the lighthouse.
This was compiled from the Cymdeithas Hanes Teuluoedd - Gwynedd Family History Society book of Memorial Inscriptions; the number following each entry is their reference.
Inside the church: enter the church by stone steps adjacent to the Monastery refectory building, through the gate, follow the gravel path; house straight ahead, church porch on right.
Inside the Church, brass plaque in nave
1 - In Memory of Bertram Lester Holme M.A. Lieutenant Royal Welsh Fusiliers, served in Gallipoli took part in the evacuation of Suvla and Helles, died in Mesopotamia April 25th 1916. From wounds received at Sanna-Y-Yat April 9th aged 27 years.
Bertram Lester Holme; grandson of Canon Thomas Major Lester (founder of Kirkdale Industrial Ragged Schools, Liverpool); Bertram born at Aughton near Ormskirk; educated Marlborough College and Queens' College, Cambridge; worked as Assistant Master at College School Liverpool, then Private Tutor to son of Admiral of Russian Black Sea Fleet; Royal Welsh Fusiliers 12th Battalion, served in Gallipoli, attached 8th Bn in Mesopotamia (Iraq); shot and wounded whilst bringing in a fellow soldier, died 10 days later, 25th April 1916, age 27; buried Amara War Cemetery Basra Iraq; parents latterly lived in Penmon.
CWGC: Bertram Lester Holme - Royal Welsh Fusiliers 12th Bn. Lieutenant – Died 25.04.1916 - Age 27 – Buried Amara War Cemetery - Son of Geoffrey Cosset Holme and Jessie Holme, of "Bryn Afon," Penmon, Beaumaris, Anglesey, formerly of Angerton, Ormskirk, Lancs.
Inside the Church, brass plaque on the side of the organ
2 - This organ was renovated in May 1963, the cost being borne by Mrs. Donald Cameron, a member of this Church, in memory of her brother, Philip Henry Baker R.F.C.
Philip Henry Baker, commissioned into the Royal Flying Corps in October 1916 is later recorded as having an accident; possibly fire and probably in an aircraft before take-off. He survived the war.
Inside the Church, small framed commemoration to Penmon Scouts
3 - First Penmon Troop – Scoutmasters: Rev. Pugh, Rev. W. R. Williams, Rev. E. O. Evans – A.S.M.: R. Roberts – Scout E. Jones R.A.F. - Died in Burma – Scout J. Roberts – Died in France
John Edward Jones lived at Coedwig Terrace, Penmon; attended Beaumaris Grammar School; Leading Aircraftman Royal Air Force Volunteer Reserve; died in the Far East - possibly of disease while prisoner of war, on Saturday 9th June 1945 age 29; buried in Ambon War Cemetery Indonesia; commemorated on family headstone in Capel Ty Rhys new graveyard, Llangoed.
The most likely match for 'Scout J. Roberts' is John Roberts who died in Italy – see below
The churchyard: enter the churchyard through the gate by the car park; in the churchyard, turn left up the grass path towards the steps leading through the high stone wall; 4th row on left, next to the path (polished black granite headstone)
4 - Also remembering Margaret's parents, Basil Gerald Roland Tennent, Sgt. R.A.F. died a Jap. P.O.W. 1945 with no known grave and his wife Mary Tennent. Died 1972.
Basil Gerald Tennent; born Bristol, brought up in Newcastle; career serviceman, had joined the RAF at age 15; served in Singapore where he and his family lived; all wives and children were evacuated February 1942 as the Japanese invaded, the men became a Prisoners of War, were marched to a non-existent camp, all died.
CWGC: Basil Gerald Roland Tennent – Royal Air Force Sergeant 508150 - Died 21.07.1945 - Age 35 - Husband of Mary Tennent, of Hendon, Middlesex – Commemorated Singapore Memorial
Up the steps and through the gap in the wall, double back to 1st row, count 5 headstones on your left from steps (slate headstone with kerb )
5 - Er cof annwyl am Owen Lewis priod Kate Lewis Caim, Penmon a fu farw yn Alexandria yn y Rhyfel Mawr, Hydref 1915 yn 39 mlwydd oed. Hefyd HUGH, eu nai a fu farw Hydref 29 1935 yn 18 mlwydd oed. . . . Hefyd eu merch LIZZIE CATHERINE a fu farw Mawrth 4 1939 yn 23 mlwydd oed. Hefyd y dywededig KATE LEWIS a fu farw Mehefin 12 1940 yn 62 mlwydd oed. 'Gwynfydedig yw y meirw sydd yn marw yn ar Arglwydd'.
. . . (In loving memory of Owen Lewis, husband of Kate Lewis of Caim, Penmon who died in Alexandria during the Great War, October 1915 at the age of 39. Also Hugh, his nephew who died October 29 1935 at the age of 18. . . . Also Lizzie his daughter who died March 4 1939 at the age of 23. Also the above named Kate Lewis who died June 12 1940, at the age of 62.) (B066)
Owen Lewis of Caim, Penmon; a Quarryman in the Penmon Limestone Quarries; probably a militia man, volunteered for war service; Royal Welsh Fusiliers 1st/6th Battalion (Caernarvonshire & Anglesey); sent to training camp in Northamptonshire; sailed from UK on 14th July 1915, from the Greek island of Mudros on 8th August; lived and fought under atrocious conditions at Gallipoli, Turkey; taken by ship from Gallipoli to General Hospital Cairo, Egypt; died of disease (probably dysentery) 31st October 1915.
CWGC: O Lewis - Private 3413 Royal Welsh Fusiliers C Coy, 1st/6th Bn - Died 31.10.1915 - Age 39 - Buried Alexandria (Chatby) Military & War Memorial Cemetery
2nd row, 6th upright headstone from the path (slate headstone with slate kerb)
6 - Er serchog gof am Richard Owen Penfron, Penmon a fu farw Chwe. 28 1922 yn 69 mlwydd oed. Cwsg yn dawel weithiwr diwyd yn y beddrod ronyn bach; Hyfryd eto, wedi huno, I gadarn nerth ail godi'n iach. Hefyd Catherine Owen ei annwyl briod a fu farw Ebrill 22 1934 yn 85 mlwydd oed. Hefyd am eu nai Gnr Edward Owen a collodd ei fwyd wrth wasanaethau ei wlad ar y mor Meh. 6 1942 yn 31 mlwydd oed. "Dros wlad ei dadau yn yr ymgurch fawr" (In loving memory of Richard Owen Penfron, Penmon who died February 28 1922 in his 69th year. . . . Also Catherine Owen, his deat wife who died April 22 1934 at the age of 85. Also their nephew Gnr Edward Owen who lost his life in the service of his country, at sea June 6 1942, age 31. "For the land of his fathers, in the great campaign") (B057)
Edward Owen, a Road Stone Quarryman, lived in Pen y Fron Terrace, Penmon; served in the Royal Artillery Maritime Regiment; probably a DEMS Gunner (Defensively Equipped Merchant Ships) - on a convoy ship to transport people and materials; Mentioned in Despatches for outstanding service; killed on active service; buried at sea. (Note, dates as transcribed)
CWGC: Edward Owen – Gunner 3717710 Royal Artillery 1/1 Maritime Regt. - Died 06.07.1942 - Age 30 - Mentioned in Despatches - Nephew and adopted son of Anne Jane Owen, of Penmon, Anglesey - Commemorated Portsmouth Naval Memorial, Hampshire
3rd row back, 3rd upright slate headstone from path (slate headstone with slate kerb, poor condition)
7 - Er serchog goffadwriaeth am John Henry annwyl fab Evan a Mary Parry 3 Coedwig Terrace, Penmon a fu farw Mehefin 11eg 1918 yn 23 mlwydd oed. Un ddwyll fel ffrynd ydoedd A rhayn aur seion oedd. Hefyd eu chwaer Molly Parry 1897 – 1962 "Gwaith a gorffwys bellach wedi mynd yn un".Un ddwyll fel ffrynd ydoedd A rhayn aur seion oedd. (In loving memory of John Henry, dear son of Evan and Mary Parry, 3 Coedwig Terrace, Penmon, who died June 11th 1918, age 23.) (B047)
John Henry Parry of Coedwig Terrace, Penmon; worked as a Quarryman in the Penmon Limestone Quarries; both he and Henry Pritchard (see below) were given copies of the Bible from the congregation of Capel Ty Rhys; both men had a poem by Gwilym Seiriol published in the local paper, mourning their death; John Henry had clearly been a great hymn singer; volunteered in 1914, health broken by military training, discharged on grounds of poor health (TB), given a Silver War Badge May 1916; died at home 11th June 1918 age 23; buried St Seiriol Churchyard, Penmon with his sister, Molly. (CWGC burial; private headstone).
CWGC: J H Parry - Private 15300 Royal Welsh Fusiliers 10th Bn. - Died 11.06.1918 - Cemetery: Penmon (St. Seiriol) Churchyard
6th row, next to the path (low slate headstone with double size kerb, white chippings & flower pot)
8a - In Loving Memory of Elizabeth Wife of Henry Roberts, Tyn-Lon, Llanfaes, Died Nov. 18. 1933, Aged 42 years. Also, their daughters Ada Muriel, and wife of Thomas Gilford, Died Dec. 12. 1936, Aged 18 years. Eirwen, died Nov. 23. 1921, Aged 1 month. Also, their sons P.T.E. Glyn & Husband of Doreen Roberts, who fell in action – Alamein, October 24, 1942, Aged 23 years. . . . (B025)
Glyn (Glynne) Roberts was brought up in Tyn Lon Cottages, Llanfaes; worked as a Labourer in the Limestone Quarries (his father was a Winch Driver) served in the Royal Field Artillery; killed in action, in Egypt; married to Doreen; brother of John Roberts.
CWGC: Glyn Roberts - 111 Field Rgt. Royal Artillery Gunner 957981 - Died 24.10.1942 - Age 23 - Buried El Alamein War Cemetery
8b - Also, their sons . . P.T.E. John who fell in action – Italy, September 13, 1944, Aged 21 years.
John Roberts lived at Tyn Lon Cottages, Llanfaes; probably a Scout (see above); 6th Battalion York & Lancashire Regiment; killed in action; brother of Glyn Roberts.
CWGC: John Roberts - Private 4209596 6th Bn. York and Lancaster Regiment – Died 13.09.1944 – Age 21 - Cemetery: Coriano Ridge War Cemetery Italy - Son of Harry and Buddug Roberts, of Beaumaris, Anglesey
9th row, many unmarked graves, middle of 3 upright headstones near the wall (marble headstone and kerb)
9 - In loving memory of Dr. John W. Rowlands of Bodorgan who died August 26th 1892 aged 28 years. Also Rice E. Rowlands of Plas Newydd, brother of the above, who died on the 7th Sep 1924 as a result of service as an officer in H. M. Army from 1915 to 1919 aged 44 years. (B015)
Rice Edwin Rowlands was brought up in a farming family at Plas Newydd Farm, Llangoed; he was 'in business' and had worked in Liverpool, London and Paris before the war; served in the Royal Army Service Corps in France, Algeria and Tunisia; demobbed on 17th June 1920; returned to work in Cairo (Egypt) until his health failed; buried St Seiriol Churchyard, Penmon (private burial).
Not an official War Casualty, no CWGC entry or War Memorial entry
Next row, 2 headstones in one plot, with a low railing (slate headstone, fuchsia in roundel)
10 - Er serchog coffadwraieth am Mary, annwyl ferch Wm. ac Elizabeth Pritchard, Pilot, Penmon, yr hon a fu farw Tachwedd 30ain, 1895. 10 mlwydd oed. . . . Hefyd am William Owen yr hwn a fu farw Chwefror 24ain 1888, yn 9 mis oed. Hefyd am Willie, yr hwn a fu farw Tachwedd 10ed 1917, yn 22 mlwydd oed. . . . Hefyd am, Lieut. Henry Pritchard yr hwn a gwympod ar faes y gwaed yn Ffrainc Ebrill 7ed 1918 yn 28 mlwydd oed. (In loving memory of Mary, dear daughter of William and Elizabeth Pritchard of Pilot, Penmon, she died November 30th 1895, 10 years old. Also of William Owen died February 24th 1888, 9 months old. Also of Willie who died November 19th 1917, 22 years old. Also of Lieutenant Henry Pritchard, fell on the field of blood in France April 7th 1918, 28 years old.) (B007)
Henry Pritchard of Pilot, Trwyn Du, Penmon (now Pilot House Cafe); son of William Pritchard, Pilot and Lifeboat Coxswain; educated Penmon School, Beaumaris Grammar School; worked for Trinity House as Light Keeper; enlisted in RWF 16th Battalion as a Private; commissioned November 1917, RWF; attached Royal Naval Division, Hood Battalion (sailors in trenches); killed while moving up to relieve the Bedfordshires at the front line 7th April 1918 age 28 (the only death in his Battalion recorded that day).
CWGC: Henry Pritchard, Henry - Second Lieutenant Royal Welsh Fusiliers 16th Bn. attd. Hood Bn. R.N. Div. Royal Naval Volunteer Reserve – Died 07.04.1918 - Commemorated Pozières Memorial
Researched and compiled by Bridget Geoghegan to the memory of John Reilly, RSM 4th Hussars at the Battle of Balaclava (Charge of the Light Brigade); Lt 8th Hussars at the Battle of Gwalior; killed in action 21st June 1858.