Llanbedrgoch War Memorial: Stoker Hugh Parry, Ty Gwyn, Yn Ysbytty Birkenhead, 2ail Hydref 1918, Oed 25.
Llangoed War Memorial: Stoker H. Parry, Marian, Died.
Stoker Hugh Parry of Marian (now Marian Farm), Llangoed
The birth of Hugh Parry (also known as Huw) was registered in Llangefni, in 1893. He worked as a horsemen on a farm before enlisting in February 1917. We may wonder how a 'horseman' became a 'stoker' but maybe he was familiar with the mechanised farm equipment of the time, some of which will have been steam engines.
In the 1901 Census, the Parry family were resident at Ty Gwyn Talwrn, Llanddyfnan: John Parry age 50, farmer and his wife Ellen age 46, with five children aged between 12 and 4 years. Hugh Parry aged 8, was born in Llanddyfnan. They were still there in 1911 (the address now Ty Gwyn, Llanbedrgoch). John now shown as a Farmer and Rockman in a quarry; the couple had been married 29 years and had 9 children, of whom one was deceased. Thomas age 20 and Maggie 15 still lived at home.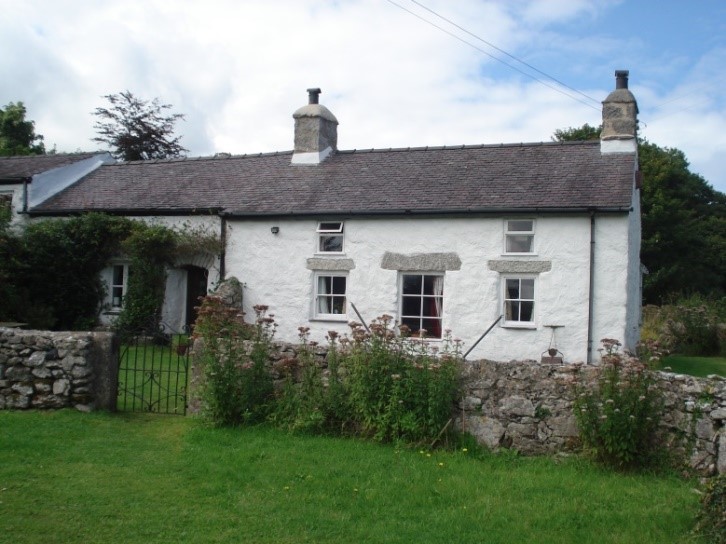 By 1911 Hugh was probably working at Gwenfro Isaf farm in Llanbedrgoch. Thomas Williams and his wife Margaret had 4 children, 2 working on the farm. There were 3 servants: Robert Evans, Farm Labourer 29, William Thomas age 14 and Hugh Parry 17 working with Cattle.
Marian, now called Marian Farm, appears in the 1911 Census for Marian, Llangoed. It lists: Thomas Williams age 40, Widower, Farmer, born in Llangoed on Anglesey and Elizabeth Jones age 35, niece, Single, Housekeeper, born in Liverpool in Lancashire and Jennie Pritchard age 19, niece, Single, Assistant, also born in Liverpool and Owen T. Davies (possibly Owen J. Davies) age 19, Servant, Single, Cowman. Jennie Pritchard married Hugh late in 1916.
As Stoker 2nd Class, Hugh was sent to HMS Victory for training before joining HMS Cumberland in June 1917. Cumberland was a Monmouth-class armoured cruiser, launched 1902 and from 1915 to 1919 served with 5th Cruiser Squadron on the North America and West Indies station, mainly on Atlantic convoy escort duties. Hugh was made Stoker 1st Class in February 1918. In October 1918 he was admitted to Hemingford Street Auxiliary Hospital, Birkenhead, where he died of pneumonia on October 2nd 1918, age 25.
Note: the dreadful influenza pandemic was raging in Britain during the autumn of 1918, and many deaths were caused by pneumonia following on influenza. In the period 24 September - 8 October 1918 no fewer than 33 members of HMS Cumberland's crew died in the UK, at least 6 from pneumonia and one definitely from influenza, though not all families recorded the cause of death in the War Graves registers. Three including Parry died on 2 October. The ship was at Liverpool during this time, and in early October her log records the return of dozens of men from hospital.
Hugh was the husband of Mrs Jenny Parry of Marian Farm, Llangoed and is listed on the 1918 Absent Voters List under Marian, Llangoed, as Steward HMS Cumberland. He was the son of Mr. John Parry and is listed as one of the war dead both of Capel Glasinfryn, Llanbedrgoch; and Capel Ty Rhys, Llangoed.
Note: my thanks to Clive Hughes who has given permission for me to quote from his research.
The variation in the spelling of 'Jennie' / 'Jenny's is as recorded.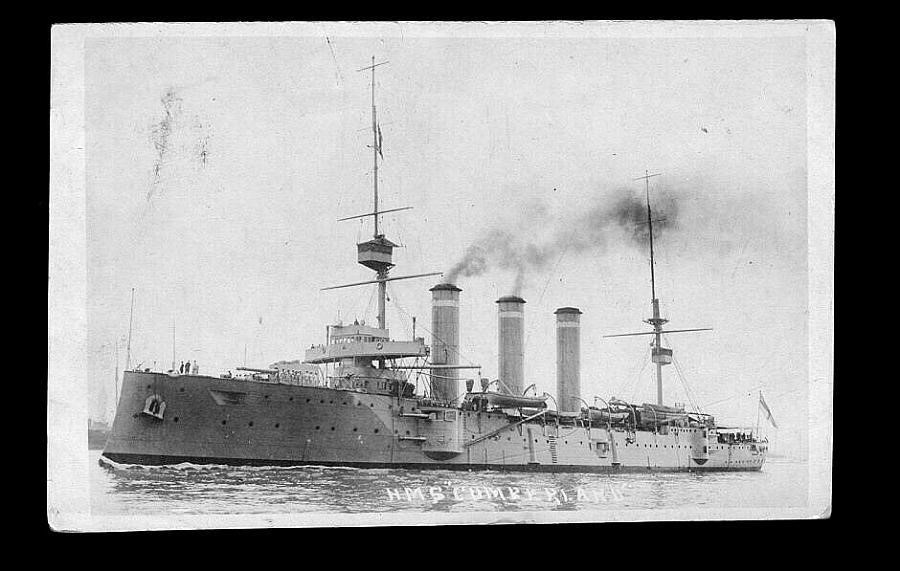 Memorials:
Hugh is one of the village men commemorated by a specially commissioned stained glass window in Llangoed Church and brass plaque. It was reported in the North Wales Chronicle of September 1919: 'Llangoed War Memorial - Tribute to Fallen Heroes. Impressive Scenes. A movement had been on foot for many months among the Church people and friends of Llangoed, Llaniestyn and Llanfihangel to perpetuate the memory of those who fell in the Great War. On Saturday a new East window – Edward III's style of architecture, after the pattern of that at Llanfihangel D.S., and coloured glass by Messrs James Powell and Sons, London – was unveiled and dedicated by Major Massey and the Dean of Bangor respectively. Mr Geoffrey Holme, of Brynafon, advised as to the design of the stone, and Mr Thos. Roberts, Beaumaris, executed the work with his usual skill. The window contains three tracery lights, the Crucifixion in the centre, with angels holding the chalice and crown on either side. The uprights represent Joshua, St. David and Gideon, with angels of war, peace and victory above, and the emblems of justice, freedom and unity below, and at the very base "Their name liveth for evermore." The emblem of unity (clasped hands) is a sea of glass. The effect is exceedingly beautiful.
The service was conducted by the Vicar (Rev. A. H. Grey-Edwards), and the Very Rev. the Dean of Bangor gave a very appropriate address in Welsh and English. The anthems, in English and Welsh, were "The Lord is my Shepherd," by G. A. Macfarren, and "The Lord is my Good Shepherd," by Calcott were well rendered by the choirs, which had been instructed by Mr Mathews, Mr South and Mr Richard Jones. Miss D. Owen and Miss Peggy Hughes were the accompanists. The Comrades of the Great War marched to church from the Rhyd Bridge under the leadership of Sergt. Wm. Jones, R.W.F., accompanied by Mr Williams, Gwalia House, Beaumaris, and Bugler W. J. Williams, R. E., who sounded the "Last Post" prior to the Benediction. . .
The names of those who fell from the three parishes mentioned above as recorded on brass tablet are:- . . . Stoker Hugh Parry, R.N.V.R. . .'
On the Llangoed Village Hall War Memorial plaque: Stoker H. Parry, Marian, Died.
Llanbedrgoch War Memorial: Stoker Hugh Parry, Ty Gwyn, Yn Ysbytty Birkenhead 2ail Hydref 1918, oed 25.
Bangor Memorial Arch, Parishes of: Llanddyfnan - Parry, H. and Llangoed - Parry, H. E.
Welsh National Book of Remembrance, page 43: Royal Navy, Sto. 1st., Hugh Parry, Llangefni, R.N., H.M.S. Cumberland.
On the website naval-history.net the entry for Wednesday 2nd October 1918 includes: Cumberland cruiser – Crew, Arthur; Parry, Hugh, Stoker 1c, K40761, illness in UK
Commonwealth War Graves Commission: H Parry - Stoker 1st Class - Force: Royal Navy - Official Number: K/40761 (P.O.) - Unit: H.M.S. Cumberland - Nationality: British – Died: Wednesday 2nd October 1918 - Age 25 - Son of John Parry; husband of Jenny Parry of Marian Farm Llangoed. - Cemetery: Llanbedrgoch (St Peter) Churchyard - Country: Wales - Area: Anglesey
Note: although this is a standard CWGC slate headstone, the letters are picked out in silver.