Lieutenant Henry Pritchard
Royal Welsh Fusiliers, 16th Battalion
attached Hood Battalion, Royal Naval Division
Pilot, Penmon
In order to understand the circumstances of Henry Pritchard's life, it is helpful to look further back at the area where he was brought up. The house his family lived in is called 'Black Point' in the Census of 1901 . In Welsh it is 'Trwyn Ddu', a direct translation. It is a piece of land on the Isle of Anglesey, jutting out into the Irish Sea. The small island close by is called 'Ynys Seiriol', 'Priestholm' or 'Puffin Island'.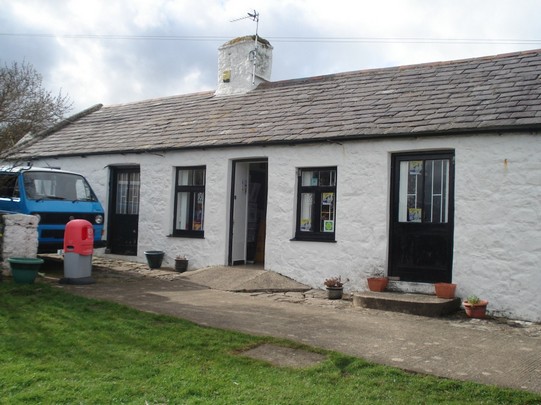 Seiriol was a Celtic Saint who lived close by, and Penmon Church is dedicated to St Seiriol. For about 1,000 years there has been a monastery in this area. As you approach Black Point you will see some of the Monastery buildings and there is an even earlier building on Puffin Island.
As with any stretch of rocky shore, there is a danger to shipping. In 1831 the 'Rothsay Castle' was lost on the nearby Lavan Sands with the loss of 130 lives out of 150 passengers. This was the latest in a series of disastrous shipwrecks – there are many shipwreck victims buried in this Churchyard, Beaumaris and other churchyards round the coast of Anglesey.
As a result of this tragedy, in 1832 a Penmon Lifeboat was established, and the Penmon Lighthouse was completed in 1838. The following year, Trinity House built two fine cottages for the lighthouse keepers and their families. The pilot families lived close by in a modest property called 'Pilot' at Penmon (see photo above). More recently two Coastguard houses were built, and the monastery building next to the Church was used as a house. So there was quite a community in a small, remote area. This is the community into which Henry Pritchard was born. We may guess that as the children grew up, they would also learn to crew the lifeboat and to row the Pilots out to the ships.
Penmon Pilots were men who rowed out to the ships in the Irish Sea, to guide them through the dangerous waters of the Menai Strait. There are still Pilots on Anglesey who board ocean going container ships, to guide them into the docks at Liverpool. These men have vital knowledge of the sea in their area: they know about invisible rocks and dangerous currents. They also formed the local crew of the Lifeboat which was at Penmon until 1914 when it moved to Fryars Bay and was called the 'Beaumaris Lifeboat'.
By 1914, William Pritchard had been Coxswain of the Lifeboat for many years, but because there was less need for Pilots, other Pilot families had moved away so there was no longer the manpower to crew a Lifeboat. In 1918 a 'Certificate of Service' was awarded to William Pritchard, Pilot who had served as coxswain of the Penmon Lifeboat for over 24 years, and had been a member of the crew before that. He had previously earned two Silver Medals for sea rescues.
In Penmon churchyard there are several family memorials to men who died in war and whose bodies are buried elsewhere. One of these is Henry Pritchard, son of William Pritchard, a Pilot and decorated lifeboat coxswain.
Henry was born in January 1890, the son of William Pritchard (pictured below right) and Elizabeth who had lived at Black Point since about 1880.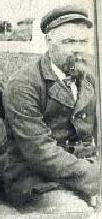 Other children were: John born in 1879, William Owen born 1887 (died in infancy), Mary born in 1885 who died at the age of 10, Willie born 1895 who died at the age of 22 and Elizabeth the youngest.
In the Census of 1891 the family lived at 'Black Point, Penmon'. They were one of the Pilot families living in a house called 'Pilot'; now the Pilot House Café. William was the Head of the House, his wife Elizabeth and children: John, Margaret, Mary and Henry (aged 1). On the day of the 1901 Census, William and Elizabeth lived there with their children; Henry, William and Elizabeth.
The children probably attended the local primary school in Penmon. Henry went on to Beaumaris Grammar School, so we can be sure that he was a bright lad.
The newspaper report below states that Henry Pritchard served in the Lighthouse service, Trinity House. There is also a record of Trinity House service for his elder brother, John Pritchard. It seems a likely career for a young man of his background and intelligence; it could explain why John did not serve in the war – he could have had a 'reserved occupation' - his skills were of more use at home than in war. Henry chose to volunteer for military service.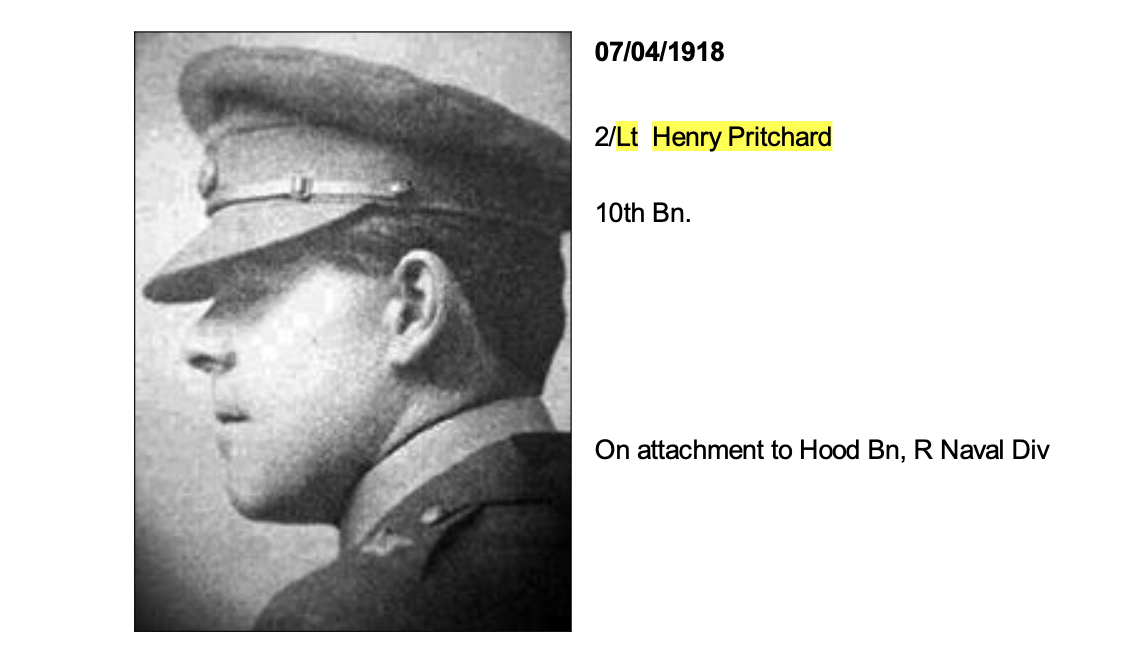 One day, as I enjoyed a coffee outside the Pilot House Café, I was musing on this career move – and the more I thought about it, the better the prospect became. Try sitting outside the small building that served as home to three families, and look at the houses next door – the Trinity House cottages - they are mansions in comparison!
In December 1914, there is a newspaper report of two Penmon men: Henry Pritchard and John Henry Parry of Coedwig Terrace volunteering to join 'Kitchener's Army'. They were both members of Capel Tŷ Rhys, the local Methodist Calvinist Chapel and associated Sunday School. Members of the Chapel Sunday School gave them illustrated copies of the Bible.
'Penmon / Prynhawn Sul cyflwynodd aelodau Ysgol Sabothol y M.C., perthynol i'r lle uchod, anrhegion o Feibiau darloniadol id dau fachgen ieuainc o'r ardal, sef Mr Henry Pritchard, Trwyn Du, a Mr John Henry Parry, Coedwig Terrace, ar eu hymrestriad ym Myddin Arglwydd Kitchener. Y mae Mr Henry Pritchard wedi gadael ei gwydd yngly a'r Trinity am ysbaid y rhyfel, i wasanaethau dros ei Frenin a'i wlad; felty hefyd Mr John Henry Parry, gadawodd yntau ei waith a'i cartref ym Mhemnon i'r un amcan, ac yr oedd y ddau adrag dros y Saboth. Cyflwynwyd y Beiblau iddynt, ar ran yr ysgol, gan cu hathraw, Mr John Roberts, Pwll Crwn, a whoed iddynt amrwy gynghorion buddiol i lynnau byd y gallont wrth y rhai hynny fyddent yn talu parch i grefydd Crist, gan eu barong Hefyd i wisgo holl arfogaeth Duw, fel y gallont sefyll yn erbyn cynwynion dinfol. Gyda golwg ar wu dyfodol, yr oedd pawb yn dymuno a goro iddynt ymhob ystr, ac yn bennaf am i Arglwydd y Lluoedd fod gyda hwy, a Duw Jacob yn amdiffynfa iddynt – Aelod.'
Henry went to the Royal Welsh Fusiliers Signals Section where, in time, he was promoted to Sergeant. By July 1917, the paper reports that Henry has entered Cadet School in order to train as an Officer.
'Penmon / After twenty months of active service at the front, Sergt. Harry Pritchard, son of Mr Wm. Pritchard, pilot, has entered a cadet school with a view of qualifying for a commission. Two months after the outbreak of war he joined the R. W. Fusiliers' Signal Section, and was soon promoted to the rank of sergeant. For the greater part of the time he was attached to Headquarters Staff.'
In February 1918 Henry returned to the front, as a 2nd Lieutenant with the RWF 16th Battalion, but this time attached to the Royal Naval Division, Hood Battalion. (Note, that although the CWGC lists him as serving with the 16th Battalion, the Medal Roll Index Card lists him with 10th Battalion). The Royal Naval Division men had volunteered for service with the Royal Navy, but at that time were needed in the front line more than at sea. Quite often Officers were moved round from one Regiment to another. In this case, with his knowledge of the sea, Henry would have fitted in quite well with a Naval Battalion.
Henry was killed 'in action' on April 7th 1918. He was probably killed by a bombardment while his company was relieving the Bedfordshires at the front line (see 'The Wartime Memories Project' on the internet). From the local newspaper reports, he had served about eight weeks as an Officer, two weeks more than the average for the time.
In November 1917, Henry's younger brother Willie died at the age of 22. William Pritchard, their father, died in early 1919 his health having failed after the death of his wife in 1911 and the loss of two sons in 1917 and 1918.
Memorials to Henry Pritchard
Henry is commemorated on a family gravestone in Penmon Churchyard 'Hefyd am, Lieut. Henry Pritchard yr hwn a gwympod ar faes y gwaed yn Ffrainc Ebrill 7ed 1918 yn 28 mlwydd oed'. (See photo below).
'Also of Lieutenant Henry Pritchard, fell on the field of blood in France April 7th 1918, 28 years old.'
In the David Hughes School, Beaumaris as an old Biwmarensian: 1914 – 1919 Praise God for the service of these Biwmarensians who, amid the manifold perils of the Great War were found faithful until death - Henry Pritchard
Lt Henry Pritchard is commemorated by the Commonwealth War Graves Commission on the Pozières Memorial in France: Pritchard, Henry / Rank: Second Lieutenant / Date of Death: 07.04.1918 / Regiment: Royal Welsh Fusiliers 16th Bn. attd. Hood Bn. R.N. Div. Royal Naval Volunteer Reserve / Panel Reference: Panel 36 and 37
On the Llangoed Village Hall memorial plaque: This Tablet is set here by the Parishioners of Llangoed, Llaniestyn and Penmon to the memory of those who gave their lives for the cause of Liberty and Righteousness in the Great War 1914 – 18 a.d. "Bravely they fought, for us they died, for us they live" - 2nd Lieut. H. Pritchard, Penmon, Killed.
In the Bangor Memorial Arch (North Wales Heroes' Memorial Arch) opened in 1923, he is recorded under the Parish of Penmon as 'Pritchard, H.'
In the 'Regimental Records of the Royal Welch Fusiliers' by Major Dudley Ward he is listed under Officers RWF / Roll of Honour – Pritchard, Henry, Temporary Lieutenant, killed in action, 07.04.18 (attached Hood Battalion).
Bridget Geoghegan 2016