Collateral Damage. A Civilian Internee in the Ottoman Empire.
As the base for the British Salonika Force, Thessaloniki housed 18 military hospitals to support a campaign where disease caused much more devastation than the fighting. This aggregation of hospitals necessitated adjacent cemeteries and there are three CWGC cemeteries in the city, with 3816 Commonwealth and 193 other nationality burials from WW1. Most of these are military or nursing personnel but here and there is the grave of a civilian. One of these is grave 1004 in Mikra Cemetery, Kalamaria, and it bears the brief inscription:
MISS G. M. LEVACK
16TH DECEMBER 1918
and the register notes:
LEVACK, Miss G. M. Civ. Ex. Prisoners of War, Turkey. 16th Dec, 1918. 1004.
Who was Miss G. M. Levack? Why was she in Turkey? The archives give tantalising glimpses, facts without personality, but by piecing them together a dim picture emerges of the woman who is buried there and the type of life she must have led.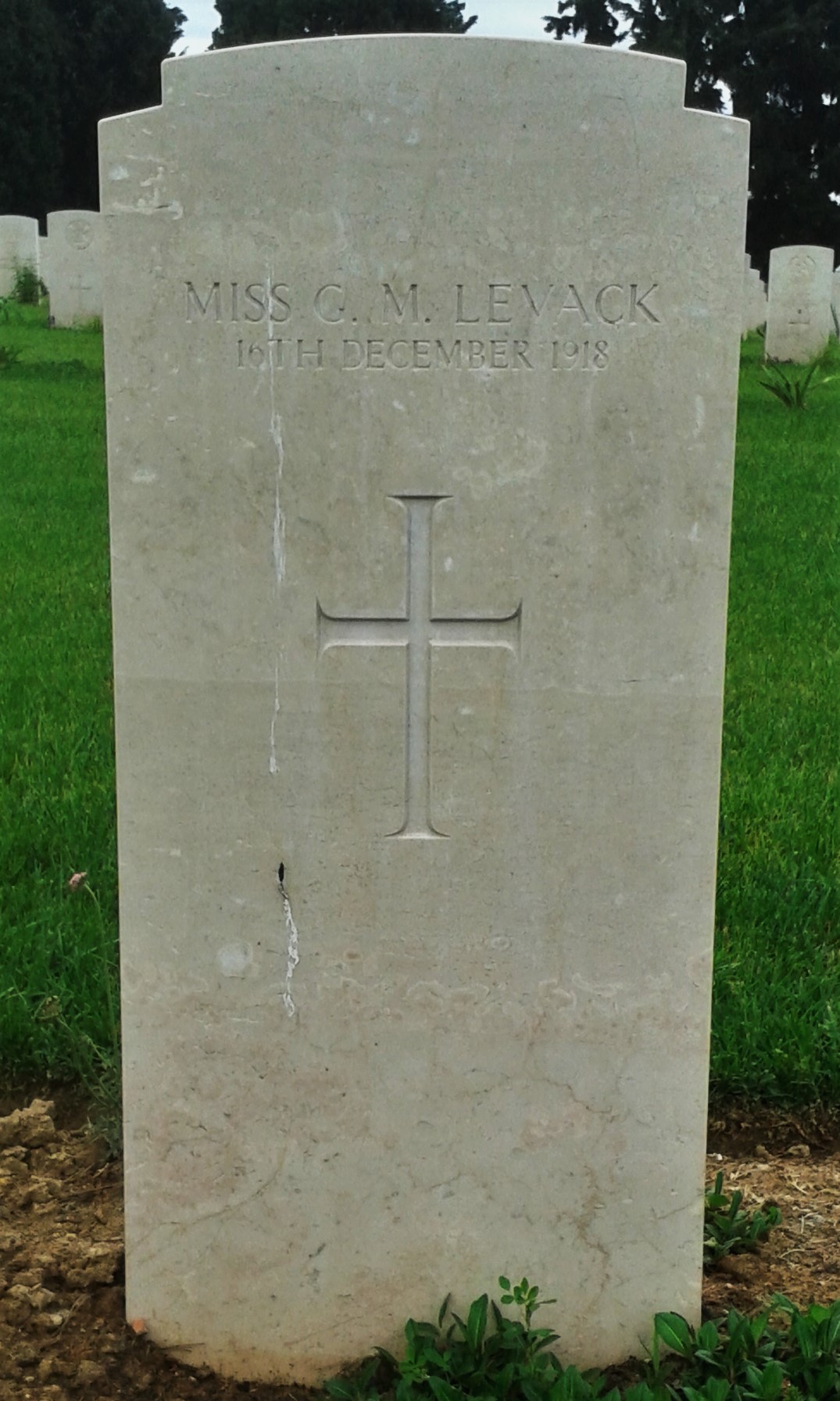 Gladys Murray Levack was born in the first quarter of 1881, in Guildford, Surrey and baptised on 27th May, 1881 in St Mary's Church, Guildford. She was the youngest of six children of John and Jane S. Levack. Her parents were from Scotland, and married in Jedburgh, Roxburghshire, in 1869 but by the 1871 census, they were living in Cheetham, Lancashire. John is described as a 'reader for the press newspaper', presumably a proof reader. Their first two daughters Lisette and Marguerite were born in Cheetham but by the time their third, Helena, was born in 1874, they were in Guildford and Evelyn, James and Gladys were subsequently born there also. John remained in the same line of business, described as a 'printer (reader)' in the 1881 census.
John appears to have been both educated and enterprising, prepared to move around to improve the prospects for himself and his family, working his way from his native Scotland, via industrial Cheetham to Guildford. Records suggest his children were equally industrious. Evelyn was described as a 'pupil teacher' in 1891. She married in 1900. In the 1901 census, four others were living as boarders and all were gainfully employed. Marguerite was in Streatham, working as a photographer, Helena was in Harrogate as a bookkeeper, James was in St Pancras as a merchant's clerk and Gladys was in Lambeth as a draper's assistant. In view of his later international career, it is interesting that James' fellow boarders included nationals of USA, Germany, Persia, Austria-Hungary, Mexico and Jamaica.
Neither Gladys nor James appear on the 1911 census. James, at least, was already in Baghdad. In April, 1909, the archaeologist, Gertrude Bell, recorded in her diary meeting him at a luncheon. Gladys may also have been in Baghdad at that time, but was definitely there from late 1913 / early 1914. Passenger lists show that on the 10th November, 1913, Gladys, James and James' wife left Manchester on the 'Locksley Hall', bound for Basra, Iraq. James is described as 'merchant'. Later correspondence in the National Archives indicates he worked for Lynch Brothers. No profession or occupation is given for Gladys but was that because she was not working at that time or because the clerk writing the passenger list did not think to ask?
Lynch Brothers was a trading company set up by Thomas and Henry Lynch in the early 19th century. Originally from Co Mayo, they were educated, astute businessmen and diplomats, highly regarded in both London and Constantinople. Henry spoke Arabic and Persian, Thomas became Consul General for Persia in London and both were awarded the order of the Lion and the Sun by the Ottoman Empire. By the 1860s, Lynch Brothers also ran the Euphrates and Tigris Steam Navigation Company. In partnership with Deutsche Bank, they formed the Societe de Transport Fluviaux en Orient to transport material and equipment for the Baghdad railway from Basra to Baghdad along the Tigris.
When the Levacks arrived in 1913, there were many thousands of Europeans living and working in the Ottoman Empire, some of whom had been there for several generations and had never visited their 'native' country. Their commercial and civic lives were governed by 'Capitulations'. Capitulatory privileges were granted by the Sultan to individual nations and generally included:
freedom to travel to all parts of the Ottoman Empire

freedom of religion

freedom to trade according to their own laws with no taxes other than
customs duty, which would be at a fixed rate, agreed bilaterally, and
exemption from the Ottoman judicial system. Europeans remained
subject to the laws of their own country, administered through courts set up by their Consuls.
The capitulatory system in this form started in the sixteenth century, when the Ottoman Empire was militarily strong and needed to attract European trade but by the nineteenth century it had allowed Europe to dominate trade and industry within the Empire, contributing to its increasing economic weakness.
It is likely that, at this time, British merchants had a very good life in the Ottoman Empire. The Ottoman wars in Libya and the Balkans would have had little impact on Europeans, protected as they were by the capitulations. Although summers were hot (110F or more), it was a dry heat and houses were designed with a serdab, a half underground room with wide 'chimneys' leading to the roof and angled to catch the prevailing winds. These were remarkably effective in keeping the room comfortably cool in the hottest part of the day. James was already an eminent member of the comfortable European ex-patriot community in Baghdad. As well as being a representative of an established trading company, he served as honorary American Vice Consul for Baghdad from 1910 to 1914 and is listed as a 'Director at Large' of the American Chamber of Commerce for the Levant. Even without her own career, Gladys would have been kept busy supporting her much younger sister-in-law in the social duties these offices would have entailed. Things would change, however, from mid-1914.
The three Young Turk leaders of the Ottoman government, Enver, Talat and Cemal, negotiated with both sides during the July Crisis to decide who could best support them from their main threat, Russia. On 1st August 1914, they declared full military mobilisation and on 2nd August signed a treaty with Germany. Their problem now, however, was money. The Empire was already economically weak and after the declaration of mobilisation, European banks started to recall loans. This was followed by a run on the banks which caused the government to introduce a moratorium on banking transactions that in due course paralysed the banking system and the overall economy. Closure of the Bosphorus and Dardanelles to commercial shipping had a disastrous effect on trade.
German loans and large quantities of military equipment helped but more money had to be raised. On 9th September, the Ottoman Empire unilaterally abolished the capitulations. Foreign residents became subject to the same rules as Ottoman citizens so individuals and businesses could now be taxed and livestock, goods and food requisitioned. In Syria, Singer sewing machines were seized to equip the local military uniform factory. In Adana and Baghdad, the Standard Oil Company 'provided' hundreds of cases of kerosene. 'Voluntary contributions' were extracted from individuals and businesses. Taxes were massively increased on non-essential goods like tea, coffee, cigarettes and alcohol. In addition, all foreign nationals were now subject to the Ottoman judicial system, with the consequent risk of spending time in Ottoman prisons, which had a very unsanitary reputation.
The predictable commercial world that the Levacks had entered was falling apart and their privileged position had evaporated. What would Gladys' life be like as an enemy alien in a society so foreign to someone brought up in late Victorian England? There is little personal detail available on Gladys' life and it is difficult to find information on the treatment of enemy aliens in the Ottoman Empire. What is clear, however, is that the Ottoman authorities could be unpredictable and capricious and life for Europeans was at best insecure. The American ambassador, Henry Morgenthau, immediately took on the responsibility for consular services for the French and British. His first move was to arrange for the British and French ambassadors and their staff and two further train loads of British and French citizens to leave Constantinople. This involved prolonged negotiation as agreement was given, then rescinded, then finally granted again. Many British and French civilians remained throughout the Empire, however.
Ambassador Morgenthau again intervened in May 1915 when French and British ships were accused of indiscriminate bombing of villages in Gallipoli. The Ottoman government threatened to move 3,000 British and French to the area as a human shield. The American ambassador made enquiries and found no evidence of indiscriminate killing of civilians and, after concerted negotiation by himself and the Bulgarian ambassador (Bulgaria had not yet entered the war) only 50 were taken to Gallipoli, stayed only a short time and did not come to harm.
Although Ambassador Morgenthau's memoirs describe several other episodes of vindictive imprisonment of prominent European individuals, he implies that in general enemy aliens were treated well and allowed to remain in their own homes. It is possible, however, that these comments applied only within Constantinople and only until his departure in early 1916. The National Archives record four British subjects imprisoned as reprisal for Turks arrested in Mitylene. It is likely other reprisal imprisonments occurred. Accounts of the Alexandretta incident in December 1914 suggest there were scores of British subjects interned in Syria. (When HMS Doris threatened to bombard Alexandretta in December 1914, Cemal Pasha issued a counter threat to shoot a British internee for each Ottoman killed. The local American consular agent defused the situation and a compromise involved destruction of two Ottoman locomotives and no loss of life on either side.)
The Ottomans generally did not have large concentration camps for their PoWs and internees, instead using vacant buildings and houses in towns and cities. Commercial buildings would have been vacant because of the economic collapse throughout the Empire. Homes were left empty after the deportation of Armenians. In either case, the source of their accommodation would have added to the anxiety and insecurity of those interned. Intermittent imprisonments and threats of reprisal shootings would have kept the level of tension high. As the war progressed, food became scarce throughout the Empire affecting Ottomans and aliens alike. One report suggests prices had increased sixteen-fold between 1914 and 1917.
Below: map showing the area of Gladys Levack's travels.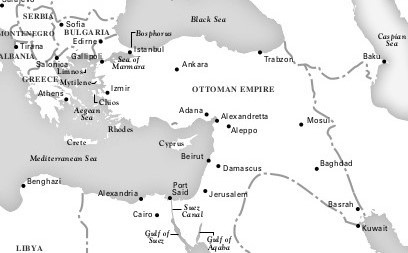 These, then, were the type of conditions Gladys and her family would have faced and there is information on where they spent the years of the war. They appear to have been interned in Baghdad until late 1915. There is a record from February, 1915 of intelligence on Turkish troop numbers in Baghdad being received from 'escaped British civilians', and as the British advanced from Basra to Kut al-Amara, it is likely the internees were kept under close supervision. National Archive documents from 1916 and 1917 give some details on the Levacks' fate.
F W Parry, managing director of the Levacks' employers, Lynch Brothers, appears to have done what he could for staff marooned in enemy territory. He had himself worked in Baghdad and probably knew the Levacks personally. There is a record of payments made to Mr Levack and Mr Walker. In January 1916, he also wrote to the Under Secretary for Foreign Affairs asking for further information on a letter from Athens which was published in 'Near East':
'Mr, Mrs and Miss Levack, Mr and Mrs Walker and two children left Baghdad on November 7th in the direction of Mosul, their destination being unknown. Neither is it known whether they left of their own free will or were exiled.'
At that stage, the Dept. of Foreign Affairs had no specific information on the Levacks or the Walkers although they knew 'nine British women with children and babies were deported on November 24th, their destination being Mosul.' The US Ambassador in London was asked to undertake enquiries.
In fact all British nationals were being deported from Baghdad due to military activity in the area. During late October and early November 1915, there was a build up of Turkish troops in Baghdad in preparation for an expected British attack on the city. (The Battle of Ctesiphon, 22nd to 25th November, 1915.)
A year after leaving Baghdad, the Levacks had arrived in Constantinople, suggesting a long and tortuous journey. Had they had transport or had they been forced to walk, like many other groups of deportees? There is no information, but at least they had arrived. A letter dated 5th December 1916 is from the American Embassy in Constantinople to the American Embassy in London. 'Mr Levack, one of the British subjects deported from Baghdad who has recently arrived in Constantinople' had requested the Embassy to forward some photographs to Mrs J S Levack (presumably his mother) and Mr Parry of Lynch Brothers. Death records show, however, that Mrs Levack and her daughter Evelyn had both died in Scarborough during the second quarter of 1915. This information appears to have only reached James and Gladys after the photographs had been sent. A second letter dated 15th December, 1916 asks that James' relatives in England be told that 'his family here are greatly grieved at the news' but that they were in good health. This message went from the American Embassy in Constantinople to the American Embassy in London, then to the office of the British Secretary of State for Foreign Affairs who passed it to the Prisoners of War Department. On 17th January, 1917, a month after the message was written in Constantinople, it was sent to Mr Parry of Lynch Brothers to forward to the Levack family in England. The photographs sent on the 5th December, 1916 had an even more convoluted journey as they had to be passed by the Chief Postal Censor before being sent to Mr Parry five days after the message. The National Archives contain numerous other examples of enquiries and family information being sent through this route and also records money sent to internees. After America entered the war in 1917, the Netherlands took over the role of providing consular services to interned subjects of Britain, France, Serbia, Italy and America. Communication between internees and their families may have been slow and complex, but at least it was possible.
There is no information on how Gladys spent the next two years in Constantinople or on her hopes and fears as rumours of victories and defeats filtered around the interned community. Was she there to celebrate when the Allied fleet steamed into Constantinople port on 13th December, 1918 or was she already ill? The only documentary evidence is the record of her death on the 16th December, 1918, in the grave record book in Mikra Cemetery. It can be assumed that either the family were travelling back to Britain via Thessaloniki or that she was already ill when British subjects were being repatriated, and was transferred to the nearest British military hospital. Her cause of death is not recorded but the soldiers on each side of her had both died of pneumonia on the same day. It is possible all three deaths were a complication of influenza as this was during the epidemic. Had her time as an internee weakened her health? It is likely. Mrs Walker, who had left Baghdad with the Levacks, had already died in Constantinople in 1916. At the very least, Gladys' life since mid-1914 had been difficult and stressful, with a year of deportation around the Empire, all the insecurity of life as an internee, and the food shortages during the later stages of the war. It would be surprising if her health had not been affected.
James survived and returned to Baghdad after the war where he was manager of David Sassoon's, a large trading firm. Major Pearman of the Army Audit Staff recorded visiting him in 1921 and described him as a 'most cultured and widely travelled man.' He lived to almost 90 and died in Sutton, Surrey in 1968.
But for Gladys, her travels ended, age 37, in Mikra Cemetery in northern Greece. She had arrived in Basra in 1913 with a position in society and, no doubt, with plans and ambitions. Less than a year later, these had disintegrated, a timely reminder of the collateral damage of any war.
References:
CWGC Website
Familysearch.org
Findmy past.co.uk
Grandpa's Journal. mespot.co.uk
National Archives
PoliticalGraveyard.com
The Geographical Journal, March 1913
The Levant Trade Review, June Quarter 1915
The Spectator Archives, 22nd January 1910
J B Angell, The Turkish Capitulations
Gertrude Bell, Diaries
Ebubekir Ceylon, The Ottoman Origins of Modern Iraq
J M Hammond, Battle in Iraq: Letters and Diaries of the First World War
Henry Morganthau, Ambassador Morganthau's Story
Jeremy Noakes, Intelligence and International Relations 1900-1945
Eugene Rogan, The Fall of the Ottomans
Kenneth Steuer, Pursuit of an 'Unparalleled Opportunity'
Alan Wakefield & Simon Moody, Under the Devil's Eye