Eglwys St Pedr, Llanbedrgoch
The Church of St Peter, Llanbedgroch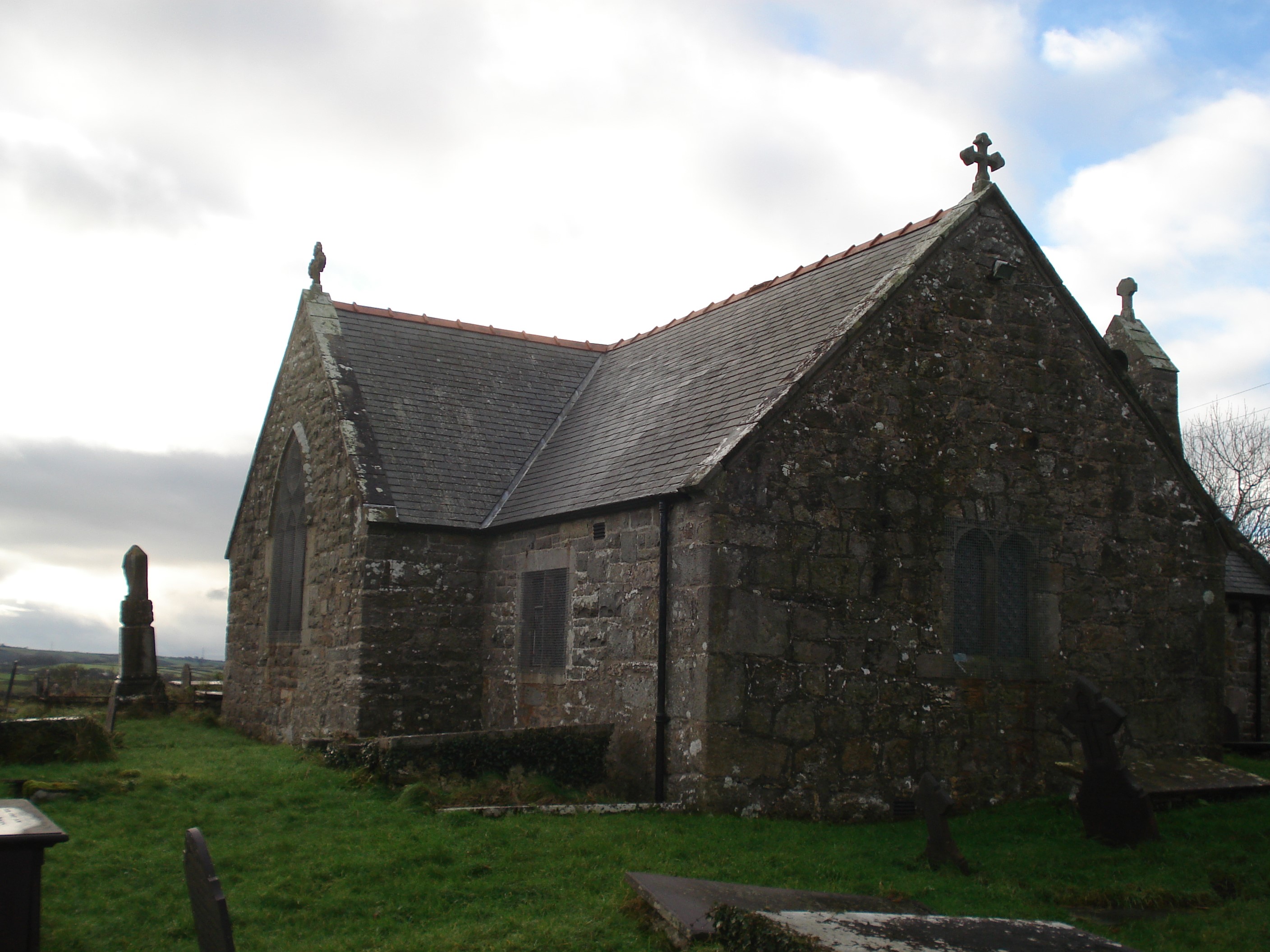 Llanbedrgoch is a village off the B5025 between Pentraeth and Benllech; postcode LL76 8TQ.
From 'The History of the Island of Mona' by Angharad Llwyd, 1832: 'The church, dedicated to St Peter (whose day is celebrated on the 19th of June) is a small beautiful cruciform structure, with a handsome east window situated on a rocky eminence, in a distant and exposed part of the parish. The parish abounds with lime-stone rock, which is considered of the best quality, of which quarries are worked upon a large scale, affording employment to more than 200 men. Many thousand tons are exported annually to different parts of the kingdom, from Red Wharf Bay, which is near. The sand in this bay, is said to be the best manure of any hitherto found in the Island; and the quarried of millstones in this neighbourhood, mentioned in the extent (26th of Edward III) as "royal property", supply nearly all Mona, and Caernarvonshire, with these necessary articles, for their durability, as accounted preferable to any dug from the mines of Penmon."
From the internet: archaeological research in the area has found evidence of habitation here from 3300 BC, through the Roman occupation (240 – 450 AD) and beyond. Burials from the time when the Vikings on the Isle of Man controlled Gwynedd and possibly parts of Anglesey (later part of 10th century) were found recently (National Museum of Wales).
The Hidden Stories of St Pedr churchyard, Llanbedrgoch
The number in brackets indicates the number in the research list.
This was compiled from the Record of Memorial Inscriptions of Cymdeithas Hanes Teuluoedd - Gwynedd Family History Society. The alphanumeric number refers to their record.
Enter the churchyard through the gate from the car park; turn left and follow the path – church on your right
1 (1) - Look for the box tomb on the right hand side of path to 'Thomas Williams, annwyl briod Margaret Williams'; look left, 3 slate headstones face the wall; middle headstone (your back to the churchyard wall)
Er Serchog Gof am John Evans Tyn-y-Gate, Llanbedergoch (sic). A fu farw Rhagfyr 16, 1918. Yn 54 ml.oed. "Am hynny byddwch chwithau barod, canys yn yr awr ni thybioch y, daw Mab y Dyn". Hefyd (Driver) Edward Evans mab John ac Ellen Evans Yr hwn a Gwympodd yn y Rhyfel yn Ffrainc, May 17eg 1918, Yn 22 Mlwydd Oed. . . . Hefyd yr uchod Ellen Evans A fu farw Hydref 3ydd, 1937, yn 77 mlwydd oed. (B154)
CWGC: Driver Edward Evans Service Number 706871, Died: Friday May 17, 1918 Aged: 22 'C' Bty. 331st Bde. Royal Field Artillery. Husband of Jane Evans, of Talgwyn Farm, Pentraith (sic), Menai Bridge, Anglesey. Buried: Brandhoek New Military Cemetery No 3
Possibly the only boy in a family of at least 6. In the 1911 Cenusus, age 14, he was a Farm Servant at Ty Mawr Llanbedrgoch, so will have been used to working with horses.
2 (8) – Left hand of the 3 slate headstones facing the wall
Er serchog gof am Ellen annwyl briod Richard Jones 35 Penmaen Road, Morfa, Conway a hunodd Gorph 20 1946 yn 54 mlwydd oed. Hefyd ei chwaer Elizabeth Evans Tyn y Giat o'r plwyf hwn a hunodd Mai 6 1960 yn 75 mlwydd oed. Eu mab Sig. Emlyn Jones a gollodd ei fywyd ar y mor yn - y Dwyrain pell Mawrth 4 1942 yn 19 mlwydd oed. "A'u hun, mor dawel yw." (B155)
CWGC: Ordinary Signalmen Emlyn Jones D/JX 162885, Royal Navy, HMS Anking; Died 4th March 1942, Sge 18; commemorated Plymouth Naval Memorial; son of Richard and Ellin Jones of Conway, Caernarvonshire
Signaller Emlyn Jones was a career Royal Navy man, he died when his ship Anking, a 'depot and supply ship' was torpedoed by the Japanese Navy off Java. HMS Anking was part of a convoy. It was an engagement in which the captain and crew of the Royal Navy Australian Ship Yarra acted with unbelievable bravery, attempting to save the rest of the convoy. The Japanese Navy methodically destroyed each ship in the convoy, one by one, leaving the Yarra until last.
3 (9) - Return to the path, look right, 3rd headstone from the box tomb by the path, polished granite low headstone with kerb
Er serchog gof am Ann J. Thomas Bodhyfryd, o'r plwyf hwn a hunodd Rhagfyr 22 1948 yn 67 mlwydd oed. Hefyd ei hannwyl briod T. J. Thomas a hunodd Rhagfyr 9 1949 yn 76 mlwydd oed. Hefyd eu hannwyl fab Hugh Thomas (Cpl. R.A.S.C. Black Watch) a gollwyd yn Forli, Italy Tach 23 1944 yn 26 mlwydd oed. (B131)
CWGC: Corporal Hugh Thomas, Service No: T/193631, Died: 23.11.1944, Aged: 26, Royal Army Service Corps, Son of Mr. and Mrs T.J. Thomas, of Pentraeth, Anglesey, Cesena War Cemetery, Italy "Mewn Serchog Gof Byth Yn Anghof Mam, Tad a Dei. Bodhyfryd, Pentraeth, Sir-Fon"
He was part of the Allied invasion of Italy, pushing the German force out, from the bottom up.
4 (6) – Again, look to the right of the path: 2 headstones along, 2nd row into plot, 2 headstones of similar height but different design, pink granite – right hand one
Er gof annwyl am Capt. Thomas Hughes Bryn Hyfryd, Tynygongl yr hwn a hunodd Ebrill 5ed 1899 yn 64 mlwydd oed. "Yn nghanol ein bwyd yr ydum yn angeu". Hefyd Capt. H.W. Hughes mab yr uchod gollodd ei fywyd gan ffrwydriad, or Ger (man) Submarine Awst 25 1917 yn 49 mlwydd oed. Hefyd Elizabeth Hughes priod a Mam yr uchod a hunodd Gorph 11 1927 yn 84 mlwydd oed. "Ni freesia yr hwn a Gredo". (B118)
CWGC: First Mate Henry William Hughes, Died: 25.08.1917, Aged: 48, S.S. "Cymrian" (London) Mercantile Marine, Son of Elizabeth and the late Thomas Hughes; husband of Mary Hughes (nee Roberts), of the Post Office, Trevor, Chevilog [Chwilog], Carnarvon, N. Wales. Born at Dinas, Llengrad, Anglesey. Commemorated Tower Hill Memorial
A career Merchant Seaman, Henry William Hughes had lived at Brynhyfryd, Llanfair-Mathafarn-Eithaf; on this trip he was First Mate of the Cymrian, a 'defensively armed' cargo boat, carrying coal from Newport (South Wales) to Dublin when torpedoed by U Boat UC-75 off Wexford. Another crew member lost was John Rowlands, the nephew of Mary Hughes. John, from Trevor, had gone back into the Cymrian in order to save his uncle.
5 (3) – Stand so you can see between the 2 pink granite headstones described above, 5th row into plot, slate CWGC headstone with silver lettering
CWGC: (Anchor emblem) - H Parry - Stoker 1st Class R.N. K/40761 - HMS 'Cumberland' - 2nd October 1918 (B066)
Hugh Parry, son of John Parry Ty Gwyn Llanddyfnan and husband of Jenny Parry Marian Farm Llangoed; horseman on the farm; taken ashore to hospital in Birkenhead with flu (at least 6 of the crew died from flu); commemorated War Memorials in Llangoed & Llanbedrgoch
6 (10) – Follow the path to the back wall, look right, 3rd row along, 4th headstone into plot – stone cross with CWGC white headstone laid flat
Er serchog gof am Elizabeth Hughes Tyn Cae a fu farw Hydref 1947 yn 54 mlwydd oed. Hefyd ei hannwyl briod Parch William Hughes a fu farw Rhagfyr 1948 yn 58 mlwydd oed. "Hedd perffaith hedd." Also their beloved daughter Comm. A.T.S. Gwyneth Rhianon Hughes
Headstone lying flat on kerb grave: A.T.S. Junior Commander Gwyneth Rhiannon Hughes Aux. Territorial Services 9th February 1946 aged 28
CWGC: Junior Commander Gwyneth Rhiannon Hughes, Service No: 192738, Died: 09.02.1946, Aged: 28, Auxiliary Territorial Service, Daughter of William and Elizabeth Hughes of Pentraeth (B036) Note: the spelling of 'Rhiannon' follows that on the memorial stones
Gwyneth's birth was registered in Bangor early in 1918; the ATS was the womens' branch of the Army, they were more than the 'clerks, cooks and waitresses' of WWI; as a 'Junior Commander' she was a commissioned Officer, equivalent to an Army Captain.
7 (11) – Follow the path, churchyard wall on your left – where the path turns - count 8 headstones by the path
Er serchog gof am Margaret annwyl briod Richard Jones Tyn Giat, Llanbedrgoch a fu farw Rhagfyr 12 1975 yn 76 mlwydd oed. Hefyd eu hannwyl briod Richard Jones a fu farw Rhagfyr 3 1982 yn 82 mlwydd oed. Hefyd eu mab Sig. John Jones a gollodd ei fywyd ar HMS 'Prince of Wales' Rhagfyr 10 1941 yn 18 mlwydd oed. (C063)
CWGC: Ordinary Signalman John Jones, Service No: D/JX 170295, Died: 10.12.1941, Aged: 18, H.M.S. Prince of Wales, Royal Navy, Son of Richard and Margaret Jones, of Tynygongl, Anglesey, commemorated Plymouth Naval Memorial
John Jones was a career Royal Navy Signaller; he was serving on HMS Prince of Wales; she had, famously been at the Battle of the Denmark Strait when she had damaged the German battleship Bismarck at the time when HMS Hood was lost (the Bismarck was later pursued and scuttled); the Prince of Wales took Churchill to Newfoundland for a conference with Roosevelt; was lost when in convoy from Java to Australia, torpedoed and sunk by Japanese bombers, off the coast of Malaya.
Compiled from the Cymdeithas Hanes Teuluoedd Gwynedd Family History Society - Memorial Inscriptions
Researched and compiled by Bridget Geoghegan to the memory of John Reilly, RSM 4th Hussars at the Battle of Balaclava; Lt 8th Hussars at the Battle of Gwalior; killed in action 21st June 1858.