Winter Hibernation (or go slow!)
Steve and Nancy Binks
I'm not quite sure, but I think we are about halfway through our "SomeKindHand Pilgrimage". By far the greatest concentration of burial grounds lies ahead of us; 1918. We would dearly love to be in a position to start these burial grounds around the summer of next year, but to achieve this we need to be much more active over the winter months than ever before. We have no overall deadline and don't believe we will complete our Pilgrimage before 2020.
This article is about our Pilgrimage visits on Monday 14th November, a typical Somme day; cold, damp with low mist and for Nancy and me a typical "day in the life". We moved to our winter hibernation in Morval at the end of October, storing the caravan with a local farmer rather than hauling it back to North Wales. It is quite a luxury not having to assemble the bed every evening and then put it away each morning, as is having a HOT shower and not having to run about to get wet.
We had visitors later that week and wanted to ensure that we had completed our "quota" before their arrival. We hated the thought of giving ourselves a numerical target of burial grounds to visit whilst at Morval but we have already committed ourselves to three months stay in Flanders from April – June 2017 which we hope will all but complete our 1917 burial ground visits, (except for the distant and isolated.)
From Morval, which is just on the border between the Somme and Pas de Calais, we have - as of today, 30th November - about eighty burial grounds to be visited in the departments: Aisne, Nord, Pas de Calais and Somme, so that is about five per week. They include: V Corps burial grounds established across the Somme battlefields in the spring of 1917, after the German withdrawal to the Hindenburg Line; burial grounds established in the pursuit to the Hindenburg Line; and the Battle of Cambrai burial grounds, including the Memorial to the Missing at Louverval. However, the vast majority are French communal cemeteries, spread far and wide across the named departments.
It may not sound much but even the most stalwart would find it difficult to walk slower than a Mk.1 tank from headstone to headstone on a Baltic cold day (like today!). And of course my darling wife has to sit there trying to thumb the pages of the cemetery register set with rigor mortis; that's the register by the way!
After an evening pouring over our Michelin map for the most economical route, the plan for Monday the 14th November included visiting six burial grounds located in villages to the south of the Cambrai battlefield and behind the British lines; Sunken Road, Villers-Plouich, (51), Villers-Plouich Communal Cemetery, (53), Gonnelieu Communal Cemetery, (1), Villers-Guislain Communal Cemetery, (51), Heudicourt communal Cemetery (4) and Heudicourt Communal Cemetery Extension, (85). The outward journey was about 35 minutes; 20 minutes if you were French.
The country roads this time of year in France are at their worst; wet with mud and the debris from tractors and the gargantuan farming vehicles. Soon, given the size of some of these monsters, they will be able to harvest, chop and bag the product on the field! Its bad news I'm afraid for many a "grubbler". Fields are now ploughed and tilled all on the same day; only the poorer farmers who cannot afford the (European subsidised) equipment offer decent battlefield "grubbling"! Sorry Diege!
Our first stop was Sunken Road Cemetery and after a summer of bumping over many a bone dry farm track, one has to think very carefully about taking the "bus" down these god forsaken (sunken) tracks this time of the year. This one was okay. The next consideration is to park safely, so the biggest contraption can pass without me having to worry about coming back to a wrecked vehicle, or turning my neat parking space in to a quagmire. Next, the issue is getting Nancy and chair in to the cemetery. After our near miss at Vimy, I now think twice about ascending steps with Nancy in the chair. Unfortunately, with a stepped entrance and no disabled access, Nancy had to sit this one out.
No such problems with the communal cemetery in the same village. We could see from the carpark that the British plot was marked by a Cross of Sacrifice and duly entered the main gate of the small but very tidy cemetery, nodding "bonjour", to the on-site maintenance chap as we entered. What we didn't expect to see was two isolated Portland headstones amongst the civilian headstones! There was no register onsite to inform the visitor to these isolated graves, and the on-line information doesn't mention these burials either.
We choose not to research our proposed burial grounds and burials prior to our visit; we enjoy the surprise and the variation; not so much the frustration of not finding the right number of burials though. Occasionally, we need the use of Nancy's mobile internet to access the CWGC site or their app, especially for locating communal cemeteries and single burials amongst a sea of thousands in the larger cemeteries. Alternatively we telephone CWGC headquarters (Beaurains, Arras) and speak to our friend Muriel. She has become a good friend and hopefully she doesn't see us as a pain in the "you know what".
It is unfortunate that most of the smaller burial grounds don't have a cemetery register. Indeed on this day, only the Extension at Heudicourt had one. Being at Morval gives us much more time than in the caravan to write up our "visit form" once we return after our visits. Unfortunately, the first two burial grounds lacked any solid information on their beginnings and so one needed to check if the casualties were exhumed from elsewhere. (In which case, they would have exhumation records.) From burial records it seems that Sunken Road was started by units of the 6th Division on the first day of the German counter-attack during the Battle of Cambrai. It was used through December 1917 by the Royal Naval Division (RND), with burials stopped the following month. The ground came under German control in March 1918, but the cemetery shows little evidence of burials within their tenure, either their own or British POW's. Four further graves were added in September 1918 as the British swept across the Hindenburg Line.
The communal cemetery has a similar history. However, the two isolated graves are both 1916 and a check of their burial records indicate that they were buried by the enemy. Villers-Plouich was behind German lines until their withdrawal to the Hindenburg Line. A further check amongst the casualties in the main plot shows that after the Armistice at least one of the unknown was exhumed to try to identify him; Lance Corporal Frederick George Pearcey (2/4th Oxford & Bucks L.I) who fell on the 12th December, 1917, was identified only by his shoulder titles and therefore likely that his Regimental depot had supplied his burial information to corroborate this most flimsy of information from the exhumation team. I also noticed that several of the unknown RND servicemen were incorrectly identified as "A Soldier of the Great War". The headstones should read "Sailor" or "Seaman"; all three descriptions seemed to be used interchangeably!
A short ten-minute drive brought us to Gonnelieu Communal Cemetery containing the single burial of Lance Corporal Harry Abernethy (4/Grenadier Guards), who fell (according to the on-line cemetery register) on or since the 1st December 1917. Unusually, a further seven graves were destroyed in later fighting and are now commemorated by special memorial in Villers Hill British Cemetery. It is not known why Harry's grave remains here.
The only exception to noting our visit, other than signing the cemetery register, is to leave a flower on the grave of single burials. Our visit here followed close to All Saint's Day and the residents of Gonnelieu forgot to remember the sacrifice of their only British casualty; so we did it for them. French cemeteries are full of flowers!
Lunch time brought us to Villers-Guislain and its communal cemetery. It's not a proper Pilgrimage day without lunch in a cemetery. The village was first occupied by British troops in their pursuit to the Hindenburg Line, but was lost during the German counter-attack during the Battle of Cambrai and finally secured in September 1918. Again no register and again isolated burials outside the main plot with its Cross of Sacrifice. The lack of register and its own entry in the CWGC database is a main reason for our return journeys, due to missing isolated burials in communal cemeteries.
I have developed a deep interest in headstones that are marked "Known" or "Believed to be buried in this cemetery". They are usually around the perimeter of the burial ground and sometimes marked by a "Duhallow Stone" giving details of where the servicemen's graves originally lay. The on-line register suggested that these seventeen casualties were "Known to be buried…." And had been destroyed by shell-fire*. One glance at the intimate nature of the cemetery got me thinking - is this meant to be amongst the civilian headstones? Thirteen of the casualties are 2/Scottish Rifles who fell during a failed raid on the enemy trenches on the 5th May 1917. (*I get the impression that "shell-fire" tends to be a catch all statement to cover lost graves.)
This is a classic instance of wanting to spend a day (or two) researching how these men's graves came to be lost and then commemorated by Special Memorial. Trouble is we just don't have the time, although we should have plenty when we finally complete our Pilgrimage in about three to four years' time.
Our last stop of the day brought us to Heudicourt Communal Cemetery and Extension; two burial grounds. So, I don't understand why both Villers-Guislain and Villers-Plouich burial grounds don't have two entries, to distinguish the isolated burials that lie amongst the civilians.
As we had followed the Green Sign to the Extension it brought us unfortunately to the rear of the communal cemetery; three of the four graves amongst civilian headstones were close to the entrance; yep, up a slope! Trying to push a wheelchair - even with Nancy's light frame - is difficult enough across shale, but up hill, it is almost impossible without pulling Nancy backwards.
The three graves date from March 1918 and were buried by the Germans. Although not listed in the Extension cemetery register, a previous visitor had written that Private D.S.U. Ross (2/Regiment South African Infantry) was believed to be 15 years old! There was no age inscribed on his headstone.
The extension was started in April 1917 (shortly after its capture in March) and used by fighting units until the following March and the German Spring Offensive. Several later burials followed the September 1918 fighting. Martin Middlebrook in his book about the Somme cemeteries, labelled this type of cemetery as a comrades cemetery; small groups of servicemen from the same unit buried close to each other, for example: 2/Lincolnshire (April 1917), 14/Gloucestershire (June 1917). Most represented, however, were the officers and men of the 6/King's Own Scottish Borderers, whose ranks occupied almost all of rows D & E. Their dates of death cover 7th to 16th December 1917. Again notes and photographs duly taken for later research; I know nothing of the 9th (Scottish) Division in this sector!
It was a full day and was turned 5.00pm when we arrived back to Morval. After a cuppa, where the rule is that we do nothing, we accessed the CWGC website to update our visit forms with their burial ground historical information. After which we turned our attention to some basic research for some of the individual and groups of headstones that we had noted. Most important is to recognise a soldier by his full name. I really don't like not knowing a soldier's Christian name, or to have to identify the battalion from the regimental headstone groups. Most of the time, the more detailed "work" goes on the "to do" pile. The Pilgrimage saps energy more than anyone can imagine.
One piece of research that we wanted to look at was the claims about the age of Private David Ross. After little work, we found his story from a mixture of South African Archives and from the battleground series of books: Salient Points 3. Here are the brief details:
Private David Schalke Ulundi Ross 11322 enlisted on the 5th February 1917 at Durban, Natal, embarking later that month aboard SS Walmer Castle. Weeks later he was disembarking at the South African Brigade Depot at Rouen, where he was drafted to the 2nd Infantry Regiment. On the 20th September, during the Third Battle of Ypres he was wounded in the left leg and was eventually evacuated to the south coast of England (22nd General Hospital). On the 12th February, he reported to the Infantry Replacement Depot, Rouen from where he was despatched to re-join his regiment.
On the 21st March 1918, the South African Brigade was desperately trying to defend an open flank against the German onslaught around Gauche Wood. Private Ross was mortally wounded and taken by the enemy to Revlon Farm, where on the 24th March, 1918, he died of his wounds.
The original Imperial War Graves Register states that his home address was room 15, 218 Arcida Mansions, Johannesburg and that he was aged 14 years old.
Having seen several other 14 year old boys in other registers, I made a point of verifying Private Ross's details. I emailed Terry Denham ("In from the cold", website), who stated that Private David Ross is the youngest confirmed infantryman to fall in the Great War.
That is all for now. Nancy and I are spending Christmas and New Year in France, so Merry Christmas and hope to see you all in the New Year!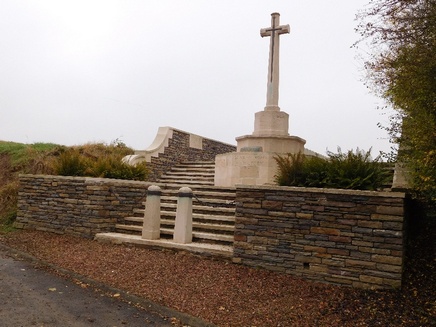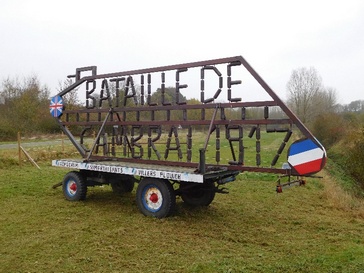 Figure 1 (left) Cemetery Steps at Sunken Road Cemetery. Before our experiences at the Vimy memorial, I would not have thought twice about dragging Nancy and chair up them!
Figure 2 (right) Tank made from old shell cases outside Villers-Plouich Communal Cemetery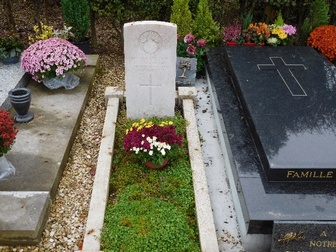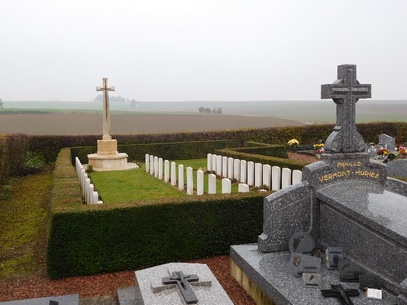 Figure 3 (above left) The isolated grave of Lance Corporal Harry Abernethy, with "borrowed flowers"
Figure 4 (above right) Villers-Guislain Communal Cemetery. The seventeen special memorial headstones are on the right against the hedge
Figure 5 (below) The grave of the youngest confirmed soldier to fall in the Great War