The RMS Leinster was a ferry which not only carried Royal Mail letters and packets but on board the mail was actually sorted. (Of the 22 postal sorters at work on the day, only one survived.) Its sister ships, all Royal Mail Ships ("RMS"), were also named after the four ancient Irish provinces. The crews were drawn from both Ireland and Wales. The passengers comprised a mix of civilian and military. The military were both those living in Ireland and returning from leave, ones being transferred to GB, and visitors who were looking up relatives on their leave from active service, often emigres serving in the dominion armies.
On the fateful journey, there were at least 771 passengers on board, but there is no definitive passenger list. The work by Philip Lecane in the Dun Laoghaire museum has created a list of 567 named casualties. For many years, the CWGC maintained that the casualty total was 176, but in fact that number comes from a 1919 HMSO publication and though it was not claimed to include any military casualties at the time, is frankly nonsense.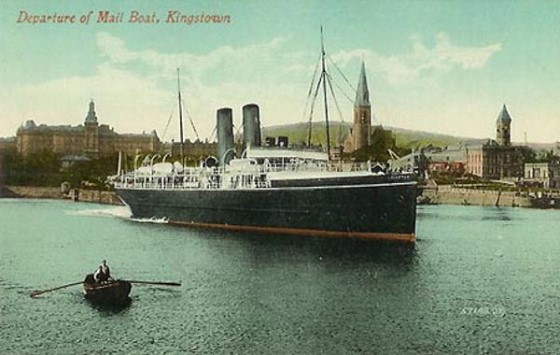 On the day in question, the Leinster left her berth in Dun Laoghaire, then called Kingstown, at 8.50am. Just after she had passed the Kish lightship some 7 miles out, she was hit by one torpedo at 9.50am. The ship was turned in an attempt to return to Dun Laoghaire but at about 9.55am she was hit by a second torpedo in the engine room and went down very quickly. The RMS Ulster had passed the Leinster a few minutes before the Leinster was hit, but the standing orders were that civilian ships were not to attempt to rescue survivors, as they would be a target for the submarine as well. The distress signal was passed by the Ulster to the Royal Navy, as the Leinster's radio mast had been brought down. The destroyer HMS Liveley arrived after about an hour and a half, followed by the destroyers HMS Seal and HMS Mallard. The Helga, which had been used to suppress the Easter Rising in 1916, put to sea from Dublin and also took part in the rescue, as did tugs. Unfortunately, sea conditions on the day were poor being recorded by the RN ships' logs as a wind speed of 6 to 7 from the south-west with a "very high sea" so that, although the lifeboats had been lowered, many had been swamped by the time help arrived.
On their first landings at Dun Laoghaire, HMS Lively brought in 127 people, HMS Seal 51 survivors with two bodies, and HMS Mallard 20 survivors, with one body. Throughout the day of 10th October, boats continued to arrive at Dun Laoghaire with survivors and, inevitably, more bodies. By 10pm, more than 100 bodies had been recovered. Over the following weeks, bodies were washed up all over the Irish Sea coasts.
Many of the dead were buried in Grangegorman military cemetery in Dublin, which, incidentally, predates the formation of the CWGC. One North Walian there is Ezekiel Thomas of the RWF who was on his way home to Glan Conwy for his father's funeral. A total of 12 RWF soldiers died on the Leinster, including one washed up at Abergele.
Civilian and military dead are buried far and wide.
US sailor Perry Tailor is buried in Florida.(Don't forget there was a considerable US Navy presence in Ireland by 1918*, and the Leinster had been escorted on occasions by US Navy ships, as well as by the Royal Navy.)

Frank Higgerty, about to take up a commission in the army, is buried in Ottawa, Canada.

Mary Ann Johnson is on the Great Orme at Llandudno.She was an English lady who had moved to Wales to avoid air raids in Southern England.

Six crew are buried at Maeshyfryd in Holyhead, including a stewardess.

On the Isle of Man, 11 identified bodies were washed up, some of which were repatriated, and a number of unidentifiable ones which were buried in unmarked graves on the island.Six known casualties are buried on the island today.

A father and son, both called Charles Daft, are buried in Nottingham.

The bodies of two members of the Royal Dublin Fusiliers, Lieutenant Crawford and Pte O'Brien, were washed up in SW Scotland and they are buried in Kirkbean and Portpatrick churchyards.

Canadian nursing sister Henrietta Mellett is buried in Mount Jerome civilian cemetery in Dublin
In addition to the above,
Twenty-six crew are on the Merchant Navy Memorial at Tower Hill in London, with addresses both around Holyhead and Dun Laoghaire.

VAD Anne Barry is on the memorial at Brookwood cemetery in Surrey.There were 5 VADs killed on the Leinster.

Josephine Carr was the first member of WRNS to be killed in action.She was a clerk from County Cork and is commemorated on the Royal Naval memorial in Plymouth.Her death gives added irony to the quirky motto for the WRNS "Never at sea"!
But what of Robert Ramm and his crew on UB-123? It is likely that the U-boat entered the Irish Sea by going round the north of Scotland, down the west coast of Ireland and up into the Irish Sea from the South. It is believed to have sunk the tanker Eupion 10 miles west of Ireland on 3rd October. After the Leinster sinking, UB-123 went north. On 18th October 1918, UB-125 outbound from Germany received a message from UB-123 asking for advice on a route through the Northern Barrage minefield which had been laid since March 1918 by the British and Americans to block the route for U-boats into the Atlantic from the North Sea. UB-125 responded with some suggestions. UB-123 acknowledged the message, presumably from a location north east of Muckle Flugga in the Orkney Islands. Nothing was ever heard of UB-123 again. She is presumed to have hit one of the mines that day, as both British and US ships reported hearing a mine explode. UB-123 was lost with all 36 crew.
Ironically, eleven days after the sinking of the Leinster, the German naval command issued an order to U-boats that they were only to attack military vessels and in daylight, as the armistice was pending.
So, why has the Leinster sinking been forgotten for so long?
The Irish War of Independence broke out between Irish nationalists and the British forces within a year of the sinking. It thus suited each side to deliberately forget the part played in WWI by Irish men and women.Irish officialdom wished to construct a myth of perpetual Irish struggle against British imperialism down the centuries, and the Irish serving in the British forces was an awkward fact to deal with.British officialdom sought to downplay the Irish contribution to WWI, not least because of the loss of the Irish republic but also to justify the behaviour of British politicians and forces in Ireland in the 1919-1921 period.Thus, the loss of the Leinster became part of the suppression of WWI memories on all sides.
Historians have made a mess of the issue and have grossly under-stated the deaths on the Leinster. As said above, this partly stems from a 1919 British publication that did not include military casualties British Vessels and Merchant Ships lost at sea 1914-1918 and, frankly, sloppy research work on the part of historians in subsequent years.
A lack of information about those who died has also played a part. The tragedy itself has been remembered in Dun Laoghaire and Holyhead to some extent but it is really only with the stories of the victims becoming known that true remembrance is possible. Of course, the work of Philip Lecane and colleagues at the Irish Maritime Museum and those at the Holyhead Maritime Museum has been central to this task.
*By 1918, there were 34 US Navy destroyers based in Dun Laoghaire, and some 104 US Navy ships in SW Ireland, at Cobh and Bantry, including dreadnought battleships.
Commemoration - 10th October 1918
On 10th October, there was a commemoration in Dun Laoghaire near Dublin, of the loss of the "mail packet" RMS Leinster. Philip Lecane of the Maritime Museum in Dun Laoghaire had persuaded the Irish government to make it an official commemoration, which they certainly did. The current figure for the losses is 567, out of 771 passengers. Some 350 servicemen and women were lost including American, Canadian, New Zealand and Australian. Fourteen Royal Welsh Fusiliers (RWF) were lost and are listed here. In Holyhead, the maritime museum there has put on commemorative events, including a wreath laying on the 10th October. Twenty four crew from Holyhead were lost.
In Dun Laoghaire, there was a reading of a Hedd Wynn poem by First Minister of Wales, Caerwyn Jones, and an address and unveiling of a new commemorative stamp by the Irish Minister for Culture, Josepha Madigan. There was an address from the head of the Irish Naval Service on his experience of rescue operations, good and bad. The head of the Irish postal service, An Post, told us that all postal workers in Ireland had stopped work 09.50 that day, the time of the disaster, to commemorate their lost colleagues - out of the 22 mail sorters on board, only one survived. Various family members of victims and survivors were there, both local and from far-flung places such as New Zealand and the United States. Ambassadors and military attaches were there from all the countries involved, including the lady military attache from Australia.
Unbelieveably, the Maritime Museum in Dun Laoghaire has two letters from the RMS Leinster which had been recovered at the time, dried out and delivered - one to Canada and the other to Mincing Lane in the City of London. They are stamped as being damaged because they have been salvaged from the wreck of the RMS Leinster. The mail must get through! The link for Holyhead Maritime Museum is here.
Philip Lecane has written two books on the tragedy - "Torpedoed The RMS Leinster disaster" and "Women and children of the Leinster". He and his collaborators are responsible for correcting the deficient records of the disaster.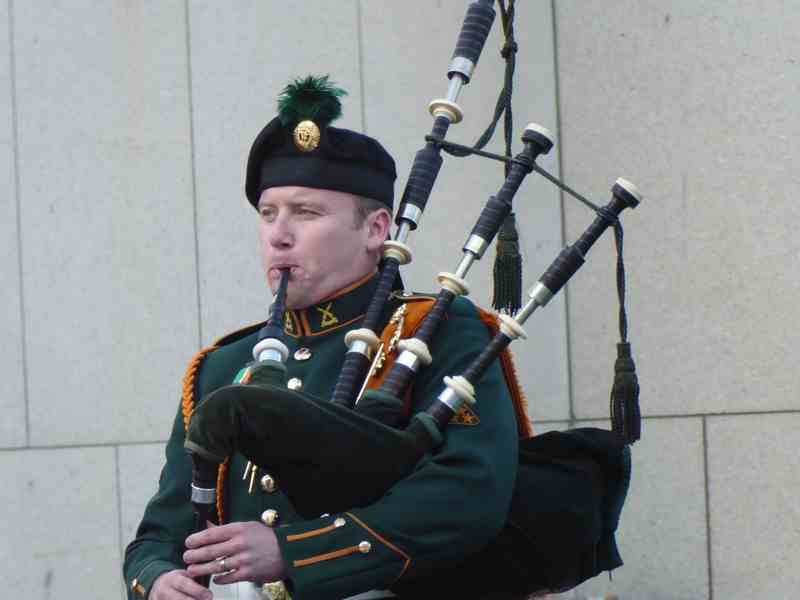 Irish Defence Forces piper playing a lament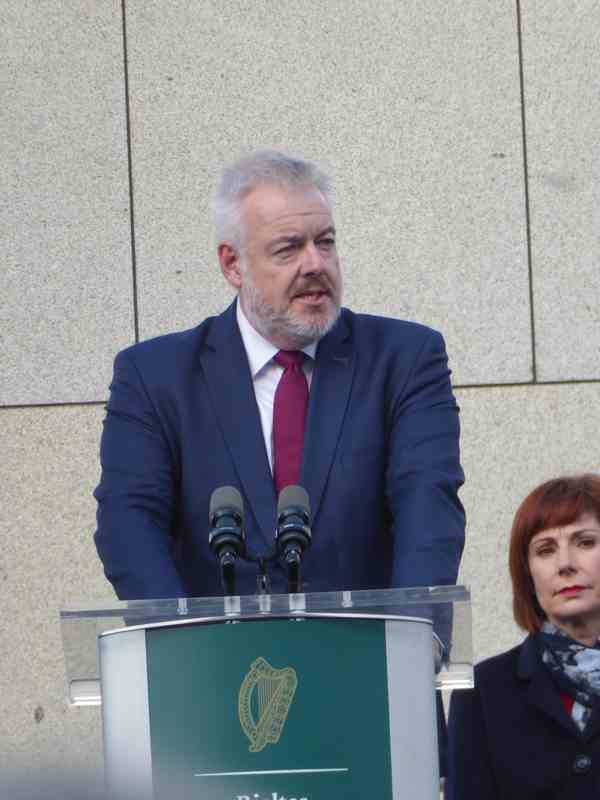 Welsh First Minister, Caerwyn Jones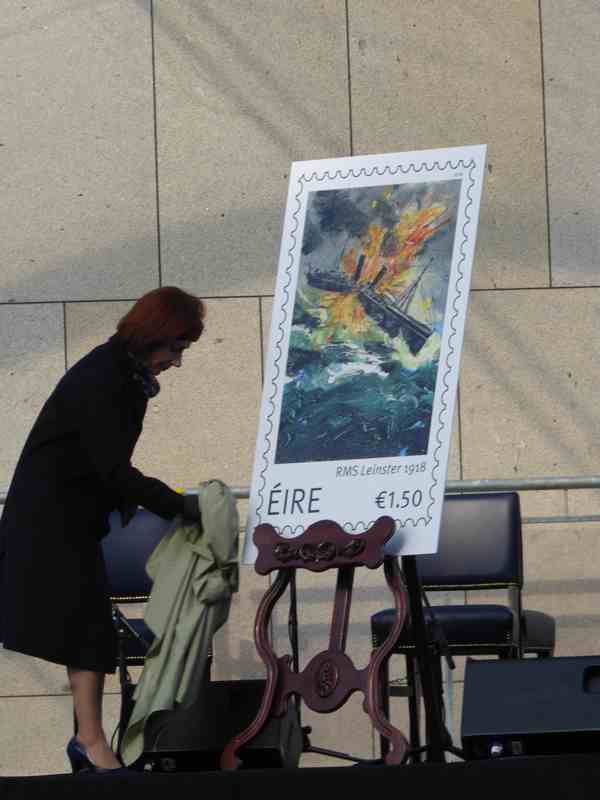 Iriish Minister for Culture and Heritage, Josepha Madegan unveiling the comemmorative stamp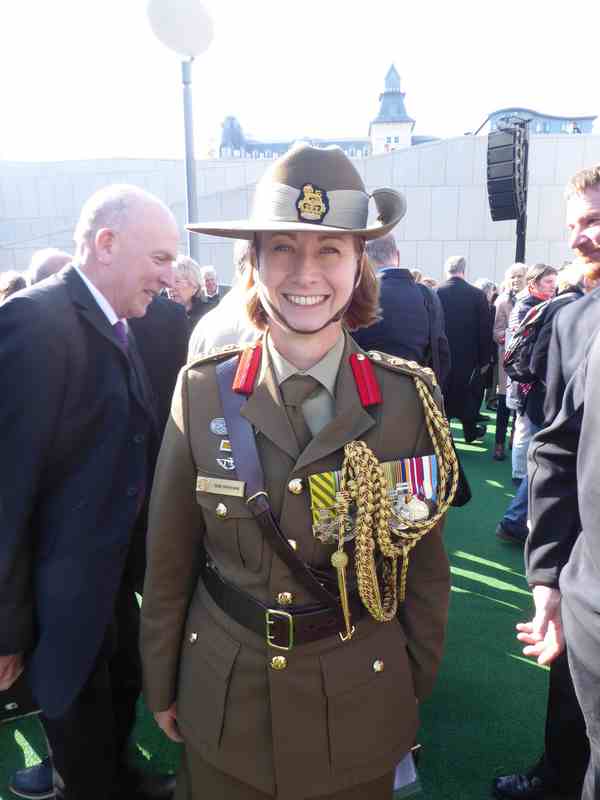 One of the diplomatic representatives, Australian Army Colonel Sue Graham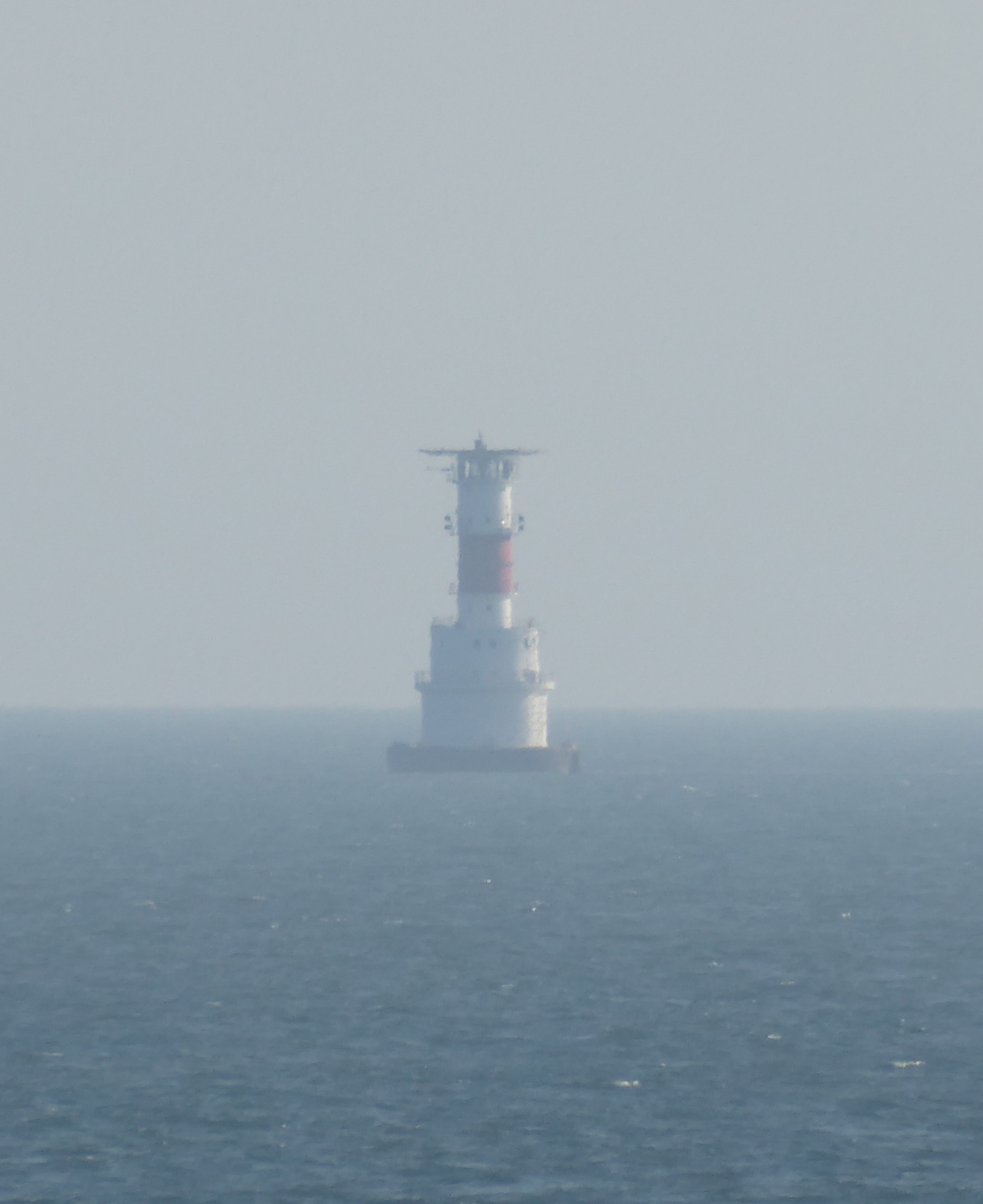 The Kish light today. (It was a lightship in 1918)
Royal Welsh Fusiliers Casualties
There were at least 21 Royal Welsh Fusiliers on board RMS Leinster - four officers and 17 men. They mainly served with the 3rd Battalion, RWF. Two officers and 12 of the men were lost.
We would be pleased to make contact with relatives of any of those listed below - at This email address is being protected from spambots. You need JavaScript enabled to view it.

Sgt. John Brennan, aged 32.
27864, 9th Bn. RWF.
Born at Portsmouth, Enlisted Holborn.
Served with 19 RWF then attached to Hawke Bn. RND. Later RWF Infantry Base Depot, 9 RWF.
BWM,VM.
Buried at Grangegorman Military Cemetery, Dublin - RC 603
Sgt. William Henry Fishwick, aged 35.
49068, 3rd Bn. RWF.
Son of John and Augusta Fishwick; husband of Amy Fishwick, of 12, North Street. Castlefields, Shrewsbury.
Born at Ruyton-eleven-towns, Salop. Enlisted at Leominster, Hereford.
8/R.W. Fus. Sgt 7283, R.W. Fus. 49068 Infantry Base Depot., 2/R.W. Fus., R.W. Fus. Infantry Base Depot., 2/R.W. Fus. First served in the Balkans - 29 June 1915. Previously in the army reserve.
Awarded the 1914-15 Star, British War Medal and Victory Medal..
Buried at Grangegoram Military Cemetery, Dublin - CE New Plot 739
Pte. Robert Henry Hall, aged 38.
6326, 3rd Bn. RWF.
Born at Manchester. Enlisted at Ruthin in October 1914.
Also served with the RDC and 24 RWF. Court Marshalled in September 1917 for stealing from a comrade. Served 96 days.
Awarded the British War Medal and Victory Medal.
Commemorated on the Hollybrook Memorial Panel 56.
Pte. Robert Arthur Hendry, aged 21.
71882, 3rd Bn. RWF.
Born and enlisted at Liverpool
Son of John and Catherine Hendry of 69 Fairview Place, Liverpool (1911)
Commemorated on the Hollybrook Memorial Panel 56
Pte. Richard Jones, aged 29.
74314, 3rd Bn. RWF. Formally 17739, Cavalry Regiment.
Enlisted at Bangor. Previously employed as a Coal Carter.
Husband of Ethel May Jones (nee Brooks), of Bryn Goleu, Nebo, Penygroes. Married at Caernarfon in 1912. Son Robert John Jones born in 1913.
Buried at Llanllyfni (Gorphwysfa) Cemetery, Penygroes - 44. Yr Herald Cymraeg of 26 November reports his body was found at Abergele Sands. Family information suggests that his death was registered at Isle of Man.
Pte. Samuel Langfield, aged 34.
90490 3rd Bn. RWF.
Born at Oldham and enlisted at Oldham in May 1918.
Son of Eliza Langfield, of 111, Heyside, Shaw, Lancs., and the late Abel Langfield; husband of Nancy Langfield (nee Holding). Married in 1910 at Oldham. Previously employed as a Cotton Spinner.
Commemorated on the Hollybrook Memorial Panel 57.
L/Cpl. John William Lundy, aged 23.
87831 3rd Bn. RWF.
Born at Sunderland. Enlisted at Manchester.
Son of John and Mary Lundy, of 104, Claude Rd., Chorlton-cum-Hardy, Manchester
Buried at Grangegorman Military Cemetery, Dublin - Pres. 90.
Lt. Joseph Francis McIntosh, aged 27.
3rd Bn. RWF, attached from 2 Bn. RWF. Previously Private 16360 RWF. Commissioned March 1915.
Enlisted in 1914 was Assistant Master at a school at Tamworth. He was the son of Thomas and Mary Phoebe McIntosh and the husband of Dorothy Kate McIntosh (nee Lobe). Married at Guildford, Surrey on 9 April 1918.
Previously served with the RWF in Flanders for 18 months. Suffered from trench fever and shell shock.
Lived at Shotton, Cheshire.
Awarded the British War Medal and Victory Medal.
Buried at Grangegorman Military Cemetery, Dublin - RC Officers 24.
Pte Harold Pickles, aged 24.
86900, 3rd BN. RWF.
Born and enlisted at Burnley. Previously worked in the Cotton Mills as a Twister.
Son of John Pickles, of 31, Caldervale Rd., Burnley; husband of Ada Pickles (nee Watson), of 20, Hinton St., Fulledge, Burnley. Married at Burnley during early 1918.
Commemorated on the Hollybrook Memorial Panel 58.
Pte. David Rowlands, aged 22.
61116, 3rd Bn. RWF.
Born at Llanfihangel , Anglesey. He was the son of Owen and Ann Rowlands of Llerniau, Llanfigael. Enlisted at Menai Bridge. In 1911 he was employed as a Cowman on a farm, aged 15.
Commemorated on the Hollybrook Memorial Panel 58
Lt. William James Singleton, aged 30.
3rd Bn. RWF as Instructor. Formally 16th, 2nd, 20th and 17th Bn. RWF.
Born at Holyhead. Previously Deputy Head Teacher, Park School, Holyhead.
Awarded the British War Medal and Victory Medal. Wounded at Mametz Wood 18th July 1916.
Buried at Grangegorman Military Cemetery, Dublin - CE.Officers.27.
Pte. Ezeciel Thomas, aged 23.
92077 3rd Bn. RWF (23)
Born at Llanrwst, enlisted at Colwyn Bay.
Son of Evan and Margaret Thomas. Husband of Annie Thomas (nee Hughes). Married at St. Asaph in 1916. Son Ezekiel Thomas born 1917.
Joined 4 months previously. Travelling on RMS Leinster to attend the funeral of his father.
Buried at Grangegorman Military Cemetery, Dublin - Pres. 93
Pte. William Walker, aged 37.
87949 3rd Bn. RWF. Formally 21065 South Wales Borderers. Served on the Western Front from 3/12/1915.
Born at Dudley, Worcester. Enlisted at Abertillery, Monmouthshire.
Son of the late Joseph and Jane Walker; husband of Hellen C. Walker, of 3/158, Lee Bank Rd., Edgbaston, Birmingham.
Awarded the 1914-15 Star, British War Medal and Victory Medal
Commemorated on the Hollybrook Memorial Panel 59.
Cpl. Harold Wilkinson, aged 21,
71605 3rd Bn. RWF. Formerly 53508, Liverpool Regiment.
Born at Peel Green, Lancashire. Enlisted at Eccles, Lancashire.
Son of John Alfred and Elizabeth Wilkinson, of 10, Trevelyan St., Eccles.
Buried at Peel Green Cemetery, Lancashire - F. CE. 16833.
Those of the RWF that survived.
Pte. J Bedall
Cpl. W Dudley
Pt. W E Frost
Lt. T Gadd
2nd Lt. B Jennins
Sgt. R Jones
Cpl. Page