The Hidden Stories of St Cawrdaf churchyard, Llangoed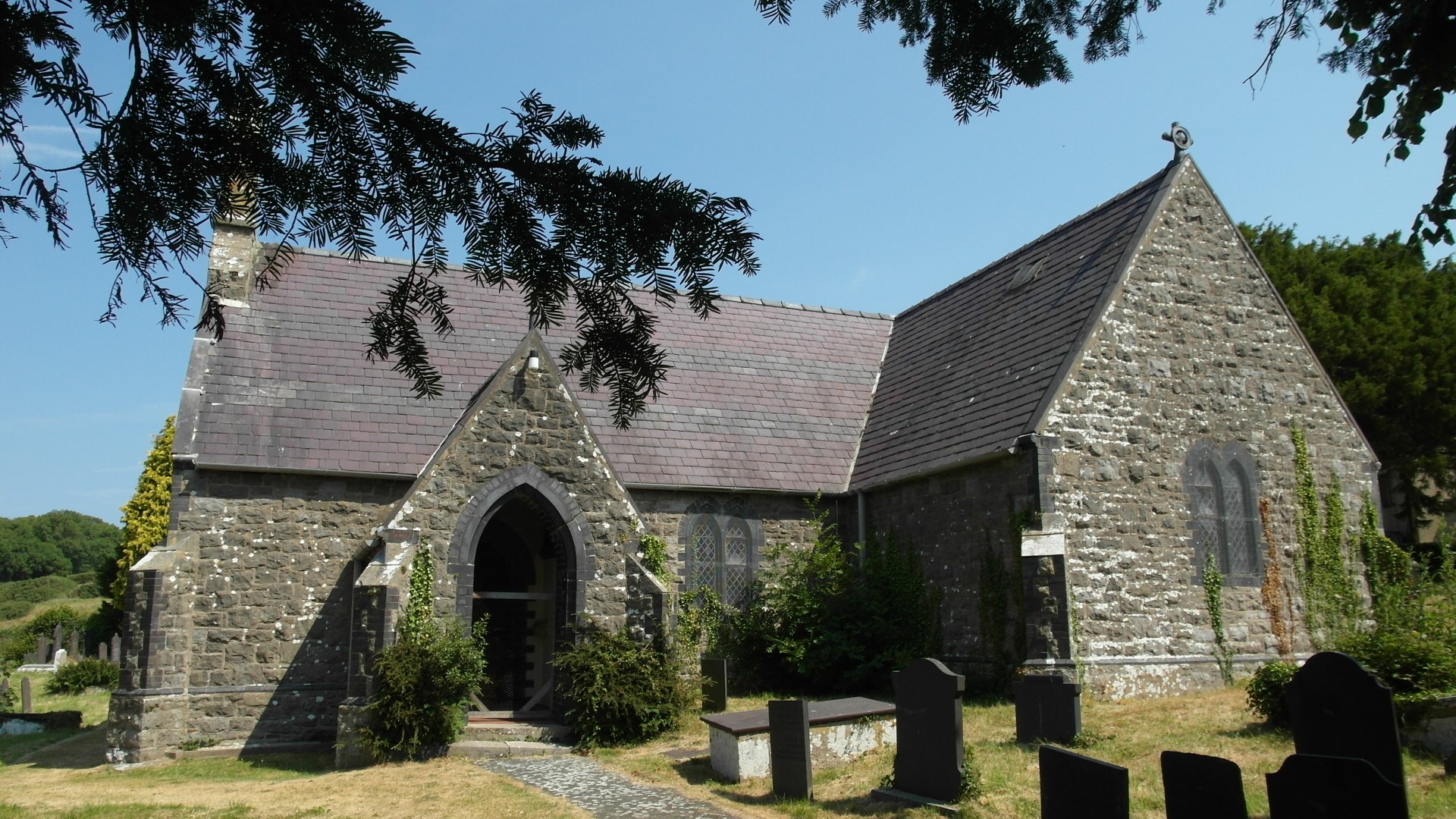 Postcode LL58 8SA. By bus: bus stop and shelter opposite Llangoed Church.
By car: roadside parking by the church or free car park, off road, between the nearby chapel, (Capel Tŷ Rhys) up hill, and the graveyard behind the chapel. Most of the churchyard is turf.
This was compiled from the Cymdeithas Hanes Teuluoedd - Gwynedd Family History Society book of Memorial Inscriptions; the number following each entry is their reference.
Angharad Llwyd in her 1833 book 'A History of the Island of Mona' explains the name: 'Llan Cowrda – the church is dedicated to Cowrda, one of the ancient Colidei, who was buried here.'
From the lych gate, follow path towards the church porch; 12th upright headstone on right of the path (pink granite headstone and kerb)
1 - In Loving Memory of Frederick Isaac, Son of Isaac and Sarah Howard, Born June 30th 1891, Died May 12th 1892. Also of Isaac Howard Who died February 3rd 1916, Aged 66 years. "At rest". In Loving Memory of John Grundy Howard, son of the above who fell in action at Messines Ridge, France, June 3rd 1917 Aged 27 years. "In the midst of life we are in death" Also Sarah Howard, Died May 21st 1928, aged 81 years. "Thy will be done." (A066)
John Grundy Howard of Bryn Gwyn Llaniestyn (previously Haulfre Cottages); born at 'Fuchsia Cottage' on Glyn Garth; his father Head Gardener for Mr Chadwick, Haulfre in Llangoed; 1911 John was 'Domestic Gardener' at Penrhyn Castle, living at 'Penrhyn Bothy', Bangor; killed in action.
CWGC: John Grundy Howard - Gunner 112944 Royal Field Artillery "B" Bty. 64th Bde. - Died 03.06.1917 - Age 27 – Buried Reninghelst New Military Cemetery, Belgium - Son of Sarah Howard, of Bryngwyn Llaniestyn, Beaumaris, Anglesea, and the late Isaac Howard. Born Glyn Garth, Bangor
Pass the church porch, veer left (grass path); walk along path, keeping your back to the church; 1st row from where the ground dips, 3rd grave on your right (slate headstone with kerb, lettering losing its paint; headstone starting to lean)
2 - Er Gof annwyl am Robert Thomas Priod M. J. Thomas Angorfa, Llangoed, a fu farw Rhagfyr 2, 1927, yn 45 mlwydd oed. Hefyd, eu hannwyl fab Robert John, a roes ei fywyd dros ei wlad, yn (N.W.Europe) Medi 25 1944, yn 23 mlwydd oed. Mae'n dawel gyd ar Iesu wrth y croes. Hefyd Mary J. Thomas bu farw Rhag 6 1956 "Hedd perffaith hedd." (In loving memory of Robert Thomas, husband of M. J. Thomas Angorfa, Llangoed who died December 2, 1927, 45 years old. Also their dear son Robert John, who gave his life for his country in N. W. Europe, September 25 1944, age 23. . . . Also Mary J. Thomas who died December 6, 1956. "Peace, perfect peace.") (B146)
Robert John Thomas was brought up in Angorfa, Llangoed; served with the Royal Army Service Corps; killed in action, during the follow up to the D Day landings of June 1944, there was fierce fighting to push the German invaders back, step by step.
CWGC: Robert John Thomas - Driver T/247030 250 (Airborne) Lt. Comp. Coy. Royal Army Service Corps - Died 18.09.1944 – Age 23 - Buried Arnhem Oosterbeek War Cemetery (Netherlands) - Son of Robert and Mary Jane Thomas, of Llangoed, Anglesey
One more row away from the church, and along to the distinctive white CWGC headstone
3 - T/119929 Driver – O. Roberts – Royal Army Service Corps - 21st May 1940 Age 28 (B107)
Owen Roberts brought up in Llangoed; died on Tuesday 21st May 1940.
CWGC: Buried: Llangoed (St Cawrdaf) Churchyard - Inscription: Duw Cariad yw (God loves you) - Additional Information: son of Moses and Ellen Roberts, of Llangoed; husband of Myfanwy Roberts, of Llanddona.
From the CWGC headstone, one row closer to church (discoloured marble headstone with kerb and 'immortelles' flowers under a glass dome, protected by a cage)
4 - Er serchog gof am Sarah annwyl ferch Richard a Margaret Jones Tan Lon, or plwyf hwn a fu farw Rhagfyr 18 1933 yn 28 mlwydd oed. Hefyd William ei brawd a gwympodd yn y rhyfel fawr yn Ffrainc, Mehefin 8, 1917 yn 19 mlwydd oed. Hefyd Richard Jones eu tad, a fu farw Ebrill 29, 1940 yn 61 mlwydd oed. Hefyd Margaret Jones eu mam fu farw Ebrill 21, 1950 yn 71 mlwydd oed. "Hedd perffaith hedd." Memorial flower basket: With deepest sympathy from the staff at Haulfre. (In loving memory of Sarah, dear daughter of Richard and Margaret Jones, Tan Lon of this Parish, who died December 18th 1933 at the age of 28. Also William her brother, fell in the great war in France, June 8th 1917 at the age of 19. Also Richard Jones their father, died April 29th 1940 at the age of 61. Also Margaret Jones their mother who died April 21st 1950 at the age of 71. "Peace, perfect peace."') (B134)
William 'Willie' Jones of Tan y Lôn, Llangoed (now Tan Lon); eldest son, he joined up underage, his family were told that he was 'Missing' (as on Llangoed War Memorial); his mother made every effort to find him, until her death; she never believed that a person could be lost.
CWGC: William Jones - Private 202014 Manchester Regiment 2nd / 5th Bn - Died 08.06.1917 - Age 18 – Commemorated Loos Memorial, France - Son of Richard and Margaret Jones, of Tan Lon, Llangoed, Anglesey.
Same row as the CWGC headstone; 3rd headstone towards kissing gate (slate headstone with kerb & plaque)
5 - In Loving Memory of Sarah Wife of Thomas Jones, 4 Beaumaris Road, Llangoed, died May 2, 1939 aged 52 years. "Abide with me." Also of their son H. J. Jones Guardsman, died a prisoner of war in Germany, July 25, 1943 aged 25 years. Also her dearly loved husband Thomas Ivor Jones died Nov. 26 1948 aged 61 years. "Rest in peace." Plaque on grave: Also their son Charles, 1913 – 1993. Rest in Peace (B110)
Hugh John Jones, still known as 'Hughie John' lived at 4 Beaumaris Road Llangoed; worked as a Quarryman in the Limestone Quarries; was a prisoner of war; died whilst in captivity; buried in Malbork Commonwealth War Cemetery, Poland
CWGC: Hughie John Jones – Guardsman 2735068 Welsh Guards 2nd Bn. - Died 25.07.1943 - Age: 25 – Buried Malbork Commonwealth War Cemetery (Poland) - Son of T. Ivor Jones and Sarah Jones, of Llangoed, Anglesey.
One row towards the church; 4th upright headstone in from kissing gate (slate headstone, clear lettering, overgrown kerb, leans backwards)
6 - Er Serchog Goffa am William Thomas, Anwyl Briod Jane Thomas 6 Beaumaris Rd Llangoed, Bu farw ar ol cystudd byr Ionawr 14eg 1930, yn 81 mlwydd oed. "Ar hyd ei ddydd y ghodiodd yn deg, onest, digwyno." Hefyd am Samuel, ei fab, a syrthiodd ym Mrwydr Y Coed Gorffenaf 7fed 1916, yn 29 mlwydd oed - Dros ei wlad y rhoes ei lŵ -Dros fôr fe droes i farw. Hefyd, am y dywededig, Jane Thomas a hunodd yn yr Iesu Chwef 9, 1937 Yn 85 mlwydd oed. "A'u hun, môr dawel yw." (In everloving memory of William Thomas, dear husband of Jane Thomas 6 Beaumaris Rd Llangoed, who died after a brief affliction January 14th 1930, at the age of 81. . . . Also Samuel, their son who fell at Mametz Wood, July 7th 1916, age 29. . . . Also the above Jane Thomas who was gathered to Jesus February, age 85.) (B125)
Samuel Thomas, born Llanerchymedd, lived at 6 Beaumaris Road Llangoed; killed in action, Battle of Mametz Wood; commemorated on Thiepval Memorial France. 'Yr oedd Sam yn fachgen tawel a hoff oedd gan bawb a'i hadwaenai.' (Sam was a quiet lad and a favourite with everyone who knew him.)
CWGC: Samuel Thomas - Private 24646 - Welsh Regiment 9th Bn. - Died 07.07.1916 - Age: 29 – Commemorated Thiepval Memorial, France - Additional Information: Son of William and Jane Thomas, of 6, Beaumaris Rd., Llangoed, Anglesey.
Turn to face church, walk towards the house visible over the wall; church on your right, mature tree on your left; tall slate headstone immediately right of tree, facing the wall
7 - In loving memory of the beloved children of David & Mary Hughes Ty'n'y Gate, Catherine who died Aug. 12th 1902 aged 7 years. Also Harry who died July 22nd 1910 aged 11 years. David John who fell in action Sept. 3 1916 aged 23 years. Mary died in America March 16 1917 aged 27 years the beloved wife of John Roberts, Pibydd. The above named David G. Hughes died May 8 1932 aged 79 years. His beloved wife Mary Hughes died January 26 1940 aged 85 years. "Thy will be done." (C071)
David John Hughes of Tyn Gate Llangoed; was working as a Joiner in Liverpool when he signed up, hence serving with a Liverpool Regiment; killed in action
CWGC: D. J. Hughes - Lance Corporal R/16962 King's Royal Rifle Corps 17th Bn. - Died 03.09.1916 – Buried Hamel Military Cemetery, Beaumont-Hamel, France
Keep church on your right, wall on your left and walk across graveyard towards the lych gate; a modest (home made) concrete cross on your left with inset slate plaque, facing the wall
8 - R.I.P. - 1915 - F.T.H.Mertens - Belgian - Aged. - 13 (A115)
Frederik Theophiel Hendrik Mertens of Plas Llangoed; the son of a refugee family from Malines in Belgium, the family fled here when the Germans invaded in August 1914; the local community had made provision for these families, with accommodation in Plas Llangoed, clothing and provisions ready; his father, Yan (Jan) a skilled engineer, probably went on to work for the War Office; Frederik died January 5th 1915 from diabetes; buried Churchyard of St Cawrdaf, Llangoed. Not a war casualty
Note: the famous 'Cadair Ddu' (the Black Chair) was won by Ellis Humphrey Evans, under his bardic name of Hedd Wyn, at the Eisteddfod Genedlaethol (National Eisteddfod) of 1917 held in Birkenhead. It had been carved by Eugene Vanfleteren, another refugee from Malines and paid for by David Evans, an Anglesey man who had a very successful building business in Birkenhead. David Evans built himself a country house, Cynlais, in Penmon and was buried in the graveyard of Capel Ty Rhys, Llangoed.
Researched and compiled by Bridget Geoghegan to the memory of John Reilly, RSM 4th Hussars at the Battle of Balaclava (Charge of the Light Brigade); Lt 8th Hussars at the Battle of Gwalior; killed in action 21st June 1858.