SomeKindHand: August 2016 Update
Steve and Nancy Binks
After our "mop-up" of March/April and later tour commitments we returned to France in late June to begin in earnest our 1917 Pilgrimage. (We did include some 1917 burial grounds in our mop-up, to save mileage; mostly the burial grounds of troopship "Transylvania". We also covered those 1917 burial grounds in Commines Warneton during early June whilst on "recce" work).
We decided to start on the 170 burial grounds (and three memorials) of Pas de Calais first, being the most numerous. They also cover the Arras battlefields and those associated with the follow up of the Germans to the Hindenburg Line. It's always a fine balance between too much travel on one hand and too many campsites on the other. The decision was made after we had secured a good deal to stay for three months at the campsite in Boiry Notre-Dame, not far from Monchy le Preux.
As usual we marked each visit site on a Michelin road atlas with the intention of working outwards from Arras, trying as near as possible to visit those sites closely associated with the 9th April (first day of the Battle of Arras) first. Inevitably this brought us to the Canadian burial grounds along and east of the Vimy Ridge, for example: Zivy Crater (53), Litchfield Crater (57), Nine Elms (584), and Thelus Military (295). I'm looking forward to further researching these burial grounds based on the work of Canadian burial officers clearing the battlefields of the dead in the immediate aftermath of battle. As we moved clockwise around the Arras Salient we read similar stories in the register histories: Hervin Farm (51), Bunyan's (54), and Gourock Trench (44) are good examples of battlefield cemeteries. Many had similar beginnings as post Battle of Arras burial grounds, but post-armistice concentration has distorted them: Canadian cemetery Number 2 (2965), Tilloy British (1642) and London Cemetery (747) are examples.
As one moves further afield the Arras burial grounds take on an almost rhythmic similarity: Arras dead (April – May 1917), then fighting unit burials (June 1917 – March 1918)*, German burials from their Spring Offensive, British/Canadian dead (August/October 1918) and finally post war concentration. Examples include: Feuchy Chapel (1103), Level Crossing cemetery (405) and Windmill British (436).
Still in Pas de Calais but away from Arras, one encounters the burial grounds associated with the Third, Fourth and Fifth Armies operations following up the German retreat to the Hindenburg Line. Much of this ground changed hands on two further occasions, and therefore the burial grounds again reflect these changes and again show great similarity: Croisilles British (1818), Ervillers Military (67) and Favreuil British (396) are good examples; many like Mory Abbey (619), Achiet Le Grand (1424), retain sizable German plots. Several examples exist of a greater number of German burials in British cemeteries in Pas de Calais: Vaulx Australian Field Ambulance with 52 British (inc. 32 Australian) and 61 German.
* Those casualties that bear the dates late June 1917 – February 1918 from around the burial grounds of Gavrelle to just north of the Cambrai sector at Moeuvres remain a mystery; until a concerted period of map study I would have struggled to draw where the front line was! Most burial grounds that we have visited in this particular period hold these casualties – known as "fighting units" - I would love to hear from anybody who has studied this period and some of these actions.
As with almost all our visits, serious research cannot begin until we "stand down"; Wi-Fi at the site isn't great and besides we don't have much time whilst on our Pilgrimage. This is particularly so with soldiers' stories that we are amassing at an alarming rate.
There is one observation worth mentioning between those burial grounds established in 1917 (so far visited) compared with earlier burial grounds visited: few communal cemetery burial grounds were given in perpetuity. From the 110 burial grounds visited since 18th June, only 6 are communal, with no church yards: Aix-Noulette (5), Athies (1), Hallicourt (1) Gouy-Servins (2), Vimy (35) and Beugnatre (10). In terms of stress levels in relation to communal cemetery visits, (read previous posts) this reduction has been very welcome, but we have got some communal visits on the horizon when we tour the far corners of Pas de Calais and other French Departments later in the year!
We identified 170 Pas de Calais burial grounds begun in 1917 with many bordering other battlefields, which we prefer to treat as separate pilgrimages: Cambrai and the Somme V corps burial grounds (of March 1917) spring to mind. These will necessarily be deferred, leaving just a handful to complete, including the distant and the memorials. The Arras Memorial has loomed large in our mind since coming to Boiry and last week we made our start. The CWGC have done a lot of work on the panels, but those above mid height in Bay's 4 and 5 are very poor. We made several visits to check the position of the sun at various times of the day and decided not to await the Commissions work on these later Bays and relied on the current fine weather in Arras and a steady hand with the trusty binoculars; impossible under any light conditions without them. By god was I glad of the experience of Thiepval! I'm fairly sure that I was reading names that have remained in full view but hidden from the naked eye for some time; in particular privates of the Lancashire Fusiliers and the officers and other ranks of the Royal Scots Fusiliers – "Thank You". As I write, we have completed five of the ten bays, but bays 6 and 7 are double sized.
We have become reliant on the work of the CWGC over the years, either with the staff who work on the enquiries and archives at Maidenhead or those on enquires at Beaurains, in particular, Muriel Flippe. I'm sure when she presses the buzzer on that door and hey presto, "it's us again", she must want to run and hide! Muriel has helped us navigate around some of the most isolated communal cemeteries in the past – long distance –by telephone. Whilst in Arras, Muriel has provided several cemetery registers that haven't been available (for one reason or another). You can imagine her face when we asked for a set of registers for the Vimy Memorial!
In preparation for reading the Vimy memorial names, we went to the Vimy visitors centre to enquire about the availably of registers. In all my years of visiting Vimy, I could never recall seeing a register(s). Not surprisingly, the Canadian steward knew nothing of such registers, but was happy to look-up a casualty for us. My explanation about what we were planning to attempt (and Nancy reading the registers in situ) was quite lost on them. So, it was this conversation that brought us once more to the CWGC in Beaurains. I'm pleased to report that through the endeavours of the CWGC, there is now a set of registers at the Canadian visitors centre – whether they want them or not! We await to see if they are offered to us when we visit in the next few weeks. Unlike the bright sun required at the Arras Memorial, we would prefer dull conditions to nullify the brilliant white Seget stone of Vimy.
Our site in Boiry has suited us well. It's a typical French site with over half the allocated space given to (six month) residents in statics and a few rental statics. The tourers are almost 90% Dutch with up to sixty units arriving daily, only to leave the following day. Patricia, the owner says that it remains like this from end of June to the end of August. Last week, our site was as busy as a Butlin's camp; this week, apart from some residents and the few Dutch returning from south west France, it is very quiet. We leave next week for a few days at home before returning on the 18th September. We take up residence in Morval again for our winter hibernation at the beginning of November and with Cambrai burial grounds of Nord, Aisne and Pas de Calais within reach, will likely stay here in Boiry through October.
For those who know us personally and those who have got used to our "blogs", I can't leave out a few words about Nancy's MS. Her walking has deteriorated greatly and her back strain from her fall at Christmas was re-diagnosed as two cracked vertebrate; thanks doctor! She soldiers on and it goes without saying, without Nancy, this Pilgrimage just would not have happened.
(I realised to some people we may have begun to sound like a couple of train spotters, racking up cemeteries and casualty numbers, so unless asked we don't tell anymore. But by god will you know when we finish!)
My thanks to my friends from BC whose generosity enabled the purchase of a new camera and to our friends who continue to support our endeavours, thank you.
So many photographs to choose from: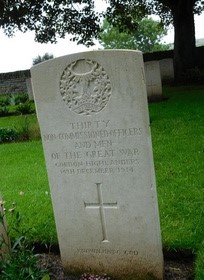 Left: These men of the 1/Gordon Highlanders were brought in to what became Irish House cemetery in June 1917 by the 11/Royal Irish Rifles. Their bodies had lain out in No Man's land since a fruitless attack by the 3rd Division against Wytschaete on 14th December 1914. Partial unknown headstones remain a great interest; not particularly the identity of the soldier(s), but their unit and the date of action where they fell. The CWGC burial records have been a great help in this respect.
Below: "With my pals forever" What makes this inscription so moving is that is engraved on the headstone of an officer!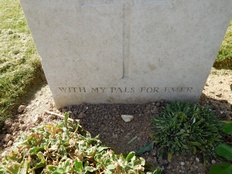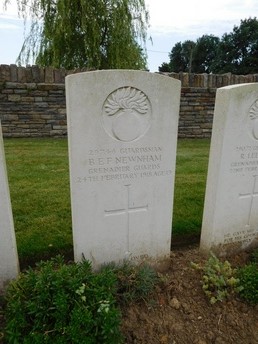 I am fairly sure when the parents of Guardsman B.E.F.Newham christened their son they had no inkling about the meaning of "B.E.F", but fully understood its interpretation when offered the opportunity of a headstone
Two of my favourite cemeteries have a similar background; battlefield cemeteries where the burials have been carefully laid out to reflect the actions. Below is one of the four rows of officers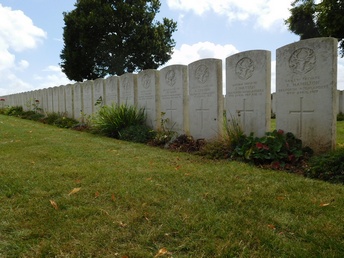 and men from the 51st (Highland) Division from the 9th April 1917. Two complete rows are Seaforth men, one is Gordon Highlander and the other is predominantly Argyle's. Although the cemetery has been concentrated into, the original burial rows have been mostly maintained.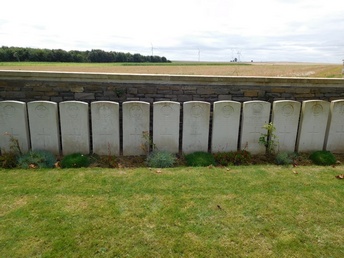 The other image is from Bootham cemetery and features just two battalions: Queen's Westminsters (11th – 14th April 1917) and 2/Royal Scots Fusiliers (23rd April 1917). None of the 71 unknown has any partial information and because of the burial pattern suggests they belong to one of the two battalions
Below is Rookery British Cemetery. Can anybody spot what is missing? I am fairly sure with the exception of a shared Great Cross and Great Stone (Sailly for example), I haven't come across any other CWGC cemeteries without a cross. (I know Munsters' cemetery is a Celtic cross)