Llanbedrgoch Cofeb y Rhyfel Mawr 1914 - 1918
Llanbedrgoch War Memorial 1914 - 1918
(see also St Pedr, Llanbedrgoch, below on the list of cemeteries)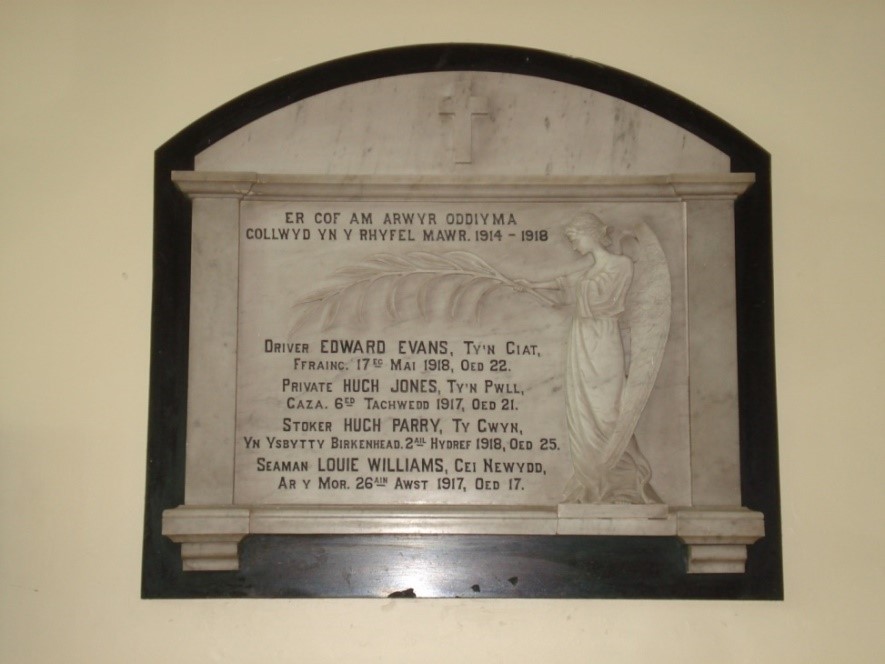 My grateful thanks to many people for their help and advice: Karl Simpson who gave me permission to copy his idea; Anne Pedley, Clive Hughes and Al Poole associated with the Royal Welch Fusiliers Museum who have been ever generous with their knowledge; Michael Burkham (RWF retired) who has tirelessly answered my questions; Barry Hillier and others at the Holyhead Maritime Museum who helped with all things maritime; Richard Edwardes-Evans (Commander RD* RNR) for his advice on matters Royal Navy; members of the North Wales branch of the Western Front Association who have willingly given of their expertise; Nigel Hargreaves (RAF retired) and Jo Gordon who read everything I have written and found it to be 'appropriate and respectful'. Staff of Bangor Library for their help during Family History sessions.
Most of the headstone photographs are on The War Graves Photographic Project (twgpp.org); copies may be bought for a small fee.
1 Driver Edward Evans, Ty'n Giat, Ffrainc, 17eg May 1918, Oed 22.
Driver Edward Evans 706871, served with Royal Field Artillery, 331st Brigade; died of wounds in Belgium (not France) on 17th May 1918, age 22; son of John and Ellen Evans of Tyn-y-Gate, Llanbedrgoch; married to Jane, they lived at Talgwyn Farm, Pentraeth; buried Brandhoek New Military Cemetery, Belgium
2 Private Hugh Jones, Ty'n Pwll, Gaza, 6ed Tachwedd 1917, Oed 21.
Private Hugh Jones 266463, served with the 1st/6th Battalion (Anglesey & Caernarfonshire) Royal Welsh Fusiliers; served in Gallipoli then Mesopotamia; killed in action on 6th November 1917, age 21; son of Henry and Jane Jones of Tyn Pwll, Llanbedrgoch; buried Beersheba War Cemetery, Gaza
3 Stoker Hugh Parry, Ty Gwyn, Yn Ysbytty Birkenhead, 2ail Hydref 1918, Oed 25.
Stoker 1st Class Hugh Parry Royal Navy (K/40761), HMS Cumberland; taken ashore to hospital in Birkenhead where he died of pneumonia 2nd October 1918, age 25; son of John and Ellen Parry of Llanbedrgoch; married to Jenny, they lived at Marian Farm, Llangoed where he was the Steward; buried in churchyard of St Pedr Llanbedrgoch, Anglesey
4 Seaman Louie Williams, Cei Newydd, Ar y Mor, 26ain Awst 1917, Oed 17.
Seaman Louie Williams (Lewis Williams) served with the Merchant Service; 'killed as the result of an attack by an enemy submarine' on August 26th 1917, age 17; buried at sea; son of Owen and Miriam Williams of Engad House, Marianglas; Career Merchantman before the war; commemorated Tower Hill Memorial, London
Great War 1914 – 1918 not on the War Memorial
5 Private John Roberts
Private John Roberts 26349, 17th Battalion Royal Welsh Fusiliers; born Llanbedrgoch; killed in action at Mametz Wood, 12th July 1916, age 23; son of Hugh and Margaret Roberts of 20 Druid Road, Menai Bridge; commemorated Thiepval Memorial and family grave in churchyard of St Tysilio, Menai Bridge
6 Captain Henry William Hughes
First Mate SS Cymrian, Mercantile Marine; 'drowned as a result of an attack by an enemy submarine', 25th August 1917, age 48; son of Elizabeth and Thomas Hughes of Bryn Hyfryd, Tynygongl; husband of Mary Hughes of Post Office, Trevor near Chwilog; commemorated Tower Hill Memorial and on family graves in churchyards of St Pedr, Llanbedrgoch and St Aelhaearn, Llanaelhaearn
7 Owen Jones Roberts
Corporal 29399 Royal Welsh Fusiliers 19th Battalion; killed in action on 21st April 1917, age 19; born Llanbedrgoch, son of Robert and Tryphena Roberts of Tai Capel, Llangoed; worked as a Quarryman; enlisted in Birkenhead; served in Cheshire Regiment before RWF; commemorated on Thiepval Memorial
Note: RWF = Royal Welsh Fusiliers (spelt 'Welch' after 1920)
World War II casualties from family headstones in the Churchyard of St Pedr, Llanbedrgoch:
8 Emlyn Jones
Ordinary Signalmen D/JX 162885, Royal Navy, HMS Anking; died 4th March 1942, age 18; son of Richard and Ellin Jones of Conway, Caernarvonshire; career RN man; commemorated Plymouth Naval Memorial and family grave St Pedr Llanbedrgoch
9 Hugh Thomas
Corporal T/193631, Royal Army Service Corps; died 23rd November 1944, age 26; son of T J and Ann Thomas of Bodhyfryd, Llanbedrgoch, Anglesey; buried Cesena War Cemetery, Italy; commemorated family grave St Pedr Llanbedrgoch
10 Gwyneth Rhiannon Hughes
Junior Commander 192738, Auxiliary Territorial Service; died at Aldershot 9th February 1946, age 28; daughter of William and Elizabeth Hughes of Tyn Cae, Pentraeth; buried in family grave, St Pedr Llanbedrgoch
11 John Jones
Ordinary Signalmen D/JX 170295, Royal Navy, HMS Prince of Wales; died 10th December 1941, age 18; son of Richard and Margaret Jones of Tynygongl, Anglesey; career RN man; commemorated Plymouth Naval memorial and family grave St Pedr Llanbedrgoch
Llanbedrgoch War Memorial: Driver Edward Evans, Ty'n Giat, Ffrainc, 17EG Mai 1918, Oed 22.
Pentraeth War Memorial: Dvr. Edward Evans, R.F.A. (Talgwyn)
Driver Edward Evans Royal Field Artillery, C Battery, 331st Brigade, no 706871
Edward Evans was born in Llanbedrgoch. At the time of the 1901 Census the family was living at Tyn y Gât; John, the head of the house, worked in a Limestone Quarry; his wife was Ellen. The older children were at school: Anne 12, Ellen 9, Jennie (or Jenna) 7 also Edward 4 years old. , Margaret, was 3 years old.
By 1911, Edward was 14 years old and a servant on the Ty Mawr farm in Llanbedrgoch. Head of the household was Henry Williams, 76 years old; his son William Henry Williams was 43 and single. Elizabeth Jones, age 28 was the domestic servant.
Edward lived in Pentraeth, at Talgwyn Farm after his marriage to Jane. He volunteered for military service in Llangefni. As he was doubtless used to managing horses, he became a Royal Field Artillery driver. Artillery men also needed good maths skills. Field Artillery had the mid-range guns and howitzers; they operated fairly close to the front line. They were also mobile, but needed horses to move the guns around. They also used the heavier trench mortars, a new weapon developed during the Great War. John Terraine, the military historian said: "The war of 1914-18 was an artillery war: artillery was the battle-winner, artillery was what caused the greatest loss of life, the most dreadful wounds, and the deepest fear".
Edward Evans died of his wounds on 17th May 1918, at the age of 22. He had been taken to a Casualty Clearing Station (medical help close to the battlefield) and was buried in the graveyard close by. On 21st June, 1918 the North Wales Chronicle printed: Llanbedrgoch – Driver Edward Evans, only son of Mr and Mrs Evans, Ty'ngate, has died of wounds in France.
Memorials
Edward is remembered on his parent's grave in the churchyard of St Pedr, Llanbedrgoch: Er Serchog Gof am John Evans Tyn-y-Gate, Llanbedergoch (sic). A fu farw Rhagfyr 16, 1918. Yn 54 Ml Oed. Am hynny byddwch chwithau barod canys yn yr awr ni thybioch y daw Mab y Dyn. Hefyd (Driver) Edward Evans Mab John ac Ellen Evans Yr hwn a Gwympodd yn y Rhyfel yn Ffrainc, May 17 eg 1918, Yn 22 Mlwydd Oed. . . . Fel pererin wrtho'r hon. Hefyd yr uchod Ellen Evans A fu farw Hydref 3ydd, 1957, Yn 77 mlwydyd oed.
(Also (Driver) Edward Evans, son of John and Ellen Evans who fell in the War in France, May 17th 1918, At the age of 22 . . .)
He is on the beautiful white marble Llanbedrgoch War Memorial: Driver Edward Evans, Ty'n Giat, Ffrainc, 17EG Mai 1918, Oed 22.
On the Pentraeth War Memorial: Dvr. Edward Evans, R.F.A. (Talgwyn)
On Bangor Memorial Arch, Parish of: Pentraeth: Evans, E.
Welsh National Book of Remembrance, page 106: Royal Artillery – Dvr. Edward Evans, Llanbedrgoch.
Commonwealth War Graves Commission: Driver Edward Evans - Service Number: 706871 - Died: Friday May 17, 1918 - Aged: 22 - 'C' Bty. 331st Bde. Royal Field Artillery - Husband of Jane Evans, of Talgwyn Farm, Pentraith (sic), Menai Bridge, Anglesey - Buried: Brandhoek New Military Cemetery No 3. There was no request for an inscription from his wife, Mrs J Evans, Talgwyn Farm, Pentraeth Photograph of Royal Canadian Artillery sweetheart brooch & family grave courtesy B Geoghegan
Sources used:
Commonwealth War Graves Commission website - cwgc.org
The War Graves Photographic Project - twgpp.org
FreeBMD (free Births, Marriages and Deaths) - freebmd.org
Welsh Newspapers Online & the Welsh National Book of Remembrance - llgc.org
Regimental Records of the Royal Welsh Fusiliers, volume IV - archive.org/details/regimentalrecord04dudl
Bangor Civic Society, for the panels of the Memorial Arch - bangorcivicsociety.org
History Points – historypoints.org
Researched and compiled by Bridget Geoghegan, to the memory of those in my family who have served their country:
Sergeant Major John Reilly career soldier, survived the Charge of the Light Brigade (1854) in the Crimean War (4th Hussars); Mentioned in Despatches at Battle of Gwalior, Indian Mutiny 1858 where he died in action (8th Hussars). Without the discovery of this man in the family, I might never have started on this project.
Major Robert Geoghegan career soldier, Royal Field Artillery; Boer War veteran recalled to train recruits during WWI.
Private Robert Williams of Tudweiliog; Royal Army Medical Corps, a committed pacifist who served his country during WWI and returned home to complete his training as a Methodist Calvinist Minister.
Mary Williams of Greenfield Farm Holywell, Voluntary Aid Detachment (Red Cross nurse) during WWI.
Lieutenant Stannus Geoghegan, Argyle & Sutherland Highlanders; son of a career soldier and just out of school, he died of wounds received in action near Passchendale, 13th March 1918, age 19.
Sergeant Navigator Idris Williams Royal Air Force Volunteer Reserve, another Tudweiliog boy; volunteered for the RAF; 150 Squadron (flying Wellingtons); sent to bomb Brescia Marshalling Yards in northern Italy, 'not heard of after take off' 17th September 1944, age 21. Not yet found on any local War Memorial.
Flight Lieutenant Gerald Geoghegan RAFVR, son of a career soldier; a Cambridge Physics Graduate whose work during WWII earned him a Mention in Despatches. Some of what they did remains secret to this day.
Llanbedrgoch War Memorial: Private Hugh Jones, Ty'n Pwll, Gaza , 6edTachwedd 1917, Oed 21.
Private Hugh Jones Royal Welsh Fusiliers, 1st/6th Battalion, No 266463
Hugh Jones volunteered with the Royal Welsh Fusiliers and served with the 1st/6th Battalion, the Anglesey and Caernarfon battalion. One of his Commanding Officers was Captain Arthur Davies, youngest son of Richard Davies the ship owner from Menai Bridge.
On the Census of 1901, Hugh (age 5) was the youngest of 5 sons in the house; his father, Henry, was the Farmer at Tyn Pwll, Llanddyfnan, born in Llanfair M. E.; his mother Jane was born in Llanddyfnan. The oldest son, Owen age 16 was already working on the farm; the other brothers were Thomas 14, Richard 12 and Rowland 7. All the children were born in Llanddyfnan. By 1911, still at Tyn Pwll, Hugh's parents and brother Owen were in the house which had 7 rooms. Hugh, age 14 was working on the farm with his father, as was Owen who was 26. Hugh was the only one in the family to speak 'Both' – Welsh and English; the others were Welsh speakers only. Perhaps that influenced the decision for Hugh to join up.
After camp in Conway from 23rd August 1914, on August 31st they left for Training Camp in Rushden, Northampton. There they were very popular with the locals, who missed the extra singing voices in Church and Chapel after they left. The people of Rushden and Higham Ferrers later later held a memorial service for the RWF men lost at Gallipoli – there is a plaque in the Church of Higham Ferrers
'To The Glory of God and in memory of the Officers, Non-commissioned Officers and Men of The 1/6 Royal Welch Fusiliers who left Higham Ferrers in 1915 and fell in Gallipoli and in the Holy Land.'
The regiment had a goat with them when they arrived - another memory of this stay is a carving of a goat's head on a pinnacle of the Higham Ferrers old Grammar School building, created in about 1920. It seems that the Regimental Goat was left behind, with the landlord of the Wheatsheaf Inn, when the soldiers left.
On 21st December 1914 they left Northampton for Cambridge. July 19th 1915 they sailed for the island of Lemnos in Greece and then Suvla Bay, Gallipoli in Turkey.
They must have returned home for a short time because, with the Royal Engineers of Kingsbridge Camp (Llanfaes), mended Garth Pier in Bangor after the SS Christiana broke loose from her moorings and hit the pier during a storm in November 1914. The Pier, effectively cut in half, was successfully mended.
A P Herbert was at Gallipoli and wrote in 'The Secret Battle':
We disembarked at a pier of rafts by the River Clyde (a static boat), and stumbled eagerly ashore. And now we were in the very heart of heroic things. Nowhere, I think, was the new soldier plunged so suddenly into the genuine scenes of war as he was at Gallipoli; in France there was a long transition of training-camps and railway trains and billets, and he moved by easy gradations to the firing-line.
Disembarkation was very early on the morning of Monday 9th August 1915; Captain Arthur Davies was killed on Tuesday 10th August, their first day in battle. The Gallipoli campaign is infamous for the difficult conditions. It is still very clearly remembered by the Anzac forces: the Australians and New Zealanders. Eventually the Allies retreated - British, Commonwealth and French forces. The retreat was so well organised that every man was carried safely to Egypt early in January 1916.
From Egypt the Regiment went to Mesopotamia, now called Iraq, where they fought an equally difficult battle.
Regimental Records of the Royal Welch Fusiliers, volume IV, 6th November 1917: (For each man) Two water bottles were carried and 170 rounds of ammunition, also the unconsumed portion of the day's ration, one extra day's ration, and the iron ration. All ranks were clearly made to understand that on no account, without an order from the C.O., was any ammunition to be fired, and all work was to be done with the bayonet. At 4.23 a.m., three minutes behind scheduled time, the battalion moved off to attack Khuweilfeh Hill under cover of the barrage, and gained its objective at 5.3 with apparently very few casualties.
Brigadier-General Vernon states that the whole attack went just like clockwork; the barrage was so good that the objective was reached just as dawn was breaking with practically no casualties. The Turks were cowed by the creeping barrage . . . The Turkish front line had gone, and the leading waves of Herefordshire and 6th Royal Welch had reached gun positions to the north of the flat-topped hill . . . when a thick mist swept down, enveloping the hills.
On the left the 7th Royal Welch had cleared the enemy from the top of Khuweilfeh Hill, and through the waves of mist saw below them, on their right, a mass of troops which they took to be Turks. They called for artillery fire – it was a mistake readily made in the confusion of the moment – and the advance elements of our 6th Battalion and the Herefordshires were driven back by our own artillery; the guns and the flat-topped hill had to be abandoned.
This unhappy accident, and the fact that the mist prevented troops supporting each other, gave the Turks an opportunity of rallying; their machine gunners knew the ground and where they should fire through the mist, and the Turkish line, which had been on the point of dissolving stiffened. . . . (The Brigadier) ordered the artillery to cease fire and all troops to remain where they were until the fog lifted.
Captain John Fox Russell from Holyhead was the Medical Officer attached to the 6th Battalion at this time; he may have attended to Hugh Jones. From the Regimental Records volume IV: The line held by our 6th Battalion was a sketchy one, enfiladed in many places, below commanding heights in others, so that the battalion was under constant strain all day. Captain Fox Russell, the Medical Officer attached to the battalion, showed the greatest gallantry in rescuing and attending the wounded in the exposed and precarious position until he was killed. He was awarded a posthumous Victoria Cross. He also died on November 6th 1917, and is buried in Beersheba War Cemetery.
Fox Russell's citation in the London Gazette reads: For most conspicuous bravery displayed in action until he was killed. Captain Russell repeatedly went out to attend the wounded under murderous fire from snipers and machine-guns, and in many cases, when no other means were at hand, carried them in himself, although almost exhausted. He showed the greatest possible degree of valour. The London Gazette, (No. 30491) 8 January 1918.
In Y Clorianydd of December 19, 1917: Llanbedrgoch – Newydd Trwm – Buon; hwyrfrydig I gredu'r newydd ddaeth o'r Swyddfa'r Rhyfel i Mr a Mrs Henry Jones, Ty n Pwll, fod ei mhab, Private Hugh Jones, wedi syrthio ar y ffordd: Jerusalem. Ond cadarnhawyd y newydd galarus drwy lythyrau oddiwrth ddau gyfaill - cyd-filwr ag ef, y rhai adroddant fel y cyfarfu'r bachgen hoff fodrfu'r bachgen hoff a hynaws a'r hyn brofodd yn farwol, Tachwedd 5ed. Un o fechgyn caredicaf y fro, a'i wen ar ai cnau bob amser, aeth yn aberth; ac nid rhyfedd pa fodd y dylanwyd yr ardal a galar hiraethlawn pan ddaeth y newydd pruddaidd. Un ar hugain oed oedd Hugh, ond credwn yn ddiysgog yn ol rhodiad bywed dichlynaidd, os cwympodd cyn cyrraedd y ddaearol Jerusalem ei fod gyfrannog o'r un nefol, canys eiddo y cyfryw rai ydyw honno. Y mae ein cydymdeimlad llwyraf a'i riaint yn ei profedigaeth chwerw, ac a'i frodyr, tri ohonynt ydynt ym maesydd brwydro. Bydded yr Hwn sydd alluog i ddiddana ymhob adfyd brofi yn gymorth hawdd Ei gael mewn cyfyngder iddynt. Cynhaliwyd cyfarfod coffadwriaethol iddo yn Eglwys Llanbedrgoch, nos Fercher diweddaf. "Cwsg, filwr, cwsg."
(Roughly translated: It is reported with great sadness that Mr and Mrs Jones Ty n Pwll, the family of Private Hugh Jones, heard from the War Office that their son has fallen, on the road to Jerusalem. This news has been confirmed by letters from two of his brothers in arms, reporting that he did die on 5th November. Hugh was one of the dearest sons of the village, always smiling, so it is no surprise that the whole area went into mourning then they heard the bad news. Hugh was twenty one years old. If he could not make a contribution to the earthly Jerusalem; he will surely make it in the heavenly Jerusalem, as will many others like him. Our wholehearted sympathies go to his parents in their bitter loss and to his three brothers, still on the field of battle. May divine comfort reach the family in this, their time of need. A memorial meeting was held for him in Llanbedrgoch Church last Wednesday evening. "Sleep, Soldier, Sleep".)
Memorials:
Llanbedrgoch War Memorial: Private Hugh Jones, Ty'n Pwll, Gaza, 6ED Tachwedd 1917, Oed 21.
Church of St Dyfnan, Llanddyfnan War Memorial: To the Glory of God and in Honoured Memory of the Men of This Parish who fell in the Great War for their King and Country – Hugh Jones – Tynpwll - 1917
In the Bangor Memorial Arch, Parish of: Llanddyfnan – Jones, H.
In the RWF Roll of Honour, page 391, he is: 6th Battalion (T.F.) - Jones, H., b. Llanddyfnan, 266463, Pte., k. in a., E., 6/11/17.
(Jones, H - born Llanddyfnan – Number: 266463 – Rank: Private – killed in action in Egypt – 6/11/17.)
In the Welsh National Book of Remembrance, he is on page 466: Royal Welch Fusiliers - First-Sixth Battalion - Pte. Hugh Jones - Llanbedrgoch
In 1995 a memorial plaque was unveiled in the Crypt of St Paul's Cathedral, London: To commemorate all who took part in The Gallipoli Campaign. To salute the heroism & fortitude displayed and to remember those who did not return.
Commonwealth War Graves Commission: Private H. Jones - Service Number: 266463 - Died Tuesday, 06.11.1917 - Age 21 - 1st-6th Battalion Royal Welsh Fusiliers - Buried at Beersheba War Cemetery (Israel & Palestine, including Gaza) - Son of Henry and Jane Jones, of Tyn Pwll, Llanbedrgoch, Anglesey. Inscription: Tyn Pwll, Llanbedrgoch Anglesey
Photos of Tyn Pwll & War Memorial church of St Dyfnan, Llanddyfnan, courtesy B Geoghegan & David Wilson