SomeKindHand April Pilgrimage
Nancy and Steve Binks
After a break of six months, Nancy and I returned to France/Belgium to carry on our Pilgrimage to the fallen of the "Empire" from the Great War. April was to involve a final mop-up of burial grounds missed from our previous chronological attempts, or those just too geographically challenging; Marseilles for example. We then added a further group of burial grounds from our 1917 itinerary; bringing our target to around thirty four visits. We calculated a round trip of about 3,700 miles for which we had twenty three days to complete.
After a two day break in Folkestone, we boarded the cross channel ferry on Tuesday 29th March; first campsite stop was to be Chalon en Champagne, near Rheims, with visits to Suippes (1) and La Cheppe (13 including a French Red Cross driver), both French National Cemeteries. From Chalon we headed to the department of the Yonne in mind to do two visits with the caravan in tow – never easy on the nerves! Sens-sur-Yonne (1) and St. Florentin (1). Both servicemen were Australians and set the tone for the next few visits; accidental deaths on trains. At Sens we said "thank-you" to Private Michael Thomas Kennedy (24th btn. AIF). Artillery excepted, I think he was the first AIF casualty in France (28th March1916).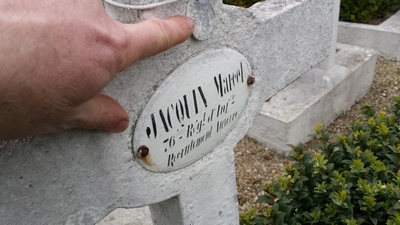 Left - French military grave in St. Florentin with the soldier's original "dog tag".
The single Australian grave of Trooper A. McKinnon Australian Light Horse (died 18th June 1916), was covered by box shrub, that the local gardener hadn't got round to trimming yet; at least we gave him the benefit of the doubt!
Bed for the night was a lay-by on the A6 AutoRoute, close to our next campsite, Avallon in the department of Cote d'Or. It was very wet when we arrived and had some trouble moving the vehicle off the grass pitch. From here, the following day we visited a further four burial grounds: Montbard (1), the beautiful hill top village of Salmaise (1), Blaissy-Bas (1) and Baulme la-Roche (1). Three of the four servicemen were confirmed casualties as the result of train accidents.
After another car and caravan stop at Seurre (1) our journey south began in earnest, as we pulled in to the service area north of Orange, aptly named "Porte du Soliel", settling down for the night, to dream of warmer weather than that we had experienced so far.
We awoke around 8.00am, sun filtered through the window blinds as Nancy asked me where my trousers were? We had been burgled! My wallet, Nancy's bag with passports had both gone. My car keys were still in situ, but they had rifled through the car – must have left it open. Thankfully, they were only after money, as everything except £15 – I had no euros – was dumped back in the car. Later Nancy discovered that her perfume (I had bought on the ferry) had gone and her precious Artists' Rifles mirror compact. To my relief, my hard drive which contains all our cemetery research and images was safe. Perhaps they gave up trying to find anything else in that bag! For those who have followed our Pilgrimage blogs, you will know that this is our third robbery in eighteen months!
We arrived at Camping La Pinarde in Lezignan–Corbieres, west of Narbonne late Monday afternoon, 4th April. Like most early season sites it was deserted; a bit creepy after the previous night's burglary! The following morning we had other things to occupy us; the weather – it was wet, cold and lousy. Still, we had two visits to complete: Narbonne East (1) and Guissan (1). Up to this point, the only problems we had encountered with finding burials was my out of date sat-nav, which was finally ditched after some strange directional instructions leaving Montbard. Now at the very large communal cemetery we were having difficulty finding the single grave of Gunner Fred Bishop. We have learnt to ensure that we properly research grave locations, particularly if we know the burial ground is large. CWGC instructions: "In the [French] military plot close to the entrance". After looking around for ten minutes with no joy, I went to find the cemetery concierge who could point me in the right direction. He escorted us to the right of the entrance and there amongst "newish" civilian burials was our man. The old military graves have long since gone but the CWGC records remain the same as the original register; a similar problem we encountered at several isolated burial grounds.
The second visit of the day brought us to Guissan, a thriving holiday resort with marina. Tucked away in the old part of town was the communal cemetery and the isolated grave of Captain Eric Cosgrave Simpson. With the help of internet connection, I found that Captain Simpson was one of the 413 casualties of troopship SS Transylvania. It was sunk by a German U-Boat on the 4th May 1917. With the assistance of a thread on the Great War Forum, I was able to work out that many of our planned visits would indeed be casualties that had been washed ashore from the SS Transylvania.
After a day off for good behaviour (and some decent weather at last), we moved off the next day to Aix en Provence; it would act as our base for the remaining visits around the south coast. A quick calculation of days remaining, location of burial grounds and the time and effort to hitch/unhitch at different campsites, convinced us both that we would not achieve all our intended visits at our current pace. It didn't take much convincing to delay our visits to the departments: Vosges, Bas-Rhin, Jura and Meurthe-et-Moselle; after all, with the exception of Nancy Southern Cemetery (13) and Luxeuil les Bains (4), all other burials were 1917.
Friday 8th April brought us to our first recognised CWGC: Mazargues (1488), in Marseilles. It was with some trepidation that we negotiated the Friday morning madness to arrive just before 10.00am. We entered the cemetery through the civilian cemetery, access only available when the communal cemetery is open, as is the main entrance, the cemetery having suffered much vandalism over the years. It was then a pleasant surprise to be greeted by full time gardener, Ian Craig, in his oasis. What a fantastic setting. The backdrop of the Provencal mountains, the green grass, white headstones, channels of running water (acting as irrigation for the plants) and the smell of the lavender, just breaking in to flower. It truly is a magnificent cemetery and a real credit to Ian and his dedication.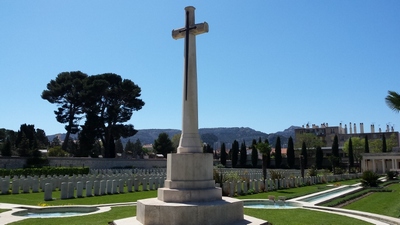 Left - the beautiful British War cemetery (Mazargues) in Marseilles. The Indian Memorial (to the missing) is to the right of the image. I have asked the CWGC for further information as a brief internet search found nothing.
I was surprised to see an Indian Memorial (of six panels), as there was no explanation for said memorial in the register! I didn't count the names but read them and added "thank-you". We will find more information when we get home. What was good to see was the array of regimental cap badges where the Indian headstones had been renewed. Throughout the cemetery was the tell-tale date, 4th May, 1917: SS Transylvania casualties.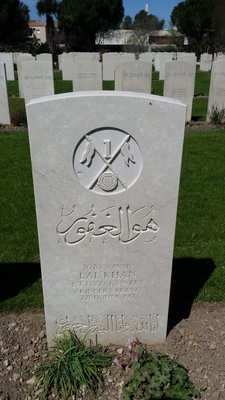 Right - one of the many new headstones now engraved with Indian regimental insignia.
Back at Aix on the Saturday we planned a two day round robin trip to visit thirteen burial grounds in the Var, Alpes-Maritimes and Principality of Monaco. It would mean an overnight stop, and a 300 mile round-trip, but preferable to another two campsites. There is something quite tiring and tedious about staying on campsites for short periods!
In planning the route, we realised that we had yet another island visit: Iles de Porquerolles, off the Giens peninsula! Unlike Iles d'Esserent, (Finistere) we planned to incorporate Porquerolles into a day of six visits, not an isolated trip. Sunday's run (in order of visits) was: Hyeres (1), Porquerolles (4), Giens (1), Bormes-les-Mimosas (2), and Ramatuelle (2); all were SS Transylvania casualties.
The visit to Bormes was a poignant moment for me. On a family holiday in 1996, having recently been bitten by the Great War bug, I inquisitively visited the French memorial in the communal cemetery we were passing and noticed two English names: Reynolds and Bland. Although on several occasions over the years I wondered why these men were on a French memorial, I never bothered to research them. Their graves were just beyond the war memorial with that tell-tale date, 4th May 1917. Privates Reynolds and Bland - "thank-you" for bringing me full circle!
Having suffered the terrible St. Tropez traffic - in April – we arrived at our overnight stop at Les Issambres, twenty minutes down the coast from St. Raphael. It was like being in "Benidorm the Series". Just never believed the French went in for this type of holiday. It was a bit of a shock being asked to wear a wrist band for breakfast!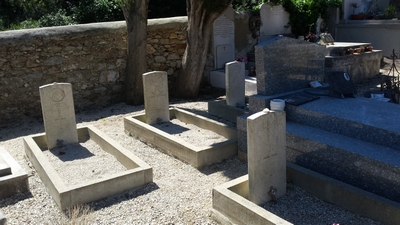 Left - the four graves on the Iles de Porquerolles; the three known are soldiers from the sinking of SS Transylvania. The unknown British seaman (in the foreground) is very likely to be one of the crew. Old commemorative crosses indicate someone else has made the Pilgrimage.
Our Pilgrimage on the second day took us first to St Raphael Communal Cemetery and another single casualty from SS Transylvania. Then it was on to Nice, where we would visit two burial grounds; thankfully, close-by each other. The enormity of Caucade cemetery sent me scurrying for the help of the concierge at the bureau, just to locate the military sector! He invited us in, and for twenty minutes interrogated his computer, eventually printing off a ream of paper with each of the servicemen's locations (both cemeteries) pinpointed each on a separate map. I only needed to know where the military plot was! Each of the French "carres" was named after French battlegrounds: Marne, Verdun etc.; repeated later in the day at Menton.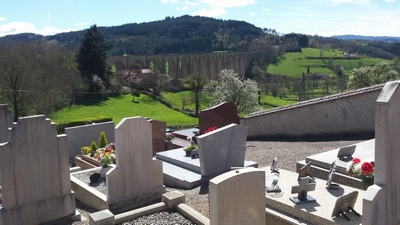 Left - the grave of Private William Edwin Gravell (60th Btn. AIF) who fell to his death (30th June 1916) from the train which had already passed on the distant viaduct
Access to the graves was quite difficult - a mass of stairs - and so it was well over an hour before we drove the short distance to the British Civil cemetery, over the road. I missed the main entrance and hopped over a low fence. Having commended the concierge for his thoroughness, I now praised him further, as without his "maps", I would have struggled to find the three graves in the run-down British part of the cemetery. There was little evidence that graves were being looked after and no sign that the three servicemen had seen a visitor for some time.
Below – the French regimental memorial to the Alpins Chasseurs in Nice (Caucade) Cemetery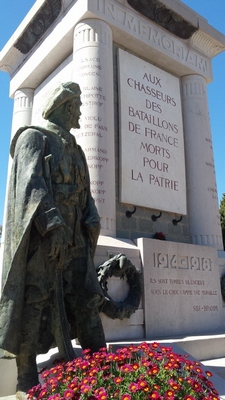 It was after 2.00pm when we departed Nice for what became the hardest part of the day as we negotiated the twisting and winding coast road from St Jean Cap Ferrat (1), via Cap d'Ail (1) and Monaco (2) to Menton (1). The last named place was a nightmare to find as my redundant sat-nav got pay back! At Monaco we struggled to find exactly what to say "thank-you" to. The CWGC instructions indicated that there were two commonwealth soldiers buried under the war memorial. I checked the memorial for the names Dyer and Ralli, but with no luck. Experience has taught me to check for a crypt - which we found - but no servicemen buried there! I asked several people if they could help us, but found it difficult to explain exactly what we were looking for. Finally, a smart looking chap grasped what we were looking for, took out his phone and made several telephone calls. Twenty minutes later he returned to tell us that records only went back to 1922! A call to the CWGC in Maidenhead only confirmed the information we already had. Tired and downhearted we returned to the memorial for one further look. In the centre column up some stairs was a large oak door. I pushed it and it opened. "There they are. Commemorated inside the memorial!!" Almost ninety minutes had elapsed before we set off for our last visit.
Below - Private Arthur Charles Vinson Dyer, R.A.M.C (4th May 1917). Washed up from SS Transylvania and buried at the time in the Principality Cemetery at Monaco. Later his grave was covered by the Monegasque Memorial in 1928.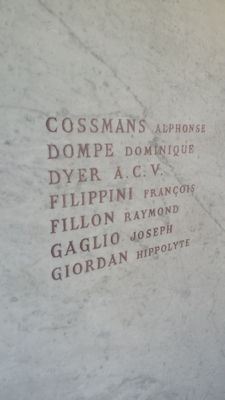 After a day of rest we left Aix and headed north towards the department of Soane-Loire in the region of Burgundy. With our home leg itinerary much reduced, we had settled on just one break of journey to Ypres that would bring us to the campsite at Dompierre les Ormes, from where we would visit the communal cemetery at Mussy-Sous-Dun. Our journey was uneventful until we reached the Autoroute exit. In the distance was the blackest sky we had ever witnessed and that was the direction we were heading! The following hailstorm was quite terrifying; we didn't want to stop in case those lunatics in their HGV's wiped us out and if we couldn't get the traction to move again, as the road was covered in ice. It lasted at least five minutes and in true French style, the sun came out!
At Mussy the following day, we paid our respects to Private William Edwin Gravell, 60th battalion, AIF. He was yet another railway casualty. He died on the 30th June 1916 when he fell from the train whilst trying to urinate through the window. (The train had no toilet facilities and there were few stops). Although there was a court of enquiry – which apportioned no blame – no record of his burial was passed to the Graves Registration. Only in 2005 was the isolated grave recognised by the CWGC. He is still commemorated on the Villers Bretonneaux Memorial.
On Saturday 16th April, we started the long journey to Ypres, punctuated by an overnight stop on another "aire". As uncomfortable as this sounds, in the light of past events, financially we had little choice and will need to factor in further overnights at these free "sites" to continue our Pilgrimage over the coming years.
Whilst in Ypres we only had one burial ground to visit: Hazebrouck Communal (877). No idea why we had missed this from previous years! The remainder of our week was spent preparing for tours but on our last day we attended the funeral of six RFA men at Ypres Town Cemetery Extension, quite ironic.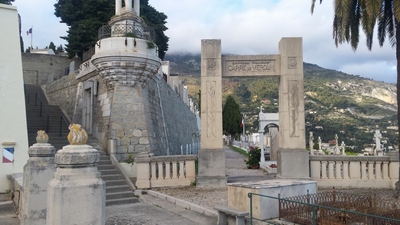 Left - Carre de Verdun at Menton (Trabuquet) New Communal Cemetery. Gunner J. Young, R.F.A (23rd November 1917, is buried in Carre Marne to the left
What's next?
We completed a further twenty six visits and added a further 2,411 "thank-yous" and completed all 1914 and 1916 burial grounds, leaving just two from 1915. So now our attention turns to 1917: Hindenburg Line, Arras, 3rd Ypres and Cambrai, but not forgetting V Corps burial grounds on the Somme: in all around 450 burial grounds.
Ideally, after allowing for tour commitments we would have returned to our Pilgrimage this week (4th May). However, Nancy's continuing health issues so dominate our lives at the moment that we need to remain in the UK for the time being.
(Document completed on the 4th May 2016, ninety nine years to the day that SS Transylvania was sunk).
Previous report is here autumn 2015 report
Next report is summer 2016 report.