Have a look under "Branch Meetings" to see our list of branch meetings and "Newsletters" for the latest newsletter items.
We also have a Facebook page where items are often posted -
Bangor railwaymen plaque

The plaque listing the 16 men of the Bangor Railway Institute Boys Corps who died in WWI is being moved from St David's church (closed for several years) and is being reinstalled in Bangor railway station at 10.30am on Friday 24th January. Please let Fiona know if you are attending - This email address is being protected from spambots. You need JavaScript enabled to view it.
Steve and Nancy's latest update
The latest update on their Pilgrimage to visit all Briitsh and Commonwealth grave and memorials on the Western Front is here.
Tillis Haley - 5000 hits!
The most popular article by far on this site is the account of local hero Tillis Haley, where the number of hits is 20 times anybody else's! I presume his fame may be due to his having been a teacher in Caernarfon, and just maybe there is a school history project involving him? His story is here.

Book reviews
We have four new book reviews -
Mark Jones: Founding Weimar; Violence and the Founding of the German Revolution 1918-1919, on the chaos in Germany in the immediate aftermath of WWI
Eugene Rogan: The Arabs; a History, which covers WWI and the post WWI period in the Middle East
Peter Hart: Fire and Movement, on the first four months of WWI;
Vejas Liulevecius: War, Land, on the eastern front, on the German occupation in the East;
Sholto Douglas: Years of Combat, on his reminiscences of WWI in the RFC.
They can be read - here
Bangor Railwaymen
There is a new article on the memorial to Bangor railwaymen, and names which are on it - here
There is now a write-up of this talk on the website here.
So, let's test your knowledge of this period, post 11th November 1918, which was most certainly not the end fighting, commotion, carnage and destruction. Can you answer the following questions?
3 VCs were awarded for an action 18 August 1919

Which armed service?

Where?

Who on earth was the enemy in 1919?

Was the Versailles Treaty the only one to emerge from the Paris conference?

Which country lost most land and people in the Paris treaties, and it isn't Germany?

Which enemy capital was occupied for 4 years? It wasn't Berlin.
The answers:
1. (a) Royal Navy, for an attack using coastal motor boats.
(b) Kronstadt – and it's not anywhere remotely near Germany, it's the port guarding St Petersburg.
(c) the Russians, or perhaps Bolshevism – so how do you fight a philosophy?
2. No: there was Versailles, Neuilly, St Germain, Trianon, Sevres, San Remo plus lots of follow-on ones.
3. Hungary, including the loss of 4 million ethnic Hungarians to other countries.
4. Constantinople (Istanbul). You may have forgotten this, but the Turks have not.
These are only some of the bizarre events following on from WWI.
First tranche of pension records released
Ancestry has been digitising the WWI pension records which the WFA rescued from being pulped. The first 30% have now been done and are available on Ancestry or by going through the WFA main site, the latter method being free for WFA national members.
CWGC restoring African memorials
The CWGC is restoring the memorials to the many thousands of black African soldiers who died in WWI, many of whose deaths were not even recorded. The memorials are in Nairobi, Mombasa, Dar es Salaam and Abuja (Kenya, Tanzania and Nigeria). There is also a memorial at Mbala in Zambia to mark the surrender of German forces (who also used black African soldiers) on 23rd November 1918.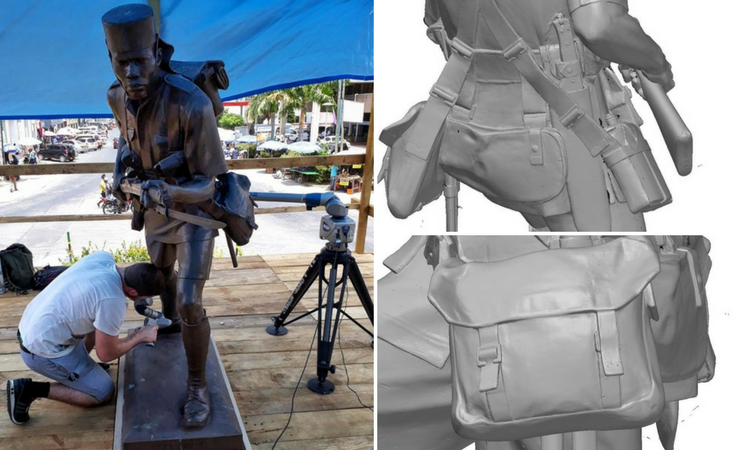 Loss of HMY Iolaire 1st January 1919
The CWGC have marked the centenary of another forgotten catastrophe at sea - the sinking of HMY (HM Yacht) Iolaire off the Isle of Lewis when she was bringing home returning servicemen. It is believed that some 200 died, of the 283 on board. They are buried all over the Western Isles, and those not recovered are commemorated on memorials - see here.
The centenary of the loss of the RMS Leinster
The story of the RMS Leinster and its centenary commemoration are on this site - here
Old Colwyn war memorial
Steve and Diege are in the "Daily Post" for their work on this memorial - Daily Post article.
Hirano Maru
A recent post from the group commemorating the sinking of the RMS Leinster has mentioned the sinking of the Hirano Maru on 4th October 1918. She was a Japanese owned ocean liner that was in a convoy from Liverpool to North America when she was sunk by a U-boat UB-91 south of Ireland with the loss of 292 lives. There were 28 survivors. There are 8 bodies buried in the graveyard of Dale Parish Church in SW Pembrokeshire, which were washed ashore between 4th and 29th November 1918. As the bodies were unidenitifable, the CWGC declined to maintain the grave, and the memorial cross was erected by the people of Dale. Other bodies are buried at Angle and Freshwater West.
A memorial is to be erected at Angle in time for the 4th October, financed by the local community and the shipping line Nippon Yusen Kaisha, the original owners of the Hirano Maru, who were delighted to learn of the locals' interest in the whole story. This information has come from the Dale Coastlands History Society and the West Wales Maritime Heritage Society.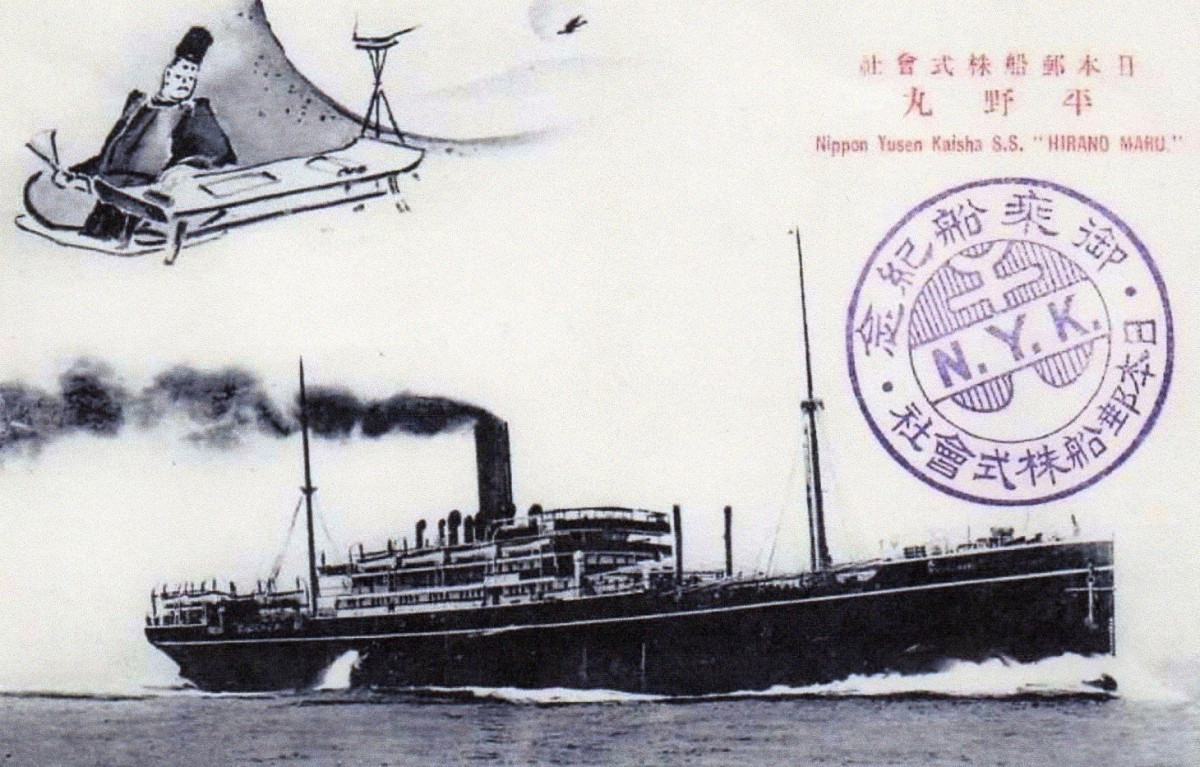 Why was there a WWI?
The talk given to North Wales WFA on this theme has now been turned into an article and put on to this website - here
Article on local history
We have a new article by Jerry Rendell on his great uncle, Lawrence Oakley, who was the silhouette artist of Llandudno pier - here.
New Book Reviews
There are two new book reviews on this site. The first is on Mike O'Brien's book "Twilight of the Special Relationship", about Americans in the British forces in WWI, which is here. The second review is on Norman Stone's book "The Eastern Front, 1914-1917" which is still arguably the best work on the Eastern Front, and that review is here.
Medals of Private George William Shaw
We were contacted recently through the website by Mark Shaw who is searching for information about his great uncle, Private George William Shaw, 12364 of 9th battalion Cheshire Regiment. Mark's email reads as follows:
Hi
I hope you may be able to help me, as I am currently researching my Family Tree. I have identified George William Shaw as my Great Uncle. He served in A Company 9th Battalion Cheshire Regiment, from 01/09/1914 until his death 22/06/1917. His service number was 12364.
I have found that his medals (with the exception of his BWM), death plaque and associated certificates were sold on Ebay in 2014. I am unable to identify the seller or the purchaser.
I would like to find who it was that bought the items, if only to ask for copies of the documentation and, maybe provide a little background information in regard of my Uncle. Ideally, I would love to buy the items.
I know it is a long shot but I thought that it may be possible that one of your members may be the purchaser. I would be obliged if you could see your way clear to circulating the details to your membership.
Mark Shaw
If anyone does perchance know anything about Private Shaw could you please contact Mark at This email address is being protected from spambots. You need JavaScript enabled to view it.?
Battle of Cambrai centenary
There is an article on the BBC website about the use of tanks at the Battle of Cambrai - see the link here.
"Bloody April" film being made
From Leslie Lord: ASA Productions Ltd are currently making two one-hour documentaries for "Yesterday" channel based on the book "Bloody April" by Peter Hart. On their website there is a trailer for a film on building a Bristol Scout aircraft - Scout trailer.
Book reviews
We now have a specific book reviews section on the website - see Book Review Section.
Tribute to Hedd Wynn
There is a video on the BBC website which is a tribute to Hedd Wynn. It is in English and includes footage of around his home farm in North Wales - Hedd Wynn video

Hedd Wynn's house now open
Hedd Wynn's house has now had the interior restored and the new museum there is open - see Yr Ysgwrn
Easter Rising and WWI
We now have a write-up of the talk given to the branch, and elsewhere, by Trevor and Denis - see here.
Welsh women in WWI
I have just come across a website on Welsh women in WWI - click here
Local memorials and graves
We have some new articles on WWI soldiers from North Wales who are buried or commemorated locally - see Welsh memorials and graves
Book on local soldiers in the Conwy valley
Retired doctor Bridget Osborne has, with others, written a book on the local men from the villages of Eglwysbach and Llansanffraid (Glan Conwy) who served in WWI. Bridget has managed to trace family details of many of the men as well as the circumstances of their death in the case of fatalities. The book was funded by the Heritage Lottery Fund and copies have been distributed to homes in those two villages.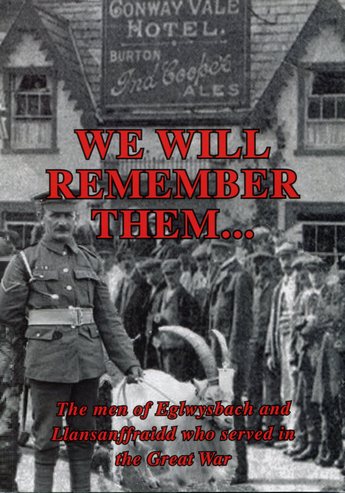 The Lost Tommies of Vignacourt
A collection of photos of Tommies billeted in the village of Vignacourt has recently come to light and is on the BBC One Show website - One Show site Can you identify any of them?
Welsh WWI casualties
There is an article on the BBC website on a book recording all Welsh WWI casualties and which will be on display at Bodelwyddan castle - see BBC website article
Nurses killed in WWI.
The "Nursing Times" reports on a project to gather information on those nurses who were killed in WWI. See "Nursing Times" article