Have a look under "Branch Meetings" to see our list of branch meetings and "Newsletters" for the latest newsletter items.
We also have a Facebook page where items are often posted -
Talk on the WWI shipping losses in the Irish Sea, as revealed by new technology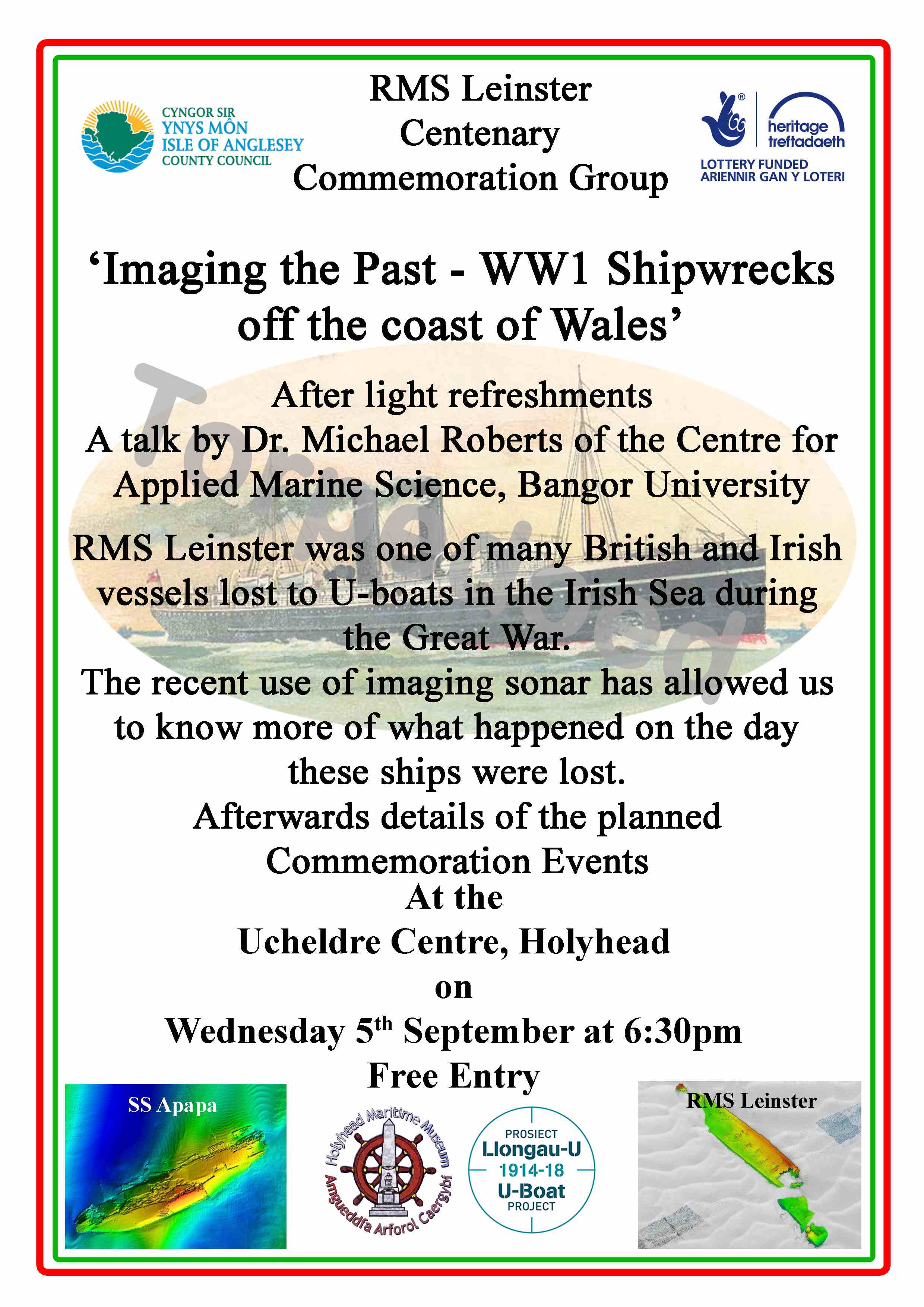 Royal Welsh Fusiliers lost on the RMS Leinster
The commemoration team in Dun Laoghaire have sent a list of the RWF who were lost on the Leinster. They would be keen to hear from any relatives. One of the RWF lost was washed up at Abergele. The page on our site with the list is here.
Old Colwyn war memorial
Steve and Diege are in the "Daily Post" for their work on this memorial - Daily Post article.
Hirano Maru
A recent post from the group commemorating the sinking of the RMS Leinster has mentioned the sinking of the Hirano Maru on 4th October 1918. She was a Japanese owned ocean liner that was in a convoy from Liverpool to North America when she was sunk by a U-boat UB-91 south of Ireland with the loss of 292 lives. There were 28 survivors. There are 8 bodies buried in the graveyard of Dale Parish Church in SW Pembrokeshire, which were washed ashore between 4th and 29th November 1918. As the bodies were unidenitifable, the CWGC declined to maintain the grave, and the memorial cross was erected by the people of Dale. Other bodies are buried at Angle and Freshwater West.
A memorial is to be erected at Angle in time for the 4th October, financed by the local community and the shipping line Nippon Yusen Kaisha, the original owners of the Hirano Maru, who were delighted to learn of the locals' interest in the whole story. This information has come from the Dale Coastlands History Society and the West Wales Maritime Heritage Society.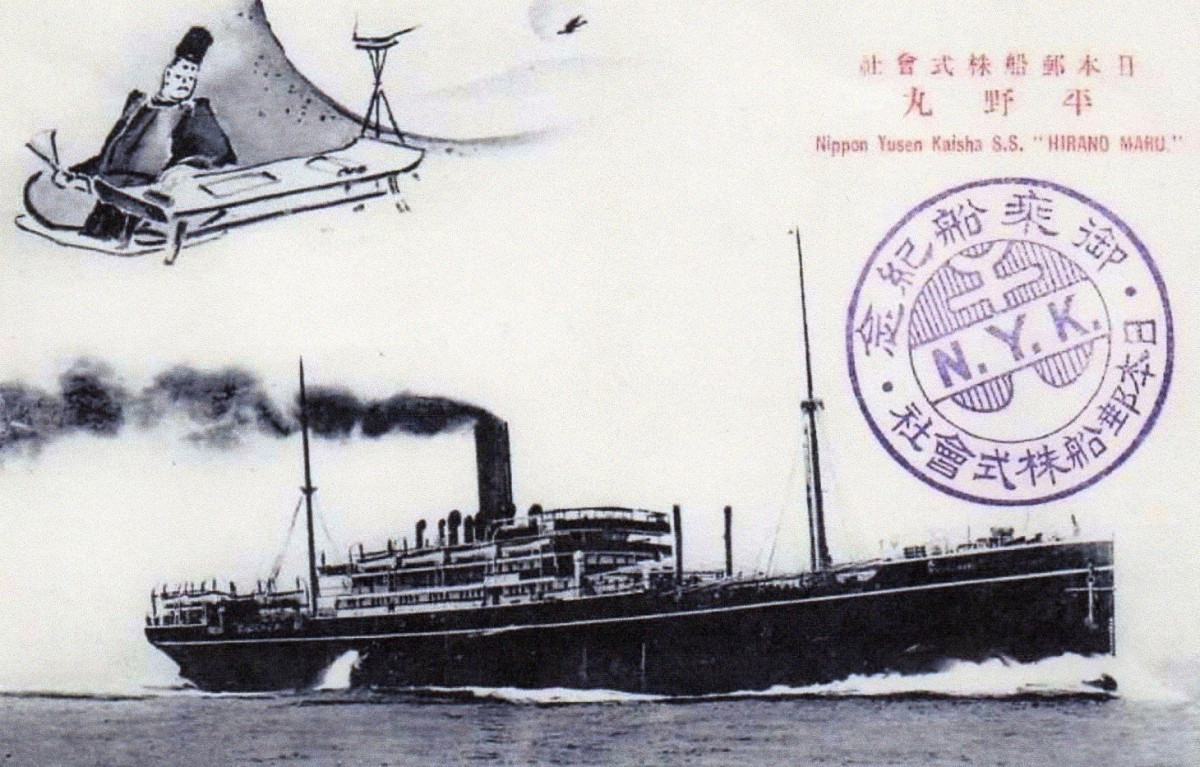 Spanish flu
Fiona has pointed out a talk on the Spanish flu, as part of the Gladstone's Library festival in September, near Chester - here.
Steve and Nancy
Steve and Nancy are back in the UK, or almost. Steve is talking to the branch in September. Further details of their exploits to date are here.
Centenary of the sinking of RMS Leinster
The 10th October this year marks the centenary of the sinking by a U Boat, UB 123, of the Holyhead-Dublin ferry, the RMS Leinster. It was the greatest loss of life in the Irish Sea, the current toll being 567 named casualties. There will be commemorations in Dun Laoghaire and in Holyhead. We will tell you more when we know the details. The link for Holyhead Maritime Museum is here.
Bill Fulton
We have learned that Bill past away over the weekend 8th/9th April. He was a stalwart of the WFA and an expert on the Machine Gun Corps, in which one of his forebearers served. Our thoughts go out to his family and friends.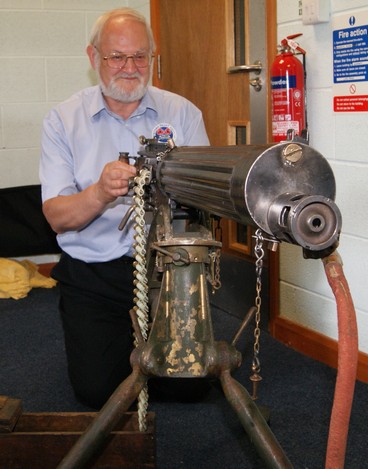 New article - Why was there a WWI?
The talk given to North Wales WFA on this theme has now been turned into an article and put on to this website - here
New article on local history
We have a new article by Jerry Rendell on his great uncle, Lawrence Oakley, who was the silhouette artist of Llandudno pier - here.
New Book Reviews
There are two new book reviews on this site. The first is on Mike O'Brien's book "Twilight of the Special Relationship", about Americans in the British forces in WWI, which is here. The second review is on Norman Stone's book "The Eastern Front, 1914-1917" which is still arguably the best work on the Eastern Front, and that review is here.
RMS Leinster centenary (updated 6th April 2018)
The Irish National Maritime Museum in Dun Laoghaire has a programme to commemorate the sinking by a U-Boat of the RMS Leinster on 10th October 1918. She was a mail boat (ferry) on the Holyhead to Dun Laoghaire route and was sunk 6 miles off Dun Laoghaire with the loss of at least 501* lives, including a number from North Wales. Mrs Mary Ann Johnson is buried on the Great Orme, Llandudno. Corporal John Williams is commemorated on the Old Colwyn war memorial and Pte Ezekiel Thomas is commemorated in the Glan Conwy cemetery. Both soldiers are buried in Grangegorman military cemetery in Dublin. The merchant navy memorial at Tower Hill in London has 25 names of missing seamen, a lot of whom were from Anglesey. There are 6 merchant marine casualties buried in Maeshyfryd Cemetery in Holyhead. We will put a list of known Welsh-connection casualties on this website as the year progresses toward the centenary.
We will keep you informed of developments.
(*The latest figure for fatalities is 567).
Update from the commemorative committee, March 2018:
October 2018
Thursday, 4th October
Launch of Philip Murphy's RMS Leinster Sculpture Exhibition
Friday, 5th October
Adult Art Exhibition Launch
Saturday, 6th October
Children's Art Exhibition Prize Giving
Sunday, 7th October to Sunday 14th October inclusive.
Free admission to Museum.
RMS Leinster Inquiry Desk
Monday, 8th October
Dublin Male Voice Welsh Choir concert
Tuesday, 9th October
RMS Leinster Seminar
12.00 Dr. Michael Kennedy, RIA
14.00 Dr. Jeff Gildea, Australia
15.30 Mr. Stephen Freguson, An Post
19.30 Mr. Philip Lecane, National Maritime Museum.
Wednesday, 10th October
Public Commemoration Ceremonies in Dun Laoghaire.
(details to be advised as information becomes available)
Medals of Private George William Shaw
We were contacted recently through the website by Mark Shaw who is searching for information about his great uncle, Private George William Shaw, 12364 of 9th battalion Cheshire Regiment. Mark's email reads as follows:
Hi
I hope you may be able to help me, as I am currently researching my Family Tree. I have identified George William Shaw as my Great Uncle. He served in A Company 9th Battalion Cheshire Regiment, from 01/09/1914 until his death 22/06/1917. His service number was 12364.
I have found that his medals (with the exception of his BWM), death plaque and associated certificates were sold on Ebay in 2014. I am unable to identify the seller or the purchaser.
I would like to find who it was that bought the items, if only to ask for copies of the documentation and, maybe provide a little background information in regard of my Uncle. Ideally, I would love to buy the items.
I know it is a long shot but I thought that it may be possible that one of your members may be the purchaser. I would be obliged if you could see your way clear to circulating the details to your membership.
Mark Shaw
If anyone does perchance know anything about Private Shaw could you please contact Mark at This email address is being protected from spambots. You need JavaScript enabled to view it.?
Battle of Cambrai centenary
There is an article on the BBC website about the use of tanks at the Battle of Cambrai - see the link here.
"Bloody April" film being made
From Leslie Lord: ASA Productions Ltd are currently making two one-hour documentaries for "Yesterday" channel based on the book "Bloody April" by Peter Hart. On their website there is a trailer for a film on building a Bristol Scout aircraft - Scout trailer.
Book reviews
We now have a specific book reviews section on the website - see Book Review Section.
Tribute to Hedd Wynn
There is a video on the BBC website which is a tribute to Hedd Wynn. It is in English and includes footage of around his home farm in North Wales - Hedd Wynn video

The poets
The 31st July 2017 was the centenary of the deaths of the Welsh poet Hedd Wynn and the Irish poet Francis Ledwidge. They are both buried in Artillery Wood CWGC cemetery. There are articles on this site on both of them - Francis Ledwidge and Hedd Wynn.
There was a commemoration event for the two soldiers at Artillery Wood CWGC cemetery on 31st July 2017. The Welsh National Eistedfodd has also commemorated Hedd Wynn last August in Angelsey.
Hedd Wynn's house now open
Hedd Wynn's house has now had the interior restored and the new museum there is open - see Yr Ysgwrn
Easter Rising and WWI
We now have a write-up of the talk given to the branch, and elsewhere, by Trevor and Denis - see here.
Welsh women in WWI
I have just come across a website on Welsh women in WWI - click here
Local memorials and graves
We have some new articles on WWI soldiers from North Wales who are buried or commemorated locally - see Welsh memorials and graves
Book on local soldiers in the Conwy valley
Retired doctor Bridget Osborne has, with others, written a book on the local men from the villages of Eglwysbach and Llansanffraid (Glan Conwy) who served in WWI. Bridget has managed to trace family details of many of the men as well as the circumstances of their death in the case of fatalities. The book was funded by the Heritage Lottery Fund and copies have been distributed to homes in those two villages.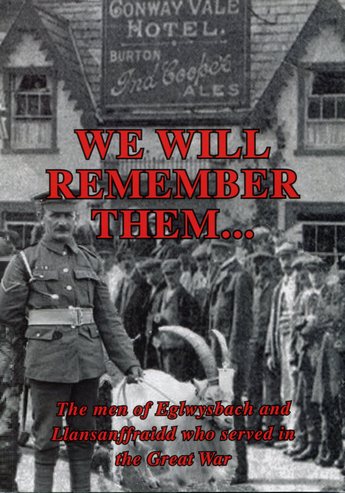 The Lost Tommies of Vignacourt
A collection of photos of Tommies billeted in the village of Vignacourt has recently come to light and is on the BBC One Show website - One Show site Can you identify any of them?
Welsh WWI casualties
There is an article on the BBC website on a book recording all Welsh WWI casualties and which will be on display at Bodelwyddan castle - see BBC website article
Nurses killed in WWI.
The "Nursing Times" reports on a project to gather information on those nurses who were killed in WWI. See "Nursing Times" article