The Dragon's Voice
In this edition, we have an article from Keith about the man behind a very unusual medal. Pam has unearthed a memoire of a heavy gunner and the current list of commemorative work by the CWGC.
Trevor
The Programme for 2019
June 8th: Peter Hart – The Last Battle
An Unsung Hero - Frederick Parsons
(b 12th June 1878, d 1970 aged 91)
Keith Walker
In November 2018, an interesting auction took place at Sheffield Auction Gallery. Up for auction was a medal group comprising of:-
1914 – 15 Star

British War Medal

Victory Medal, and

Polar Medal with clasp Antarctic 1910 – 1913
They had been awarded to Frederick Parsons, a Chief Petty Officer of the Royal Navy.
In 1909, Petty Officer Frederick Parsons was one of the eight thousand applicants who applied to join the British Antarctic Expedition led by Captain Robert Falcon Scott (b 6th June 1868 to d 29th March 1912).
In 1910, Petty Officer Parsons joined the expedition led by Captain Scott aboard the Terra Nova a 764 ton, 57 meter long barque-type whaler and polar expedition ship, which had been launched in1884. It had a crew of 65. The history of the expedition is well documented, with Scott failing to reach the South Pole ahead of his rival Roland Amundsen, (b 16th July 1872, d 18th June 1928). Scott and his party perished on the return journey to the Terra Nova.
What interested me was - what did Frederick Parsons do in World War I? Luckily his service papers have survived but they are somewhat difficult to read.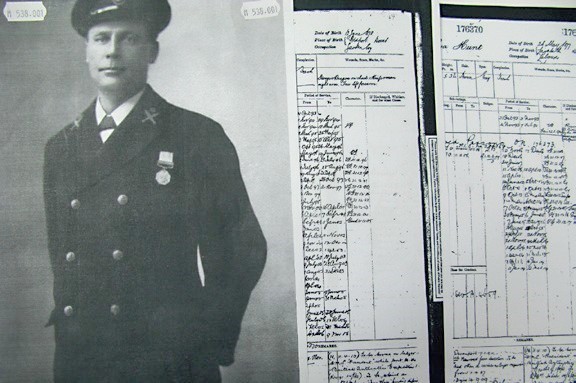 (photo above - PO Fred Parsons)
Frederick Parsons was born on the 12th June 1878 at Bridgeport Dorset. He joined the Royal Navy on the 31st October 1893 as a boy sailor, aged 15. He was 5ft 2ins with brown hair and a fresh complexion. His previous occupation is listed as a garden boy. He was sent to the shore establishment HMS Impregnable at Devonport. He was trained on a number of shore establishments - HMS Excellent, HMS Active and HMS Victory I, until he was 18 years old by which time he was 5ft 6 ½ ins tall.
On the 12th June 1896, he enlisted as an ordinary seaman at HMS Nelson, a shore establishment. He was on board from June 1896 until July 1896. He was then posted on the 20th August 1896 to the training ship HMS Edinburgh, a 9,420 ton Colossus class battleship, armed with 4x 12 inch guns and 5x 6 inch guns. On the 20th September 1896, he went to sea on HMS Rodney (launched 1884, scrapped 1909), a 10,300 ton Admiral class battleship, armed with 4x 13.5 inch guns and 6x 6 inch guns. He served on-board until October 1897. In November 1897, he was posted to HMS Royal Arthur (launched 1891, scrapped 1921), a 7,700 ton Edger class cruiser, fitted with 1x 9.2 inch gun, 12x 6 inch guns and 12x 6 pounder guns. In July 1898, he was promoted to Able Seaman. He served on this ship until 1901. At this time, the HMS Royal Arthur was the flag ship of the Australian station. During this period, he seems to have specialised in signals.
In November 1902, he was promoted to Petty Officer serving on shore ships HMS Vernon and HMS Vivid I, specialising in signals, logistics and early radio communications. He also served on the shore ships HMS Mercury and HMS Forth, a depot ship working on torpedo technology. He was on these ships until 1910. On the 11th April 1910, he was "to be borne on the ledger of HMS President while lent to the British Antarctic Expedition". On the 14th June 1913, he was promoted to Chief Petty Officer. He was with the expedition until 1913. He was awarded the Polar Medal on the 1st September 1913. In October of 1913, he returned to the Royal Navy and joined HMS Vivid 1.
In August 1914, war was declared. Chief Petty Officer Frederick Parsons was posted to the Monmouth class cruiser HMS Donegal (launched 1903, scrapped 1920) which he served on from October 1914 until May 1915. From May 1915, he was recalled to Devonport where he served on a number of submarine depot ships HMS Dolphin, HMS Maidstone and HMS Adamant. These auxiliary ships supplied the submarines in the English Channel and the war ships of the Dover patrol. Chief Petty Officer Frederick Parsons spent his war based in all the home ports - Plymouth, Portsmouth, Chatham, and Harwich. He was one of the unsung heroes of the war. All his service training in logistics, signals and torpedo technology was put to good use during the war. Fred Parsons left the Royal Navy in 1919 after 26 years' service to run a shoe repair business in Plymouth.
I could find very little information of what he did after 1919. Only found one reference that Fred Parsons died in 1970 aged 91, the last survivor of the Antarctic Expedition of 1910 to 1913.
The medals sold for £19,000 (plus commission).
Notes
1. All 65 men of the crew of the Terra Nova received the Polar Medal
2. The Polar Medal was instituted in 1904. It has a plain 32mm white ribbon. The medal is a 33mm octagonal in silver or bronze.
Reference and Acknowledgements.
Medal News
www.sheffieldauctiongallery.com
Memoires of a heavy gunner
Pam Hall
The following is an extract of an article taken from the magazine "Twenty Years After". It is written by an un-named Heavy Gunner. He had resisted writing about memories of his long service at the front and at the end of the complete article, his explains why he chose that moment to do so…
'At six o'clock on the morning of November 11th my faithful batman brought me a cup of tea. "Well sir" he said with a melancholy air, "they tell me it's to be all over on the stroke of eleven." "Good" I replied, turned over and went to sleep again.
But that night we let off every Very light and coloured rocket we had in store. It was only by prompt action that we prevented the sergeant on duty from detonating a lump of dynamite large enough to transform our little French village into a column of dust!
And that for me, as for millions, was the end of the greatest war in history. Lately I have been wondering whether, having resisted many temptations to write a personal memoir of that conflict, I shall still be young enough to put on record a few fragments of another, and doubtless even greater, war if the European cauldron boils over once more'.
I only wish that I know who this gentleman was.
First submission below… I think that he rather liked the Portugese soldiers and felt that they very much deserved better training and leadership. [Ed. We will publish more extracts in later editions].
"The Portugese at Work
New divisions were sent to the Laventie front to be "blooded" and it was here that the Portugese, of notorious repute, came to be tested. I saw their first division march in – a rag-time army, with less march-discipline than a Hyde Park bunch determined to go to Whitehall to demand justice from the government of the day. Many of the rank and file were without shoe leather and hundreds carried rifles from which the pull-throughs had not yet been removed.
The most absurd legends have grown up about these Portugese troops. They caused endless amusement to British soldiers, who were nevertheless very good to them. But they frightened the civilians, who believed they would be left to the mercy of these "sinister" foreigners. Actually, they were not in the least sinister. The men were like large, beefy, good-humoured babies. They could have been transformed into good soldiers. The majority of officers were small, nervous and incredibly inefficient, with very little authority over the men in their charge.
The gunners were the best. But they had no guns, and they didn't know the first thing about the breech-blocks of the French seventy-fives, with which they were afterwards supplied in the line.
On one occasion, I was sent to a Portugese battery with an order for the commandant. While we were talking the gas alarm sounded and immediately the entire battery dashed madly for their respirator, which of course they weren't wearing. There was no gas… it was a warm, sunny evening with a gentle breeze blowing in the direction of the enemy. This trifling fact didn't prevent the gas gong from being struck with great violence twice in the next half-hour. Each time everybody dashed again for his respirator. I asked if it was a practice night, "no, no" the commandant replied gesticulating wildly and sniffing suspiciously. "There is gas about; it is in the air and we must not be caught asleep".
My last moments with the Portugese battery were impressive. A young lieutenant was on his tour of duty to one of the snug observation points, unblemished by enemy fire, a quarter of a mile away. He wrung our hands solemnly as if to bid us a sad farewell. He wore a thick scarf and from various parts of his body hung trench maps, long leather gauntlets, a prismatic compass, field glasses and two revolvers… but no respirator. His signaler carried a rifle, a large bundle of blankets over his arm and a spirit kettle. His batman, from whose pockets peeped a couple of bottles of wine, was staggering under the weight of an enormous basket-load of provisions, enough for a long siege. And so he passed out of sight. I never saw him again. I hope he got back unhurt. Strange fellows, the Portugese and how they could eat!"
Current commemorative casework of the CWGC
| | | |
| --- | --- | --- |
| Case | Service Date | Status |
| Capt Cecil Thomas Tuff | 14 May 2019 | A rededication service for Captain Cecil Thomas Tuff, 1st Battalion The Queen's Own (Royal West Kent Regiment), will take place at 10.30am at Oosttaverne Wood Cemetery. Captain Tuff was killed on 18 April 1915 during the fighting which followed the explosion of mines under Hill 60 the day before. His remains were concentrated after the First World War to Oosttaverne Wood Cemetery, where he was buried as an unknown Captain. He was commemorated on the Menin Gate. New research by the Ministry of Defence UK Joint Casualty & Compassionate Centre has allowed his grave to be identified. |
| Capt Eric Wilson Edwards | 15 May 2019 | A rededication service for Captain Eric Wilson Edwards, 6th Battalion The Queen's (Royal West Surrey Regiment), will take place at 10.30am at Gouzeaucourt New British Cemetery. Captain Edwards was killed on 30 November 1917 during a German attack near Heudicourt. He was buried as an unknown Captain in Gouzeaucourt New British Cemetery. He was commemorated on the Cambrai Memorial. New research by the Ministry of Defence UK Joint Casualty & Compassionate Centre has allowed his grave to be identified. |
| Pte Henry A V Wallington, Pte Frank Mead and An unknown soldier | 12 June 2019 | A burial service for Private Henry A V Wallington, Private Frank Mead and an unknown soldier, all of the 23rd Battalion (County of London) Regiment will be held at Hermies Hill British Cemetery on 12 June 2019 at 10.30am. Private Wallington and Private Mead were both serving with the 23rd Battalion (County of London) Regiment when they were killed on 3 December 1917, whilst withdrawing from their positions after 2 weeks of tough fighting during the Battle of Cambrai. The 3 bodies were recovered from a local resident's back garden just outside the village of Anneux. Along with other artefacts of a personal nature, also found was a shoulder title of the 23rd Battalion London Regiment. Historical research and DNA testing by the Ministry of Defence's UK Joint Casualty & Compassionate Centre confirmed the identity of 2 of the soldiers. Attempts to identify the third soldier are ongoing. The service will be attended by family members, British Defence Staff, Regimental representatives, CWGC staff and local dignitaries. Members of the public are welcome to attend. |
| Cpl Robert Owen Davies | 18 June 2019 | A rededication service for Corporal Robert Owen Davies, 10th Battalion The Royal Welsh Fusiliers, will take place on 18 June at 10.00am at London Cemetery and Extension. Corporal Davies was killed during fighting in Delville Wood on 20 July 1916. His remains were recovered from Delville Wood in 1935 and he was buried in London Cemetery and Extension as an unknown Corporal. He was commemorated on the Thiepval Memorial. New research by the Ministry of Defence UK Joint Casualty & Compassionate Centre has allowed his grave to be identified. |
| An unknown soldier of The South Wales Borderers | 19 June 2019 | A burial service will take place for an unknown solider of The South Wales Borderers at 10.00am on 19 June at Bethune Town Cemetery. This soldier was found near Richbourg and is believed to be a member of 1st Battalion, who was killed during the Battle of Aubers Ridge in May 1915. However, there are still too many members of that battalion missing from that time to identify him. |
| Capt William Miles Kington DSO | 19 June 2019 | A rededication service for Captain William Miles Kington DSO, 1st Battalion The Royal Welsh Fusiliers, will take place at 14.00 hours on 19 June at Tyne Cot Cemetery. Captain Kington was killed on 20 October 1914 during the First Battle of Ypres. He was buried after the First World War as an unknown Captain in Tyne Cot Cemetery. He was commemorated on the Menin Gate. New research by the Ministry of Defence UK Joint Casualty & Compassionate Centre has allowed his grave to be identified. |