The Dragon's Voice
Hello. In this edition, we have an article by Phil Walker on a bizarre tale of three brothers from Ruthin and a murder trial! I have included a short account of the Somme commemorations, from our personal perspective. As ever, many thanks to Jim Morris for allowing us to use his WWI day by day material on the Facebook page.
Trevor
The Programme for 2016
August 6th - Lesser Known Heroes of WW1 - Andy Johnson

September 3rd - Profiles of the Great War, Silhouettes of Captain Oakley - Jerry Rendell

October 1st - Lord Ninian, 6th Welch and the Battle of Loos (Two weeks in the life of a Welsh Battalion on the Western Front) - Marietta Crichton-Stuart

November 5th - Mountaineers in the Great War - Anne Pedley

December 3rd - Branch Social
Last month's speaker (June)
Alister Williams came from slightly further east in Wales to talk to us about "local lad" Lionel Rees, who was from Caernarfon. Lionel Rees joined the RFC early on in his career, and ended up as an RAF Group Captain with a VC, OBE, MC and AFC. However, he did make a comeback in WWII as well, this time in Egypt before being retired again. He then went on to sail across the Atlantic single handed, and then settled down to farm in the Bahamas where he got married rather late in life and where his descendants still live. Alister has a book coming out on Lionel Rees which hopefully should be published by the end of 2016.
Last month's speaker (July)
Mr Arthur Aston came up from the Wolverhampton branch of the WFA to speak to us about General Horace Smith-Dorrien. Arthur started the talk by explaining Smith-Dorrien's early career in Africa, and when he returned to England how the spat with Sir John French came about. Smith-Dorrien was given command of II Corps in the BEF after the death of Lt-Gen Sir James Grierson from a heart attack. Arthur discussed the front line of II Corps at Mons and then the retreat and battle at Le Cateau. Smith-Dorrien had his command taken from him after 2nd Battle of Ypres. He returned to England, never to hold a field command again. The army politics got Smith-Dorrien. Arthur's talk was full of passion for his subject. It was a very informative talk that laid bare the inner workings of the British Army of the day.
Keith Walker
Twelve Days on the Somme
Trevor Adams
Well, I trust Sidney Rogerson will forgive me for pinching the title of his book, but it does fit our tour of the Somme for the centenary commemorations.
My key aim for some years was to be on the Somme for the centenary of my grandfather's death there, on 3rd July. He was in the 36th (Ulster) Divn. We managed to get tickets for the service at the Ulster Tower on Friday1st July, and arranged to be on the Somme for some days before and afterwards. It has to be said that the whole area was something of a bear garden, as the various sites were being set up to accommodate services on 1st July and thereafter. The site of the main memorial at Thiepval was a particular hive of activity with marquees and fencing and temporary car and coach parks. You couldn't get near the Thiepval memorial for several days before or after the 1st.
Early in the week, we were at the little village school in Puchevillers where my grandfather is buried as we wanted to donate a little bit of money to the school to commemorate the centenary. In the end, this had escalated into talking to the oldest children about my grandparents and their story, telling the middle group about Wales, and teaching a nursery rhyme to the littlest ones – all in French! Fortunately, we had excellent support from our friend Julie who teaches English in the local senior school and, of course, the teachers in the school.
We had the eldest group up in the CWGC cemetery to explain to them that although it is the "cimetiere anglais" in French, there are a lot of soldiers there who are not "anglais". This was helped by there being flags left there by recent visitors to mark some of the Australian and Canadian graves. We explained to the children the personal messages which the families could pay to have put on the headstone, which I know is something that the French find curious. One of the children placed our wreath on my grandfather's grave – which was the best commemoration of the week for us. Altogether, the visit did a lot for international relations.
As regards the official commemorations, we had been forewarned by Bernard, the local mayor that the whole area was being saturated with gendarmes brought in from other parts of France. The whole area of the memorials was sealed off for 24 hours. On 1st July, we had to go to the railway station in Albert to present our ID and be searched before being loaded on to coaches to go to the Ulster Tower. Incidentally, the schools were all closed as we were using the school buses. Every road junction and farm lane on the route had at least one gendarme. The memorial sites had yet more gendarmerie, including mounted police patrolling the fields.
The service at the Ulster Tower was attended by Prince Charles and the Duchess of Cornwall, and the Duke and Duchess of Gloucester. The Duke is the patron of the Ulster Somme Association. The heads of the four Irish churches took part. The band of the Royal Irish Regiment were there, playing various tunes, including of course "Killaloe". I was delighted to note that the Duke in his address drew attention to the Catholics who were in the 36th Ulster and who have too often been ignored.
On the 2nd July, there was a wreath laying at the 16th Irish Divn cross at Guillemont church. In the address there, Alan Hamilton the chair of the Somme Association drew attention to the considerable number of Northern Irish Catholics who served in the 6th Connaught Rangers and the 6th Royal Irish Rifles, part of the 16th Irish Divn, as indeed were two battalions of the Inniskillen Fusiliers. The people of the village kindly put on a "bunfight" for us. Various of the 16th Irish Divn associations including the Leinster Regiment association, of which our own Ian Lowe is a leading light, are having a centenary commemoration at Guillemont in September.
We then went over to Delville Wood but the South African museum was closed, believe it or not. However, in the cemetery we met an old friend from Belfast, Brian, who was there as he is now mayor of a local council near Belfast.
We went to downtown Albert to see the various exhibitions and displays put on by the French in the park to mark the first days of the battle (and which, improbably, also included a massed French bagpipe band playing in Amiens). We bumped into Les Lord in the town square!
On the 3rd, we went to the British Legion short service at Thiepval, then up to the Ulster Tower and there bumped into Andrew Mackay from the Burnley WFA. We were then over at Puchevillers to pay respects to my grandfather on his centenary. We went to the local estaminet and Remy, the owner, gave me a copy of a photo of the cemetery as it was during WWI. For the first time ever, we met a couple in the cemetery who had a family member there – the lady's grandfather. He was from the Isle of Man and is believed to have joined the Dorsetshire Regt in Belfast. She believed that no-one from the family had ever visited. Her grandmother had been left with 6 children. We had earlier met two Australian ladies who were researching the 29 names on the war memorial in their town of Ballarat near Melbourne, two of whom were in Puchevillers.
We laid wreaths at the German cemetery at Fricourt and the French one at Rancourt.
For the next few days, we were tourists round the area, though it did feel dreadfully anticlimactic as lots of people had gone and the venues were being returned to their normal state.
I will finish with three of the dimmest comments I overheard when on this trip:
At Fricourt German cemetery, someone reading the label on the wreath "German President" said "Oh, Merkel has been here". She is no more the president than Teresa May is the Queen. They are both PMs. If you really want to know, Joachim Gauck is the current president, and he was persecuted by the communists in the former East Germany for campaigning for citizens' rights.
At Y Ravine cemetery, a "professional" tour guide telling one of her group that you were best being in the first wave over the top as "that was the half-light of dawn". Sorry, the 1st July attack was, as I am sure you all know, started at 7.30am, and dawn is 3.30am at that time of year.
At Hawthorn Ridge No 2 cemetery, lady saying to her husband "but why didn't they just put the soldiers' names on the headstones instead of saying unknown soldier". I kid you not – it really happened!
There are some photos on the next page.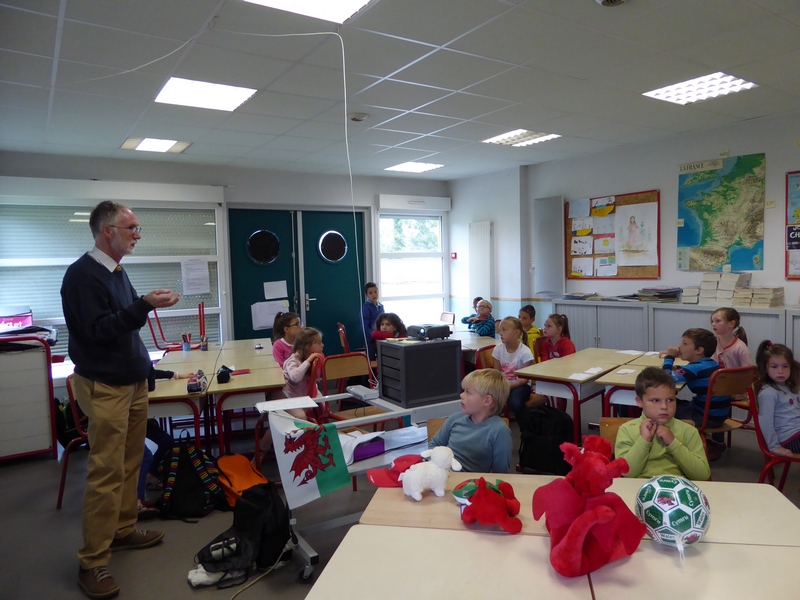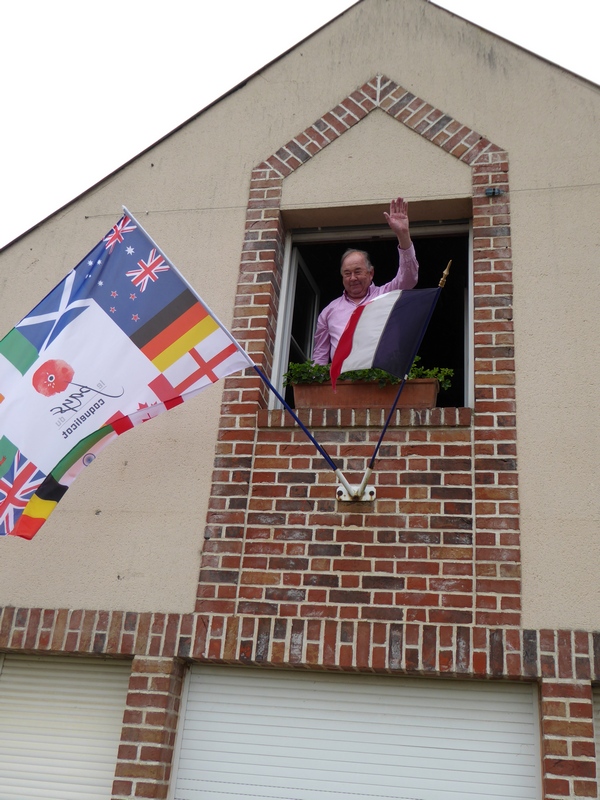 Photos - left: me trying to explain Wales to French children!
Below: Bernard, the local mayor, with the multinational flag.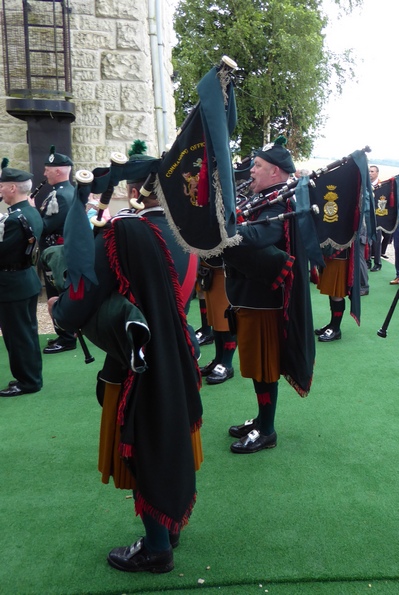 Left: RIR pipers at the Ulster Tower on 1st July. Below: Downtown Albert on 1st July (which war is the chap on the left from?)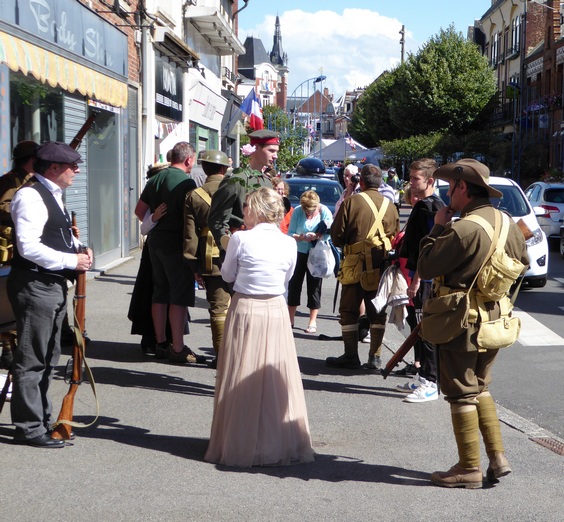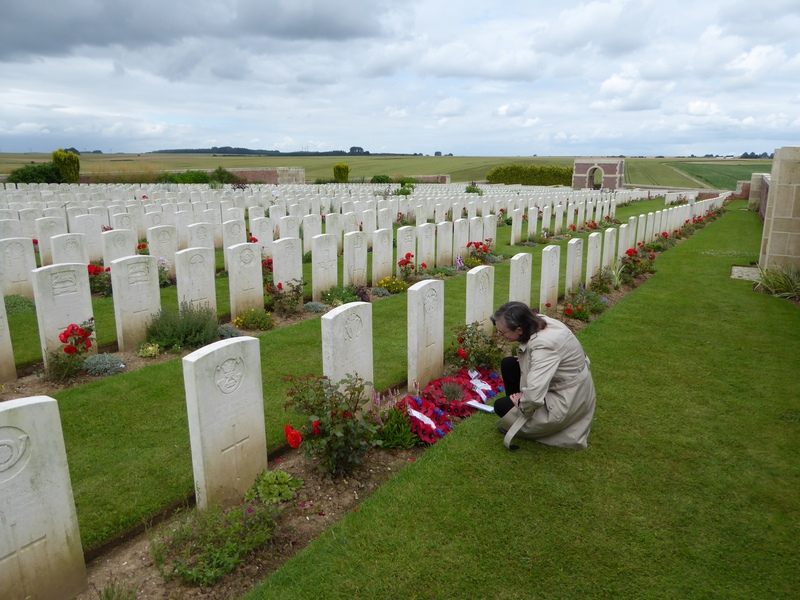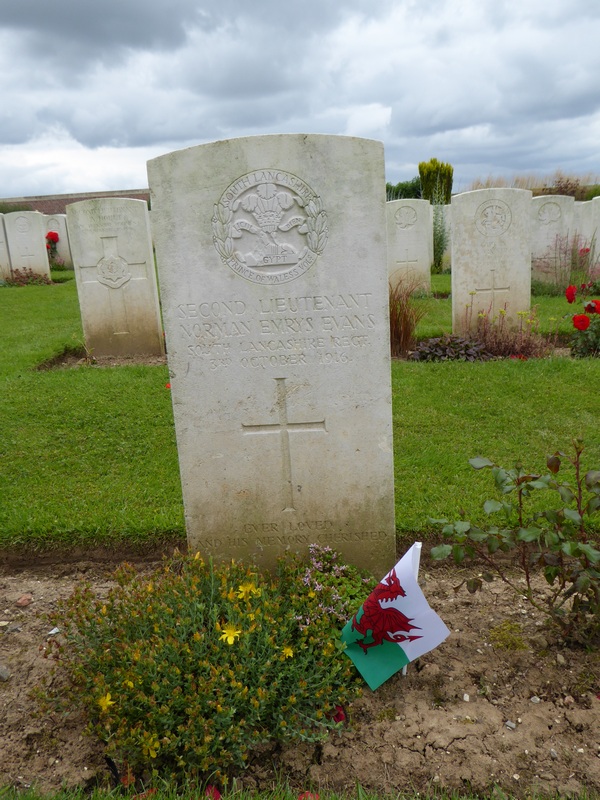 Above: Caroline and me at grandad's grave on 3rd July.
Right: grave, also at Puchevillers, of the son of the vicar of Old Colwyn, Norman Emrys Evans
Three Brothers, one Thief and a Murder.
Philip Walker

For one man it started with a jail breakout!
For me it all started with two brothers.
A few years ago while on a tour of the battlefields of France, I was asked to find any information I could on two brothers who had served in the 13th and 14th battalions of the Royal Welch Fusiliers during the First World War.
The two soldiers were the Great Uncles of a lady who had the death pennies of both soldiers but who knew very little else about them. The two soldiers were Private Charles Jones and Private Edward Jones.
Private Edward Jones served in the 13th Battalion RWF and was killed while moving up towards Mametz Wood on the 5th July 1916 and is commemorated on the Thiepval Memorial.
Private Charles Jones served in the 14th Battalion RWF and was killed by a shell explosion while in billets in a barn in the town of Bertry on the 13th October 1918 and is buried at Bertry Communal Cemetery.
While researching these two soldiers I became more and more intrigued to find out about the other men who had served alongside these two men and wanted to fully understand what had happened to both Battalions during the First World War. With any research, it is like an itch which you cannot help but scratch until you find satisfaction.
It has been during this research about the men of the 13th and 14th Battalions that I stumbled upon a most fascinating story.
While wandering around North Wales recording the various First World War Memorials, I came upon two brothers who are commemorated on the Llanfair Dyffryn Clwyd Memorial and the Abergele War Memorial. I was excited to find that one of the brothers was an officer who had served in the 13th Battalion RWF.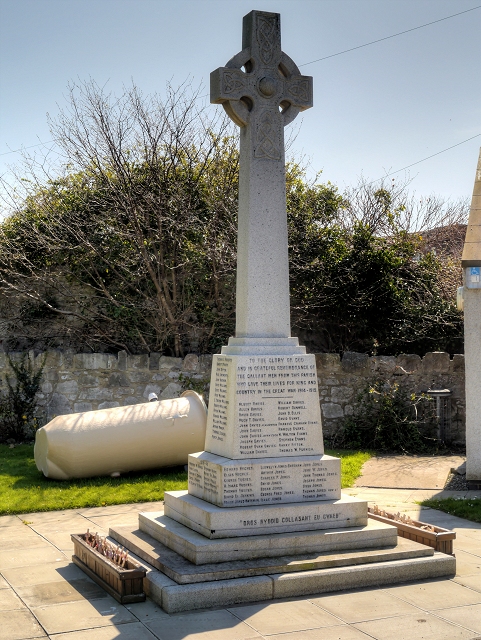 Abergele War Memorial
The two brothers on the memorials are: Captain Llewellyn Jones-Bateman who served in "A" Battery, 103rd Brigade of the Royal Field Artillery and Captain Francis Jones-Bateman of the 13th Battalion RWF.
Captain Llewellyn Jones-Bateman while serving with the Royal Field Artillery was injured and died of his wounds on 19th March 1916. His death was recorded in the local paper the North Wales Chronicle and Advertiser on the 31st March 1916 and reads as follows:-
Captain Jones-Bateman
Much sympathy is felt with Mr and Mrs Jones-Bateman of Eyarth, Ruthin, and Pentre Mawr, Abergele, on the loss of their eldest son, who has, like so many others of our bravest and best, given his life for King and country.
Captain Llewelyn Jones-Bateman, R.F.A., born January 28th 1889, was educated at Mr Lloyd's School, Winchfield, and Wellington Collage. He entered the Army January 1910, and has served all through the present war. At his own urgent request he was allowed to go the first week the war broke out, although suffering from a broken collar-bone, for which he was about to go to hospital for treatment. His battery was in the retreat at Mons and the battles of the Aisne and Marne and at Festubert. He was wounded on the 14th. His General wrote after seeing him in hospital :- "I cannot tell you how distressed I am, personally, for I am very fond of your son;" and again, writing after he had died, on the 19th, "he was one of my best battery commanders; all his officers and men too, are very grieved, for he was so popular with them; his battery was being shelled, and he left his own dug-out to go down to where the men were in theirs, to see, as he put it, that they were all right and merry and bright; this was typical of him, and he was just standing outside talking to the men when he was hit. I never wish to have a better under me; he was so keen, with all his heart in his work, a very gallant fellow. Only the other day I submitted his name for the Military Cross as a reward for all his good work."
Captain Jones-Bateman's brothers are both serving. Captain Frank Jones-Bateman has been lying in hospital since September from wounds received rescuing a wounded comrade, Sec-Lieut. Rex Jones-Bateman is bombing officer in the Welsh Regiment at the front.
Another correspondent writes:- The announcement of the death at the seat of war (owing to a shell wound) of Captain Llewelyn Jones-Bateman has been received with deep regret in Llanfair D.C parish. The sympathy of their fellow parishioners has been accorded in full measure to Mr and Mrs Jones-Bateman and all the members of their family. Captain Jones-Bateman had been at the front from the beginning of the war. He was a gallant soldier, who had won the highest opinion of all who knew him, and of none more than of the men who had the privilege of serving under him of whom at all times he took the greatest care. These are the men of whom their country is justly proud, whose names will be held in honour for many a long day to come.
Captain Llewelyn Jones-Bateman is buried at La Pugnoy Military Cemetery, he was aged 27.
This is a fascinating account of Captain Llewelyn Jones-Bateman and gives a sense of the man and his character. He appears to be well liked and respected by his men and also respected by his superiors.
The most surprising part of the account from the newspaper was that there was a third brother who was also serving at the front, the middle brother of the three, Second Lieutenant Reginald Jones-Bateman.
What the family must have been feeling at this time one can only guess. For Mr and Mrs Jones-Bateman to have three of their children serving at the front, one who has now been killed, one who is currently in hospital and one still on the front line must have been a testing time for the family.
The three brothers came from a large family and as can be imagined at the time the brothers and family would have felt very much that they were doing their duty for King and country. The head of the Family was Herbert Burleton Jones-Bateman who was a well know local land owner who lived in Pentre Mawr manor house in Abergele. His wife was Evelyn J Heaton and they had four sons and three daughters. The children are:-
Son - Llewellyn Jones - Bateman - 1889 - 1916
Daughter - Mary Catherine Jones - Bateman 1890 - 1891
Son - Gilbert Jones - Bateman 1892 - ?
Son - Reginald Jones - Bateman 1894 - ?
Son - Francis Jones - Bateman 1895 - 1918
Daughter - Beatrice Jones - Bateman 1899 - ?
Daughter - Margaret Jones - Bateman 1900 - 1970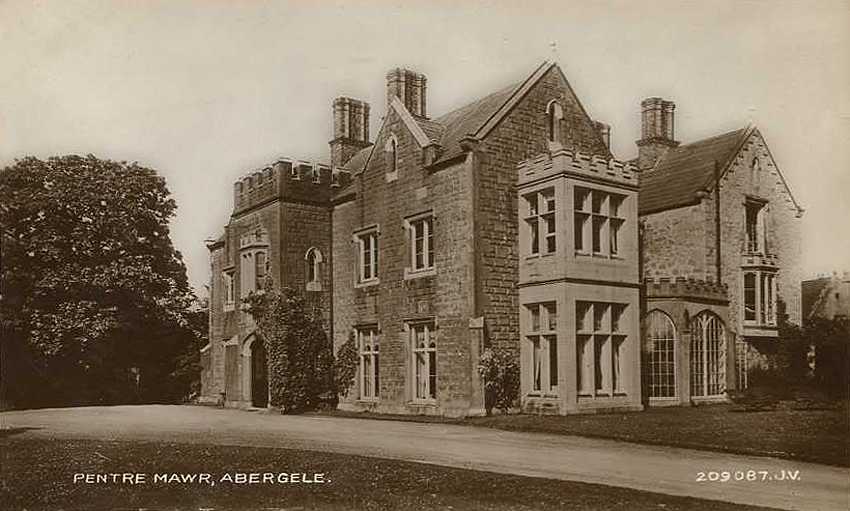 Pentre Mawr Manor House
From the research I have so far carried out it seems that the fourth son Gilbert Jones-Bateman, who is the second eldest son, does not appear to have served in the Army, although my search continues to find the occupation of this brother.
Let us return to the youngest brother, Francis Jones-Bateman. When we first met Francis, in the newspaper account of his eldest brother's death, he was lying wounded in a hospital bed. Francis Jones-Bateman was a captain in the 13th Battalion of the Royal Welch Fusiliers. Francis was originally in the 1st battalion of the RWF but was attached the 13th Battalion later in his career.
Francis Jones-Bateman started his army career as a Second Lieutenant in the 3rd Battalion of the RWF and was also attached to the 2nd Battalion of the Welsh Regiment. Francis became a Second Lieutenant on the 17th October 1914. He continued up the ranks and became a Lieutenant in the RWF on the 7th April 1915, and was finally made a captain on the 26th October 1915.
Francis was educated at Rugby School and was a member of the School's OTC. He was commissioned as a Second Lieutenant in the 3rd Battalion RWF, then promoted to lieutenant. He was posted to 1st Battalion and temporarily served with 2nd Battalion Welsh Regiment. Francis joined the 1st Battalion RWF in France, where he saw action, and was in the battle of Loos when he was wounded in the attack on St Elie the 25th. September 1915. The injury he received in September, as indicated in the newspaper article reporting his brother Llewellyn's death, indicates that Francis was wounded while rescuing a wounded comrade. The news of his injury was reported in the Flintshire Observer and News on the 21st October 1915 as follows:-
(Issued October 15th)
The following is reported from General Headquarters under date September 29th:- WOUNDED. Jones-Bateman, Lieut. F., 3rd R.W.F
Francis Jones-Bateman was also a friend of Robert Graves and is mentioned in Robert Graves memoirs "Goodbye to all That" as one of the six officers of the Royal Welsh Fusiliers who were initially posted to the trenches with 2nd Battalion of the Welsh Regiment, in 1915.
"Frank Jones-Bateman came to visit me from the company on our right. He mentioned with a false ease that he had shot a man just before breakfast: 'Sights at four hundred,' he said. He was a quiet boy of nineteen. He had just left Rugby and had a scholarship waiting for him at Clare Cambridge. His nickname was 'Silent Night.'"
After recuperating from his injury Francis was restored to the 3rd Battalion RWF and promoted to Captain. Francis was finally attached to the 13th Battalion RWF and was second in command when he saw action again in France in the battle of Sambre. Unfortunately when in the fighting at the battle of Sambre, he was killed in the attack on Englefontaine on the 4th November 1918, he was aged 22.
Captain Francis Jones-Bateman is buried in the Cross Roads Cemetery, Fontaine-au-Bois.
The Denbighshire Free Press reported the news of his death on the 16th November 1918 as follows:-
OFFICER KILLED
We regret to record that Captain Francis Jones-Bateman, RWF, of Eyarth, Ruthin, was killed in action on November 4th, near Englefontaine.
The Times reported his death on 19th November 1918 in more detail, and carried the following obituary:
"Captain Francis Jones-Bateman, Royal Welsh Fusiliers, was killed in action near Englefontein, France on Nov. 4th, in his 23rd year. He was the younger surviving son of the late Herbert Burleton Jones-Bateman B.C.S. and was educated at Stroode Court, Westgate on Sea, whence he obtained a scholarship at Rugby. On leaving Rugby in 1914, he obtained a leaving scholarship at Caius College Cambridge. When war broke out he entered the Cambridge OTC, and was gazetted to the 3rd Battalion Royal Welsh Fusiliers in October 1914. He went out to France in the following April intended to be attached to the 1st Battalion RWF, but was initially posted to 2nd Bn Welsh Regt. he was very badly wounded at Loos in September 1915, and was then promoted Capt. After many months in hospital and some service in England and Ireland, he returned to France attached to the 13th Bn. Royal Welsh Fusiliers. His eldest brother Captain Llewellyn Jones-Bateman RFA, died of wounds in France in 1914, and his remaining surviving brother Reginald Jones Bateman, is now serving with the North Russian Expeditionary Force."
Sadly it now became two of the three Jones-Bateman's sons serving were now dead. This now only left Reginald Jones-Bateman and as we can see at the time of his brother Francis' death he is serving with the North Russian Expeditionary Force.
Reginald Jones-Bateman was a cadet in the OTC and joined the 3rd (Special Reserve) battalion of the Welsh Regiment and was attached to the 2nd Battalion. He was commissioned Second Lieutenant in the Welsh Regiment (on probation), on the 3rd November 1915 where he served as a bombing officer. Reginald was commissioned as a Lieutenant on the 1st September 1917 and later was made a Temporary Captain in the Welsh Regt. Whilst specially employed in North Russia on the 1st June 1918, he became a Staff Captain.
Reginald relinquished his commission, retaining the rank of Captain on the 29th November 1920.
The Who`s Who in Wales in 1920's report Reginald Jones Bateman as follows:
Reginald Jones Bateman:- "Capt. 3rd Welch Regt. b. April 23rd. 1892, Mussoorie, India, son of Herbert Burleton Jones-Bateman and Evelyn Heaton; ed. Rugby and Christ Church Oxford; WA with the 2nd Welch Regt in France, Oct. 1915 to July 1916; with North Russian Ex.Force June-Nov. 1918; Ceylon Civil Service 1919. Rel. Churchman. Recr. Bridge. Address: "Eyarth" Ruthin North Wales.
Reginald was severely wounded in grenade accident, whilst battalion bombing officer in the Welsh Regiment in France, July 1916 and was subsequently invalided home.
On his retirement in later life, Reginald became an author and wrote an autobiographical book of his experiences as political agent in Ceylon ("A Refuge from Civilisation") and a guide on playing bridge!
The three Jones-Bateman brothers had a very eventful war while serving and while unfortunately Llewellyn and Francis were sadly killed, Reginald is lucky to survive the war. However, while researching the brothers I was surprised to find that Reginald had something of an eventful life before the war. He had murdered a man!
The year is 1913 and Reginald is living at the family home of Pentre Mawr in Abergele with his brother Francis when on a Tuesday morning at the end of September a renowned criminal escaped from Ruthin Goal. His name was John Jones or as all the locals would have known him Coch Bach y Bala - the Little Redhead of Bala. Little did Reginald know that this man would have an effect on his life.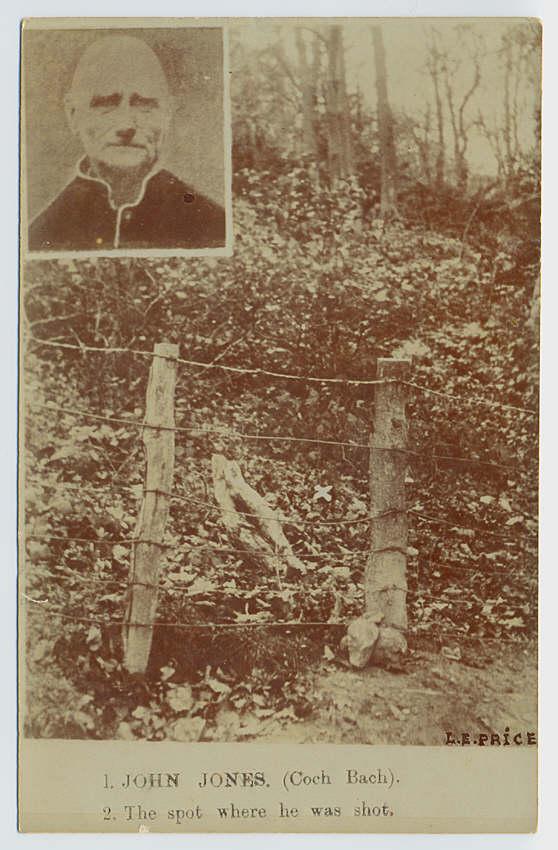 John Jones' postcard showing the place where he was shot

John Jones was born in the county of Merionethshire in 1854. He was to become a serial criminal during his life and something of a celebrity in North Wales for his numerous escapes from prison. He had red fiery hair which earned him the nickname "Coch Bach y Bala" or more correctly "Coch Bach Llanfor". This was not the only nickname John Jones obtained, as throughout his lifetime he was known as "The Little Welsh Terror", "The Little Turpin" and "The Welsh Houdini".
In the nineteenth and early twentieth century, the population of Britain had something of an addiction to the exploits of the criminal class and were fascinated with murderers and criminals and lapped up the exploits of these characters in the newspapers and "penny dreadfuls" of the day. It is no surprise then that the exploits of John Jones and his daring escapes from prison would capture the imagination. His latest exploits were most likely the topic of conversation around many a cottage fireside or bar. The stories grew in the telling, and were usually embroidered and exaggerated beyond recognition.
John Jones revelled in his own notoriety and would often boast of his exploits. His self-publicizing nature caused him to admit to crimes that he couldn't possibly have committed.
"Coch Bach Y Bala's" criminal record started as a boy, when he received the customary corporal punishment of the day for minor offences of theft. His first term of imprisonment was at the age of eighteen, when he was sentenced to one month for poaching.
Early in 1872, at the age of nineteen, he was given four months in Ruthin gaol for the theft of an "empty purse" at Llanderfel. In the following July, he received the rather harsh sentence of six years for stealing 13 shillings.
John Jones was to spend over half of his life inside one gaol or another with convictions for theft, breaking and entering, and on one occasion, for rioting against the police in Bala. For this offence, he was convicted, along with five others, and spent the Christmas of 1878 in Ruthin gaol. This particular misdemeanour only served to enhance his reputation in the eyes of the public. He was extremely anti-police, but his behaviour in prison (with the exception of his escapes) was usually very good, often earning him early release.
At this time, John Jones was probably being blamed for almost every crime that took place in North Wales, but it is true that he revelled in his notoriety and often stole things that he had no use or need for, secreting them in hedges, in case he needed to come back for them.
Convicted in Denbigh in July 1878, for the crime of being "a rogue and a vagabond" he was sent to Chester gaol for ten months. Soon after his release, he was arrested again for the theft of fourteen watches at Bala and Llanfor, and sent to Ruthin gaol to await trial. It was from here in November 1879 that he made his first escape from prison, by walking out of the main door whilst the guards were at supper.
A reward of five pounds was offered for information leading to his re-capture, and he was eventually apprehended three months later in bed in the Swan Inn, Mochdre near Colwyn Bay. This was probably brought about by a tip-off from a customer who had heard Jones's boastful stories in the bar that night, his self-publicising nature being the cause of his downfall. Convicted of stealing the watches, additional burglary and for escaping from Ruthin gaol, John Jones was sent to Dartmoor prison for fourteen years.
John Jones was next heard of in July 1891 when he was convicted in Essex of two cases of burglary. In spite of attempting to escape when arrested, he pleaded guilty and was given a further seven years in Dartmoor. He was later released on license, probably for good behaviour!
When he wasn't being detained at Her Majesty's pleasure, John Jones worked at a variety of professions including bricklayer, joiner, labourer, seaman and stoker. All who employed him claimed him to be a good and reliable worker, but it was as a poacher and persistent thief that he was best known.
Convicted at Beaumaris in 1895 of the burglary of ten pounds from the Waterman's Arms, Amlwch, he claimed the police had framed him. John Jones received a five-year sentence with an added two years for attempting to escape from Caernarfon gaol by barricading his cell door and tunnelling through the floor.
Of above average intelligence, John Jones conducted his own defence on several occasions. In 1906, charged with burglary and attacking a 71 year old woman, his defendant's address to the court lasted until 3am. Unfortunately for John Jones, the length of his speech did not save him from conviction, and he received another seven years in Dartmoor prison.
John Jones seems to have made his way back to his old stomping ground, and was convicted at Dolgellau in 1913 of breaking and entering the premises of Jordan's Solicitors office, Bala. While awaiting trial he escaped from Bala police cells and was apprehended in a barn three miles away. He was sentenced to three years.
It was while awaiting transfer from Ruthin gaol to Stafford to serve sentence, that he made his last and most daring escape. Bearing in mind that John Jones was now sixty years old, he absconded by tunnelling through his cell wall, and by using a rope made from prison bedding, climbed over the chapel and kitchen roofs, finally escaping over the prison wall.
The North Wales Times of the 4th October 1913 describes the escape as follows:-
SENSATIONAL ESCAPE FROM RUTHIN PRISON
"John Jones...effected his escape from Ruthin Prison on Tuesday morning, in a sensational manner, and at the time of writing is still at large. He gained his liberty as the result of indomitable pluck, great astuteness, and wonderful agility...'Coch Bach' is regarded by some as a hero, his performance is certainly a daring piece of work. The escape took place between four and five o'clock in the morning, before the majority of the warders entered upon their duties...The daring manner of his escape and the quickness with which he left behind him the precincts of the prison baffled the gaol authorities and the police."
Aged nineteen, this is now where Reginald Jones-Bateman enters into the story of John Jones. John Jones was on the run for six days before being tracked down on the Nantclwyd Estate, several miles from Ruthin. While hunting for food to keep himself alive, John Jones came across Reginald and apparently threatened Reginald, who had been out hunting partridge. While pursuing John Jones Reginald shot John Jones in the leg. John Jones died of shock and haemorrhaging due to the injury. It is said that at the time of the shooting of John Jones, he was wearing a sack as his only covering and had three tallow candles in his possession and stank of meths. Despite his wrongdoings, Coch Bach y Bala was a popular figure and the circumstances of his death caused a great public outcry. Reginald Jones-Bateman's father, it would seem, was an increasingly unpopular local landowner.
There were public demonstrations that Reginald Jones-Bateman should be charged and convicted of murder. However, Reginald Jones-Bateman was charged with manslaughter, although the charges were subsequently dropped on the day of the trial, when the prosecution declined to proceed with the case, (and the Chief Constable had turned up at court as a character witness for the accused).
The Flintshire Observer and News of 23rd October 1913 records the trial of Reginald Jones-Bateman as follows:-
North Wales Assizes.
Shooting of a Convict: Student Acquitted.
JUDGE'S COMMENTS
The Assizes for the grouped counties of Denbigh, Flint, Merioneth and Montgomery were opened at Ruthin on Thursday, before Sir John Eldon Bankes. There were sixteen prisoners for trial, more than the usual number, but the Judge observed to the grand jury that, seeing they were from four counties, there was no ground for anxiety.
The Judge, in his charge to the grand jury, referred to the charge of manslaughter against Reginald Jones Bateman. He said this case did not come before the grand jury, because the accused had been committed on the coroner's warrant, and his name appeared on the calendar because he had been committed on the coroner's warrant.
JUDGE'S WARNING AGAINST ASSUMPTIONS.
Reginald Jones Bateman (19), living at Eyarth Hall, Ruthin, was charged with the manslaughter of John Jones (61), the convict who escaped Ruthin Goal.
Mr. T. H. Parry, MP, said that in view of the decision of the Public Prosecutor, owing to the magistrates deciding that there was no case for trial, he did not propose to offer any evidence.
The accused was then put in the dock, and when formally charged, pleaded "Not guilty" in a firm, clear voice.
The petty jury having been sworn, the Judge said this was a case which had caused considerable discussion in the neighbourhood. The young man was charged upon the coroner's verdict with the manslaughter of John Jones, an escaped convict. They had heard the learned counsel say he did not intend to offer any evidence; but the coroner's jury had found a verdict of "Manslaughter", and, according to law, the accused must go for trial. He was now upon his trial, but the counsel instructed to prosecute said he did not intend to offer any evidence, and under these circumstances it was their duty to say he was not guilty; a man put upon his trial against whom no evidence was offered was entitled to a verdict of acquittal. Would they, therefore, say that the accused was not guilty?
The jury having done so, the Judge, addressing Bateman, said: "You are discharged. I only want to say this: I am not for a moment criticising the action of those who had come to the conclusion that this is a case in which the prosecution ought not to be proceeded with. The circumstances are very exceptional, and I have no doubt a wise discretion has been exercised; but I do desire to say this: It must not be thought that you did the right thing under the circumstances, and although it is quite proper you should not be punished, it must not be assumed that you did right, and it must not be assumed that your conduct under similar circumstances is conduct to be imitated. That is all I have to say."
The accused then left the dock.
Although John Jones was a serial criminal and by no means a pleasant man, it really does appear that Reginald Jones-Bateman got away with murder!
John Jones must have been an extremely strong and resilient little man to survive his long spells of penal servitude, as life was very hard in Victorian prisons. Hard labour and a diet, which consisted mainly of oatmeal gruel, bread and potatoes, were hardly to be recommended for the good of one`s health. Although by the time of his death, one must imagine that life in prison must have taken its toll on John Jones and the six days on the run would surely have weakened him further. After his death, postcards showing his funeral, and the location of his shooting, were mass produced and sold in their thousands. John Jones was buried at Llanelidan churchyard. His headstone reads: "John Jones, Coch Bach y Bala 1854 – 1913".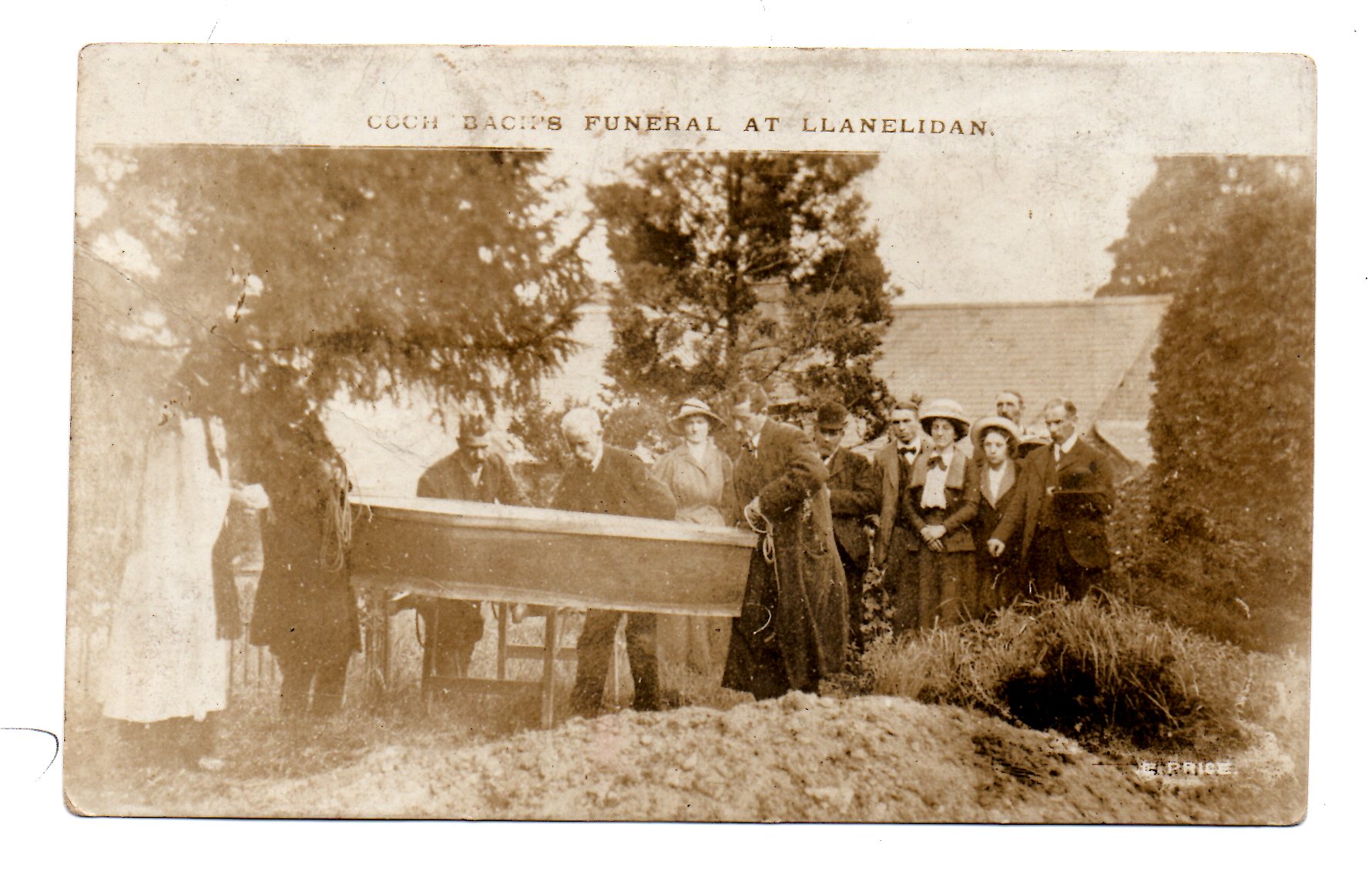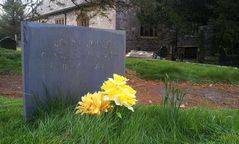 Coch Bach Y Bala's funeral (above) and (below) his gravestone today
I often wonder what affect this case had on Reginald during his army career? Although Coch Bach Y Bala was not a nice character, it would seem that there is question as to the wholesomeness of the brothers Francis and Reginald. It would appear that Francis and Reginald were not looked up to by their men quite as much as their eldest brother Llewellyn. It would appear that both Francis and Reginald were regarded locally as unfeeling bullies and there is evidence that Francis wrote on the methods used by subalterns in the battalion to discipline OR's that they considered to be cowardly or troublesome; sending them out on suicide patrols. Francis even writes that it spares British time and effort by getting the Germans to shoot them. It is also rumoured that the bombing accident that Reginald was involved in was no accident.
Had both been done in by their own men?
References:
CWGC
Great War Forum
BBC Wales
Geni.Com
Welsh Newspapers Online
London Gazette
Abergele Council
Corwen Chronicles