Private Owen Lewis 3413
Royal Welsh Fusiliers, 1st / 6th Battalion, 'C' Company
2 Caim, Penmon
Owen Lewis was born in Pentraeth in 1878. By the time of the 1911 Census he was living in No 2 Caim as the Head of the household with his wife Catherine and children - Mary aged 12, William John aged 11, Owen aged 9, Robert aged 6 and Samuel aged one. His marriage is recorded as 'about 1898' and he was working as a Quarry labourer. (Photo below left is Caim 1, 2 and 3 – now one house)
As well as working in the Penmon Quarry, Owen was probably a Militia man (now the Army Reserve). He joined up very soon after war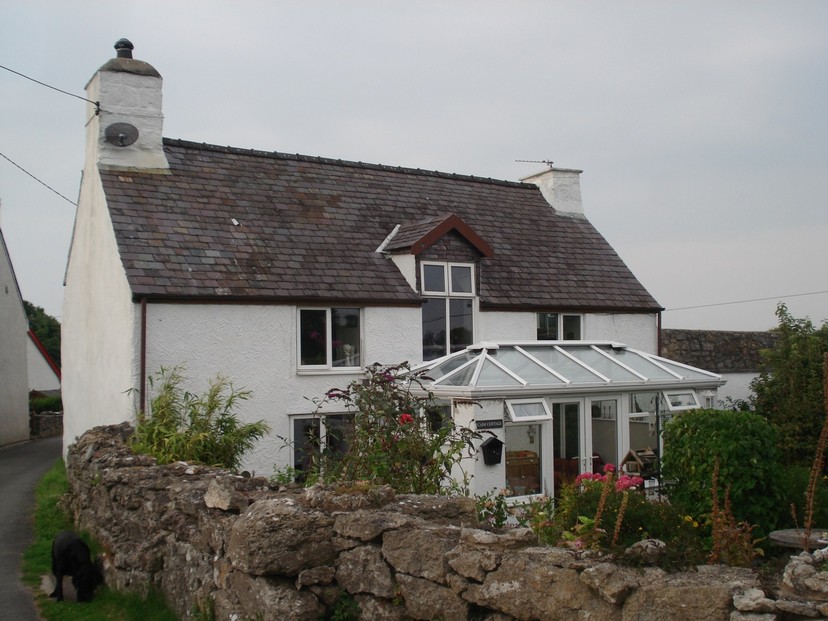 was declared in August 1914 to serve with the Royal Welsh Fusiliers 6th Battalion as a Private. At first, the 6th Battalion were mostly Anglesey and Caernarfonshire Militia men; some had belonged to the Royal Anglesey Royal Engineers.
There was a great storm in December 1914 when a boat came loose from its moorings and caused serious damage to Bangor Pier. Men of the 6th Battalion RWF repaired the pier.
In 1915 the 6th Battalion left for training camp in Northamptonshire from which they later sailed to Gallipoli via Lemnos. They landed on the beach of Suvla Bay in Gallipoli, early in the morning of Monday 9th August 1915. The Officer in Charge decided on a day of rest for the men, before they went into battle on the 10th. This decision was a disaster; the Turkish troops had time to gather and organise themselves at the top of the hill overlooking the beach.
During his service in Gallipoli Owen Lewis contracted a disease, probably dysentery or cholera, it was endemic amongst the troops on the peninsula. He was sent back to Egypt on a hospital ship where he sadly died, aged 39.
Memorials to Owen Lewis
He is remembered on a family grave in Penmon Churchyard along with his wife Kate, nephew Hugh, and daughter Lizzie Catherine (see photo below). Lizzie Catherine was the child born after her father's death. She was a domestic servant at Penrhyn Castle and her death at such a young age was probably caused by the poor living conditions in the Castle. It is said in the family that she lived in a damp attic room, under the eaves, and her death was caused by TB.
'Er cof annwyl am OWEN LEWIS priod KATE LEWIS Caim, Penmon a fu farw yn Alexandria yn y Rhyfel mawr, Hydref 1915 yn 39 mlwydd oed.'
'In loving memory of Owen Lewis, husband of Kate Lewis of Caim, Penmon who died in Alexandria during the Great War October 1915 39 years old.'
This gravestone is recorded on The War Graves Photographic Project.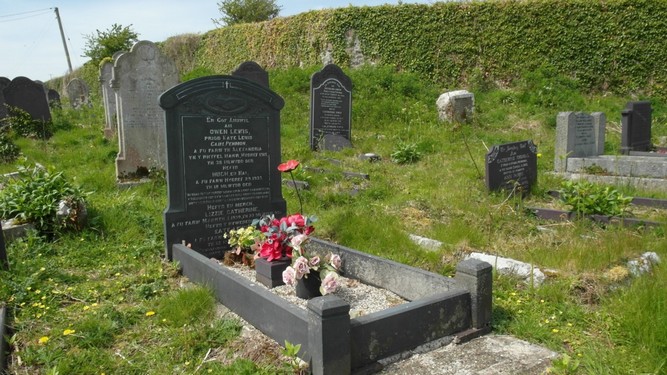 Private Owen Lewis is commemorated by the Commonwealth War Graves Commission with a grave in the Chatby Military Cemetery of Alexandria, Egypt. The inscription is: Lewis, O / Private / No 3413 / Died 31.10.1915 / Age 39 / Royal Welsh Fusiliers / 'C' Coy, 1st/6th B / Husband of Kate Lewis of Caim, Penmon, Beaumaris, Anglesey.
On the Llangoed Village Hall memorial plaque: This Tablet is set here by the Parishioners of Llangoed, Llaniestyn and Penmon to the memory of those who gave their lives for the cause of Liberty and Righteousness in the Great War 1914 – 18 a.d. "Bravely they fought, for us they died, for us they live" – Private Owen Lewis, Penmon, Died.
In the Bangor Memorial Arch (North Wales Heroes' Memorial Arch) opened in 1923, he is recorded under the Parish of Penmon as 'Lewis, O.'
In the 'Regimental Records of the Royal Welch Fusiliers' by Major Dudley Ward he is listed under 6th Battalion Roll of Honour as having been born in Penmon, served as a Private, and died of disease in Egypt on 31st October 1915.
Bridget Geoghegan 2016