Benllech War Memorial: COMT. A.T.S. Gwyneth Rhianon Hughes Tyn-Cae.
Junior Commander Gwyneth Rhiannon Hughes Auxiliary Territorial Services, no 192738
Gwyneth's parents were Elizabeth (née Roberts) and William Hughes. According to the family headstone, her father was a Minister. The birth of Gwyneth R Hughes was registered on Anglesey early in 1918; her death was registered early in 1946, in Aldershot, as 'Gwyneth R Hughes age 28'.
There is a possible match in the 1939 Register for 'Gwyneth Hughes at Oak Street, Gelli, Rhondda, born February 1918', who was working as a Shop Assistant to a Draper. She was in a house with Henry Hughes (born 1872) and Maud Hughes (born 1901).
Some of her ATS career can be traced through The London Gazette. 17th December 1940: Auxiliary Territorial Service – The following list shows further officers appointed to the Auxiliary Territorial Service, together with their present substantive rank and the seniority of the dates shown:- Company Assistants. – 16th October 1940. – Miss Gwyneth Rhyannon Hughes.
1st August 1941: Auxiliary Territorial Service – The undermentioned to be 2nd Subs., 30th May 1941, with seniority as stated:- Miss Gwyneth Rhyannon Hughes (192738)
Also from the family headstone, both parents died within two years of Gwyneth, in spite of being comparatively young.
Memorials
In the churchyard of St Pedr, Llanbedrgoch: Er serchog gof am Elizabeth Hughes Tyn Cae a fu farw Hydref 1947 yn 54 mlwydd oed. Hefyd ei hannwyl briod Parch William Hughes a fu farw Rhagfyr 1948 yn 58 mlwydd oed. "Hedd perffaith hedd." Also their beloved daughter Comt. A.T.S. Gwyneth Rhianon Hughes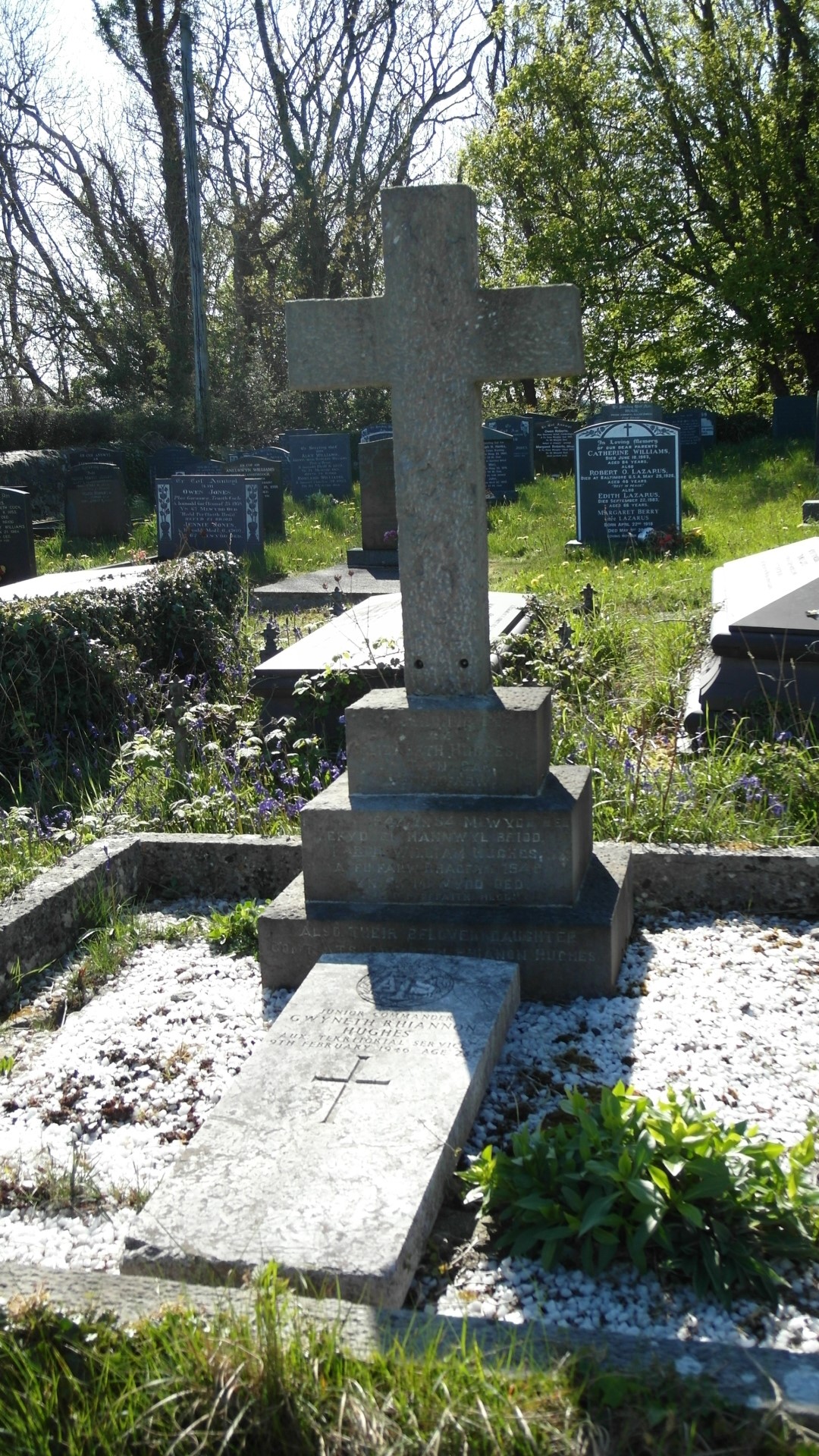 (In loving memory of Elizabeth Hughes of Tyn Cae who died October 1947 at 58 years old. Also her dear husband, Reverend William Hughes who died December 1948 at 58 years old. "Peace perfect peace.")
A.T.S. Junior Commander - Gwyneth Rhiannon - Hughes - Aux. Territorial Services - 9th February 1946 aged 28
Benllech War Memorial: In Memoriam - Plwyfolion Gollwyd yn Rhyfel 1939 – 1945 . . . COMT. A.T.S. Gwyneth Rhianon Hughes Tyn-Cae.
There is a Memorial statue to those who served and died in the ATS at the National Memorial Arboretum, Alrewas, Staffordshire
Commonwealth War Graves Commission: Junior Commander Gwyneth Rhiannon Hughes - Service No: 192738 - Died: Saturday 09.02.1946 - Aged: 28 - Auxiliary Territorial Service - Daughter of William and Elizabeth Hughes of Pentraeth - Llanbedrgoch Churchyard
The War Graves Photographic Project: as for CWGC (twgpp.org)
Note: the variations of spelling 'Rhiannon' have been copied from the originals
Photograph of family grave courtesy B Geoghegan