SomeKindHand Update: July 2017 - 1st January 2018
At the end of July, after 21 days at "home", we returned to Camping Ypra, in Kemmel intending to complete the Tyne Cot Memorial and then move to Amiens, where we were to begin our 1918 Pilgrimage. However, the camp-site owner offered us a deal to stay until the end of September, which we promptly accepted. We therefore reorganised our plans, which involved the completion of West Flanders 1917 burial grounds and several from the same period in close by Nord and Pas de Calais. Simultaneously, we started our 1918 and post war burial ground visits in East and West Flanders and those we thought were close enough in Hainaut, Nord and Pas de Calais. In truth a bit of a "mash-up", compromising our planned chronology.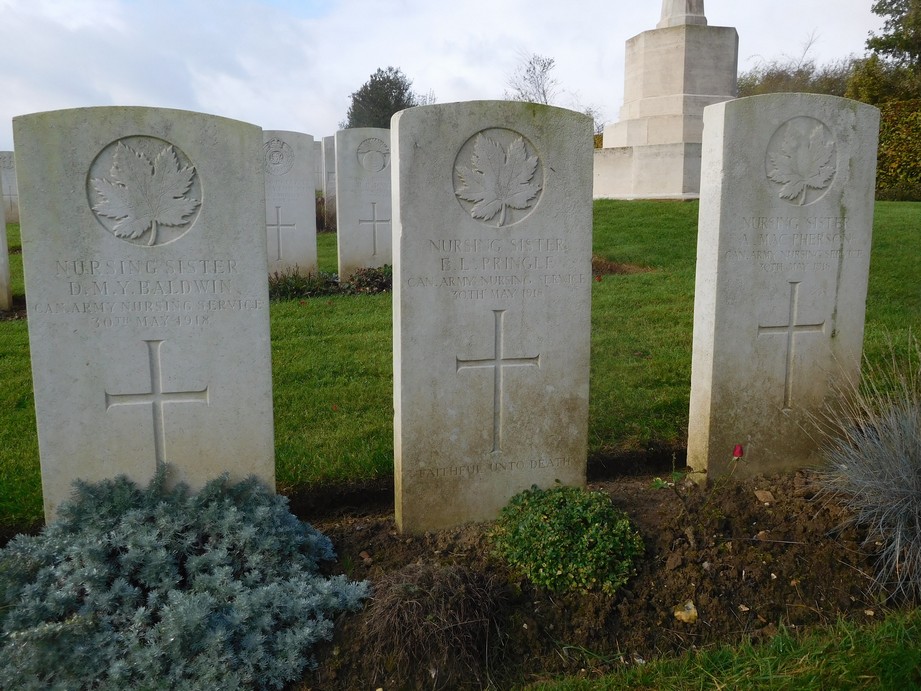 But first, we completed the reading of the names on the Tyne Cot Memorial (34942) (plus a separate visit to the New Zealand Memorial) (800). Our visit coincided with the 100th anniversary commemorations of Passchendaele and on the Sunday prior, we volunteered to serve tea at the Talbot House tent in the grounds of Zonnebeke Chateau; that's about as close as we got!
Photo right: three Canadian Nurses at Bagnuex CWGC cemetery, Gezaincourt.
August was as busier a month as we have encountered throughout our Pilgrimage, completing 74 visits. The small, isolated burial grounds, we planned a series of journeys based on clusters and circular routes to restrict duplication. Then to ensure we weren't permanently driving miles each day, we broke the routine with larger burial grounds. (See below as an example of our programme). In the end we realised that the distances from Kemmel was just getting too great; on one particularly Sunday we travelled over two hours to Turnhout Communal Cemetery (2), east of Antwerp!
A further generous offer to remain in Kemmel until the end of October was politely declined. We were due back home to "commemorate" my 60th birthday at the end of October, followed by taking up residence at our winter gite in November. We therefore opted to drive towards Namur so that we could tackle the fifty or so burial grounds of Hainut, and if things went as planned, we thought we might complete the remaining Belgian burial grounds around Brussels and Liege. Meanwhile we continued our visits from Kemmel with two memorable milestones:
On the 1st September we completed Dochy Farm (1439), a post war concentration cemetery. It brought to an end our Pilgrimage of the burial grounds and memorials to the missing of West Flanders. We have said "thank-you" to all the servicemen who fell and are buried or commemorated in the Ypres Salient.
Photo right: "Civilian Victims of the 1914-1918 war" at Red Farm CWGC cemetery
On the 11th September (and somewhat orchestrated) we visited St. Venant Robecq Road British Cemetery (479). Exactly 40 years ago to the day I walked in to this cemetery from the little cafe that used to occupy the corner plot. I was on a National Express coach en-route to Paris, before attempting to reach St. Etienne to watch a football match! It was my first C.W.G.C burial ground and unbeknown to a naive nineteen year old, would come to dominate my life in years to come.
On the 21st September, we made our last of three visits to Lille and its environs. The city was in German hands from October 1914 until liberated on the 18th October, 1918. Apparently the French were keen that the British did not destroy the city during First and Second Armies advance, therefore it was outflanked with the French allowed to enter the city first. Lille and its surroundings are a devil to drive around and sat-nav is so important to a smooth (or smoother) day, but we were glad to see the back of Lille!
Over the final weekend of September the owners of our proposed winter gite had invited us to stay there for a couple of days to ensure it was suitable; particularly for Nancy and her lack of mobility. The property, an old farm complex, is in the village of Buire au Bois on the Pas de Calais, Somme border; five minutes from Auxi le Chateau and fifteen minutes from Frevent.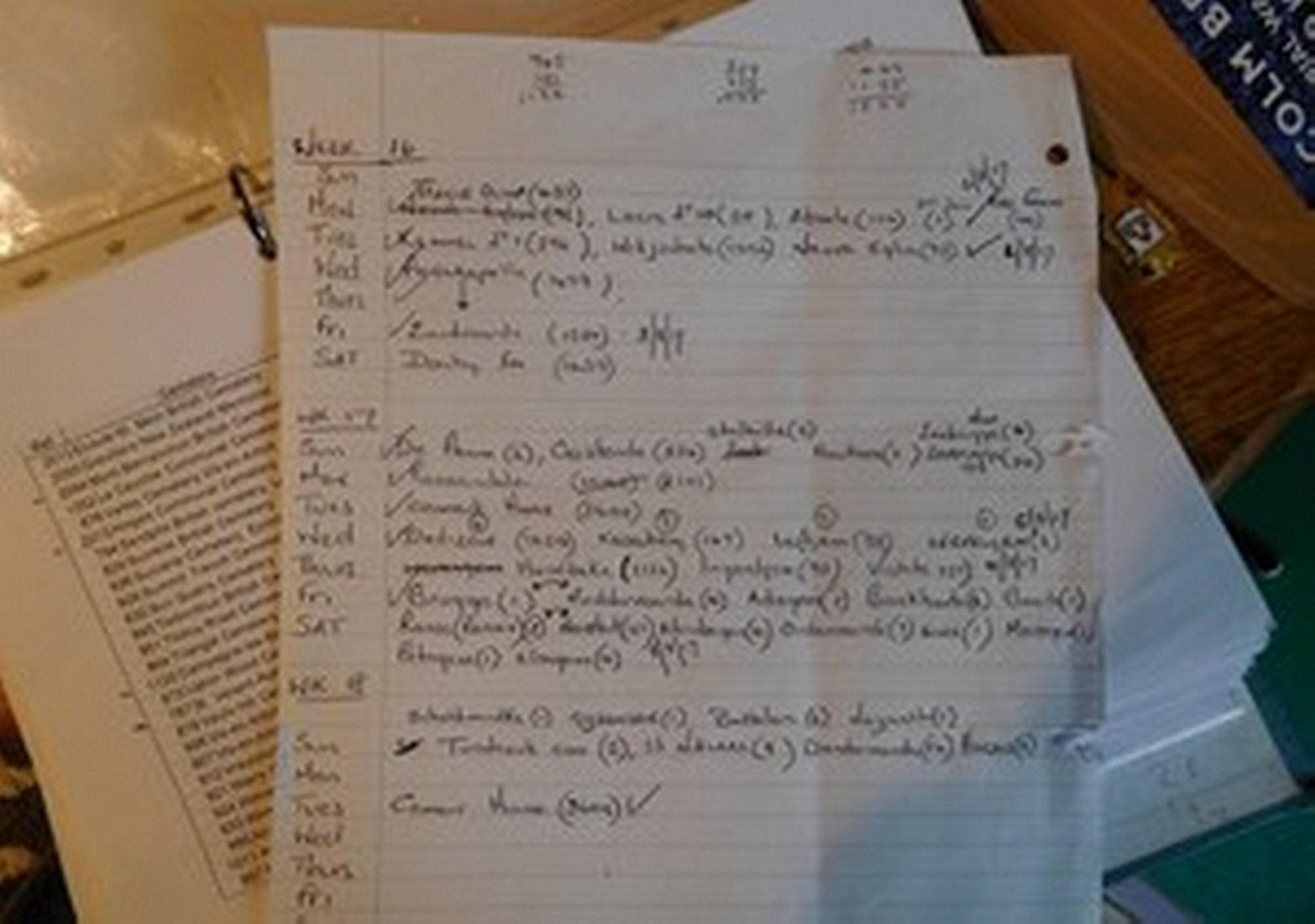 The weather was glorious and we took an instant shine to the property, so much so that we asked if we could come a month early, having arranged the storage of the caravan on-site. In truth once we got back to Kemmel we realised - after a couple of days of comfort at the gite – that after six months in the caravan we were tired of caravan life. So on the 1st October we departed Kemmel for Buire au Bois. Photo right: some of our working schedule
Unlike our previous gite in Morval, Buire has limited scope for visits. It is a sector which we have already visited, as it covered the back areas and lines of communication after Third Army came to the Somme in 1915 and GHQ moved to Montreuil sur Mer in March 1916. In 1918 in the wake of the German Spring Offensive, many medical facilities particularly Stationary Hospitals and Casualty Clearing Stations (C.C.S's) proliferated this region. Together with the usual isolated burials in churchyards and communal cemeteries, it meant that we would have around fifty burial grounds within an hours drive; Villers Bretonneux Military Cemetery (2146), was an hour and twenty minutes and was completed whilst the days were long enough in early October.
As I write this update on New Year's Day, we have completed thirty four of our target visits and will now in all probability leave the remainder until March, when hopefully spring arrives!
It has been our toughest year so far. Nancy's M.S continues to make both our lives difficult, and sometimes almost impossible. But we managed to visit burial grounds in twenty eight of the weeks we spent overseas, completing in total 268 visits. I read our first update that I wrote when compiling this latest one and I confidently wrote that we hoped to finish "sometime in 2018". Well, with around 820 burial grounds and memorials still to visit, I can safely say that it will be at least June 2020 when we complete our Pilgrimage; god willing.
Our winter retreat in Buire au Bois, with caravan under cover. The owners, Paula and Ray have lived in the village for twenty years and the barn and paddock behind me house two Shetland ponies, a race horse and a donkey.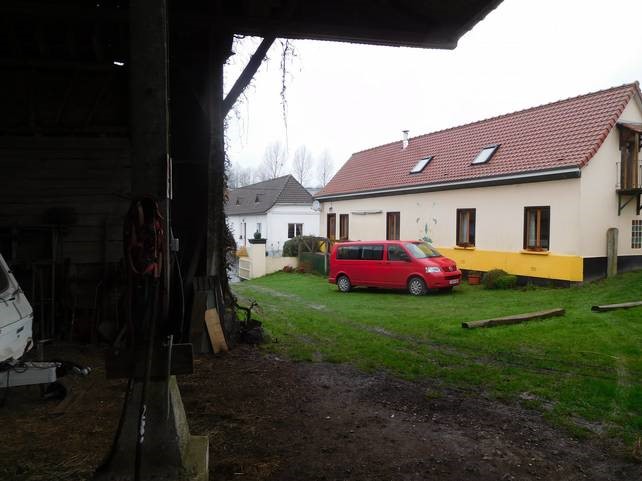 The closest British cemetery is Wavans British Cemetery, which is about ten minutes drive. Amongst the forty three burials are twelve R.A.F/R.N.A.S/R.F.C including Major James McCudden and the top Australian Ace, Flight Commander Robert Alexander Little. (Below). His epitaph makes reference to his son's nickname, "Bylmp", taken from the name he gave his aircraft.
Photo right: our quarters for winter 2017/2018
The single Commonwealth burial at Forest-Montiers churchyard of 4366 Private Luke Shanley, D squadron, 1/King's Dragoon Guards, who died of heart failure on the 30th January, 1917. Private Shanley, a regular soldier, enlisted at the age of 18 and was in India at the outbreak of war. Three other brothers served in the Great War; an older brother, Bombardier Peter Shanley, fell in the Boer War, Christmas Day, 1901. (Photo below)
I knew that as a Burnley lad his story would be well documented, thanks in part to our old friend, Dennis Otter (R.I.P). I wonder if Dennis ever got to Private Shanley's grave? Denis, if you didn't, we said "Thank-you" for you!
A lousy picture (at the end of the article) that doesn't do justice to the story of four servicemen who all gained the Albert Medal for their efforts to save the life of a corporal of the Royal Air Force. Two of the recipients were awarded their medals posthumously; Driver Alfred Horn and Private Arthur Johnston. Although Horn's grave is inscribed with his medal, Johnston's isn't! Not an isolated incidence (from previous burial ground visits) and something that the CWGC are aware of and are working to correct, both the engraving of the award on the serviceman's headstone and the citation in the cemetery register. The above soldiers are buried at Crouy British Cemetery.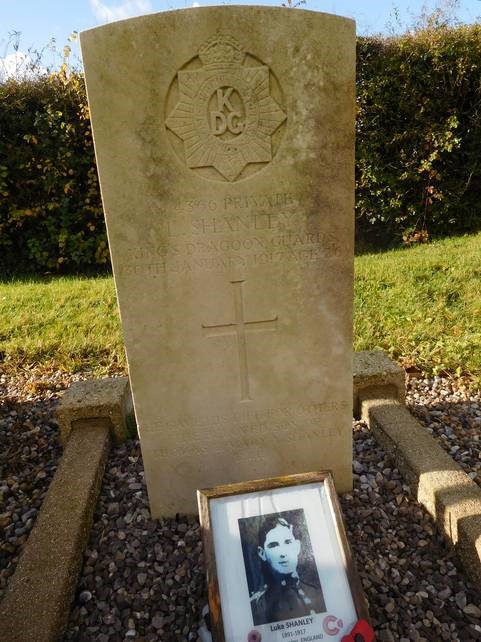 Bagneux British Cemetery (Gezaincourt), close to Doullens. The cemetery was opened when several Casualty Clearing Station's arrived at the close of the German Spring Offensive. The old railway line was used by troops of Rawlinson's Fourth Army on their move from rest to the front line via Amiens and no doubt in 1918 to take the wounded to the coast.
In plot 3 row A, are patients, nurses (photo above), doctors and orderlies, who died as a result of a German air raid on the Canadian Number 3 Stationary Hospital (housed in the citadel at Doullens).
Above is the headstone of three civilian's buried at Red Farm Cemetery*, close to Vlamertinghe. The cemetery contains 46 Commonwealth burials (14 unknown), many we noticed with the date 27th April, 1918. Further research revealed that there had been an explosion at Hagle Dump, caused by enemy artillery fire. The Dump was close to a Field Ambulance and several billeting camps, including Dirty Bucket and York Camp. The explosion and subsequent fire killed at least 42 servicemen, including 19 from the 10th Royal West Kents and 14 men from the Royal Garrison Artillery. Photo right: Private L Shanley
Eye witness Private Fred Dixon describes the sector and the explosion (Stand to magazine, Dec. 1982)…….."On the corner was a solid farm house and a C.C.S [likely a field ambulance at Red Farm] behind which was an ammunition dump [Hagle Dump]. Further along the Dirty Bucket Road [on which lies Hagle Dump Cemetery] on the right was a line of houses occupied by civilians, whilst on the left and beyond the farm, was a wooden shack from which two Belgian girls served egg and chips. ……… Private Dixon describes the moment of the explosion……."we found the farm house had taken the shock from us and the sandbagged roof the rest. The C.C.S did not exist, the civilian houses were shattered…...The wooden shack had disappeared along with the two girls. Half way down the crater [made by the explosion] was a baby's pram".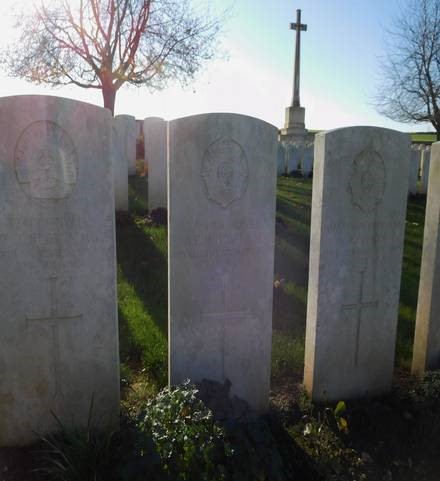 *On further research [ww1wargraves] the original plan of Red Farm Cemetery had written; "4th grave along, three Belgian civilians; 2 adults and 1 child. Those killed at the field Ambulance and the artillery men were buried at Red Farm. The 10/Royal West Kent men were buried in what became Hagle Dump Cemetery. Their graves being the first.