St Tysilio Cenotaph: Private J. Roberts, 17th R.W.F., 12th July 1916, France
Private John Roberts Royal Welsh Fusiliers, 17th Battalion, no 25349
John Roberts was born in Llanbedrgoch to Margaret Jane and Hugh Roberts who later lived at 18 Druid Road in Menai Bridge. On the 1911 Census the family lived at 20 Druid Road, a house of 3 rooms. Hugh Morris Roberts was 36, as was his wife Margaret; Hugh worked for LNWR as a Platelayer. John was 18 and working as a Farm Labourer, Ellen was 10, Robert 6, Richard 3 and David 1.
When he signed up with the Royal Welsh Fusiliers, he may well have encountered Lt Col Charles Dixon or Henry Rees Davies (a son to Richard Davies of Treborth), local Recruiting Officers.
The action of the 17th RWF at Mametz Wood is famous, sadly because of the loss of life amongst the Welsh troops but also because of the legacy of David Jones, an artist, who wrote the poem 'In Parenthesis' many years later. David Jones was with the RWF at Mametz and it haunted him for the rest of his life. Troops were advancing through the semi darkness of a wood, having to cope with the uneven ground under their feet and the firepower of the Germans facing them. Nowadays the site is marked by an elevated statue of a Welsh dragon tearing barbed wire in its claws. This memorial by David Peterson was placed in an open position, facing the wood, in 1987.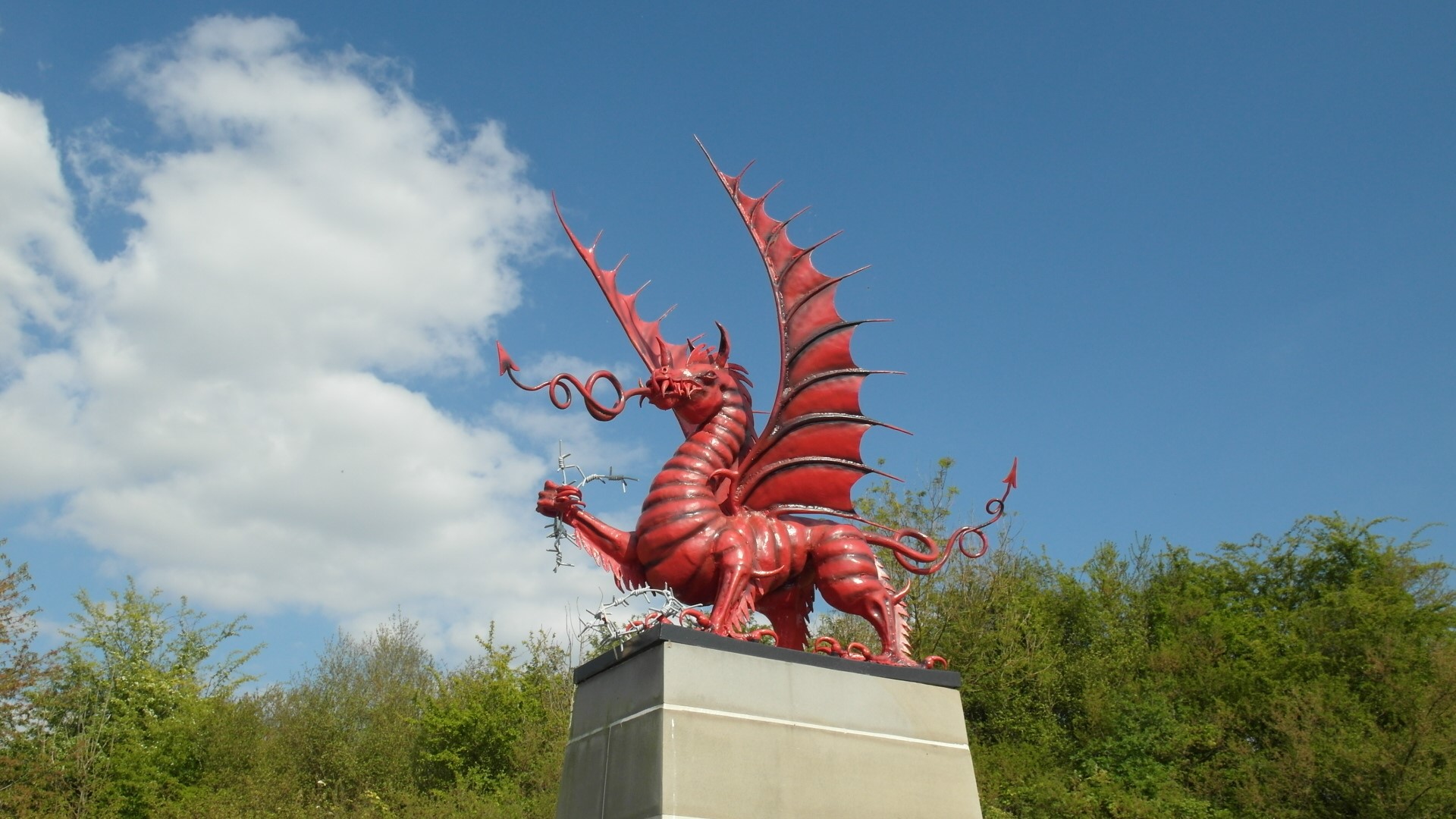 Memorials
John is remembered on the family grave on St Tysilio Menai Bridge (Church Island): Er Serchog Gof Am Hugh M Roberts 18 Druid Road, Menai Bridge. A fu farw Medi. 19, 1950. Yn 76 mlwydd oed. "Eu hûn mor dawel yw". Hefyd ei annwyl briod Margaret Jane Roberts A fu farw Tach. 17, 1959, yn 85 mlwydd oed. Hefyd John Roberts, A laddwyd yn Ffrainc 1914-1918. yn 23 mlwydd oed. "Hedd Perffaith Hedd."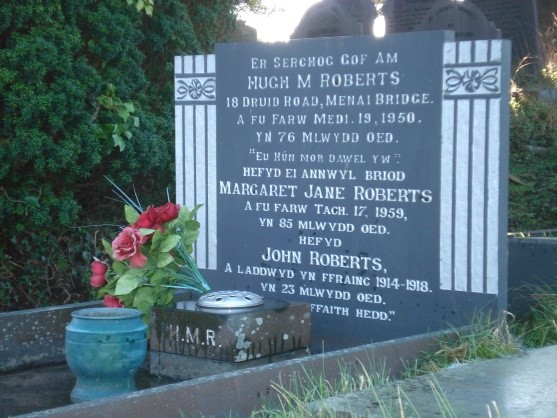 (Also John Roberts, killed in France 1914 – 1918, 23 years of age 'Peace, Perfect Peace'.)
On the St Tysilio Cenotaph, he is listed: Private J. Roberts 17th R.W.F. 12th July 1916 France
Memorial Arch, Bangor, Parish of: Llandysilio - Roberts, J.
In the RWF Roll of Honour, pg 373: 17th Battalion - Roberts, J., b. Llanbedrgoch, 26349, Pte., k. in a. F., 12/7/16.
(Roberts J, born Llanbedrgoch, Number: 26349, Rank: Private, killed in action in France, 12/7/16.)
In the Welsh National Book of Remembrance, Royal Welch Fusiliers 17th Battalion, page 424: Pte John Roberts - Llanbedrgoch
Commonwealth War Graves Commission: J. Roberts - Rank: Private - Service No: 26349 - Date of Death: 12/07/1916 - Age: 23 - Regiment: Royal Welsh Fusiliers 17th Bn. - Son of Hugh and Margaret Roberts, of 19, Mount St., Menai Bridge, Anglesey – Commemorated: Thiepval Memorial in France
Photos of Dragon at Mametz and family grave courtesy B Geoghegan