The Dragon's Voice
Hello. In this edition, we have the some photos relating to the article by Keith of his North Wales meander, an article on Kut, and some book reviews. As ever, I am grateful for the "day by day" material that Jim Morris produces and which he lets us use for the Facebook page.
Trevor
The Programme for 2016
March 5th - Territorial Force 1908-1919 - Paul Knight

April 2nd - Three Vicars in the Great War - Martin Hornby

May 7th - The Easter Rising - Denis McCarthy & Trevor Adams

June 4th - Lionel Rees VC - Alistair Williams

July 2nd - General Sir Horace Smith-Dorrien - Arthur Aston

August 6th - Lesser Known Heroes of WW1 - Andy Johnson

September 3rd - Profiles of the Great War, Silhouettes of Captain Oakley - Jerry Rendell

October 1st - Lord Ninian , 6th Welch and the Battle of Loos (Two weeks in the life of a Welsh Battalion on the Western Front) - Marietta Crichton- Stuart

November 5th - Mountaineers in the Great War - Anne Pedley

December 3rd - Branch Social
Last month's speaker (February)
Richard Pursehouse came to talk to us about his dog which discovered on Cannock Chase a long-forgotten model of the battle of Messines. It seems that the model had been constructed as part of an army camp that was on the Chase in WWI and which has long since been demolished. The model was to commemorate the role of the New Zealand forces in the battle, and if you have ever visited Messines itself you will know the New Zealand memorial there on the ridge, with the two German pill boxes in front of it. The New Zealand military attache in London had been to visit the model when it was uncovered, and has given the group much support since. The model has now been buried again to preserve it. Richard and his pal Lee Dent are the key movers in the project which has its own site at www.thechaseproject.co.uk
North Wales Meander, Appendix
Keith Walker
Further to my account of David Lloyd George's family and friends in WWI that has appeared in the last two issues of this newsletter, I now have some photos to add. Thanks to our intrepid pilgrims, Steve and Nancy, we have a photo of the grave of Captain Hugh Powell Williams at Wicres churchyard. Captain Hywel Williams is commemorated on the Thiepval Memorial.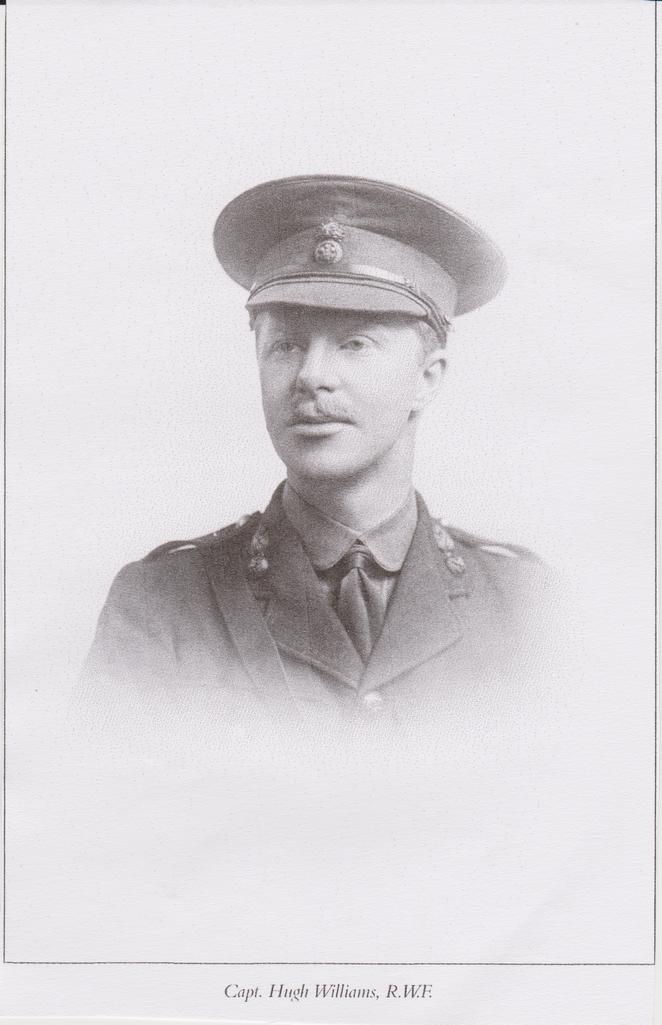 Capt Hugh Williams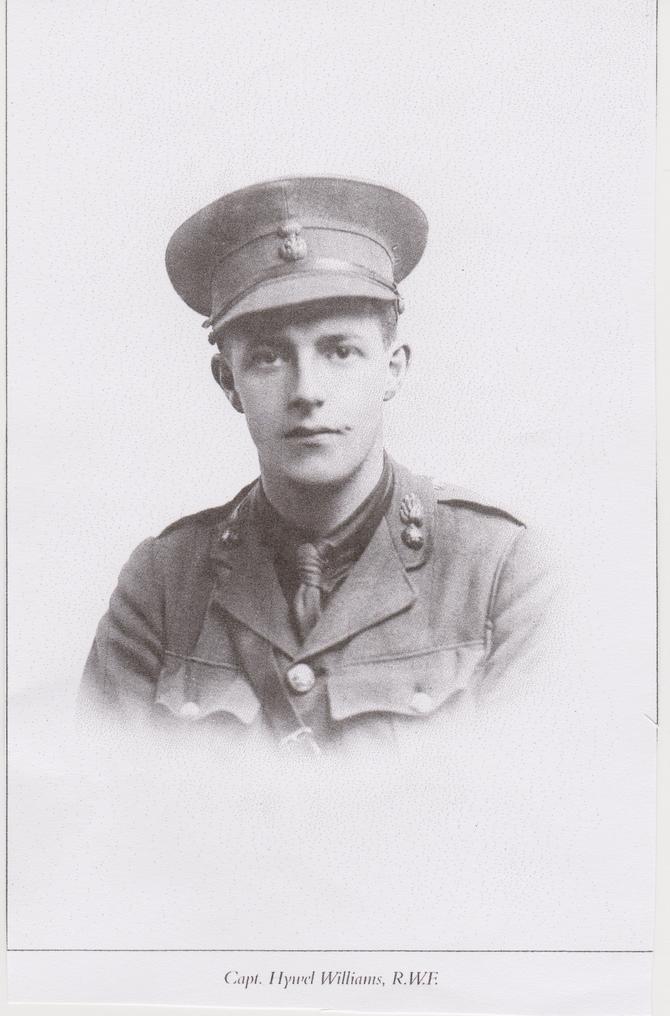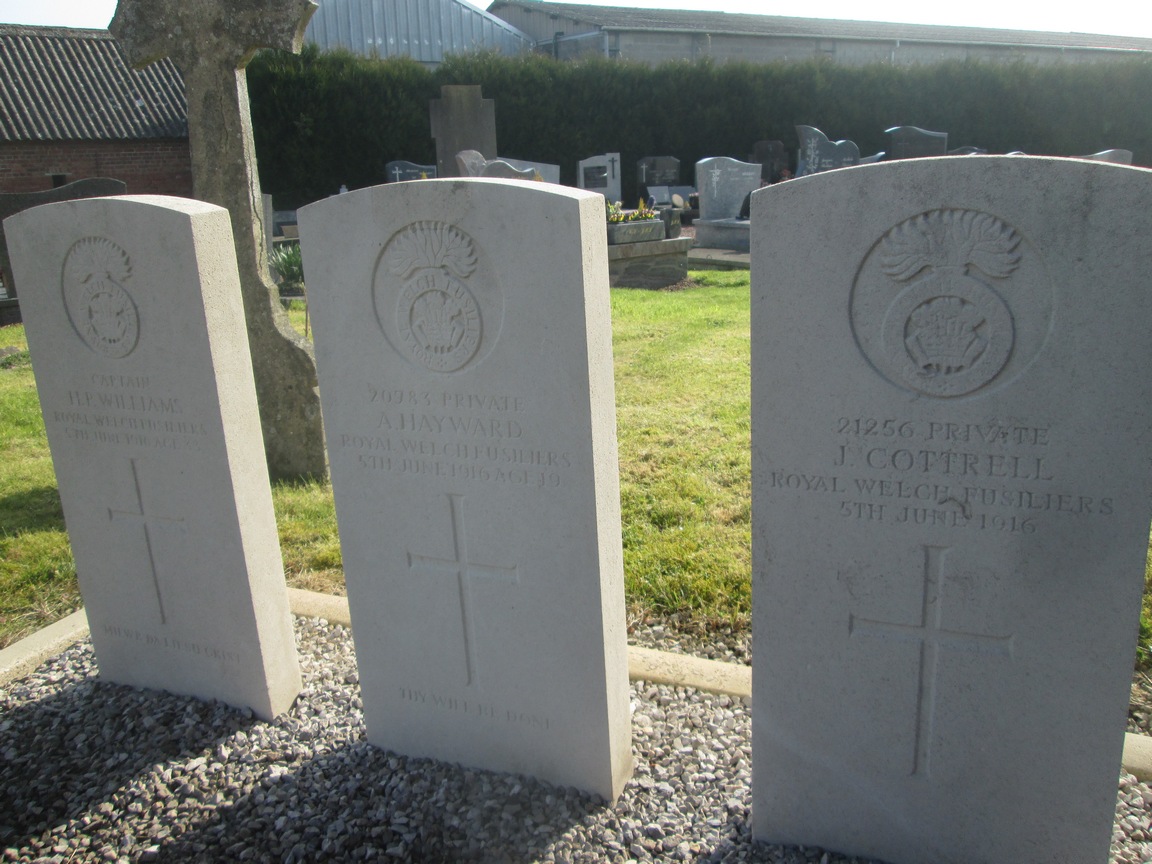 Capt Hywel Williams (above)
Wicres cemetery: Capt Hugh Williams' grave on the left
100 Years Ago This Week
March 1916, Kut-al-Amara
Caroline Adams
By March 1916, the siege of Kut was entering its third month. Shortages of food and medicine were taking an increasing toll on the troops and pressure was mounting on Lieutenant General Aylmer to achieve his objective of defeating the Ottomans on the Tigris and relieving Kut. Throughout February, his reinforcements had been arriving in Basra, but in such a disjointed way that troops were delayed, sometimes for several weeks, waiting for their artillery and horses. Inadequate numbers of river boats meant that many then had to march the 200 miles from Basra to the British front line near Kut. At the same time, the Ottoman troops were also being reinforced and Aylmer had to try, with very incomplete information, to judge the moment when the balance of numbers on each side was in his favour.
Aylmer decided on early March and planned a surprise, overland attack on the high ground of the Dujaila redoubt, the last Ottoman defensive line to the south of Kut. Late on 7th March, the Tigris Corps set off over unfamiliar, rough ground on a night march to take up position for a surprise dawn attack. By sunrise, however, they were still 4,000 yds short of their objective. From bitter experience, Aylmer knew the risks of storming Ottoman trenches over open ground and held his troops back to allow artillery bombardment. What he did not realise, however, was that the Dujaila trenches were, in fact, empty and the bombardment alerted the opposition and allowed them time to bring every unit in the area into Dujaila. One unit, made up of conscripts from Iraq, was of questionable 'discipline, order and training'. The commander, Ali Ibsen Bey, is quoted as saying 'I told them I would execute anyone who attempted to run away, and knowing my reputation from the Caucasus front, everyone believed me.'
Watching thousands of British and Indian attackers crossing the plain below, even experienced Ottoman troops wondered how they could stop them, but they managed to hold their line till their reinforcements arrived in the afternoon. After their night march, the British fought from early morning to evening without progress and were forced to withdraw. Their casualties were nearly three times those of the Ottomans. The despair within Kut must have been terrible. Their rescue had seemed so close and now, in the words of the diary of their chaplain, Rev. Spooner, 'It was cruel to know our Relieving Force had failed again.'
It is perhaps worth mentioning that the Russians were also supposed to relieve Kut but stayed 100 miles away and did not move until after the surrender. Perhaps another WWI example of "The Russians are coming" but they never did?
The Ottoman commander Halil Bey tried to capitalise on this despair by inviting General Townsend to surrender Kut. Although Townsend declined, in his next report to London, he asked permission to enter negotiations with the Ottomans unless the siege could be broken by 17th April, when his food supplies would be exhausted.
Reference
Eugene Rogan, The Fall of the Ottomans
Sean McMeekin, The Russian Origins of the First World War
Book Reviews
Keith Walker
Three of the battlefield guides that I have got to know over the past few years have written two excellent books. The first is:-
Trapped behind enemy lines
John Anderson and Victor Piuk
Pen and Sword 2015
John Anderson lives with his wife Kath on the Somme. He has been a battlefield guide for a number of years. He is a member of the Guild of Battlefield Guides.
Victor Piuk is a former journalist and author of a number of books. His speciality is WW1 poetry.
Victor runs a guided tours business, Skylark Battlefield Tours, and a bed and breakfast at Les Alouettes, 10 Rue du Mantier, 80360 Hardecourt aux Bois, Somme, France (www.lesalouettes.net) with his wife Diane, who is also a battlefield guide.
The book starts when John Anderson and his wife Kath visit a sort of flea market in Etaples. At the market they find a testimonial that was presented by the Lord Mayor of London on behalf of the readers of the Daily Telegraph at the Mansion House to Madame Julie Celestine in 1927. It was a beautiful piece of work that had been framed and must have had pride of place in her home.
John and his wife take this testimonial home, and show it to some of their friends. It is at these meetings that the story starts to unfold.
It is a story of soldiers trapped behind enemy lines. Soldiers who are over run on the retreat from Mons in 1914 and are hidden by brave French families. The book is about loyalty and betrayal, love lost and found. The book has a wonderful selection of photographs. This excellent well researched and well written book sits well with Ben Macintyre's "A Foreign Field" (Harper Collins 2001) on a subject little known of WW1. It is a very good read.
The second book is:
Subterranean Sappers
A History of 177 Tunnelling Company R.E
From 1915 to 1919
Iain McHenry
Uniform Press 2015
Iain McHenry was born in Belfast. He is a former soldier. Iain served in the Royal Military Police and it was when Iain was at the NATO base outside Mons, that his interest in WW1 started. Iain has worked on many archaeology projects including the tunnels at La Boisselle on the Somme. Iain lives in Ypres and runs his own tour company www.trenchmaptours.com.
This remarkable book is well researched and very well written. In its 247 pages which are full of maps and diagrams of the tunnelling company, some of the information and stories that the author brings out of this secret and dangerous work make us realise how brave these men were. The conditions they worked in were incredible. But the tunnels and dugouts they built are engineering masterpieces.
One of the stories is of how the Railway Wood Memorial came about, and indeed it is special to me because we have a local soldier on that memorial.
Iain has produced a book on a subject we know little about. It does justice to the memory of these fine brave men who fought a war with a shovel. It is a very informative read.
New memorial at Gwersyllt
The Broughton District History Group is holding a dedication of a headstone to the four children killed by a "souvenir" shell brought from France in 1916. The commemoration will be held on the 9th March 2016 at Gwersyllt Church at 2 pm.