Benllech War Memorial: Hy. W. Hughes, Brynhyfryd, Awst 25, 1917. (S.S. Cymrian)
Captain Henry William Hughes, Mercantile Marine
Captain Henry William Hughes was a career merchant seaman, described as a 'Captain' on his family grave, he is remembered as 1st Mate on official memorials.
He was the son of Capt Thomas Hughes of Bryn Hyfryd, Tynygongl and his wife Elizabeth. It seems that he followed in his father's steps in the Merchant Navy, so he will have been a very experienced seaman by the age of 48. He was born at Dinas, Llaneugrad; his family lived at Brynhyfryd, Llanfair-Mathafarn-Eithaf, usually known as 'Llanfair M E'. He was married to Mary Hughes who ran the Post Office at Trevor, near Chwilog.
The Cymrian is described as a 'defensively armed' cargo boat; it was carrying coal from Newport in Monmouthshire to Dublin. It was off the coast of Ireland, near Wexford when it was torpedoed by U Boat 75. The Cymrian was hit amidships and sank almost immediately with 10 crew lost. Those who survived were firstly questioned by the U Boat Captain, S Lohs, before being taken onboard the Russian steamer Odessa and landed in Larne, Northern Ireland. Another of those lost from the Cymrian was John Rowlands age 19, from Trevor Caernarfonshire, very close to where Henry lived. John Rowlands was a nephew to Henry Hughes.
Another part of the story which I found on an internet chat room was that after they had been hit, John Rowlands went back into the ship to rescue his uncle. Sadly both of them died. The CWGC records say: 'Drowned, as a result of an attack by an enemy submarine', 25th Aug., 1917.
The National Museum of Wales, in its Online Collection, shows a painting of the SS Cymrian entering Bristol Docks. It was painted by Terry F J Rogers, who had served with the Royal Navy in the Atlantic and Arctic Convoys of WWII.
Memorials:
On the family grave, churchyard of St Pedr, Llanbedrgoch Churchyard: ErM annwyl am Capt. Thomas Hughes Bryn Hyfryd, Tynygongl yr hwn a hunodd Ebrill 5ed 1899 yn 64 mlwydd oed. "Yn nghanol ein bwyd yr ydum yn angeu". Hefyd Capt. H. W. Hughes mab yr uchod gollodd ei fywyd gan ffrwydriad, or Ger (man) Submarine Awst 25 1917 yn 49 mlwydd oed. Hefyd Elizabeth Hughes priod a Mam yr uchod a hunodd Gorph 11 1927 yn 84 mlwydd oed. "Ni freesia yr hwn a Gredo".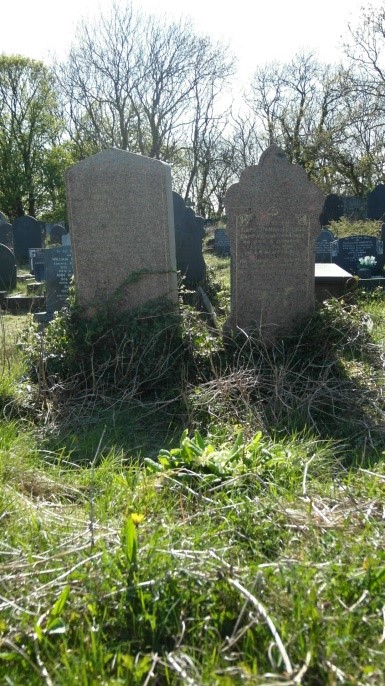 (Also Capt. H. W. Hughes son of the above who lost his life by an explosion from a Ger(man) Submarine Aug 25 1917 at 49 years old.)
Churchyard of Sant Aelhaern, Llanaelhaearn: Capt H. W. Hughes, Post Office, Trevor. Drowned at sea in SS "Cymerian" through enemy action, Aug 25, 1917 aged 48. Also his wife Mary Hughes died April 15, 1923 aged 54. Also their daughter Jane Mona Hughes died June 28, 1910 aged 22.
Benllech War Memorial: Codwyd y Colofn Hon Am y Gewrion O'r Benllech a'r Cylon A Aberthodd eu Bywydau Yn y Rhyfel Mawr - Hy. W. Hughes, Brynhyfryd, Awst 25, 1917. (S.S. Cymrian)
Welsh National Book of Remembrance page 13: 1st Mate H. W. Hughes Anglesea - Cymrian.
North Wales Heroes Memorial Arch in Bangor, Parish of: Llanfair Mathafarn Eithaf - Hughes, H. W.
londonremembers.com: Henry William Hughes - Monument: Mercantile Marine Memorial – WW1 - Rank: First Mate Unit: S. S. Cymrian (London) - Regiment: Mercantile Marine - Died 25-08-1917, age 48 - Cause of death: Drowned, as a result of an attack by an enemy submarine
Notes: Son of Elizabeth and the late Thomas Hughes; husband of Mary Hughes (nee Roberts), of the Post Office, Trevor, Chevilog (sic) Carnarvon, N. Wales. Born at Dinas, Llanengrad, Anglesey.
naval-history.net: Saturday, 25 August 1917 - St George's Channel - CYMRIAN, 1,014/1905, Golden Cross Line, London, 1-6pdr HA, 19 crew, Mr W Roberts, Newport (Mon) for Dublin with general cargo, steaming at 8kts. Torpedoed by UC.75 (Johannes Lohs), sank 13 miles SE by S of Tuskar Rock (wi - in 52.04N, 05.55.30W); 10 crew lost (H/L/dk/te/un/wi)
Commonwealth War Graves Commission: First Mate Henry William Hughes - Died: Saturday 25.08.1917 - Aged: 48 - S.S. "Cymrian" (London) Mercantile Marine - Son of Elizabeth and the late Thomas Hughes; husband of Mary Hughes (nee Roberts), of the Post Office, Trevor, Chevilog, Carnarvon, N. Wales. Born at Dinas, Llengrad, Anglesey. - Tower Hill Memorial (Chevilog = Chwilog)
The War Graves Photographic Project: he is commemorated on the family grave in the Churchyard of St Aelhaiarn, Llanaelhaiarn (Llanaelhaearn)
Photograph of family grave in churchyard of St Pedr, Llanbedrgoch, courtesy B Geoghegan