Some Kind Hand, September/October 2015 Pilgrimage
Steve and Nancy Binks
Nancy and I arrived back on Tuesday after what was our most difficult tour to-date and brought to an end our association with our first caravan. As usual we set ourselves a big challenge; it wasn't the number of proposed visits but the sheer distances that would be involved; I reckoned on about 5,000 miles. In the end, we fell short but still covered 3,600 miles.
This tour was going to be a little different and would essentially be a "mop-up" of the remaining burial grounds of 1914, 1915 and 1916, but would include two customer tours, a visit to Loos for the 100th commemorations and 3 days at the CWGC headquarters, Maidenhead. With the need to be at a certain place at a certain time, we had to break down our proposed burial ground visits in to three groups which were grouped thus:
Calais – Brittany & return (six days & 11 visits)
South coast and mid France (five days & 7 visits)
Belgium (four days & 15 visits)
After three days at Maidenhead, we crossed to France on Thursday 17th September. Our intention was to take the vehicle and caravan direct to the burial grounds and ignore the usual campsites. Firstly, we headed for Blargies, but our journey was cut short by problems with our 12-volt system which we so desperately needed, so that we could travel from one location to another and of course sleep on the hoof. Having bought some candles, we needed to pull up for the night before it got dark so that we could avoid cooking by candlelight.
After Blargies (the following day), we travelled to Forgies-les-Eaux, but had left the caravan on the service area where we had slept. I had started to have reservations about carting a caravan in to unknown towns; in truth I had bottled it! And later in the day having moved the caravan to another services, we drove the short distance to Bois Guillaume, Rouen.
Throughout the following days and because of time constraints I got a little braver and started to drive closer to our target visits, so on Sunday morning having overnighted at Erquy (Cote D'amour) we drove to St. Bruiec, only to arrive on a day when there was a festival that started with a cycle ride for all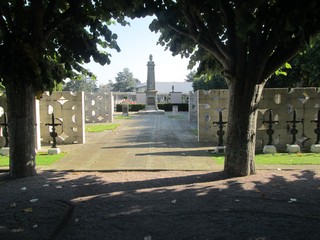 the family, leading to the usual "Route Barree"!The next hour negotiating the usual poorly signposted diversion WITH caravan was a nightmare. We eventually managed to find a parking space big enough and then set off on foot (and wheel-chair) in search of the cemetery. If you have been to St. Bruiec you will know how hilly it is. I can honestly say it was the steepest and longest hill I have ever attempted. At one stage Nancy had to get out and struggle on foot! There were many moments throughout this particular Pilgrimage that demonstrated our determination to see it through; the visit to see the grave of Private George Sherlock (2/Royal Innis. Fus) was one such moment. (see photo above and on the left)
The rest of the day was spent trying to get out of St. Bruiec and driving (probably the most boring road in the world) to Brest and on to our overnight stop for two nights at Le Conquet. From here, the following morning we took the 90 minute ferry to the Ile D'Ouessant; a cross between Whisky Galore and Craggy Island. On arrival, we caught the shuttle bus to the principal town of Lampaul, along with most of the other visitors. Here, in the churchyard are buried five servicemen: three sailors (two Mercantile), Captain Samuel John Green (15th February 1916) and Reverend Donald George Macphail (27th June 1918). The last named was a casualty of HMS Llandovery Castle. (see photo to the left and below).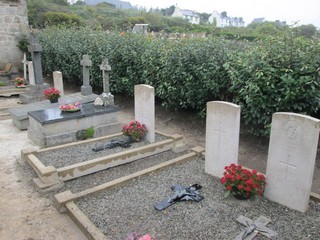 After the luxury of two nights with electric hook-up, we departed Le Conquet on Tuesday morning (22nd Sept) and returned along that long, dull, boring road towards Caen and our destination, Cimetiere de la Trinite, Falaise, in the department of Calvados. The journey had gone very well and we were buoyed up by the prospect of completing all visits on this leg before our first deadline: Thursday 24th, when we had to be at the camp-site in Aubers (Nord).
Falaise was the usual understated French town with a beautiful chateau, which occupied a central location in the town. We hadn't intended to visit the narrow streets around the chateau but I took the wrong turning (following the hospital signs) and then asked for directions, as the chateau loomed large to our immediate front! The Frenchman insisted that the narrow streets WERE drivable for both vehicle and caravan, so with his instructions fixed in my mind off we set… over cobbled streets! It was very unpleasant as every bump could mean ANOTHER caravan problem. Finally we came across the circus that monsieur had mentioned; and there he was, directing us furiously with his hands. "Merci", I shouted.
The cemetery was close to the hospital and of course there was no parking spaces; certainly not for a vehicle and caravan. However, I managed to find a side street and parked outside some residential properties (illegally) and then set off on foot. Here, in the centre of a small but ornate French military plot was buried Pioneer H. Carr, Royal Engineers, who died 26th September 1916.
After one final visit late in the day to L'Aigle in the department of the Orne, we headed for an overnight stop, somewhere on the way to tomorrow's first visit, La Loupe in the department of Eure et Loire. After such a long drive, we were both very tired and the journey to find a stop seemed to go on forever and darkness was closing in. Finally at the Foret de la Ferte-Vidame, we slipped off the road, carefully avoiding the gated entrance to the forest rides.
What greeted us almost brought us to tears. The gas cupboard door had come off both its brackets but miraculously had wedged itself under the jockey wheel control! Meanwhile in the caravan one of the cupboards had slipped its bungie and the contents of the cupboard had emptied themselves over our settee (and bed). It just happened to be the cupboard with our cooking spices. The chilli powder had popped its lid all over the place! It was one of many low points during the tour.
With the gas cupboard sealed up with "duck tape" we headed for La Loupe; by now getting very cocky, driving straight in to town, stopping traffic and asking for directions. Today was another day and our spirits lifted as we headed away from our last visit at Mantes (La Jolie), Yvelines, west of Paris, knowing that we would make Aubers this (Wednesday) evening!
I am wary about driving vehicle and caravan around Paris, but have done it several times. My sat-nav is well out of date and is not reliable enough to navigate Paris, so one has to rely on good signage. Unfortunately, I missed one turn and ended up driving towards the Arc de Triumphe. Quickly I spotted the route back on to the Peripherique and almost cut Monsieur Angry in half. Tough - I gave him a five second indicator! The rest of the journey was smooth and enjoyable, reflecting on six very tough days. That night over several glasses of wine and comfortably hooked up in Aubers we planned our remaining visits, either side of our visitors.
The hot and cold water supply to the kitchen stopped that evening; not sure if the tap was broken or there was a massive air block in the pipe, but the shower still worked. Somehow we didn't fancy washing the pots in the shower, so used the camp facilities. With the electric connection to the pump working intermittently (and the shower essential for Nancy) we realized that the caravan had had its day! As a minimum for our remaining days the caravan would have remain on a site.
We had already ruled out caravan visits to the south of France and those burials around central France. We did contemplate a flight from Lille to Marseilles and car hire, but with the cost of accommodation it was too expensive; the visits would have to wait.
The following day, we rested and then late afternoon prepared to meet our friend who was on a Leger battlefield tour but wanted to visit a cemetery off their itinerary. Just as we were about to leave to meet up at Dud Corner; the tours last stop of the day, we got a phone call to say that the coach had broken down close to the Hohenzollern. Our friend had crosses to lay at Dud Corner and St. Patrick's Cemeteries, after which we enjoyed our first meal out for two weeks and took her back to her hotel at Lille airport.
We visited several sites around Loos the following day (25th September) in preparation for a small group tour I was running from Saturday – Monday. It included attendance at Loos British cemetery for the 100th anniversary commemorations which were slightly disappointing; I had expected a larger Scottish representation.
After the tour, we had nine days to fill before our friend would be coming over for a five day tailor-made tour. We would be picking her up from Lille on Thursday the 8th October and leaving France on the 13th October and would be taking her home.
With several distant visits ruled out, we turned our attention once more to Thiepval and the Memorial to the Missing. On Tuesday 29th September, we left Aubers and headed to the velodrome campsite, Albert. We recommenced reading the names the following day; pier 7 face B, the South Lancashire Regiment. The weather was kind and although all the old problems of reading the names on the memorial remained, by the end of the day we had read and thanked up to the Berkshire Regiment; six panels completed. A calculation based on similar results over the following days indicated that we would STILL not complete the reading on this visit! However, we persevered and by Friday night having read up to eight hours a day, we realized that a good day on Saturday would see us complete the reading.
Those last panels, facing out to the cemetery were by far the hardest to read. Although the type face is bigger, you are standing much lower which means you are craning your neck much more. However at 5.30pm on Saturday 3rd October we signed the visitor's book: "Some Kind Hand came to say thank-you".
On completion of the Menin Gate, we became quite emotional but reading Thiepval came more as a relief; only now as I write this blog do I realise what we have achieved!
There was no resting on our laurels and the following day we set off for the Jeugstadion campsite in Ypres. We would remain here for the arrival of our friend but prior to her arrival we had 15 visits to do in four days; INCLUDING the Sunday we arrived: Voormezele churchyard (1), Suffolk Cemetery (47), Zandvoorde churchyard (4), Menen C.C (14) and Boezinge churchyard (1). Here, we were disappointed to note the condition of Captain Edward Urquhart's headstone and grave close to CWGC headquarters.
Next day, we covered Veurne (2), Dunkirk Town cemetery (459) and early in the evening Watou (12). We hadn't set off until 2.00pm having discovered that we had a slow puncture, ironically caused by a caravan shedding small screws across our pitch! The puncture turned out to be a lucky break. As I attempted to free the spare from underneath the vehicle, the bracket sheared with the nut still in place and the wheel fell to the floor. Vibration could have had the same effect and possibly disappeared under the caravan! It needed the Belgian RAC to sort it.
The visits planned for Tuesday and Wednesday were spread across Belgium far and wide and we settled for an overnight stop. The journey would take us to the larger cities of (in order) Gent, Antwerp, Liege and Brussels. We visited two around Ghent: Ghent Town (86) and Eskaarde (9). Here, we ran in to delays trying to understand the difference in Flemish diversion signs: omeiling and weglomling. However, the real problem of the day surfaced in Antwerp. I made the mistake of using my out of date sat-nav to find "Krijksbaan"; probably the equivalent of typing "East Lancs". I called home for help (the CWGC, Maidenhead). Michael, who I had met a couple of weeks earlier helped us with our navigation by informing us it was close by the airport and railway bridge in the district of Mortsel. He also directed us to what was to have been our second visit in Antwerp; Bercham, which we found with little trouble.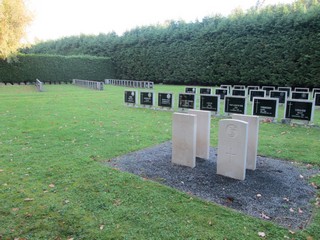 It was over four hours after speaking to Michael that we finally stood at the grave of Sub-Lieutenant Edwin Manners Ridge (Benbow battalion, died 8th October 1914). Research will hopefully enlighten us to why he is buried in what seemed to be a reasonably new burial ground – Cantincrode (see photo to the left). The single burial was located amongst Belgian veterans. The delay was mainly due to road works which prevented access to the only road in and out of the cemetery, which was wedged between two railway tracks. The only way to access the cemetery was under the cycle tunnel and along the railway tow path and through the back of the cemetery; information given by a local tyre garage and newsagent. It was 6.30pm when we left Antwerp with a further 90 minute drive to Liege, where we were booked in at the Best Western; by god the Duvel's went down like lead balloons!
We stayed local the following morning to complete the visit to Robermont Cemetery (49). Its military plot contained POW's from the Empire, Belgium, France, Italy and Russia. The German plot had an interesting memorial, which I found unusual to be located in a communal cemetery. The single page visitor's book went back as far as 2009, so I was surprised and pleased to find some newly erected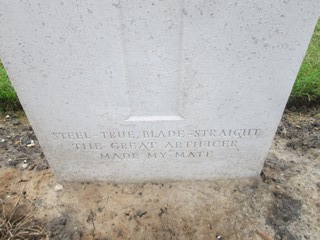 CWGC information boards explaining the POW issue.
Next was Brussels and Ixelles communal cemetery, which we found with remarkable ease; pity about the hour it took to get out of Brussels! Ixelles was reported to contain the burials of 13 British servicemen and the direction to their whereabouts we followed to the letter, or did we? Not a sign of them. After half an hour I went back to the bureau to check the cemetery records but without a name Sub Lt Manners-Ridge in a Belgian cemetery the assistant could not do a look-up for me.
So, I telephoned the CWGC and requested several names of the burials and a confirmation of their location amongst the Belgian military burials. To my surprise the assistant did not access the computer but an old cardex system; she could not find the names I gave her and she asked if I could come back after lunch and speak to her colleague. I knew the graves were here because of the green CWGC on the cemetery entrance, so I went back to plot 1V. After careful scrutiny I came across the Commonwealth graves but under Belgian headstones! They are completely inappropriate for our war dead: no rank, no regiment or regimental badge and in two cases no Christian name or initials! I could not believe what I was seeing, did the CWGC know about these burials? A letter with photographs is on its way to them.
Our final visit was to Enghien (7) communal cemetery where we had lunch before saying our "thank-yous" and returning late afternoon to Ypres with the latest leg of our Pilgrimage at an end. We left France with 7 burial grounds (14-16) still to visit. Ideally, we would like to complete these before starting the 407 burial grounds of 1917. The caravan is now up for sale as spares or repairs so in the short term any visit would be without caravan. Hopefully, we can sort something out before next May; our target for starting 1917.
Since our start on the 12th May 2012 we have visited 750 burial grounds and memorials and said "thank-you" to 458,601 servicemen, servicewomen and civilians. WE WILL REMEMBER THEM.
Our next report is here