The Dragon's Voice
Welcome to the Easter issue. In this issue we have more from Bridget Geoghegan on her researches on the memorials and cemeteries in Bangor and Anglesey, and a short mention of an interesting book, just hot off the press.
Editorial
Looking at the news reports on the Russian invasion of the Ukraine, one cannot help but look back at "our" period of history for a comparison. This has been a region which has seen a lot of conflict and change in the 20th century. It is often referred to as the "bloodlands" by historians such as Robert Gerwarth in his book "The Vanquished", which deals with the post-WWI horrific events in 1917-1923.
As regards events during WWI, Alexander Watson in his book "The Fortress" describes the sieges of the fortress at Przemsyl in 1914-15, which largely stopped the Russians from being able to advance into the heart of Europe in WWI. This was due not least to the enormous losses which both sides suffered there, and in winter campaigns in the Carpathian Mountains.
Before WWI, there was no Poland – it was a war between Austro-Hungary and Russia on this front. Today, the Polish town of Przemsyl lies on the borders of modern Poland and is a major reception centre for Ukrainian refugees. It has become a centre of peace and humanity, not mass battles. In fact, the "fortress" is, like Verdun, a complex of fortifications around the town, some of which today lie in Ukraine (and you can find videos of visiting the ruins on You Tube).
On another aspect, one reporter in her article from Poland mentioned that a Polish lady had told her that her grandmother had had to flee during WWII to Lviv, which the reporter referred to as "over the border". But until 1945 Lviv was Lwow, and was in Poland, with a Polish population (and incidentally in German the city is Lemburg, so it has three names). The Polish – Ukrainian border was a lot further east between 1921 and 1945 as a result of the "wars of the pygmies", to use Churchill's phrase. In this case, it was the Polish wars with Russia, the Ukraine, Belorussia and Lithuania. During these conflicts, the Poles advanced as far east as Kiev, and then the Russians got as far west as the gates of Warsaw. Perhaps there are politicians and journalists who should have a better grasp of the history of the area that they are dealing with today.
The gruesome events and attacks on the civilian populations which Alexander Watson and Robert Gerwarth describe in their books are not confined to WWI and its immediate aftermath. WWII managed to be even worse as regards attacks on civilians, for example the genocidal attacks by the ultra-nationalist Ukrainian Insurgent Army on Polish populations in Volhynia and Eastern Galicia, which today are in the Western Ukraine. After WWII, the Polish population was expelled westwards into Poland, as it now is, and the Ukrainian border was pushed westward. Attempts have been made by the Kremlin to use these historical events to divide Poles and Ukrainians, with no success. It is just a shame that other people, especially those in power, have not learnt from today's example of the ordinary people of Poland and the Ukraine.
The First World War Diary of Noël Drury, 6th Royal Dublin Fusiliers
Edited by Richard S Grayson
Army Records Society
Boydell Press, 2022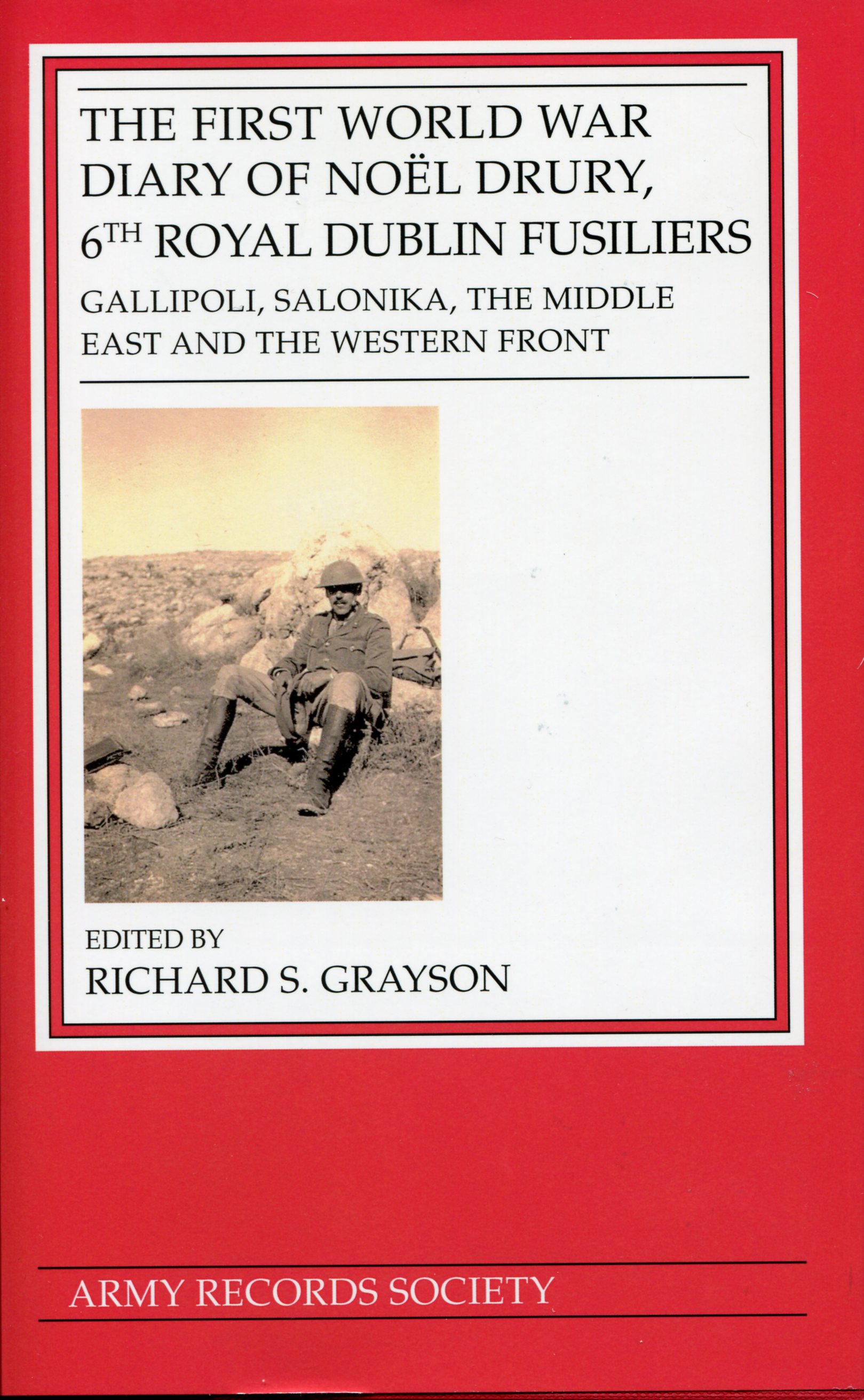 The Army Records Society produces an annual volume of the papers of, usually, a soldier who is well-known and edited by one of their esteemed academic historians, though sometimes the topic is a bit more wide-ranging than just one person's papers. This particular volume has been eagerly awaited for rather longer than intended, due to the Covid pandemic and the consequent suspension of publishing operations. My copy arrived two days ago, so I have not read it all yet, but a proper review will appear in due course. The editor is the professor of 20th century history at Goldsmiths College, University of London
Noël Drury (1884-1975) was from a middle-class Dublin Protestant family and served most of the First World War as an officer in the 6th Royal Dublin Fusiliers in the 10th (Irish) Division. The division was the first of Ireland's wartime volunteer formations to be posted overseas, arriving at Gallipoli in August 1915 in the Suvla Bay landings. Drury and his battalion experienced several key phases of the Gallipoli campaign before being redeployed to Salonika in October 1915 (in fact into the mountains, while still being issued only with tropical kit). Drury was away from the battalion for a year in 1916-1917 suffering from malaria, but re-joined in Palestine towards the end of 1917. From there, his battalion was sent to the Western Front in the summer of 1918 to take part in the Hundred Days Offensive. Drury's diaries describe training, daily life, contrasting theatres of war, and show what it meant to be an Irish officer in the British army. He was also a keen motorcyclist in his youth and took part in the Isle of Man TT races before WWI. His younger brother Kenneth was a doctor who served in the army from August 1914 throughout the whole war, winning an MC in 1916 and finishing as a major. Noël Drury's diaries were donated by his family to the National Army Museum in 1976, after his death.
Llanbedrgoch War Memorial 1914 - 1918
Llanbedrgoch Cofeb y Rhyfel Mawr 1914 – 1918
Bridget Geoghegan
My grateful thanks to many people for their help and advice: Karl Simpson who gave me permission to copy his idea; Anne Pedley, Clive Hughes and Al Poole associated with the Royal Welch Fusiliers Museum who have been ever generous with their knowledge; Michael Burkham (RWF retired) who has tirelessly answered my questions; Barry Hillier and others at the Holyhead Maritime Museum who helped with all things maritime; Richard Edwardes-Evans (Commander RD* RNR) for his advice on matters Royal Navy; members of the North Wales branch of the Western Front Association who have willingly given of their expertise; Nigel Hargreaves (RAF retired) and Jo Gordon who read everything I have written and found it to be 'appropriate and respectful'. Staff of Bangor Library for their help during Family History sessions.
Most of the headstone photographs are on The War Graves Photographic Project (twgpp.org); copies may be bought for a small fee.
Llanbedrgoch War Memorial
1 Driver Edward Evans, Ty'n Giat, Ffrainc, 17eg May 1918, Oed 22.
Driver Edward Evans 706871, served with Royal Field Artillery, 331st Brigade; died of wounds in Belgium (not France) on 17th May 1918, age 22; son of John and Ellen Evans of Tyn-y-Gate, Llanbedrgoch; married to Jane, they lived at Talgwyn Farm, Pentraeth; buried Brandhoek New Military Cemetery, Belgium.
2 Private Hugh Jones, Ty'n Pwll, Gaza, 6ed Tachwedd 1917, Oed 21.
Private Hugh Jones 266463, served with the 1st/6th Battalion (Anglesey & Caernarfonshire) Royal Welsh Fusiliers; served in Gallipoli then Mesopotamia; killed in action on 6th November 1917, age 21; son of Henry and Jane Jones of Tyn Pwll, Llanbedrgoch; buried Beersheba War Cemetery, Gaza.
3 Stoker Hugh Parry, Ty Gwyn, Yn Ysbytty Birkenhead, 2ail Hydref 1918, Oed 25.
Stoker 1st Class Hugh Parry Royal Navy (K/40761), HMS Cumberland; taken ashore to hospital in Birkenhead where he died of pneumonia 2nd October 1918, age 25; son of John and Ellen Parry of Llanbedrgoch; married to Jenny, they lived at Marian Farm, Llangoed where he was the Steward; buried in churchyard of St Pedr Llanbedrgoch, Anglesey.
4 Seaman Louie Williams, Cei Newydd, Ar y Mor, 26ain Awst 1917, Oed 17.
Seaman Louie Williams (Lewis Williams) served with the Merchant Service; 'killed as the result of an attack by an enemy submarine' on August 26th 1917, age 17; buried at sea; son of Owen and Miriam Williams of Engad House, Marianglas; Career Merchantman before the war; commemorated Tower Hill Memorial, London.
Great War 1914 – 1918, not on the War Memorial
5 Private John Roberts
Private John Roberts 26349, 17th Battalion Royal Welsh Fusiliers; born Llanbedrgoch; killed in action at Mametz Wood, 12th July 1916, age 23; son of Hugh and Margaret Roberts of 20 Druid Road, Menai Bridge; commemorated Thiepval Memorial and family grave in churchyard of St Tysilio, Menai Bridge.
6 Captain Henry William Hughes
First Mate SS Cymrian, Mercantile Marine; 'drowned as a result of an attack by an enemy submarine', 25th August 1917, age 48; son of Elizabeth and Thomas Hughes of Bryn Hyfryd, Tynygongl; husband of Mary Hughes of Post Office, Trevor near Chwilog; commemorated Tower Hill Memorial and on family graves in churchyards of St Pedr, Llanbedrgoch and St Aelhaearn, Llanaelhaearn.
7 Owen Jones Roberts
Corporal 29399 Royal Welsh Fusiliers 19th Battalion; killed in action on 21st April 1917, age 19; born Llanbedrgoch, son of Robert and Tryphena Roberts of Tai Capel, Llangoed; worked as a Quarryman; enlisted in Birkenhead; served in Cheshire Regiment before RWF; commemorated on Thiepval Memorial.
Note: RWF = Royal Welsh Fusiliers (spelt 'Welch' after 1920)
Sources used:
Commonwealth War Graves Commission website - cwgc.org
The War Graves Photographic Project - twgpp.org
FreeBMD (free Births, Marriages and Deaths) - freebmd.org
Welsh Newspapers Online & the Welsh National Book of Remembrance - llgc.org
Regimental Records of the Royal Welsh Fusiliers, volume IV
archive.org/details/regimentalrecord04dudl
Bangor Civic Society, for the panels of the Memorial Arch - bangorcivicsociety.org
History Points – historypoints.org
Researched and compiled by Bridget Geoghegan, to the memory of those in my family who have served their country:
Sergeant Major John Reilly career soldier, survived the Charge of the Light Brigade (1854) in the Crimean War (4th Hussars); Mentioned in Despatches at Battle of Gwalior, Indian Mutiny 1858 where he died in action (8th Hussars). Without the discovery of this man in the family, I might never have started on this project.
Major Robert Geoghegan career soldier, Royal Field Artillery; Boer War veteran recalled to train recruits during WWI.
Private Robert Williams of Tudweiliog; Royal Army Medical Corps, a committed pacifist who served his country during WWI and returned home to complete his training as a Methodist Calvinist Minister.
Mary Williams of Greenfield Farm Holywell, Voluntary Aid Detachment (Red Cross nurse) during WWI.
Lieutenant Stannus Geoghegan, Argyle & Sutherland Highlanders; son of a career soldier and just out of school, he died of wounds received in action near Passchendale, 13th March 1918, age 19.
Sergeant Navigator Idris Williams Royal Air Force Volunteer Reserve, another Tudweiliog boy; volunteered for the RAF; 150 Squadron (flying Wellingtons); sent to bomb Brescia Marshalling Yards in northern Italy, 'not heard of after take off' 17th September 1944, age 21. Not yet found on any local War Memorial.
Flight Lieutenant Gerald Geoghegan RAFVR, son of a career soldier; a Cambridge Physics Graduate whose work during WWII earned him a Mention in Despatches. Some of what they did remains secret to this day.
St Pedr churchyard, Llanbedrgoch
Bridget Geoghegan
Llanbedrgoch is a village off the B5025 between Pentraeth and Benllech; postcode LL76 8TQ.
From 'The History of the Island of Mona' by Angharad Llwyd, 1832:
The church, dedicated to St Peter (whose day is celebrated on the 19th of June) is a small beautiful cruciform structure, with a handsome east window situated on a rocky eminence, in a distant and exposed part of the parish. The parish abounds with lime-stone rock, which is considered of the best quality, of which quarries are worked upon a large scale, affording employment to more than 200 men. Many thousand tons are exported annually to different parts of the kingdom, from Red Wharf Bay, which is near. The sand in this bay, is said to be the best manure of any hitherto found in the Island; and the quarried of millstones in this neighbourhood, mentioned in the extent (26th of Edward III) as "royal property", supply nearly all Mona, and Caernarvonshire, with these necessary articles, for their durability, as accounted preferable to any dug from the mines of Penmon.
From the internet: archaeological research in the area has found evidence of habitation here from 3300 BC, through the Roman occupation (240 – 450 AD) and beyond. Burials from the time when the Vikings on the Isle of Man controlled Gwynedd and possibly parts of Anglesey (later part of 10th century) were found recently (National Museum of Wales).
The Hidden Stories of St Pedr churchyard, Llanbedrgoch
The number in brackets indicates the number in the research list.
This was compiled from the Record of Memorial Inscriptions of Cymdeithas Hanes Teuluoedd - Gwynedd Family History Society. The alphanumeric number refers to their record.
Enter the churchyard through the gate from the car park; turn left and follow the path – church on your right
1 (1) - Look for the box tomb on the right hand side of path to 'Thomas Williams, annwyl briod Margaret Williams'; look left, 3 slate headstones face the wall; middle headstone (your back to the churchyard wall)
Er Serchog Gof am John Evans Tyn-y-Gate, Llanbedergoch (sic). A fu farw Rhagfyr 16, 1918. Yn 54 ml.oed. "Am hynny byddwch chwithau barod, canys yn yr awr ni thybioch y, daw Mab y Dyn". Hefyd (Driver) Edward Evans mab John ac Ellen Evans Yr hwn a Gwympodd yn y Rhyfel yn Ffrainc, May 17eg 1918, Yn 22 Mlwydd Oed. . . . Hefyd yr uchod Ellen Evans A fu farw Hydref 3ydd, 1937, yn 77 mlwydd oed. (B154)
CWGC: Driver Edward Evans Service Number 706871, Died: Friday May 17, 1918 Aged: 22 'C' Bty. 331st Bde. Royal Field Artillery. Husband of Jane Evans, of Talgwyn Farm, Pentraith (sic), Menai Bridge, Anglesey. Buried: Brandhoek New Military Cemetery No 3
Possibly the only boy in a family of at least 6. In the 1911 Cenusus, age 14, he was a Farm Servant at Ty Mawr Llanbedrgoch, so will have been used to working with horses.
2 (8) – Left hand of the 3 slate headstones facing the wall
Er serchog gof am Ellen annwyl briod Richard Jones 35 Penmaen Road, Morfa, Conway a hunodd Gorph 20 1946 yn 54 mlwydd oed. Hefyd ei chwaer Elizabeth Evans Tyn y Giat o'r plwyf hwn a hunodd Mai 6 1960 yn 75 mlwydd oed. Eu mab Sig. Emlyn Jones a gollodd ei fywyd ar y mor yn - y Dwyrain pell Mawrth 4 1942 yn 19 mlwydd oed. "A'u hun, mor dawel yw." (B155)
CWGC: Ordinary Signalmen Emlyn Jones D/JX 162885, Royal Navy, HMS Anking; Died 4th March 1942, Sge 18; commemorated Plymouth Naval Memorial; son of Richard and Ellin Jones of Conway, Caernarvonshire
Signaller Emlyn Jones was a career Royal Navy man, he died when his ship HMS Anking, a 'depot and supply ship' was torpedoed by the Japanese Navy off Java. HMS Anking was part of a convoy. It was an engagement in which the captain and crew of the Royal Navy Australian Ship Yarra acted with unbelievable bravery, attempting to save the rest of the convoy. The Japanese Navy methodically destroyed each ship in the convoy, one by one, leaving the Yarra until last.
3 (9) - Return to the path, look right, 3rd headstone from the box tomb by the path, polished granite low headstone with kerb
Er serchog gof am Ann J. Thomas Bodhyfryd, o'r plwyf hwn a hunodd Rhagfyr 22 1948 yn 67 mlwydd oed. Hefyd ei hannwyl briod T. J. Thomas a hunodd Rhagfyr 9 1949 yn 76 mlwydd oed. Hefyd eu hannwyl fab Hugh Thomas (Cpl. R.A.S.C. Black Watch) a gollwyd yn Forli, Italy Tach 23 1944 yn 26 mlwydd oed. (B131)
CWGC: Corporal Hugh Thomas, Service No: T/193631, Died: 23.11.1944, Aged: 26, Royal Army Service Corps, Son of Mr. and Mrs T.J. Thomas, of Pentraeth, Anglesey, Cesena War Cemetery, Italy "Mewn Serchog Gof Byth Yn Anghof Mam, Tad a Dei. Bodhyfryd, Pentraeth, Sir-Fon"
He was part of the Allied invasion of Italy, pushing the German force out, from the bottom up.
4 (6) – Again, look to the right of the path: 2 headstones along, 2nd row into plot, 2 headstones of similar height but different design, pink granite – right hand one
Er gof annwyl am Capt. Thomas Hughes Bryn Hyfryd, Tynygongl yr hwn a hunodd Ebrill 5ed 1899 yn 64 mlwydd oed. "Yn nghanol ein bwyd yr ydum yn angeu". Hefyd Capt. H.W. Hughes mab yr uchod gollodd ei fywyd gan ffrwydriad, or Ger (man) Submarine Awst 25 1917 yn 49 mlwydd oed. Hefyd Elizabeth Hughes priod a Mam yr uchod a hunodd Gorph 11 1927 yn 84 mlwydd oed. "Ni freesia yr hwn a Gredo". (B118)
CWGC: First Mate Henry William Hughes, Died: 25.08.1917, Aged: 48, S.S. "Cymrian" (London) Mercantile Marine, Son of Elizabeth and the late Thomas Hughes; husband of Mary Hughes (nee Roberts), of the Post Office, Trevor, Chevilog [Chwilog], Carnarvon, N. Wales. Born at Dinas, Llengrad, Anglesey. Commemorated Tower Hill Memorial
A career Merchant Seaman, Henry William Hughes had lived at Brynhyfryd, Llanfair-Mathafarn-Eithaf; on this trip he was First Mate of the Cymrian, a 'defensively armed' cargo boat, carrying coal from Newport (South Wales) to Dublin when torpedoed by U Boat UC-75 off Wexford. Another crew member lost was John Rowlands, the nephew of Mary Hughes. John, from Trefor, had gone back into the Cymrian in order to save his uncle.
5 (3) – Stand so you can see between the 2 pink granite headstones described above, 5th row into plot, slate CWGC headstone with silver lettering
CWGC: (Anchor emblem) - H Parry - Stoker 1st Class R.N. K/40761 - HMS 'Cumberland' - 2nd October 1918 (B066)
Hugh Parry, son of John Parry Ty Gwyn Llanddyfnan and husband of Jenny Parry Marian Farm Llangoed; horseman on the farm; taken ashore to hospital in Birkenhead with flu (at least 6 of the crew died from flu); commemorated War Memorials in Llangoed & Llanbedrgoch
6 (10) – Follow the path to the back wall, look right, 3rd row along, 4th headstone into plot – stone cross with CWGC white headstone laid flat
Er serchog gof am Elizabeth Hughes Tyn Cae a fu farw Hydref 1947 yn 54 mlwydd oed. Hefyd ei hannwyl briod Parch William Hughes a fu farw Rhagfyr 1948 yn 58 mlwydd oed. "Hedd perffaith hedd." Also their beloved daughter Comm. A.T.S. Gwyneth Rhianon Hughes
Headstone lying flat on kerb grave: A.T.S. Junior Commander Gwyneth Rhiannon Hughes Aux. Territorial Services 9th February 1946 aged 28
CWGC: Junior Commander Gwyneth Rhiannon Hughes, Service No: 192738, Died: 09.02.1946, Aged: 28, Auxiliary Territorial Service, Daughter of William and Elizabeth Hughes of Pentraeth (B036). Note: the spelling of 'Rhiannon' follows that on the memorial stones
Gwyneth's birth was registered in Bangor early in 1918; the ATS was the women's branch of the Army, they were more than the 'clerks, cooks and waitresses' of WWI; as a 'Junior Commander' she was a commissioned Officer, equivalent to an Army Captain.
7 (11) – Follow the path, churchyard wall on your left – where the path turns - count 8 headstones by the path
Er serchog gof am Margaret annwyl briod Richard Jones Tyn Giat, Llanbedrgoch a fu farw Rhagfyr 12 1975 yn 76 mlwydd oed. Hefyd eu hannwyl briod Richard Jones a fu farw Rhagfyr 3 1982 yn 82 mlwydd oed. Hefyd eu mab Sig. John Jones a gollodd ei fywyd ar HMS 'Prince of Wales' Rhagfyr 10 1941 yn 18 mlwydd oed. (C063)
CWGC: Ordinary Signalman John Jones, Service No: D/JX 170295, Died: 10.12.1941, Aged: 18, H.M.S. Prince of Wales, Royal Navy, Son of Richard and Margaret Jones, of Tynygongl, Anglesey, commemorated Plymouth Naval Memorial
John Jones was a career Royal Navy Signaller; he was serving on HMS Prince of Wales; she had, famously been at the Battle of the Denmark Strait when she had damaged the German battleship Bismarck at the time when HMS Hood was lost (the Bismarck was later pursued and scuttled); the Prince of Wales took Churchill to Newfoundland for a conference with Roosevelt; was lost when in convoy from Java to Australia, torpedoed and sunk by Japanese bombers, off the coast of Malaya.
Compiled from the Cymdeithas Hanes Teuluoedd Gwynedd Family History Society - Memorial Inscriptions
Researched and compiled by Bridget Geoghegan to the memory of John Reilly, RSM 4th Hussars at the Battle of Balaclava; Lt 8th Hussars at the Battle of Gwalior; killed in action 21st June 1858.