The Hidden Stories of graves in the Churchyard of St Catherine, Llanfaes on Anglesey
This was compiled from the Cymdeithas Hanes Teuluoedd - Gwynedd Family History Society book of Memorial Inscriptions; the number following each entry is their reference number.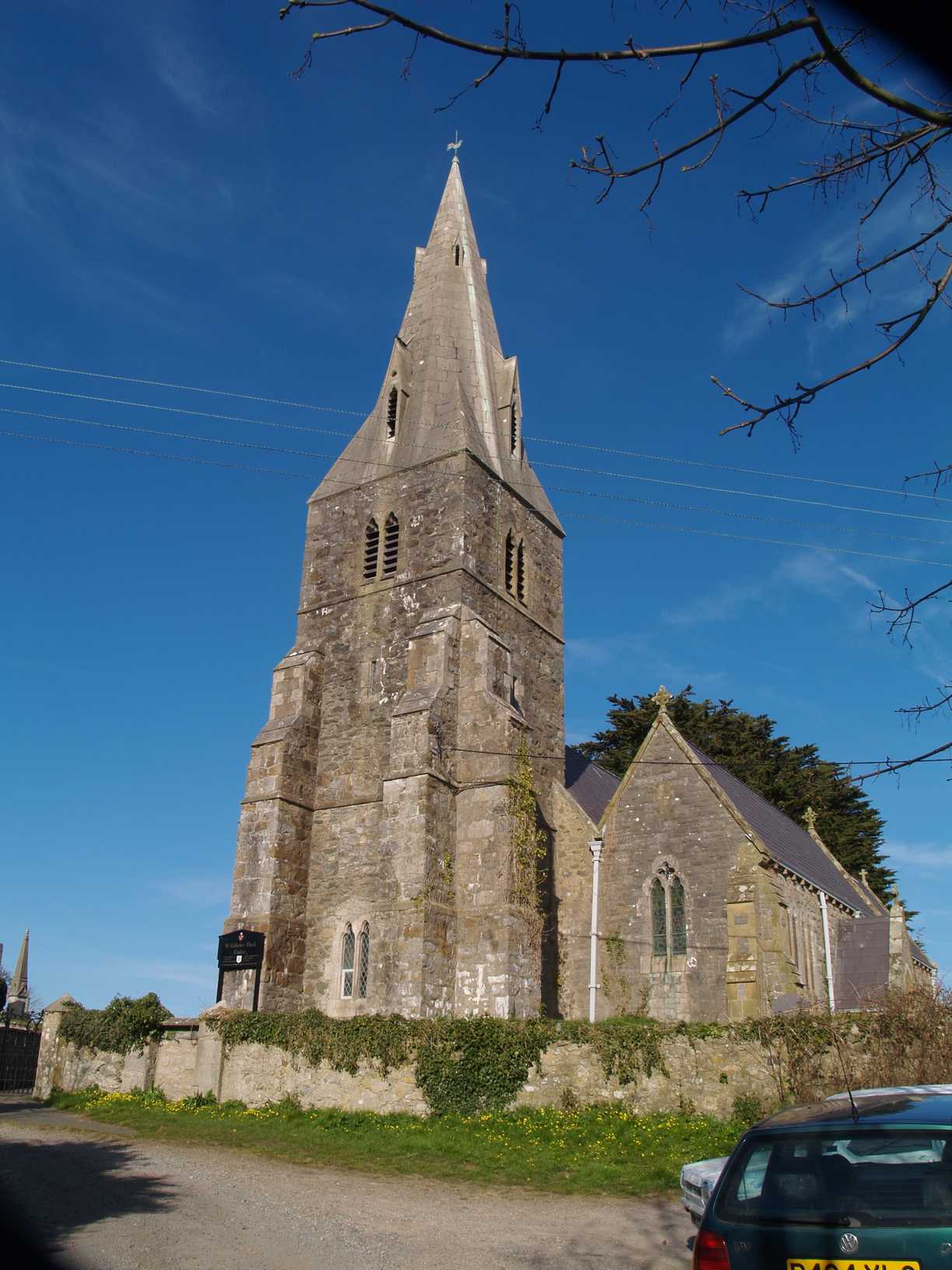 Background to this walk:
These days, Llanfaes may seem secondary in importance to Beaumaris, but Llanfaes is the original community. Think of the name 'Beaumaris' beautiful marsh; who in their right mind would build a town on a marsh? Hence the continuing structures necessary to keep the sea out of the town. Edward 1, after his military successes of 1282, created an 'English' community on the lands of the Welsh Princes – he colonised the country. He built fortified towns, protected by castles – one of which was Beaumaris – only English people could live in these towns. As part of this plan, he moved the inhabitants of Llanfaes to a newly created town, Newborough.
In 'A History of Anglesey' published 1775: 'About a mile north of Beaumaris, is that memorable spot, Llanvaes, where in the year 819, a desperate and bloody battle was fought between the Saxons and the Welch, and is called in our histories, from the place where the engagement happened, the battle of Llanvaes. In this action were slain the King of Denmark's son, Lord Clifford with many Barons and Knights. Here was a house of Franciscan or Minor Friars, founded by Llewelyn ap Iorwerth, Prince of North Wales, about the year 1240, and was dedicated to St. Frances. Howel, then Bishop of Bangor, consecrated this monastery over the grave of Joane wife of Lleweline, and daughter of King John, whose pleasure it was to be here interred. On the road between Beaumaris and Llanvaes is a large stone trough, close by the sea, which is supposed by modern antiquaries, to have been the coffin of the said Joane, King John's daughter.' Note: stone trough now in the porch of the church of St Mary & St Nicholas, Beaumaris
Angharad Llwyd, in 'A History of the Island of Mona', published 1833, explains more about the battle: 'that memorable spot, Llanvaes, "the church of the field or plain" from a memorable battle . . . between Egbert, King of the West-Saxons, who had effected a landing in Mona, near the site of the present town of Beaumaris, and a body of Welsh forces whom he totally defeated in a sanguinary engagement; although he was shortly after compelled by Mervyn Vrych, the Sovereign of North Wales, to retreat into England. This victory was the cause of the ancient name of Mona being abandoned by the Anglo Saxons for its present appellation, Anglesey. . . . This priory [at Llanfaes] was dedicated to St Francis . . . within its walls are buried several persons of note; a son of the King of Denmark, besides other knights who fell in the battle of Llanvaes, 818. . . . in 1280 the Princess Eleanor was buried here "yn anrhydeddis iawn" with royal pomp and honours; and several of King Edward's leading warriors slain in the action of the Menai rest in this place. Here also are the remains of Gryffydd Grug, the bard, who flourished from 1330 to 1370. . . . The Lord Clifford was buried at Llanvaes, . . . there is the following entry for 1211: "on the vigil of St. Simon and St. Jude in this year, the steward of the household of the King of Denmark, by name Harold Pig, came to Llanvaes with six privateers, and despoiled the town, and burnt it; and there he and the best of his followers were slain."'
All the graves of the aristocracy listed above were probably lost in the Reformation and the Civil War. But there are still some important headstones in this churchyard, some of which are described here. Some are associated with people who have military service in the family. When there are Poppy Cards to mark the graves, a red poppy indicates military service and family deaths in war; other colours are for those who have made their mark in another way. In researching this, I really wanted to include some 'ordinary' people, such as: In memory of Jane Jones for many years Housemaid at Baron Hill died 30th January 1863 aged 50. But it has proved difficult to find out anything more about them – however give me time!
Enter the churchyard through the gate, if you go up the steps immediately on your right and walk past the church wall, you will find an excellent backdrop for a selfie.
This walk takes you in a clockwise direction. Take about 10 steps, look at the column memorials on your left. The flat topped square column -
1. John Williams was a great Welsh Calvanistic Methodist Minister, who lived from 1854 to 1921. There is, famously, a picture of him wearing a dog collar and Army uniform as he stands next to Lloyd George. He was appointed the Welsh Division Honorary Army Chaplin during the Great War (Honorary Colonel). He preached from the pulpit, encouraging the young men of Wales to serve during the war which some felt was against their Christian ideals. It is said that he asked to be buried close by his great hero, John Elias.
Er coffadwriaeth am y Parchedig John Williams D.D. (Cymru) Brynsiencyn ganwyd Rhagfyr 24ain 1854 bu farw Tachwedd 1af 1921. Gweinidog yr efengyl yn nghyfundeb Methodistiad Calfinaidd. . . (B007)
(In remembrance of the Reverend John Williams D.D. (Wales). Born Brynsiencyn December 24th 1854, Died November 1st 1921. Minister of the Gospel in the tradition of Methodist Calvinists)
Nearer the hedge, the square column topped by an urn -
2. John Elias, a great Calvinist Minister who lived from 1774 to 1841. He was born John Jones, but took his grandfather's name when he began to preach, having received much of his religious education from his grandfather. He was a renowned preacher throughout Wales, even called 'Y Pab Methodistaidd' (The Methodist Pope) or 'the Pope of Anglesey'. It was said that 10,000 people attended his funeral; the road to Llanfaes from Beaumaris was completely blocked.
Yma y rhoddwyd orwedd Ar ei ddymyniod ei hun, weddillion marwol y diweddar Barchedig John Elias gynt o Llangefni yn y Sir hon . . . In this sacred spot are deposited at his own request the remains of the Reverend John Elias late of Llangefni of this County . . . (B005)
Continue along the grass path, adjacent to the path, a kerb grave with reclining cross -
3. James George Risk and his wife Margaret are also buried here, he was Fleet Surgeon in the Royal Navy (there is a Deputy Surgeon General, Royal Navy in Beaumaris Cemetery).
Sacred to the memory of James George Risk Fleet Surgeon, Royal Navy who died January 4th 1905, aged 85. Also Margaret Mary Furness widow of the above died October 28th 1906, aged 89. (B065)
Same row, next headstone in, is to -
4. John Walter Joseph Connington and his wife Rebecca, both from Sligo in Ireland; he was a career soldier, ending up as Regimental Sergeant Major with the Royal Anglesey Engineers. He would have known Thomas Hampton Lewis well. They had 3 children; two girls who became elementary school teachers and a son who (probably) had been a railway apprentice in Crewe before deciding to emigrate to Canada. He volunteered with the Canadians under an assumed name, eventually acknowledging his own name. Ernest Connington survived the war, returned to Canada, and is buried there with a commemorative headstone (they have such headstones for people who survive war, as well as those who die in war). On Church Island, Menai Bridge there is a CWGC grave to William Connington, Joseph's nephew. William served with the Australian forces, he was a mechanic with their 'Flying Squad' and was about to be trained as a pilot when he died in the 1918 flu epidemic.
In loving memory of J W J Connington who died Novr 22 1909 aged 57 years. Also of Rebecca his wife who died at Menai Bridge April 30 1937. (B066)
Second row up from James Risk, 3rd cross in, look for a Celtic cross on a plinth, double plot -
5. Samuel Taylor Chadwick and his wife Florence lived in some style at Haulfre in Llangoed. This house is now a Council run home for the elderly, it was left to the people of Anglesey by the Chadwick family. Their eldest son, Captain James Frances Chadwick served with the Corps of Royal Engineers during the Great War of 1914 – 1918; he won the Military Cross. Their daughter, Myfanwy, County Commissioner for the Girl Guides for 20 years from 1927, was also Transport Office for the Red Cross during WWII. None of the 4 children married.
Florence Elizabeth Chadwick died 3rd Feb. 1941 beloved wife of Samuel Taylor Chadwick of Haulfre, Llangoed. Also Samuel Taylor Chadwick died 24th March 1946. Myfanwy Chadwick died April 5th 1954. John Chadwick died July 10th 1963. Capt. James Frances Chadwick. M. G. died May 8 1967. Richard Musgrave Chadwick died May 24 1967. (B091)
Continue along the path for another 2 rows, immediately on your left a kerb grave with a reclining cross -
6. Captain George Tilston Haley 'Tillis' - was the son of Margaret (Johnson) and George Haley, gardener to Miss Ellen Pritchard of Bryn Hyfryd. Tillis benefited from the local education system: Penmon then Beaumaris Grammar School and Bangor University to study science. His studies were interrupted by the war – he signed up with the Royal Welsh Fusiliers, transferred to the Royal Engineers (because of his science background), was later commissioned in the Welch Regiment. His health was broken by his experiences in the RE - he was present at the Battle of Loos when the British first used gas - the wind blew it back to their own troops. Much of his time as an officer was on home service. After the war he returned to complete his degree, and gained a post as Master at Ysgol Sir Hugh Owen (School) in Caernarfon. Sadly, his health deteriorated and he died at the end of 1921, too late to be registered as a war casualty.
In Loving Memory of George Tilston Haley, Captain 21st Welch Reg, eldest son of G & M Haley, Ty Tawel, Llanfaes. Died Nov 14 1921, aged 27 years. He died after a long illness contracted in the Great War 1914 – 1918. (B109)
On the path, walk as far as the hedge, turn left, to the cross on a stepped plinth, with kerb -
7. James Hartley Burton, his wife May, their daughter Mary - they lived at Fryars, requisitioned during WWII to create a factory to 'adapt' Sunderland flying boats from civilian use to military use. Again the cross looks towards their house and boat house – they were great sailors. Mary was one of triplets, both brothers Richard and Alfred served in the Great War and were killed.
James Hartley Burton of Fryars 'At Rest' 16 May 1938 aged 81. May, his wife 16 May 1940 aged 79. And Mary their daughter 19 March 1975 aged 80. (B132)
As I write, there is a kneeler in this church to the memory of the two Burton boys and John Griffith Roberts, thought to have been the batman for one of them. He was brought up at Cichle Mill nearby. To the Glory of God and in memory of Lieut. Richard Burton, 1st Battn Sherwood Foresters, killed in France 23rd June 1915. Lieut. Alfred Burton, 1st Battn The Queens, killed in France 11th January 1916. Pte. John Griffith Roberts, 8th Battn Royal Welsh Fusiliers, killed in Mesopotamia 15th Feb 1917.
Third headstone further along, a fine slate headstone -
8. Brigadier Arthur Pelham Trevor - note the shape of this headstone: it echoes that of CWGC headstones for people who died in service, but not in war. There is an official CWGC headstone of this shape to Harold Jones in Beaumaris Cemetery. Pelham Trevor was from an old Anglesey family, he had been a career soldier in the Royal Artillery through WWII when he was awarded the Distinguished Service Order 'for gallant and distinguished service in North-West Europe'.
Brigadier Arthur Pelham Trevor D.S.O. A.D.C. Late R.A. 31 July 1909 – 26 February 1984 . (B135)
Turn back the way you came, and ahead of you is -
9. The Hampton Lewis Family Mausoleum the square building. From its construction until the death of the last member of this family (Mary Gwendolen Dwyer Hampton in 1946) those who inherited the house and estate were interred in the mausoleum. One plaque reads: 1868 This ground was presented By Colonel Thomas Peers Williams Temple House Berkshire & Craig-Y-Don Anglesey To John Lewis Hampton-Lewis And the family of Henllys. Craig-y-Don is on the Glyn Garth road. The second plaque reads: This Mausoleum adjoining ground was consecrated On the 17th October 1870 By The Right Reverend James Colquhoun Lord Bishop of Bangor
One imagines that members of the Hampton family who had, for generations, been buried in a vault within the Church building were re-interred in the mausoleum. This roughly coincides with the rebuilding of the Church in 1845. Now the mausoleum is sealed.
Poppy Cards to the 3 men below are in the Church Porch.
Thomas Lewis Hampton Lewis of Henllys and Bodior (1834 - 1929) rests in here: he was educated at Sandhurst; fought in the Crimean War (1853 – 1865); took part in The Charge of the Heavy Brigade and came home to his 21st birthday Party at the Bulkeley Hotel in Beaumaris; he retired from the Army with the rank of Captain. He married Lettice Martha Rayner from Trescawen Hall and they had 6 children: John Arthur (died in infancy), Gwendolen Mary, John Lewis, Dorothy Lettice, Sisli Myfanwy and Thomas Herbert. His plaque inside the church reads:
In Ever Loving Memory of Thomas Lewis Hampton-Lewis of Henllys and Bodior. Born 1834. late 5th Dragoon Guards and of her Majesty's Hon. Corps of Gentlemen-at-Arms Hon Colonel Roy. Anglesey Engineer Militia served Crimea and received medals for Balacklava, Inkermann, Sebastopol, the Order of the Medjidie and the Turkish Medal. Died at Bodior March 11th 1912.
John Lewis Hampton-Lewis (1876 – 1906) is recorded as being 'buried in the family mausoleum'. He served in the Second Boer War with the Royal Anglesey Engineer Militia; sailed out in May 1900, he returned March 1901 an invalid. He had contracted 'Enteric' (Typhoid) from which he died in 1906. Had he recovered, he would have taken up a commission in the Royal Garrison Artillery. His plaque inside the church reads:
To the Dear Memory of John Lewis Hampton-Lewis Royal Artillery Late Capt. Royal Anglesey Engineer Militia. Elder son of thomas Lewis Hampton-Lewis, served in South Africa 1900-1901 where he contracted enteric which laid the seeds of his illness. Died at Bodior June 6th 1906, Aged 31.
Thomas Herbert Richard Hampton Lewis (1885 – 1910) also served with the Royal Anglesey Engineers, he must have shocked the family by marrying a girl from the lower classes and having a job as a Motor Car Salesman with the Fiat Motor Co of 37 Long Acre, London. He died of pneumonia. His plaque inside the church reads:
In Loving Memory of Thomas Herbert Richard Hampton-Lewis Royal Anglesey Engineer Militia younger son of Thomas Lewis Hampton-Lewis Born 1885. Died of Pneumonia in London October 1911.
As you face the mausoleum, on your right are 3 Celtic crosses facing the hedge; 2 have fallen -
10. One is to Thomas Hampton Lewis's sister, Mary Freeman Grace Hampton who lived in Cowley. The second is to Ellen Pritchard of Bryn Hyfryd, sister of Lettice Hampton Lewis (wife of Thomas Hampton Lewis). Ellen's cross looked towards her house. Ellen, a great horsewoman and supporter of the hunt, doubtless rode over these fields many times. The third is to John Hatch Hoare, a Bromborough Minister who died while staying at Henllys. A family friend and in the same family as Bertie Dwyer – partly explaining how Bertie later came to marry Gwen Hampton Lewis (daughter of Thomas Hampton Lewis and Lettice).
In ever loving memory of Mary Freeman Grace Hampton of the Cedars, Cowley, youngest daughter of the late John Hampton Lewis of Henllys and of Bodior. Born June 11, 1842, died at the Cedars Oct. 20, 1927. Erected by her affectionate niece Mary Gwendolen Dwyer Hampton, Henllys and nephew John Lewis Griffith, of Croughton. (A140)
In loving memory of Ellen Pritchard of Bryn Hyfryd, daughter of Henry Pritchard of Trescawen, born January 14th 1845 died August 22nd 1925. This cross is erected by her sister Lettice Hampton-Lewis and a grateful niece Gwen Dwyer-Hampton. (A141)
In memory of John Hatch Hoare who died at Henllys Nov 23rd 1880 aged 54 years. Until the day dawns. (A142)
Other members of the family are buried elsewhere: Bertie Dwyer Hampton in Southsea with his first wife; Lettice Hampton Lewis, wife of Thomas Hampton Lewis and mother of John Lewis and Thomas Herbert, in Rhoscolyn (she died at Bodior during WWII).
Turn back to the gate, next to the path is a double grave with kerb and 2 gravestones -
11. The gravestone closest to the path commemorates 3 deaths on the Rothsay Castle, a pleasure steamer that foundered on Dutchman's Bank, a sandbank towards Conwy, visible from here at low tide. There was a public outcry about the loss of nearly 130 lives (23 were rescued). Bodies were washed up on many beaches, both sides of the Strait. However, it did result in the establishment of a lifeboat at Penmon and the Trwyn Ddu (Penmon) Lighthouse.
Beneath lie the remains of Owen Owen B.D. Fellow of Jesus College, Oxford. Fourth son of Owen Owen of Glynafon Esque. in the County of Anglesey, who with his sisters Margaret Edmunds & Mary Dorothea on his passage from Liverpool was taken to his rest in the calamitous wreck of the Rothsay Castle steamer, about 2 a.m. Augt. 18th A.D. 1831. . . . Also of the above named Owen Owen Esq. Who was Grandson of the late Robert Owen of Pencraig Esq. Died on the 29th of Jany. A.D. 1833 aged 79. Note: Owen was 33 when he died, Margaret Edmunds 29 and Mary Dorothea 21. (A046)
Next row, on a line with the end wall of the church, 3rd headstone in -
The local landowning families showed their appreciation for years of service by paying for headstones for their domestic servants -
12. In the 1871 Census John Lloyd, age 46, lived at 2 Alma Street with Mary his wife and John R Lloyd their son who was 15. John the father was a 'Gentleman Servant', the younger John was 'Unemployed'.
In memory of John Lloyd of Beaumaris who died October 29th 1880 aged 56 years. This stone was erected by T. L. Hampton Lewis as a mark of respect to one who had served the Henllys family faithfully as a butler for 32 years. Also Mary Lloyd daughter of the above John Lloyd and Mary his wife who died Oct. 27th 1865 aged 8 years. (A050)
Just before the church porch, on your left, -
13. Frederick Dargie, has a sundial close to the church door (the pointer has been removed). He was a Militia man with the Royal Welsh Fusiliers from 1911, joined up with the Carnarvonshire Garrison Artillery for the duration of the Great War (1914 – 1918). Born a Bangor lad, he had a Scottish father and London mother. His younger brother, Arnold, also with the RGA was killed in 1917; he is buried in the Bully-Grenay Communal Cemetery, British Extension in Pas de Calais, France and commemorated in Bangor. Dargie's sundial possibly rests on the base for an old market cross.
Frederick Dargie Major R.G.A. 1914 – 1918 war, of Graig, Llanfairpwll died 2nd November 1949. And his wife Doris Lydia Louise Dargie died 25th February 1971 in her 82nd year. (A074)
14. Finally, the Bulkeley Family burial area is surrounded by the high hedge you can see. The Bulkeley family probably came from what is now Cheshire in the early 1400s, brought in by the King as loyal servants of the English crown when the Welsh had ideas of independence - the Hamptons arrived at approximately the same time - both were given lands that had belonged to the Welsh Princes. Members of the Bulkeley family were buried behind the high hedge. Some years ago it was decided that there should be no headstones for individual members of the family.
Should you not be a Welsh speaker, here are some terms to help with the epitaphs:
er cof am – in memory of
er serchog gof am – in fond memory
gynt – previously
plwyf – Parish
ganwyd – born
fu farw – died
hefyd – also
hefyd y dywedig – also the above named
gwraig (wraig) (priod) – wife
gwr – husband
merch – daughter
mab (meibion) – son (sons)
chwaer – sister
brawd – brother
yn 29 mlwydd oed – at 29 years old
mis – month
dydd – day
The months: Ionawr, Chwefror, Mawrth, Ebrill, Mai, Mehefin, Gorffenaf (Gorphenaf), Awst, Medi, Hydref, Tachwedd, Rhagfyr