SomeKindHand: West Flanders, Spring 2017
On Friday 30th June Nancy and I departed Camping Ypra, in Kemmel, having spent the previous three months of our Pilgrimage visiting the burial grounds of 1917 in West Flanders. We started at Arneke British Cemetery* (435) on the 4th April, completing 72 from our target of 74. Our last visit was the Tyne Cot Memorial to the Missing (34,947) but unfortunately we ran out of time and will need to revisit the memorial on our return which should be around the 20th July.
We were incredibly lucky with the weather, with rain on just a handful of days; yes, in Flanders! Speaking to some of the gardeners, they suggested that the current situation was almost drought conditions. It was so hot whilst completing the cemetery at Tyne Cot, (11,961), we had to have the day off, until it cooled down. The previous week we had visited Coxyde Military Cemetery (1,507) and witnessed the severity of the recent dry weather on the Flanders coast. Perhaps readers will remember the uproar in opposition to the CWGC's "experiments" with alternative horticultural schemes; Coxyde was included due to its location on the coast. Having witnessed the poor condition of the horticulture; particularly the (lack of) grass, I do think that some of the Commission's problem cemeteries need a rethink.
Although mostly dry and warm, we did experience some high winds and on the 100th anniversary of the Battle of Messines, our awning all but blew down, with a terminal rip in the roof. I managed to resurrect and patch it until next year when it will need replacing. We had no other significant problems during our stay other than no running water in the caravan for a couple of weeks, caused by frozen water remaining in the taps during its winter storage.
In organising our visits, we tried to work from west to east through the back areas towards the battlefields of the Salient and although I have previously visited many of these burial grounds before, I was astonished at the level of artillery burials, particularly in their areas of concentration; Dikkebus and its burial grounds stands out as an example. The (newly) translated diary of a local R.C priest, Achiel Van Walleghem** (who lived in Dikkebus) - to which we were lucky to attend the book launch - gives a good account of both German artillery fire and the growing use of German air-raids. The O.H makes it clear that the allies never mastered the German artillery during Third Ypres.
Several of our visits were spread over a period of two or more days:
Dozinghem (3174) : two days
Hooge Crater (5916) : two days
New Irish Farm (4715) : two days
Tyne Cot Cem. (11961): three days
For such a large burial ground, access to Dozinghem is very restricted and because of its rural location, it sees many more Belgian visitors than Commonwealth! The full time gardener (Rick) was keen to show me the grave of a German Olympic medallist from the London games of 1908.
On the 18th/19th May, we visited Hooge Crater Cemetery. In October 1920 the cemetery was subjected to exhumations, following the discovery of the remains of a soldier buried under the wrong temporary marker; further discrepancies were found, including twenty empty graves! On the January 13th 1921, a committee of enquiry was held at St. Pol; the documents from this enquiry are available at the CWGC archives at Maidenhead.
As usual where a cemetery contains a large proportion of "Unknown", my focus is usually on how many have partial information for "later detective work".*** What struck me about Hooge was the large number of multiple unknown burials commemorated on single headstones, one after another: 4,5,4,5 etc. This pattern is evident through plots two – sixteen. The later plots (seventeen – twenty one) the unknown are buried under single headstones. I don't know if this was done as a cost saving exercise (in headstones) or interference from Lutyens to reduce the impact of unknown headstones. ****
On the 7th June, I attended the New Zealand commemorations at Messines British Cemetery and later the evening ceremony at the Messines New Zealand Memorial. Here, their armed forces performed the Haka (see this link); it was brilliantly moving! I was in attendance with a New Zealand couple, who talked me through the customs and rituals of both ceremonies. We had opted for the shuttle bus from Ypres and a chance to talk with other "Fearnleaf's". I met Grant Tobin who has visited all New Zealand graves in France, Belgium and many other parts of the world; his overall objective. He has also written books to accompany his visits; something that Nancy and I are considering, once we complete our Pilgrimage.
Whilst at Kemmel, Nancy hadn't been too good particularly her lack of mobility, leading to too much of her time spent in her chair, perpetuating her problem. We took several days off, therefore after the completion of the New Zealand tour we had to play catch up to get back on track before our time at Kemmel ended. Between the 12th and 29th June, we were extremely busy and completed fifteen burial grounds and memorials:
Ruisseau Farm (82)
Gwalia Cem (467)
Wielsbeke Comm (3)
Oostrozebeke Comm (2)
Moorslede Comm (2)
Polygon Wood Cem (106)
New Zealand Mem. Polygon Wood (378)
Buttes New British (2109)
Steenkerke Belgian Mil. (30)
Coxyde Mil. Cem (1507)
Perth China Wall (2791)
Nieuwpoort Comm (70)
Ramscappelle Road (841)
New Irish Farm (4715)
Tyne Cot Cem. (11,961)
The final days were spent at Tyne Cot, commencing 20th June. The weather was very hot and we had decided to get there before the crowds, so that we would be clear of the early numbered plots around the Cross of Sacrifice. We arrived just before 8.00am and already the gardeners were busy; so to a film crew, with the biggest drone I have seen. To date Nancy and I have not been filmed; not even by ourselves. After they had finished I asked them who they were filming for, hoping to be able to obtain a copy of the drone flight for our own records. It was the BBC, filming the infill shots for the 100th anniversary programme. After a brief explanation of our Pilgrimage, the "director" agreed to include some of our Pilgrimage with a hand camera later in the afternoon. Sure enough at 5.30pm they returned and filmed Nancy and me reading one of the rows of graves to camera.
When we started our Pilgrimage we immediately thought about trying to obtain the maximum amount of publicity. However as the months and years have gone by and our life has been immeasurably changed, we have been less inclined to seek publicity. We just didn't want to shout too loud just in case we failed. That fear of failure still looms large. Those of you who have followed our journey from May 2012 will have read of our many downs! But the other day I heard on the radio that a couple are currently visiting every crazy golf course in the U.K. AND they got publicity for it!!! So even if we fail to complete our Pilgrimage, I think at least we deserve to have our story acknowledged by a wider audience.
What Next?
We arrived home to the news that our son and his partner's relationship of nine years (and two children) is ending. It's acrimonious and has completely dominated our time back in Wales. Who knows when we will return to our Pilgrimage! By Christ, families can be so inconsiderate (attempt at humour).
Our plan, once we return, is to stay at Kemmel for a couple more days so that we can complete the Tyne Cot Memorial, which I reckon will take another full day. Maria, the cleaner at Tyne Cot, even offered her B&B, until she realised Nancy wouldn't be able to use the stairs! We also have Trois Arbres (1704) and Pont - D'Achelles (330) to complete. Then its 1918.
We have mapped all 1918 burial grounds; about 1,000 in total, the vast majority buried in communal cemeteries. Nord, Pas de Calais, Somme, Hainaut, and the department of Aisne contain the vast majority of these burial grounds, however our 1918 Pilgrimage will once again take us into all four corners of France; Cannes, Bordeaux, Nancy, and Nantes, together with two island visits off the Atlantic coast line.
We desperately want to go and see D.51 Deborah move to her new home; scheduled for the 25th/26th July, so it's likely that this will be our deadline to move our caravan to probably Amiens, then Albert and stay there until the end of September. We are yet to sort out our winter hibernation, but I suspect we will probably visit some of the more distant northern burial grounds in October (Normandy and Brittany for example) with the caravan before putting it in to store. Hopefully our winter hibernation will be central enough for us to continue our Pilgrimage.
There is no easy way to follow the chronology of 1918 across the burial grounds of France and Belgium, but we have decided to include all post Armistice burial grounds in to 1918 rather than making them a separate list. We roughly calculate that we have a further two and half years of visits in order to complete our Pilgrimage. But who knows what the future brings!
Thank you to all those people who have given us their support, either verbal encouragement or financial.
We will remember them!
* Arneke is in the department of Nord
** The book has been reviewed on the Long Long Trail
*** When the CWGC made burial records available on-line I suspected that many individuals would be encouraged to find "lost" graves of the known, currently marked as unknown. Whilst at Tyne Cot, two unknown headstones were replaced with known headstones.
**** At Croisilles British Cemetery through several rows the known and unknown alternate reducing the impact of so many unknown headstones. The regularity of this makes coincidence unlikely. This is a Lutyens cemetery, as is Heilly Station where tightly packed headstones have been reduced by multiple names. I am not sure if the main architects carried such influence?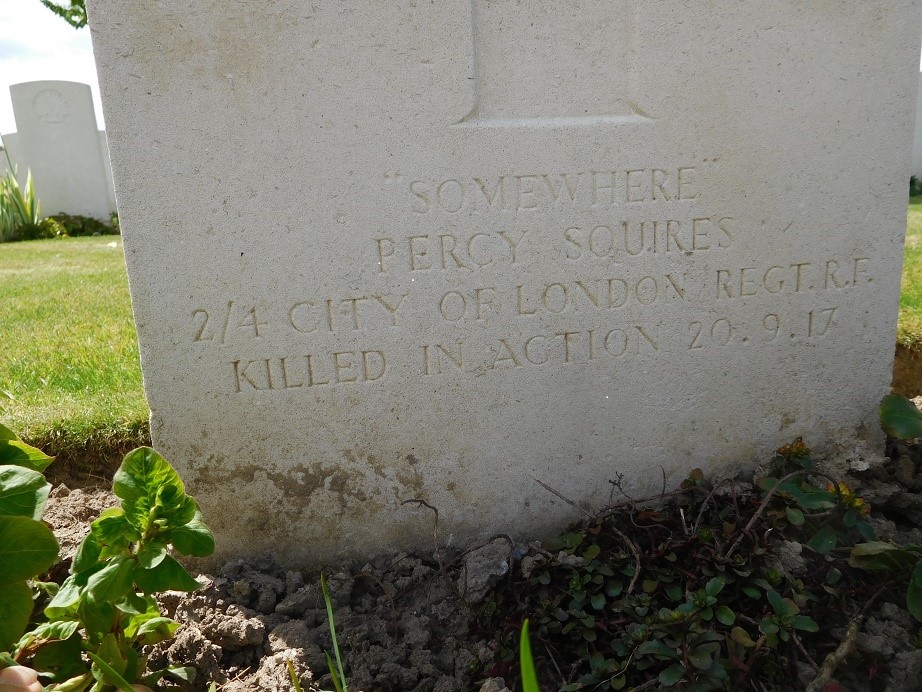 Inscription on the headstone of Bombardier Charles William Squires R.F.A, (died 13th May, 1915) Aeroplane Cemetery. Percy (aged 26) is commemorated on the Menin Gate, but given his date of death, he should be commemorated on the Tyne Cot Memorial!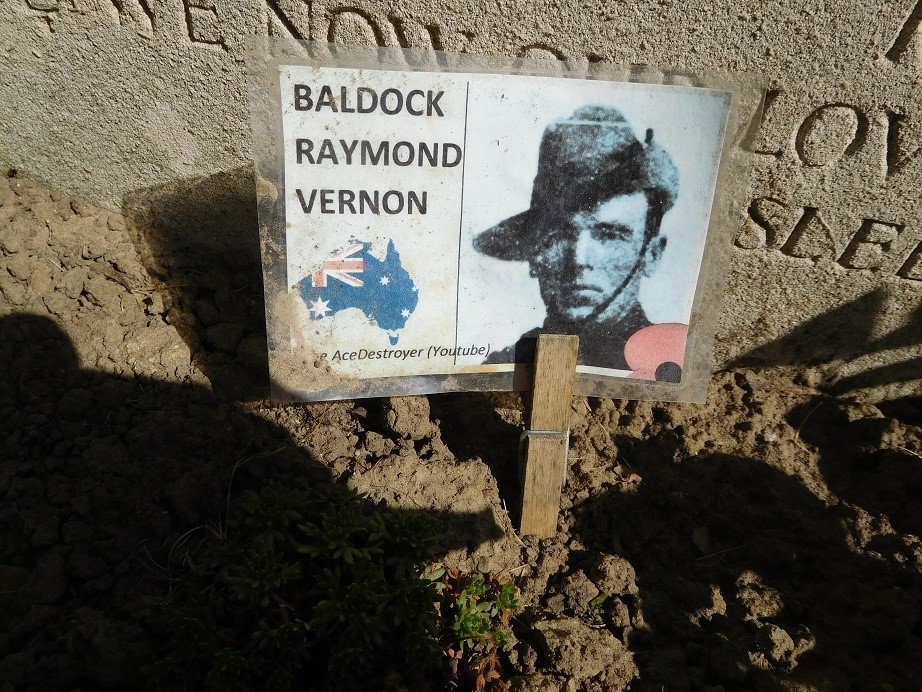 One of the many tasks we have given ourselves during our Pilgrimage is to photograph every picture of servicemen left on their grave by visitors. At Bir Crossroads we came across about twenty of the above style of image, with the tell-tale peg in the ground. I checked the register but could not identify the visitor. The trail continued at Messines British Cemetery and many other burial grounds in the Salient, again we could not identify the visitor. The pictures are predominantly ANZAC, but not exclusively. I finally found a contact through the name "AceDestroyer (youtube)". It's good to be able to read the soldiers full name followed by "Thank-you". So thank you (AceDestroyer) for taking the time to pay your own respects.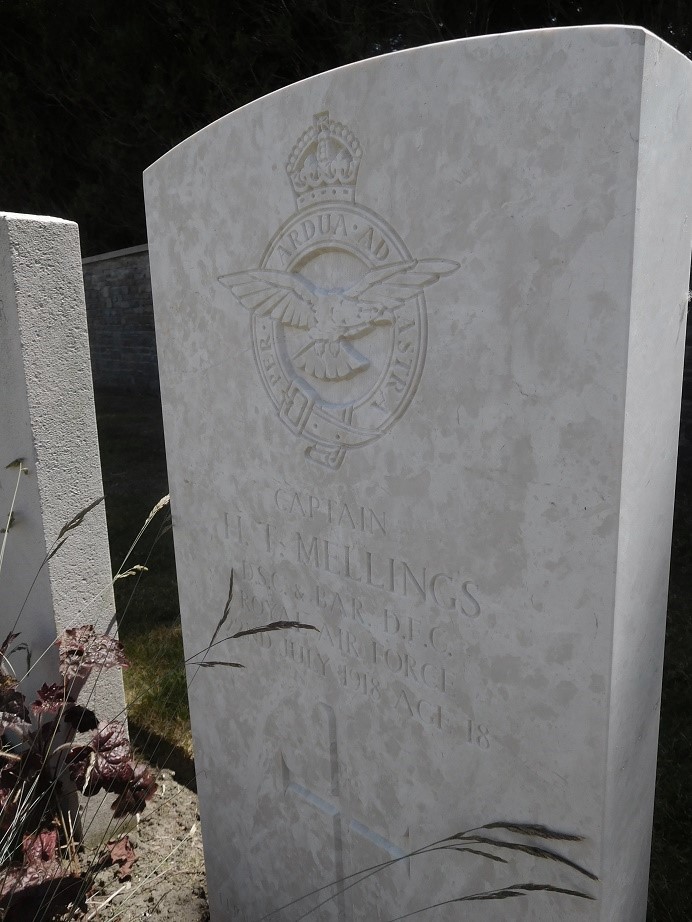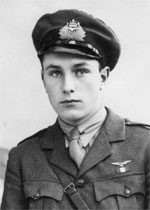 Not a particularly a good image of Captain Harold Thomas Mellings' headstone at Ramsappelle Military Cemetery. Harold was with the 210th Squadron, R.A. F (ex 10th squadron, R.N.A.S) and died on the 22nd July, 1918, when he was shot down over Ostend, having scored his 14th and 15th victories earlier that morning. His bravery awards include D.S.C and Bar, D.F.C, and the War Cross of Greece for bravery on the Macedonian Front in 1916. All by the age of 18! (Checked against census and civil registration of births).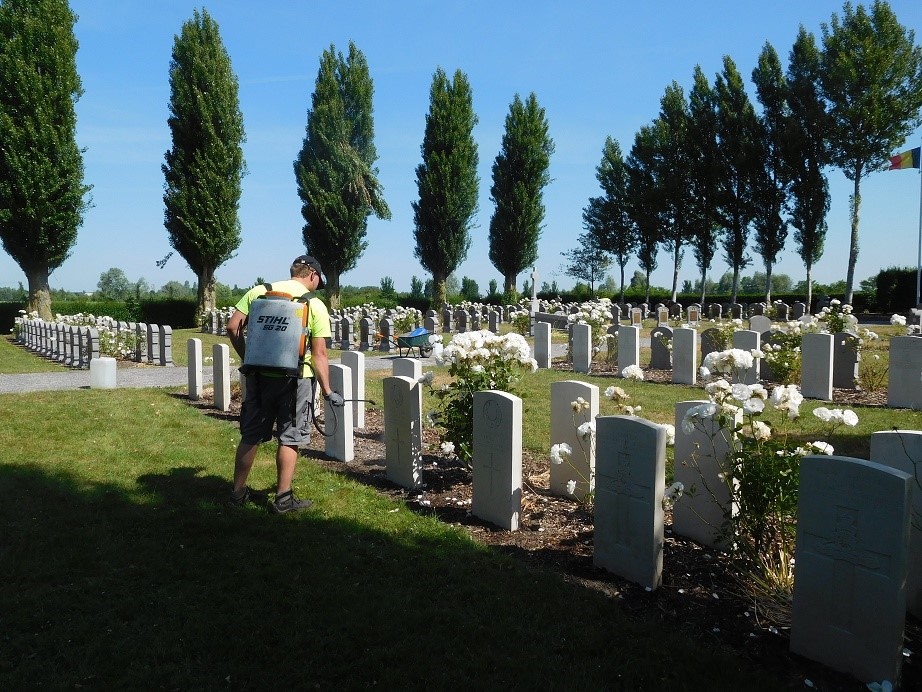 British graves in Belgian Military Cemeteries are under the care of the Belgian Military, who maintain Belgian military cemeteries by sub-contracting the work to an agency. They in turn employ people with special needs and disabilities to do the manual work. I spoke to their supervisor who told me work was very often interrupted through lack of payment to her people, even though the agency was always paid – on time – by the military!
This is Steenerke, with 30 British burials that are mostly Artillery from 1917. Three headstones are engraved with personal inscriptions detailing the award of the Belgian Croix de Guerre.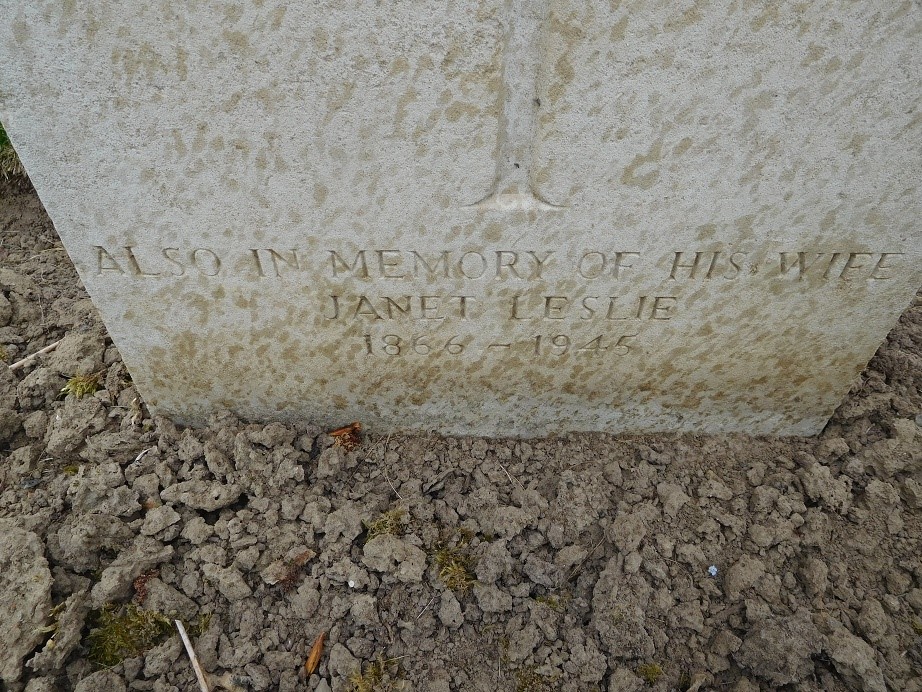 The inscription on the headstone of Colonel Ernest Octavius Wight (R.A.M.C) at Ferme – Olivier Cemetery. His burial records indicate that a "P.M" (Private Memorial!) was removed at some stage. Perhaps the third headstone we have seen with a much later or amended inscription. Grant Tobin (mentioned earlier) was able to inform me that there are six New Zealand headstones with personalised inscriptions; three still to see then!