The Dragon's Voice
Happy New Year! In this issue, we have an update from Steve and Nancy on their pilgrimage to the Western Front cemeteries and memorials, an article from Keith on a Royal Navy VC's medals, and a note on the commemoration in January of the centenary of the death of an enigmatic RFC Brigadier. As ever, we owe many thanks to Jim Morris for allowing us to use his WWI day by day material on the Facebook page.
Trevor
The Programme for 2018
Feb 3 : Mark McGrath - William Henry McGrath
Mar 3 : Andy Lonergan - 21st Division 1914-1918
Apr 7 : Dr Simon House - A Lost Opportunity ,
The French Ardennes Offensive 22 Aug 1914
May 5 : Rob Thompson - Wombles of the Western Front: Salvage operations
Jun 2 : Greg Baughen - From Flying Dreadnoughts to Dogfighter,
The troubled birth of the British Fighter
July 7 : Steve Erskine - Prisoners of Conscience: Richmond Castle during the Great War
Sept 1 : TBC
Oct 6 : Jeremy Gordon-Smith - Photographing the Fallen, a War Graves Photographer on the Western Front 1915 - 1919
Nov 3 : Trevor Adams: What Happened Next? The Aftermath of WWI
Dec 1 : Christmas Meal
The man they all ignore?
The 19th January was the centenary of the death of Brigadier General Gordon Strachy Shephard, Brigade commander RFC, DSO MC, Chevalier of the Legion of Honour, and in 1914 gun-runner for the Irish Volunteers, running German guns into Dublin whilst a serving captain in the British army! It is funny that his CWGC entry says nothing at all about his role in the Asgard gun-running, and he tends to be ignored by Irish Nationalists. Is he too awkward figure for both? Caroline and I visited his grave at La Pugnoy, two years ago. Here he is on the left in the photo, on board the Asgard.
SomeKindHand Update: July 2017 - 1st January 2018
Steve and Nancy Binks
The latest update on Steve and Nancy's pilgrimage is on this site under "Articles" - use this link here
Campbell VC
The Man Behind the Medals
Keith Walker
Introduction
In November 2017, I bought the latest edition of the magazine Medal News. Inside was an advertisement by the auctioneers Morton & Eden of London for an auction to be held on the 23rd of November 2017. One of the items was the Victoria Cross group to Vice Admiral Gordon Campbell Royal Navy (b 6th January 1886 d 3rd July 1953, aged 67).
With my interest in the Royal Navy and the "Q" ships of WW1, they were disguised armed merchant ships manned by the Royal Navy and used to lure German submarines to attack them. I wrote an article in our newsletter Dragon's Voice of March 2017 about the "Q" ships and our own North Wales VC, William Williams VC DSM and Bar RNR, who was closely linked to the "Q" ships and his Captain, Gordon Campbell.
I checked after the auction took place and found that the medals had been sold for a world record £840,000. The medals had been put up for auction by the Fellowship of St John (UK) Trust association. The trust is a Christian charity that works in missionary and education in the UK Africa, India, the Americas and Japan. The trust has said that the proceeds of the sale will support a number of their projects that they are involved in, including an orphanage in Zimbabwe, university scholarships in South Africa, hurricane relief in the West Indies and various charities in the UK.
The medals were bequeathed on his death to the trust by the son of Vice Admiral Gordon Campbell, Frederick David Campbell BA, b 1915 d 12th June 2010. He was aged 95 and was an Anglican priest and a member of the monastic community of the Society of St John the Evangelist. His first curacy was at Portsea before becoming chaplain in the Royal Naval Volunteer Reserve. He further served as a curate at Fareham, then as a missionary in London. After 1960, he was Prior at St Edwards House London. He died at St Johns Home, Oxford, England, a St John residential care home.
In a strange twist to this story, the medals were bought by another member of the family. He is Baron Lorne Thyssen-Bornemisza, the great nephew of Vice Admiral Gordon Campbell. The Baron is a Swiss national born (15th June 1963). He is an industrialist and art collector. He is also an Honorary Fellow of Wolfson College, Oxford. He has stated that the medals are of national interest and he intends to display them in a naval museum.
The Medals.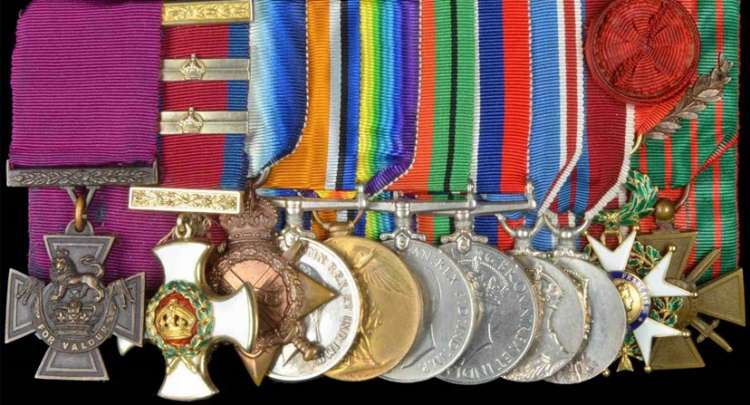 Victoria Cross, Distinguished Service Order with two bars, the 1914 – 15 Star, British War and Victory Medals, Defence and War Medals, and two Coronation medals. There are also two French medals: the Legion d'Honneur, and the Croix de Guerre. The medals were awarded between 1914 and 1953.
The Man.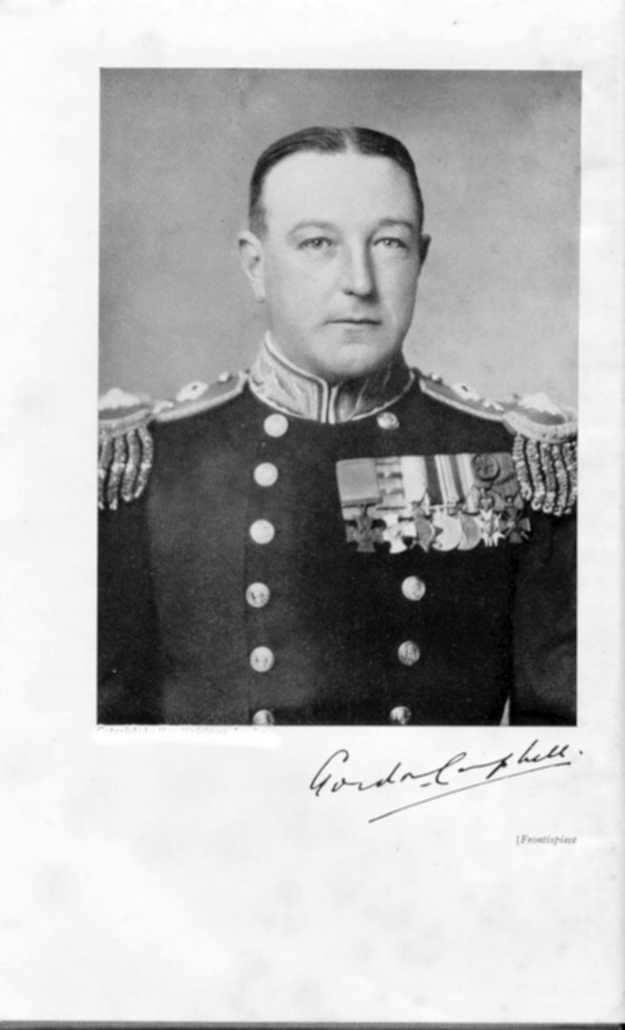 I will give a brief synopsis of the life and naval career of Vice Admiral Gordon Campbell VC.
1886
Gordon Campbell was born in Croydon, Sussex on the 6th January 1886. He was the 13th child of 16 children born to Colonel Hon Frederick Campbell CB, VD, JP (b1842 d1926) and Emille Guillmine Campbell nee Maclaine (b 1850 d 1928).
1893
Educated Dulwich prep school and college
1901
Joined the Royal Navy as a naval cadet at HMS Britannia, Dartmouth.
1911
Promoted to lieutenant.
Married Mary J Davids (b 1888 d 1974) on the 14th January 1911 at Guildford
1912
Captain of HMS Ranger (10th October 1912 - April 1913). HMS Ranger was a Sunfish class destroyer of 340 tons with armament of 1x 12Pdr gun, 2x torpedo tubes. Crew of 53 officers and men.
1913
Captain of HMS Bittern (April 1913 - September 1915). HMS Bittern was a "C" class destroyer of 400 tons, with armament of 1x 12Pdr gun, 5x 6Pdr guns, 2x torpedo tubes.
1915
Birth of his son Frederick David Gordon Campbell (b 1915 d 2010)
The actions
March 1916 promoted Commander and detached to special services. From March 1916 until November 1917 Campbell was the captain of various "Q" ships. It was during this time that he was awarded his VC and DSO and two bars.
21st March 1916 when the captain of "Q" ship HMS Farnborough, Campbell was awarded Distinguished Service Order (DSO). In this action, German submarine U68 was sunk.
1917
17th February 1917 when captain of "Q" ship HMS Farnborough Campbell was awarded Victoria Cross (VC). William Williams was awarded his Distinguished Service Medal (DSM). In this action, the German submarine U83 was sunk. HMS Farnborough was beached, later towed to port, but was badly damaged, and so of no further use to the Navy. She was sold for scrap in 1919.
2nd June 1917 as captain of "Q" ship HMS Pargust, Campbell awarded Bar to his Distinguished Service Order. William Williams DSM RNR was awarded the Victoria Cross (VC). In this action, the German submarine U29 was sunk. HMS Pargust was towed to port and repaired. In 1919, she was returned to merchant fleet.
June 1917: promoted to the rank of captain. He would have held the rank of commander before this promotion.
8th August 1917 as captain of "Q" ship HMS Dunraven, Campbell was awarded Second Bar to Distinguished Service Order. William Williams VC DSM was awarded a Bar to his DSM. In this action, HMS Dunraven had a long engagement with the German submarine UC71. This submarine survived the war. The crew tried to rescue HMS Dunraven but failed and she sunk.
During this period March 1916 until November 1917, I have found after further research of medal rolls etc. Captain Campbell and his crew were awarded:
5 Victoria Crosses
5 Distinguished Service Orders
2 Bars to Distinguished Service Order
8 Distinguished Service Crosses
5 Bars to Distinguished Service Crosses
39 Distinguished Service Medals
4 Bars to Distinguished Service Medals
and numerous Mentions in Despatches.
1917 November
Captain of HMS Active (November 1917 - April 1918) a 3,340 ton light cruiser. Armament 10x 4 inch guns, 4x 3 pdr guns, 2x torpedo tubes. Complement of 293 officers and men.
1918
Captain of HMS Patrol (April 1918 - January 1919) a 2,940 tons light cruiser. Armament of 9x 4inch guns 6x 6pdr guns, and 2x torpedo tubes. Complement of 268 officers and men.
1919
Captain of HMS Cumberland (1st January 1919 - 15th April 1920) a 2,800 ton armoured cruiser. Armament of 14x 6inch guns, 15x torpedo tubes. Complement 525 officers and men.
1921
Captain Campbell took over the command on the 5th Feb 1920 of the training ship HMS Impregnable, a shore establishment base at Devonport.
Birth of his daughter, Flora Mary Gordon Campbell (b 5th April 1921- d 6th March 1971).
1922
Captain Campbell was made Captain in Charge of HMS Flora from (1st December 1922 - 6th May 1925) the base ship of the training establishment at Simonstown, South Africa.
1925
Captain of HMS Tiger (1st November 1925 - 30th July 1927) a battle cruiser of 28,500 tons. Armament 4x2 turrets of 13.5 inch guns, 13x 5 inch guns, 12x 6 inch guns, and 4 torpedo tubes. Complement 1,459 officers and men. This was Captain Campbell's last sea command.
1928
Promoted to Rear Admiral on the 5th April 1928 and placed on the retired list.
1931
Elected MP for Burnley from 1931 until 1935.
1932
Promoted Vice Admiral on the 31st December 1932 and on the retired list
1939
Recalled to the Royal Navy.
1940
Reported sick with angina and was retired from the service
1953
Death 3rd July 1953
The "Q" ships and their operations are subject to ongoing research. The link between "Q" ships and room 40 the Admiralty in secret code breaking and radio intercepts is being investigated. In the British records of the 202 German submarines lost between 1914 and 1918, 11 are attributed to "Q" ships. In the German records, there are only 10 submarines lost to "Q" ships. The mystery submarine was UB80 which was in an action in the South West of English Channel on the 30th July 1918 with HMS Stock Force, a "Q" ship captained by Lieutenant Harold Auten RNR. After a long fierce engagement, the crew of HMS Stock Force stated that they had put 20 shells into UB80 but UB80 survived the war together with her Captain and crew. Her log book states:-
"Attack on 1,500 ton approx. steamer (tanker) Course Guernsey to Lizard. Fired G6AV torpedo. Hit. Range 1,200 metres. Remained at periscope depth and observed steamer that seemed suspicious and only sank slowly. After about 15 minutes, the steamer started to sink at the bow. Surfaced at about 400 metres distance. The steamer opened fire with several concealed guns. Crash-dive. During the dive, the boat took two hits. Went to 11 metres depth, fired a second torpedo despite inability to raise either periscope. Remained submerged until dusk. Surfaced. One shot had penetrated the bridge shield and periscope support. Both periscopes had broken lenses, were filled with seawater and useless. Without periscopes, the boat had to return round the north of England because of the light nights and the necessary use of a periscope for Channel route"
Signed Kapitanleutnant Max Viebeg
Max Viebeg (b 6th April 1887 - d 9th November 1961) was an highly decorated naval officer. He joined the Kaiserliche Marine as a cadet in 1906. He was awarded, in date order that he received them, the Iron Cross 2nd class, Iron cross 1st class, the Royal Order of Hohenzollern, Pour-le-Merite and the Saxe-Ernestine House Order. He retired from the military in 1920. He left Germany to manage a tea plantation in Java.
After this action, Lieutenant Harold Auten (b 22nd August 1891 - d 3rd October 1964) was awarded the Victoria Cross and out of his crew of forty four, twenty three received medals or were Mentioned in Despatches.
The bravery of Captain Campbell and Captain Auten and their crews to sit and wait while your ship is hit with torpedos and is sinking before you are allowed to open fire is hard to understand. The discipline of the crews was exemplary. They were in the true traditions of the Royal Navy.
WW1 German U-Boat Types
Prefix U. Ocean going diesel powered torpedo attack boats
Prefix UB Coastal torpedo attack boats
Prefix UC Coastal mine layers
Prefix UE Ocean going mine layers
Reference's and acknowledgements :-
Smoke and Mirrors by Deborah Lake published 2006 by Sutton Publishing Ltd